Big Bash League betting sites and odds for 2023
Big Bash betting is very common in Australia. After all, it's one of the more popular sports to bet on overall. But, where can you bet on Big Bash?
In this article, we're going to look at all you need to know about Big Bash league betting. But before we get into all of that, here are the top Big Bash betting sites.
Imagine what you could be buying instead.

For free and confidential support, call 1-800-858-858 or visit gamblinghelponline.org.au
Sportsbook Logo
Odds rating
Bonus
Go to sportsbook Button
Show more
T&C

1

Unibet sportsbook review

96

/100

Sports & markets rating

by Elena I.

84%

Playscore

based on

Best mobile betting app

Play now

Good to know

Easy to use site
Over 10 years experience in Australia
One million registered customers worldwide

5 payment methods

Play now

2

Bet365 sportsbook review

91

/100

Sports & markets rating

by Elena I.

91%

Playscore

based on

Most sports markets on offer

Play now

Good to know

39 betting markets
PayPal accepted
EGR Operator of the Year

11 payment methods

Play now

3

PalmerBet sportsbook review

87

/100

Sports & markets rating

by Elena I.

80%

Playscore

based on

Family-run bookmaker

Play now

Good to know

Good Aussie league odds
25 sports on offer
60 years of experience

7 payment methods

Play now

4

BlueBet sportsbook review

76

/100

Sports & markets rating

by Elena I.

85%

Playscore

based on

Rapid withdrawals

Read review

Good to know

Cash Out on live events
Twice-a-day rapid withdrawals
Competitive odds

8 payment methods

Read review
#1. Australia's best T20 Big Bash betting site — Unibet
Unibet offers players an excellent platform to start Big Bash betting. It's really good for live betting and you can do that on any match right up to the finals. A big standout here are the odds boosts offered for some of the Big Bash bets during the season.
It's also worth pointing out that Unibet is home to some excellent streaming options so that you can watch the game as you bet. Finally, it's also got great statistics in place so that you can get insider information on which team has the most wickets or the most runs for a better, and more informed, betting experience.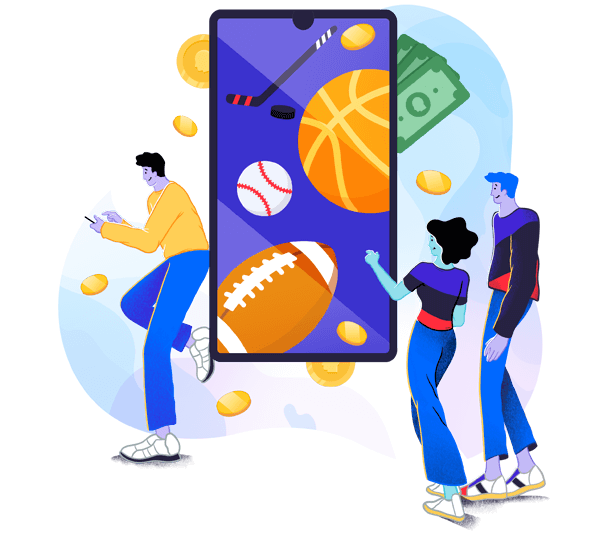 <strong>#2. bet365: Excellent betting platform </strong>
Without a doubt, bet365 is the best place for Big Bash online betting in Australia. This site has a well-rounded betting platform offering not only Big Bash betting options but a wealth of different sports from around the globe as well.  What makes bet365 really stand out though, is that it has excellent live betting and streaming options. This means that you can place bets when the Big Bash League game is underway and even watch the action as it unfolds. 

<strong>#3. Palmerbet: Strong BBL futures betting </strong>
If you want to get a range of different betting markets, then Palmerbet is one of the best T20 Big Bash betting sites. You can find almost all the different markets here so you're going to be spoilt for choice. It's also really strong for Big Bash multi bets too.  In addition to this, PalmerBet as a whole, is really excellent if you want to get into futures bets. This isn't just for Big Bash online betting, but for best cricket betting and a range of other top sports and events in Australia as well. 
How to find the best Big Bash betting sites
Finding the best Big Bash betting site can be really hard, which is why we've stepped in to help. When we review sportsbooks, we use specific rating criteria to determine whether or not the site is good.
In the following section, you can check out these criteria. Have a look through so that you can double-check our ratings for yourself. Or, use them to look for a sportsbook on your own.

<strong>Big Bash betting odds</strong>
The Big Bash sweeps the Australian nation each year and as it's so popular, finding good odds is a must. However, odds are always fluctuating, which is why we look at the payout percentage of each Big Bash sportsbook to see what it has to offer. For a top score, the payout percentage should be from 95% to 97% as this indicates competitive odds. However, should the odds be lower than 93% then we're not going to give the site a high score and recommend you play elsewhere.

<strong><strong>Bet types and features</strong></strong>
The best Big Bash betting sites will have a range of different betting markets on offer. Essentially, we don't want to just see standard match winner or over/unders, but bets that add a little more fun to the Big Bash betting season. Top sites need to offer fun prop bets such as which batter will score more wickets or which teams you think can reach the finals. Will the Melbourne Stars be able to beat out Sydney Thunder and so on. The more markets, the better our score will be.

<strong>Live Big Bash betting</strong>
Importantly, we want you to be able to enjoy live betting as well. This means that you can place bets on Big Bash games, even the finals, while they are already underway. Additionally, this means that you can even change or add new bets during the event.  Top-scoring sites will have live betting available for every single BB League game on offer. Not only that, but they will also have streaming options to watch the whole season as well. If there is no live betting or streaming on offer, it's low points from us. 

<strong><strong>BBL betting apps</strong></strong>
Playing on the go is essential these days. With that in mind, we look at the Big Bash betting apps on offer to see how they fare. We want to see an app that's compatible with both Android and iOS devices for a good score.  To get a high score though, the app must have all the same features and functions as the desktop site including live betting and streaming. It should also load fast and have few glitches. If the app is slow-loading, confusing or missing betting features, it gets scored down. 

Usability
Betting sites also need to be user-friendly across the board if they are to get a good score from us. We want to see that there are clear menus and good filters in place so that you can find each game or the finals with ease. We expect that the sign up process is swift and straightforward as well if we're to give a high usability score. If we find that the site is confusing to use, cluttered with broken links, then we're going to give a lower score here.

<strong>Promotions</strong>
In Australia, it is not permitted for betting sites to advertise any bonuses or promotions. Because of this, you will need to sign up and create an account to see whether they have any Big Bash bonuses on offer for new and returning players. 

<strong>Overall betting site rating</strong>
We also look at other areas of the site too. For instance, we expect to see a certain number of safety protocols in place such as licencing, SSL encryption and responsible gambling tools. Additionally, the site should have over 30 other sports to bet on.  We also want to see 10 or so payment methods on offer for a good score to be awarded. And, there should be strong customer support methods, one of which should be a 24/7 live chat option if the site is to get top marks here. 
Betting on Big Bash — beginner's guide
We've given you a couple of excellent places you could start betting on the BBL, but it's time to help you get a better understanding of the betting process. We're going to have a quick look at some top bets as well as how you can sign up and get started.
Popular bet types
Within BBL there are tons of different betting markets and this is part of what makes betting on the teams and games in this tournament so much fun. For instance, there are a ton of different BBL futures you can enjoy as well as some more fun prop bets. We're going to have a quick look at some of the best bets you can place.
How to bet on the BBL
Now you've got to grips with the types of bets you can place, it's time to look at actually getting signed up and started with Big Bash online betting. In this next section, we're going to help you through all the steps.

Research
Take a look at our list of the best Big Bash betting sites. Each of the sites listed here have been carefully selected by us as they meet our strict rating criteria. By choosing one of them, you're going to give yourself a leg up when betting on the BBL. 

Sign up
Once you have chosen which site you like, go to the main page and click on the register button. This will take you to the sign up form. You will need to input all your personal details including name, date of birth, email and so on. It's a good idea to verify your account early on as well. Once you have confirmed your account, you can move to the next step. 

Deposit
Head to the banking section of the site and pick your preferred payment method from the options listed. Make sure your deposit is within the transaction ranges set out by the bookie. Confirm the deposit. Most deposits will be in your account instantly ready for you to use. 

Check markets
Take a look at the Big Bash betting markets on offer. You can look through all the different bets available including futures, match winner and prop bets.

Bet
Choose your bet, which squad you want to bet on and the value of the bet. Add it to the bet slip and confirm. Now you just have to wait and see if you win or lose. 
Big Bash online betting tips
So, you're almost ready to get started with betting on the Big Bash. But let's give you one last thing to help you out in this popular cricket tournament. In this section, we're going to take a look at some top betting tips.
Pitch conditions — different teams and players operate better depending on the pitch. For instance, some pitches are better for pace bowling while others are better for spinners. This can affect the way a team plays.
Stats — always check the statistics and look at recent results between teams. For instance, you can check head-to-head stats for a game between the Melbourne Renegades and the Adelaide Strikers before placing a bet.
Form — look to see whether the Perth Scorchers, Sydney Thunder or the Melbourne Stars have had a better run in recent weeks. You can also check out specific players in a team like Chris Lynn to see their recent performances.
Home games — teams also often play better at home. For instance, Perth Scorchers play out of the Optus Stadium, so if they have more games here, there's a stronger possibility they will win. Conversely, if the Perth Scorchers were to play away from home at the Marvel Stadium, home of the Melbourne Renegades, it's less of a sure thing the Perth Scorchers would win the match.
Unique rules — keep updated with any new rules in the upcoming BBL season. Bash Boost, Power Surge and X-Factor Player were all newly added rules to the 2020-21 season.
FAQs
Which bookies do BBL?
In Australia, punters are incredibly lucky as there are many different sportsbooks that offer Big Bash betting. Part of this is likely because it's a very popular domestic cricket tournament. As such, you can place BBL bets on bookies such as bet365, Unibet, Palmerbet, Picklebet and play fantasy competitions on Draftstars. Simply choose the sportsbook that meets your needs.
What is the best Big Bash betting site? 
Overall, the best Big Bash betting site does go to bet365 simply because it has one of the most well-rounded platforms out there. However, that's not to say that it is the best for everyone. As each player has different preferences, we do give you the tools to go out and find the best BBL site for yourself too.
How does BBL betting work?
BBL betting is very simple to do. First, you need to find a betting site you want to play on. Then, after you sign up, you can make a deposit and check out the different betting options. When it comes to Big Bash, there are plenty of different bet types such as futures, top bowler, match betting and more. Just remember to check out the form of the teams before you start wagering.
What's the best betting app for the Big Bash League? 
There are a number of different top betting apps available for you when it comes to the Big Bash. One of the top betting apps is BlueBet, but another close runner-up is Unibet. Both of these give you excellent access to a wide range of different betting features including live betting and streaming, game and player stats and even betting tips.
Can you win real money betting on the Big Bash? 
Yes, you can win real money when you bet on teams and games in the Big Bash competition. However, as you are betting, there are a lot of variables and a win is often down to luck as well as careful research. We do not recommend that you bet on the Big Bash with a view to making a profit. Rather, you should bet just to have fun.
Sources