Dabble review: all you need to know about this new form of betting
Dabble is an exciting brand-new sports betting app for Aussie punters. In this Dabble review, we're going to look at all the main betting features this exciting site offers. 
One of the first things punters need to note about the Dabble betting site is that it's actually a mobile-only site. There's no desktop version available, you can only play this on your mobile device.
An Australian company is the owner of Dabble, and this means there's a lot of focus on Aussie sport. In particular, the Dabble horse racing section is excellent.
For this review, we're also going to have a look at the payment options, the different sports on offer, how the odds stand up to the competition and the security in place.
Pros and cons
Guides and event coverage
Copy fellow punters' bets
One-of-a-kind social features
No desktop version
Few withdrawal options
Limited betting options
General ratings
81
/100
Expert rating
byby

Elena I
81
Betting features rating
74
Sports & markets rating
How we rate?
Our main score is the Expert Rating, which ranks sportsbooks on over 60 criteria in seven different sections, including sports and markets, odds, safety, usability, and more.
94%
Playscore
based on 8 critics
100
100
98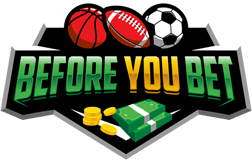 94
93
90

90
90
What is our Playscore?
The Playscore represents the average rating according to top critic sites for a given betting operator.
General info
| | |
| --- | --- |
| Launch date | 20/05/2020 |
| Company behind | Dabble Sports Pty Ltd |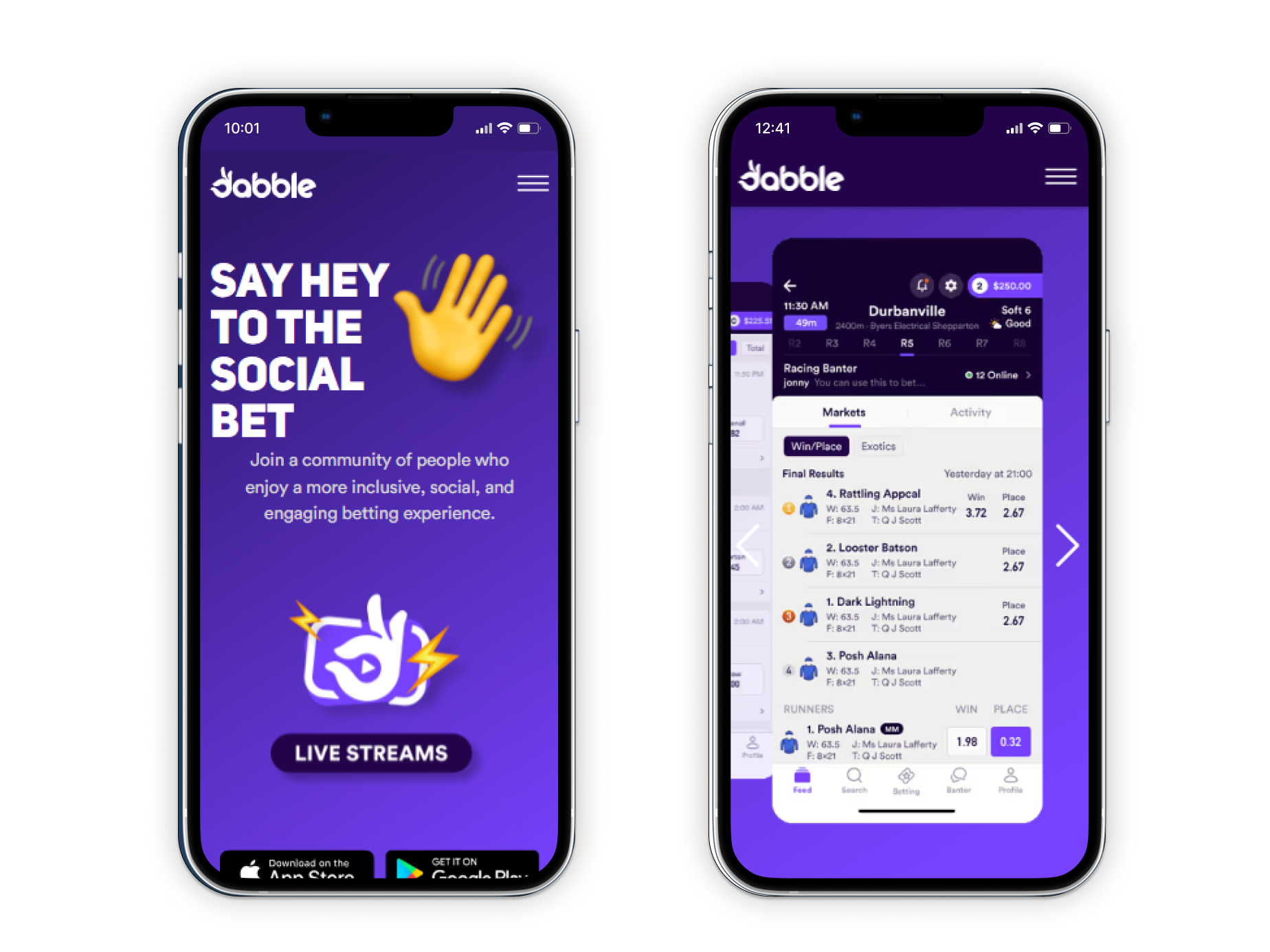 Editor's note
This review is based on the operator's current sports offer in Australia.
Sports and markets at Dabble sportsbook
While looking for a Dabble betting code to claim any bonus offers may be the starting point for other punters, we take a different view. We think the most important feature of a sportsbook is the number and types of sports available for you to wager on. Ideally, you want access to at least 30 different sports.
At Dabble, there are around 14 different options available. These include basketball, football, tennis, MMA, rugby and so on. However, the vast majority of the site is made up of racing options.
The Dabble bet site really does have a lot going on when it comes to the horses. Not only are there flat races offered, but also harness and steeplechasing options with both domestic and international racing covered.
Sport events facts
| | |
| --- | --- |
| Total number of sports to bet on | 14 |
| Top market | Horse racing |
| Unique markets | N/A |
| Top events | NBA, NRL, AFL, Rugby World Cup |
For this Dabble review, we looked at the specific betting markets offered as well and found that currently, Dabble is a little lower than some of the other sites out there offering well below the expected 200 markets per game.
Featured betting markets
Aussie Rules

Basketball

Cricket

Horse Racing

Football

American football

Baseball

Boxing
Golf

Greyhound racing

Hockey

Ice Hockey

MMA

Motor racing

Rugby

Tennis
Available events
ATP

Australian Open

MLB

MLS

NASCAR

NBA

NFL

NHL
NRL

PGA

Premier League

Rugby World Cup

Super Bowl

Super Rugby Pacific

UEFA Champions League

UFC
Sports and markets rating
74
/100
Decent selection but it's still growing
Strong international racing selection 
Some niche sports
This is where I did find things a little limited. Unfortunately, there are only 14 or so different sports available. Also, due to Aussie regulations, there's no Dabble sign up bonus or promo code advertised, so no obvious bonus bets to spice up the rather lacklustre choice of sporting action. 

Where Dabble stands out though, is when it comes to racing. The site has a very strong selection of races from around the world. In fact, it beats out BetStar, which has lots of racing but limited international options. 

However, taking an overall view, my Dabble review found the site doesn't offer as much as it should. With its limited sports section, Neds well and truly beats this as it has over 25 sporting options and many markets, with at least 100 per event. 

Additional market details: It comes as no surprise that horse racing is the king here. Dabble offers a number of different types of racing markets too. So, you can wager on flat, steeplechasing and harness. Impressively, races from the UK, Japan, USA, Hong Kong and more are all covered. 

Additional market details: Aussie Rules also features very heavily on this site and this is also not a surprise. You can find almost anything to wager on when it comes to the AFL. And, you can also use the unique "Follow bet" options to see what other punters are doing.
Betting features at Dabble
If you want to know is Dabble betting legit, then the answer is yes. We'll cover this in detail later on when we cover licencing of betting apps. Right here though, it's time to look at the specific betting features you can find.
It's all well and good for a sportsbook to offer a wide array of sports, but if the betting features are lacking, then it's not going to get a good score. Ideally, we want to see bet builders, live bets, cashout and so on available.
Dabble has some of these including a limited selection of in play betting and live streaming for horse races only. However, it does offer innovative social wagering features that aren't found anywhere else.
Betting features facts
| | |
| --- | --- |
| Cashout | No |
| Bet builder | Yes |
| Live stream | Yes |
| Live betting | Yes |
| Betting exchange | No |
| Quick bets | No |
| System bets | Yes |
| Virtual bets | No |
| Other bets | Copy bets available so you can follow your friends |
The big feature here is the ability to link with your socials so that you and your friends can follow each other's or other punters' bets and their progress. You can also follow your favourite tipsters to get the best pointers. And if you're wondering is Dabble betting safe because of this, it is.
Betting features rating
81
/100
Incredibly innovative set of betting features 
Share your wagers 
Banter with friends 
Copy bet
No cashout 
Limited live betting and streaming
I really do love this site for the social aspect. There are a ton of extra features here including being able to build your own following when you provide a detailed and helpful bet description for each wager and why you chose it. 

The site has also recently improved in some aspects too as it now does have some live streaming and wagering options. While these are still limited (I only found them for some horse races), this still beats BlueBet, which has no live options at all. 

However, Dabble really excels when it comes to the Banter feature where you can discuss your wagers and chat directly with friends. This is something that I've not seen anywhere, not even on Bet Right, which does have a stellar roster of online betting features including the ability to cashout (something lacking on Dabble). 

Additional features: The Copy bet feature found here is something that I really love. It allows you to literally take on the exact bet that someone else has placed. So, if someone you follow places what looks like a sure thing, simply click the copy button and you can place the same bet with minimal fuss. It's really an excellent feature that more bookmakers should adopt.
Dabble sports betting odds
The odds are very important as this is how you can claim a win or two. The better the odds are (the more competitive), the bigger any of your potential wins will be.
Generally, we're looking for sportsbooks to have an average of 95% to 97% as a payout percentage. These bookies will get a high score from us, with anything less than 93% scoring significantly lower in our ratings.
Dabble sits nicely near that average with a payout percentage that's around 94% across the board, which is better than a number of other sites out there. However, if you take racing only, this does go higher.
Betting odds facts
| | |
| --- | --- |
| Average payouts | 94.62% |
| Highest available | Horse racing |
| Boosted odds | N/A |
| In play betting payout | N/A |
Typically, the live betting payout is a lot lower. However, as there are very few live bets available on Dabble at the time of writing, there weren't any odds to compare to get this score.
Odds rating
84
/100
Competitive racing odds in place
Average odds 
Competitive horse race odds
Again, Dabble sits pretty middle of the pack here when it comes to the different odds available. That being said, it far outstrips WinnersBet, which has one of the lowest average payout percentages out there. 

With a high 94%, this site is decent across the board. When I compared directly with some of the other sites such as TAB, it was actually offering the same wagers, which is great for Dabble as it's so much smaller.

It's also good to point out that there are high daily limits here as well, so I wasn't capped quickly when continuing to win. That's a pet peeve of mine and due to it's absence here, I was happy to give a higher score.
Dabble review of payment methods
When it comes to payments, ideally we like to see betting apps and sites offer at least ten different payment methods. These should include a variety of different options so that you have as much choice as possible.
The Dabble app only has four different payment methods. These are two different debit cards and the option to make a bank transfer. The latter is the only option available for withdrawals.
However, the site doesn't have any fees in place for any transactions which is a good start. And, there is a very low minimum deposit and withdrawal limit, which is nice to see.
Payments facts
| | |
| --- | --- |
| Total number of payment methods | 4 |
| Best option | Bank Transfer |
| Minimum deposit | AU$5 |
| Maximum deposit | N/A |
| Minimum withdrawal | AU$5 |
| Maximum withdrawal | N/A |
| Average deposit time | Instant |
| Average withdrawal time | 72 hours+ |
| Average deposit fees | No fees |
| Average withdrawal fees | No fees |
While deposits are instant, withdrawals are notably slow. And, as there is no choice when it comes to withdrawal options, this is rather problematic for bettors. It does mean that the withdrawal time is actually over 5 days for the most part, which really slows things down and doesn't make the experience Dabble offers quite as good as it actually could be.
Deposit methods
Withdrawal methods
Payments rating
68
/100
Very few payment methods but they are popular and trusted
Card payments accepted
Speedy deposits available
No transaction fees
Only one withdrawal option
Slow withdrawal turnaround time
I'm a little disappointed with the payment methods available here at Dabble. With just four options, this is far below the ten I like to see to be able to give a good score. 

And having just one withdrawal option, the snail-like transfer direct to your bank, is also beyond the pale for me even if it is the most secure option. Overall this is far inferior to the 11 options that bet365 offers, which includes speedy eWallets like PayPal in the mix. It's points off here I'm afraid. 

That being said, Dabble does have some of the lowest minimum deposit requirements out there. Other sites such as Bookmaker actually have a minimum of A$10, which is where Dabble actually wins.
Safety features at Dabble
You should always be playing at a licensed and regulated sportsbook, which is why one of the first things we do is check out the licensing. If the site doesn't have a licence, then don't play there.
When you join Dabble, you'll find that it is fully licensed. It holds a licence from the Northern Territory RC, which means that it does have to follow specific rules and requirements to operate.
On top of that, the Dabble app has strong encryption protocols in place which prevent third parties from accessing any private data you may have provided to the app. With this in place, your data can't be stolen.
Safety facts
| | |
| --- | --- |
| RNG auditing | N/A |
| Seals of Trust | N/A |
| Responsible Gambling | Gambling help online |
| SSL encryption | 256-bit |
| Ever blacklisted | No |
| Licenses | Northern Territory Racing Commission |
| Self-imposed spending limits | Available |
| Self-exclusion | Available |
| Cooling off period | Available |
| Account authentication | Required |
| 2-step authentication | Available |
While there is no RNG auditor listed on the site, it does have good responsible gambling protocols in place. The site is also operating in affiliation with GamCare to ensure punters are playing in a safe environment at all times.
Licensed by
Northern Territory Racing Commission
Trusted by
Gambling help online
Safety rating
81
/100
Decent security but nothing special
Fully licensed in Australia 
Good responsible gaming
For the most part here, I don't have a problem with the Dabble app. All the main or required security protocols are in place, which is the main thing if you're looking for a good betting experience. However, these aren't quite as good as the impressive Ladbrokes when it comes to encryption. 

Like many sites that focus on horses, Dabble is licensed in the Northern Territory. However, this site is also available throughout the country and has a home in five different cities including Adelaide, Melbourne and Darwin. 

The site has good responsible gambling protocols in place in conjunction with GamCare. It's easy to find the helplines just like on the BuddyBet site, which offers a similar platform to Dabble, just rather worse.
Customer support
It's very important that a sportsbook can offer good support no matter how good the rest of the site is. With this in mind, we like online bookmakers to offer at least two different contact options.
Luckily, the Dabble app is more than equipped and has three different contact options available to reach out to the Dabble team. The fastest of these is the live chat and this is available 24/7 for punters to use.
There's also a phone number and this is available for both Australian and Kiwi punters. The number is free and gets you in touch with someone in pretty quick time if you need help.
Support facts
| | |
| --- | --- |
| Customer support availability | 24/7 |
| Live chat | Yes |
| Email | [email protected] |
| Contact no. | 1800 322 253 |
| On-page support | Help section |
The email option is somewhat slower than all the others provided. However, punters can actually get the most details from the email contact, which can be useful for more complex queries.
Support rating
84
/100
Strong, helpful customer support 
Phone option 
24/7 support 
Live chat instant response
For the most part, I was very impressed with the Dabble customer service. I really felt that they had made a concerted effort to ensure this was a strong area of the site. 

For instance, right out of the gate, the site has three different contact options. This is right up there with some of the other top sites such as PlayUP, which also offers phone, live chat and email options. 

The live chat was great – I was greeted by a real person rather than the bot that zBet initially hits you with, which I am not a fan of. I didn't even mind the fact that the email can take 2 days to elicit a response so I am sticking with my high score.
Platform and usability
We always want to see a good user interface when we check out the different bookmakers on offer. Dabble actually is one of the first mobile-only sites in Australia so only has an app.
This app is, importantly, compatible with both iOS and Android. It can be downloaded from the App Store or the Google Play store, respectively, and is compatible with a range of mobile devices.
The design of the app is excellent too. It's got a bright purple theme that's easy on the eyes. All of the main features are fully accessible as well, requiring little to no learning curve.
Usability facts
| | |
| --- | --- |
| Sport filters | Yes |
| Search function | Yes |
| Web UX | N/A |
| Mobile UX | Excellent |
| Load speed | 0.3 sec |
| Other products | N/A |
The site itself loads well and quickly. However, there are slightly slower load times noticed during the peak times when more people are using the app at the same time, which needs to be considered.
Play on devices
Android

iOS

Linux

MacOS

Windows
Platform rating
95
/100
Excellent social betting platform 
Simple to use 
Easy navigation throughout

There's not really much for me to say against this site if I am honest. Dabble really does a good job here and offers up a great, user-friendly interface for punters. 

Right off the bat, this site isn't confusing at all. I could find all the separate sections easily. That's not the same as the rather convoluted and confusing BetGold, which was also quite hard to access.

I was also pleased to see that the load time was pretty quick. Okay, so it did slow down a little when things got busier, but at least there are no glitches like the rather appalling Bet Deck site.
Expert verdict
As we conclude our full Dabble review, there are some key takeaways. While it does have an excellent, and rather unique, betting app in place, the lack of a desktop site is actually a bit of a bummer. What if you don't have the space on your phone for the Dabble betting app?
That being said, if you're into the social aspect of wagering, then this is the app for you. The Dabble app is one of the few that actually links to your social media account and allows you to share your wagers with friends.
You can also follow tipsters and sports stars, describe your own bets and even gain more followers as you keep wagering. It's fully social, allowing you to banter with friends, which really helps to create an exciting aura, something missing when you're not at the physical track.
Across other areas of the site, Dabble is lacking in many payment methods with only one withdrawal option available. The sports markets could be improved too and punters may need a bonus code if they want to see what else Dabble has on offer.
FAQs
Is Dabble betting legit? 
Yes, you can confidently download the Dabble app as it's legal and licensed to operate in Australia. The site has its headquarters in Melbourne as well as offices in four other cities in the country. The licence is from NTRC which means that this bookie adheres to strict rules and regulations to ensure you have a top betting experience. In line with Aussie gaming regs, when you join Dabble to start wagering you'll need to sign in and may also need a Dabble promo code to see any bonus extras.
Who owns Dabble Australia? 
Dabble is owned and operated by Dabble Sports Pty Ltd. As such, it's 100% Australian-owned. It's actually got offices in a number of cities around the country and these include Darwin, Adelaide, Albury and Brisbane. The company takes responsible gambling seriously as well, and has a number of contact options for helplines if you need to get in touch with someone for some help.
Does Dabble have a cash out option? 
No, currently there is no cashout option available on the Dabble app. This means that even if you do take on a live bet, you will have to wait for the event to finish before you can claim any of the winnings from it. There are other exciting betting features you can use though when playing on Dabble. So you don't miss out on all the fun make sure to check for and use a Dabble promo code if needed.
How long does Dabble take to pay out? 
Generally, Dabble is one of the faster sites to pay out. However, while the actual processing period is quick, you will still be waiting at least three to five days for your winnings. And this is simply because there's only one withdrawal option, which is a direct transfer to your bank account. While super secure, it's notorious for being the slowest option out there so you may have to wait even longer.
Can you bet on Dabble? 
Yes, absolutely you can bet on Dabble. The Dabble mobile app has a number of different racing and sports betting markets in place though there is a strong focus on horse racing. Additionally, punters have access to a number of different payment options with which to make a first real money deposit. Once you have a new account, you can place your wagers, follow friends or tipsters and even place bet recommendations of your own. Grab a Dabble promo code here for more.