Top Australian betting sites with live streaming
One of the best ways to bring more excitement to online betting is through live betting and streaming.
While most sites offer live betting, there are not so many sports betting sites with live streaming. We're going to help you find the best bookmakers for live streaming in Australia.
Here's all you need to know about betting sites with live streaming. We'll look at the sports on offer, stream quality, and more. Let's start by checking out the top live streaming betting sites right here.
Imagine what you could be buying instead.

For free and confidential support, call 1-800-858-858 or visit gamblinghelponline.org.au
Sportsbook Logo
Odds rating
Bonus
Go to sportsbook Button
Show more
T&C

1

Bet365 sportsbook review

88

/100

Betting features rating

by Elena I.

91%

Playscore

based on

Most sports markets on offer

Play now

Good to know

Intuitive streaming service
Links with broadcasting services
Live for registered players

11 payment methods

Play now

2

Unibet sportsbook review

93

/100

Betting features rating

by Elena I.

84%

Playscore

based on

Best mobile betting app

Play now

Good to know

Many major events live
Unibet TV
Deposit AU$1 to live stream

5 payment methods

Play now

3

Dabble sportsbook review

81

/100

Betting features rating

by Elena I.

94%

Playscore

based on

Best social-first features

Play now

Good to know

Horse racing live streams
Free live streams
Interactive social betting

4 payment methods

Play now

4

Sportsbet sportsbook review

85

/100

Betting features rating

by Elena I.

75%

Playscore

based on

Best for novelty bets

Read review

Good to know

Major live sports
Free live streaming
Strong Aussie sports focus

6 payment methods

Read review

5

CrossBet sportsbook review

70

/100

Betting features rating

by Elena I.

71%

Playscore

based on

Live horse-racing streaming

Read review

6

Neds sportsbook review

91

/100

Betting features rating

by Elena I.

92%

Playscore

based on

Same, blended, and split multis

Read review

Good to know

Multiple live markets
Many live races
Live streams mobile-compatible

8 payment methods

Read review
#1. bet365 sportsbook: top betting apps with live streaming
Without question, bet365 is the best betting site for live streaming in Australia. The site has live sports available from around the world including the UK, the US, Europe and, of course, Australia. You can also access a wealth of different leagues and smaller sports including darts, handball and ice hockey.
However, in order to watch sports live you do need to have a registered account and have funded it on the previous day. You will be able to see which event is live or will be live thanks to the convenient Video icon next to the sport listing.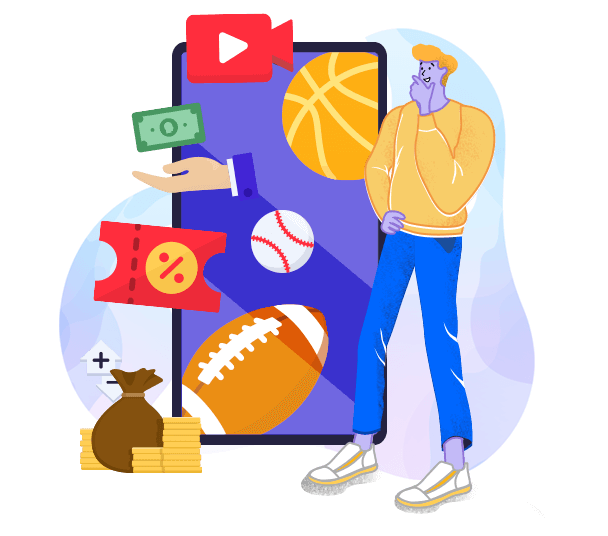 #2. Unibet sportsbook: Many top live sports
As one of the top betting sites with free live streaming, Unibet has ensured it has a place at the top of this list. Unibet live streaming is easy to access and available via the Unibet TV video icon. Clicking on it brings you to all of the live events available. There are a number of different live sports offered including horse races, major football leagues such as the English Premier League, various European football leagues and basketball to name a few.

#3. Dabble sportsbook: Excellent app and live horse racing
This mobile-only betting site makes it very easy to get horse racing live streaming. In fact, currently, racing is the only sports streaming option available. However, it is all very easy to access and is fully mobile-compatible. Live stream betting is also available in-app. This means that you can place a variety of different bet types on both Australian horse racing and racing events from around the world. Click on the upcoming live events to see what is coming next.
Choosing a good live betting site
When we rate the best betting sites streaming live sports, we take a number of criteria into consideration. Here, we go through each of these so you get a good idea of where our scoring comes from. Check our rating system and see if you agree with our scores or use it to rank sportsbooks on your own.

<strong>Sports and markets covered</strong>
When we look at live streaming sites, one of the first things we want to see is whether there is a range of sports available for live streaming. Ideally, we want to see a live betting site offer at least ten different live sports. Preferably, these shouldn't just include top sports, but also cover smaller, more niche, sports like table tennis, darts and handball. If a sportsbook is only offering big events such as the NBA, NFL and major tennis tournaments, then we're going to give it an average score as the site isn't going above and beyond. However, if the site has no in play betting or live streaming options at all, then we will mark the sportsbook down.

<strong>Betting odds</strong>
One thing that's important for players to realise is that live odds are very volatile and tend to be a lot lower than those for traditional bets. However, we still want you to be playing at the best live streaming betting sites out there. So, to determine this, we check out the average payout percentage of each sportsbook we review. Typically, the payout percentage when it comes to live bets is about two percentage points below the ideal for traditional odds. Top streaming betting sites will have to have an average payout percentage of 93% and above for live bets for us to give it a good score. Anything lower than 90% should be avoided.

<strong>Licences</strong> and safety
No matter how many betting markets or free bets a site offers, if it isn't complying with Australian law, then we're not going to give it a good score or recommend you play there. For us to give a good score, we want to see an Australian licence from somewhere like the Northern Territory. Additionally, top-rated streaming betting sites will also have good responsible gambling protocols in place as required by the Australian gambling industry. This means we want to see self-exclusion tools as well as access to the National Gambling helpline for those who might be struggling. Finally, there should be a minimum of 128-bit SSL encryption in place.

<strong>Live streaming on mobile</strong>
These days, we all like to play on the go and the same is true of live streaming and betting. Now, we don't expect there to be a betting app, though it does help. What will get a high score is if the mobile platform is accessible, loads well on any speed internet connection and has the same betting markets and free bets as the desktop site. If the mobile platform is slow to load, glitchy, or confusing to use, then we're going to give it a lower score. Additionally, if sports are missing from the mobile app or you can't actually get the live streams to work when not on a desktop, we're going to give the site a much lower rating.

Usability
Of course, it's not just about what the site offers, but how easy it is to find everything and get around. Streaming betting sites that list all their sports clearly, provide filters or a search bar will get a much higher score. As will those sites that don't have any broken links throughout the site. We will also give good scores to sites that have good designs and layouts. Any site that considers a dark mode will score even higher. If the site is confusing to use and not intuitive in any way, then we will mark it down. Similarly, no filters or search bar to find leagues and sports such as the EPL, table tennis, or a specific horse race for live streaming, will also get a lower score.

<strong>Overall betting site offering</strong>
Finally, we look at other criteria to get an overall view of whether the sportsbook is worth joining or not. For instance, we take a look at the betting payment methods on offer. Ideally, we want to see at least 10 options for us to award a top score. Anything less than five and we're not going to be as happy! Additionally, we want some good support in play here. Top sites will have three support options (or more), and one at least will be available 24/7. If there's no live chat and limited support hours, then we're dropping that score way down. Finally, we look at any player reviews to see where the issues lie. Even if there are complaints, if the sportsbook deals with them efficiently, then we can still give a good score.
Top sports to live stream at betting sites
These days, there are a growing number of live sports streamed on sportsbooks. However, some sports are better watched and bet on live than others. With this in mind, we're going to take a quick look at some of the top major sports you can live stream in Australia.
Pros and cons of best bookmakers for live streaming betting
With live betting and streaming becoming more popular, it's time we took a look at the pros and cons that come with it. Of course, there are a ton of excellent reasons to access live streams mainly because it means you can follow the action instantly. However, there are some downsides too, so we're going to go through them all here.
Provides more freedom to bet on your favourite sports.
Live bets give you the chance to hedge your bets on a live event.
When you watch live you can see how the game is playing out and potentially cash out a bet early to retain a profit.
Provides flexible betting opportunities.
Sometimes you have to make snap decisions which can be hard.
Without a decent internet connection you can experience major lag affecting your bets.
Live in-play betting — a new punter's guide
So, now you know which live sports are generally available on live streaming betting sites in Australia. The next step is to actually get signed up and started on one of these betting sites. Read on to find out how!
How do live streaming betting sites work?
They may seem a little confusing, but actually, live streaming betting sites are very straightforward in the way they operate. Just like any other Australian betting sites, you do need to sign up first. Check out the steps you need to take below, and you'll be up and running in no time at all.
Find a live streaming sports site and sign up. You can check out our list of the best betting sites here to ensure you sign up to a licenced and reputable betting shop.
Fill in all your details including name, date of birth, address, email and so on. Confirm your account.
Go to the banking section of the site and choose your preferred payment method. Make a deposit to be able to access the live streams.
Visit the sports section and find which events have live streaming available.
Click on your chosen sport and make a qualifying bet on the sport and event of your choice.
Open up the live stream and watch the game or match unfold. You can modify your bet or place new ones as the game plays out.
Popular bets to place while live streaming
You're still here so we're going to assume you're ready to place your first live sports bet. With that in mind, we're going to run through some of the best live bets to place on major events. There are a number of different bet types and these work well in different situations and sports.
Live streaming betting tips
If you want to move forward with enjoying live streams when placing your bets, then there are some handy tips and tricks to think about. Taking on some of our suggestions will mean you have a much better time when you watch live sport in Australia. Read on to get our top live sports streaming tips.

Sign up
Check for free live sports streams by signing up to sportsbooks that offer it. Typically you will need to have made a deposit to qualify for the live streams.

Do your homework first
Watch your chosen live sport a lot to really get to grips with the rules before you start in play betting.

Check your connection
Make sure that your internet speed is good before you start trying to stream live otherwise you may find that your live stream is interrupted by a glitching internet and you may miss out on key sporting moments.

Live streaming video lagging
Don't forget the live streams are not live to each second and that there will always be some lag.

Use different live streaming sportsbooks
Access live streams across a number of different sportsbooks rather than limiting yourself to one live streaming service.
FAQs
What are the best betting sites with live streaming?
There are a number of top live streaming sites in Australia including bet365, Unibet and Dabble. However, each one is different. Because of this, we recommend picking live streaming bookies based on their licencing, the number of sports streaming, the accessibility of the live streams and whether the live sports streams are available in high quality.
Is live streaming betting legal in Australia?
Yes, live sports streaming and betting is perfectly legal in Australia. However, there are still legal issues with some of the broadcasting services, which means you're not going to find all your favourite sports available to watch live on a sportsbook. Generally, the best live streaming site will at least offer major tournaments and other top live events.
Are there any betting apps with live streaming?
Yes, there are Australian betting apps that offer live streaming. Both bet365 and Unibet offer live betting on their platform and it can be accessed on their betting apps as well. Additionally, Dabble is a mobile-only site and does have the option to stream live horse races and greyhound racing via your mobile device.
Are there betting sites with free live streaming?
Yes, there are a number of sites with sports streamed live and for free. Some of these include bet365, Unibet and others. All you need to do to access the stream live is to be a member of the sportsbook. It's worth pointing out though, that not all online bookies offer obscure sports for streaming.
How does live streaming betting work?
Live streaming is where the sport in play is streamed directly on the sportsbook. This means you can access and watch the event through live broadcasts on your mobile device or computer. Depending on the live stream, you might need to install a Flash plugin in order to get the live stream to work smoothly on your device. For some sportsbooks, you can place a bet online as you watch the stream. For others, you'll need to phone a special number to place your wager.
Sources