PlayON bookmaker review: DFS, boosted odds, and more
71
/100
Expert rating
byby

Elena I.
Best sportsbook in your area
Bet365 sportsbook
Most sports markets on offer
In this PlayON betting review, we're going to take a look at what this daily fantasy sports betting site has to offer players. First, we look at the leagues and sports on offer.
For the PlayON betting site, we also take a look at the betting tools available and what you can do in terms of live stream betting and claiming fantasy points. 
On top of this, we also look at the different payment methods supported, how you can claim cash prizes, and what the highest limits are if you were to win.
Finally, we check to see whether PlayON Australia is safe and secure. And, we look to see how usable it is across both the desktop site and the mobile platform.
Pros and cons
Reliable operator
Competitions and fun events
User-friendly interface
3-10% commission
No native app
Delayed support responses
General ratings
71
/100
Expert rating
byby

Elena I
81
Betting features rating
65
Sports & markets rating
How we rate?
Our main score is the Expert Rating, which ranks sportsbooks on over 60 criteria in seven different sections, including sports and markets, odds, safety, usability, and more.
69%
Playscore
based on 5 critics
100
90

78

50

29
What is our Playscore?
The Playscore represents the average rating according to top critic sites for a given betting operator.
General info
| | |
| --- | --- |
| Launch date | 01/08/2012 |
| Company behind | Tradeplayer Limited |
Best alternatives to PlayON sportsbook
Unibet sportsbook
Betfair sportsbook
Australia's only betting exchange
Ladbrokes sportsbook
In-depth stats and predictions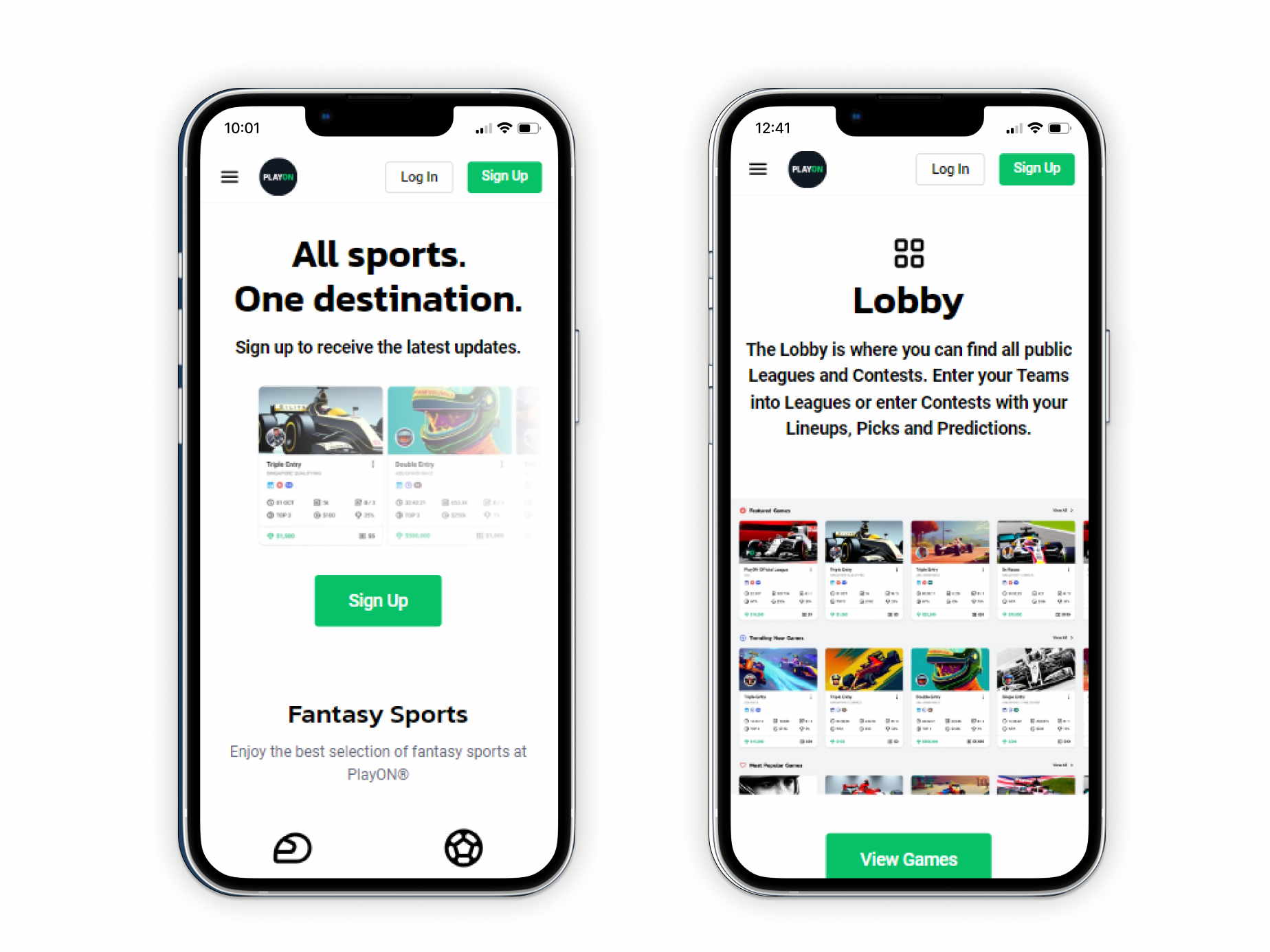 Editor's note
This review is based on the operator's current sports offer in Australia.
Sports and markets at PlayON sportsbook
If you want to get ready to place a PlayON bet, then the first thing you need to know is whether or not your preferred sports are available, and what the range of options is.
As this is a daily fantasy site, the selection of sports is a little more limited. PlayON has ten different sports on offer and these include rugby league, American football and cricket.
Within each of these sports are a number of daily fantasy contest options that cover the main leagues. For instance, PlayON Australia has big contests for the NFL league for American football and various cricket leagues.
Sport events facts
| | |
| --- | --- |
| Total number of sports to bet on | 10 |
| Top market | American football |
| Unique markets | N/A |
| Top events | NBA, NFL, NRL, AFL |
As we continue with this PlayON betting review, we will take a look at the different ways you can earn fantasy points when joining any of the different fantasy contests and events offered.
Featured betting markets
Aussie Rules

Basketball

Cricket

Esports

Football

American football

Baseball

Golf
Motor racing

Rugby

Tennis

Ice Hockey
Sports and markets rating
65
/100
Limited number of sports on offer 
Limited sports betting markets 
Good coverage of American sports 
Growing number of competitions 
Lacks Australian leagues 
Very few sports 
While it's not the best fantasy site out there, the PlayON bookmaker has really made a good start here so I am not complaining. I mean, it's already increased the number of sports it has available since it launched. 

I feel it is a little unfair to compare it to sportsbooks, but if we look at another fantasy site, Draftstars, then PlayON does fall a little short. Draftstars just has more sports and contests. 

However, amazingly, PlayON is still doing better than social betting sites like Dabble, where there are only nine sports on offer. I think the biggest letdown for me though, is the lack of any horse racing. 

Additional market details: Without a doubt, football is the top sport here, but this isn't really surprising. After all, this is a UK-based site, which is where football is hugely popular. There are many daily contests for football betting as well as a wealth of different football leagues available to participate in. 

Additional market details: As PlayON grows, so too has its Aussie sports markets. Now, rugby league is a big option available. There are many contests for the NRL league too, which makes this a lot better. You can also enjoy short-form contests as well as the long-form leagues here. 
Betting features at PlayON
We always want to see what betting features are available as we want to ensure your gaming experience is an exceptional one, and this is the same for using a daily fantasy site.
Of course, the usual betting tools such as live betting, streaming and cash out are not applicable to this type of site. So, instead, we look at the contests and what they offer you.
For starters, you can play in short-form daily contests, which can be a single session or a race week. There are numerous formats here including lineups, picks and predictions on offer.
Betting features facts
| | |
| --- | --- |
| Cashout | No |
| Bet builder | No |
| Live stream | Yes |
| Live betting | No |
| Betting exchange | No |
| Quick bets | No |
| System bets | No |
| Virtual bets | No |
| Other bets | No |
There are also long-form leagues available. These are for longer time periods, typically running for 2 weeks or even the entire season. Here you will pick a full team to play with.
Betting features rating
81
/100
Easy-to-use competitions and filters 
Filter competitions 
Player portfolio 
Live streaming 
Free roll comps available 
Lacks all traditional betting tools 
I was excited to see that there are a number of excellent league and contest options available. In particular, I was pleased to see that it was possible to create my own contest, not just join pre-existing ones. 

Of course, if I am to compare this to a site like Unibet, which offers live streaming of the games, then PlayON amazingly does match this. There is a PlayON TV so you can watch events in real-time as you pick your fantasy teams. 

With that in mind, I focused on the actual betting options and array of leagues and games on offer. Even as a fantasy site, PlayON does better than sites like Elitebet here. 

Additional features: Contests are the big thing here and it's important to know all the options. Depending on which one you join, there are single entry and triple entry options. It's very important to read how you score fantasy points with your fantasy teams though, as this is different across different sports with NFL, cricket and rugby all earning you points in a variety of ways.
PlayON sports betting odds
For most Australian bookmakers, the odds are essential to getting a good score. After all, you need the best odds in order to have a competitive edge when placing your bets.
However, with a fantasy sportsbook, there are no odds available. That being said, you do need to consider the odds for each team or player when you're creating your fantasy teams.
Because of this, instead of odds, PlayON will increase the cost of certain players or teams to reflect the odds that are available on bookmaker sites. As such, the higher the price, the better the player is.
Betting odds facts
| | |
| --- | --- |
| Average payouts | N/A |
| Highest available | N/A |
| Boosted odds | No |
| In play betting payout | N/A |
Because there are no odds here, we don't have any way of really comparing whether one fantasy site does better than another in this category. All we can say is check the odds and betting tips on other sites before you select your team.
Odds rating
50
/100
No odds available as this is a fantasy site 
Odds are not a requirement 
Player prices reflect performance
I can't really score this as it's just not applicable to PlayON in any way. That being said, Tradeplayer Limited does have their own Dynamic Pricing system, which is the way that the players and teams are priced. 

Essentially, the prices for players are determined based on their real-world performances in the various events. In this way, we can see whether they match with the odds offered at Neds for example, known for high and competitive odds. 

Of course, you want to keep your budget flexible so you shouldn't be packing in just the top players. It's a good idea to check out bet365 for instance, and see if you can find some good underdogs that might put in a good performance, helping you out by earning you extra points.
Payment methods found in our PlayON betting review
Being able to make payments via safe, secure channels is a must when playing and betting online. And yes, this is the case with a fantasy site as well because you will get payouts if you're good.
With that in mind, we want to see ten or so payment options to give you a lot of choice. However, PlayON only offers 3 payment methods and these are VISA, Skrill and Neteller.
There is a low minimum deposit of AU$10 in place. For other transaction options, there are no limits in place as payouts will also depend on the contest, percentage of the prize pool you've won and so on.
Payments facts
| | |
| --- | --- |
| Total number of payment methods | 3 |
| Best option | Skrill |
| Minimum deposit | AU$10 |
| Maximum deposit | N/A |
| Minimum withdrawal | AU$10 |
| Maximum withdrawal | N/A |
| Average deposit time | Instant |
| Average withdrawal time | 24 – 48 hours |
| Average deposit fees | No fees |
| Average withdrawal fees | No fees |
The good thing about having predominantly eWallets on offer is that transactions are fast. Deposits are instant across the board so that you can fund your account and join a league or competition right away. Withdrawals take up to 2 days across all payment methods. Finally, there are no fees in place, although it is a good idea to check this with your bank.
Payments rating
65
/100
Limited number of payment methods
eWallets provided 
No fees
Fast transactions
Few payment methods 
No Aussie-specific options
There's a lot to like about the payments here, although there are also some downsides. For instance, I really did like that there are eWallets available. The problem – they're not commonly used by Aussies. There's also only a limited number of options. 

While PlayON offers both Skrill and Neteller, sites such as BetFair offer PayPal instead. Frankly, I'd have preferred this as the payment option since neither Neteller or Skrill are typically used in Australia so that's not a great start. 

At least there are super fast payouts available because of this. PlayON really does put sites like Zbet to shame where you can expect payouts to take upward of 5 days. All PlayON needs is a few more Aussie payments like POLi or BPAY and this score is soaring. 
Safety features
Staying safe is important no matter the site. Just because this is a fantasy site it doesn't mean safety and security should be thrown out of the window. And this is why we look at the licencing.
The PlayON website is fully licenced by the UKGC, but also by a number of different jurisdictions within Australia as well. This means that you can really relax when you play here knowing it's all very secure.
In addition to this, there are SSL encryption protocols in place, protecting your data from access by unwanted third parties. Any banking or personal information you provide cannot be accessed by anyone else.
Safety facts
| | |
| --- | --- |
| RNG auditing | N/A |
| Seals of Trust | N/A |
| Responsible Gambling | GambleAware, GamCare, GamStop |
| SSL encryption | 2048-bit |
| Ever blacklisted | No |
| Licenses | Northern Territory Racing Commission, South Australia's Gambling Codes |
| Self-imposed spending limits | Available |
| Self-exclusion | Available |
| Cooling off period | Available |
| Account authentication | Required |
| 2-step authentication | Available |
On the PlayON website you can also find various responsible gambling tools. If you feel you are playing too much here and constantly joining competitions and losing, then you can exclude, cool off or set limits via your deposit methods.
Licensed by
Northern Territory Racing Commission

South Australia's Gambling Codes
Trusted by
GamCare

GamStop

GambleAware
Safety rating
90
/100
Numerous licences from around the world 
Licenced in Australia 
Aussie company operates it
No Australian responsible gambling hotlines 
There's not much for me to fault here on this Tradeplayer Limited run fantasy site. It really does tick all the boxes. The only thing left would be for the site to gain an official partner. 

Just like sites such as Palmerbet, PlayON is fully licenced by a range of different Australian jurisdictions. Because of this, the site has to adhere to specific protocols all of which are there to protect players. 

I was really pleased to see that PlayON fully embraced its SSL encryption requirements by using 2048-bit, which matches the heights achieved by Ladbrokes. I was really impressed so big points here.
Customer support – email only
For many players, support is something that's often overlooked. However, even when a site works very well, being able to get in touch with someone for help is essential to having fun and staying playing.
We like to see that there are 3 options for support available. And, it's even better if one of them is available 24/7. At the moment, PlayON only has an email available for players to use.
There is no phone support nor is there a live chat. Although the support is 24/7, the email response time is rather slow and it can take a few hours before a response comes your way.
Support facts
| | |
| --- | --- |
| Customer support availability | 24/7 |
| Live chat | No |
| Email | [email protected] |
| Contact no. | N/A |
| On-page support | FAQs |
There is a strong FAQ and help section on offer here. You can find out all you need to know about getting a referral link, creating teams, the points system, which sports are on offer and more, all here.
Support rating
68
/100
Only email support with a slow turnaround 
Email support
Good FAQ section

Again, this was not one of the top areas on PlayON. I wanted to give it a higher score but having just an email for contact, and that being rather slow, is just not good enough in this day and age. 

To be honest, I'd almost prefer the limited hours that Bbet offers as I'd know where I stood. As it is with PlayON, I can send an email whenever I want, but it's unclear when I will actually get a response. 

I did really like the FAQ section though as it is incredibly comprehensive. It's nicely laid out too and filled with helpful tables and screenshots so I could understand everything. This is why CrossBet's lack of an FAQ is so concerning, so points to PlayON here.
Platform and usability
Finally, we take a look at the overall betting site and how well it functions when you decide to join up. For this, we look at both the desktop and mobile betting sites.
The design of PlayON is great as it is very minimal. It's very easy to see all the different sections and thanks to the images and screenshots, it's simple to understand how to get started.
Across the top are all the different areas of the site in a clear black and white menu. All of this translates well to the mobile browser site. There are no native apps at this time.
Usability facts
| | |
| --- | --- |
| Sport filters | Yes |
| Search function | Yes |
| Web UX | Good |
| Mobile UX | Good |
| Load speed | 0.6 sec |
| Other products | N/A |
When you head to a contest or league, it's also very easy to search through all the options via sport. You can even whittle down the selection using a number of additional filters to find a league or contest that suits you.
Play on devices
Android

Linux

iOS

MacOS

Windows
Platform rating
76
/100
Easy, simple and intuitive betting platform
Compatible with mobile devices 
Simple and uncluttered design 
Fast sign up
As far as fantasy sites go, I was really impressed with the layout and design. Yes, there are no betting apps, but they're clearly on the way as they're advertised at the bottom of the main page. 

Even if you use the mobile site, you get access to all the same sports such as cricket and the NFL. You can use the referral link and access everything smoothly. Unlike BetGold, nothing is confusing here! 

I will say that filters were a godsend here and something that sites like GetSetBet would do well to implement. These filters made everything so easy for me, which meant I had a great time on this site overall.
Expert verdict
As we conclude this PlayOn Australia review, it's important to reiterate the fact that this is actually a fantasy sportsbook rather than a traditional, real money betting site. That being said, it's still possible to win money through the various contests.
Available in 200 countries, PlayON has only recently made its way to Australia. As such, the sports selection doesn't entirely favour the Aussie market, but there are now cricket, AFL and NRL leagues for Aussie punters to enjoy.
The site is fully licenced across multiple jurisdictions and holds a licence with the Northern Territory Racing Commission as well as South Australia. It's also licenced in the UK as well, making it very secure.
Finally, there are good eWallet payment options but, unlike other bookmakers, it does not offer Aussie-specific payments. It currently has no native apps available, but there is a mobile version if you want to play on the go.
FAQs
Is PlayON betting site safe? 
Yes, PlayON is not actually an Australian site but was founded in the UK. As such, the site has numerous licences including one from the UKGC. For Australia, the site has the Northern Territory Racing Commission licence and is also regulated by the South Australia gambling commission as well. Tradeplayer Australia Pty Ltd owns and operates the betting site in Australia and abides by all government regulations.
Can Australians use PlayON betting site? 
Yes, PlayON now has an Australian version of the site and this is operated by Tradeplayer Australia Pty Ltd. As the site is fully licenced and regulated within Australia, it's easy for Aussies to join up and play. The only thing to note here is that PlayON is not geared toward Australians specifically. This means that there are no Aussie-specific payment options and some Aussie sports and leagues are absent.
Who owns PlayOn betting Australia? 
PlayON Australia is owned by Tradeplayer Australia Pty Ltd. The company is based in Australia and manages all of this part of the PlayON site. As this is a fantasy sportsbook, Tradeplayer Limited does not have to worry about offering great odds as you are not betting on the events themselves. If you want good odds and betting opportunities, then you need to find a different sportsbook.
Can you bet on real sports on PlayON? 
No, PlayON is not like other Australian bookmakers and does not offer real sports betting. This is purely a daily fantasy sports site, which means you can only create fantasy teams and join a fantasy contest. There are ten different fantasy sports available on the site and these include football, Aussie rules, American football, cricket and various rugby options. Currently, there is no ice hockey or horse racing available.
Can I win real money on PlayON? 
Yes, you can win real money at PlayON Australia. However, you will need to make a deposit to do so. You can win cash prizes in the freeroll tournaments, but this is a lot harder. It's easier to pay the entry fee to one of the larger tournaments and see if you can win part of the prize pool that way. Some of the larger tournaments have big prizes up for grabs.