It's no secret that the NFL is one of the most watched sports in the US. It's a pastime that brings people together, offering a unique way to bond over a shared love of the game, a favorite team or an appreciation for the athleticism and skill the players bring to the field. But in a new twist, it appears that the NFL is not only affecting the way people bond with each other, but also how they manage their romantic relationships. A recent survey by Time2play.com shows that some fans are willing to put their love for the NFL ahead of their love for their significant other.
The survey was conducted among 1,200 self-identified NFL fans in the United States and reveals some surprising insights into the role the NFL plays in their romantic lives.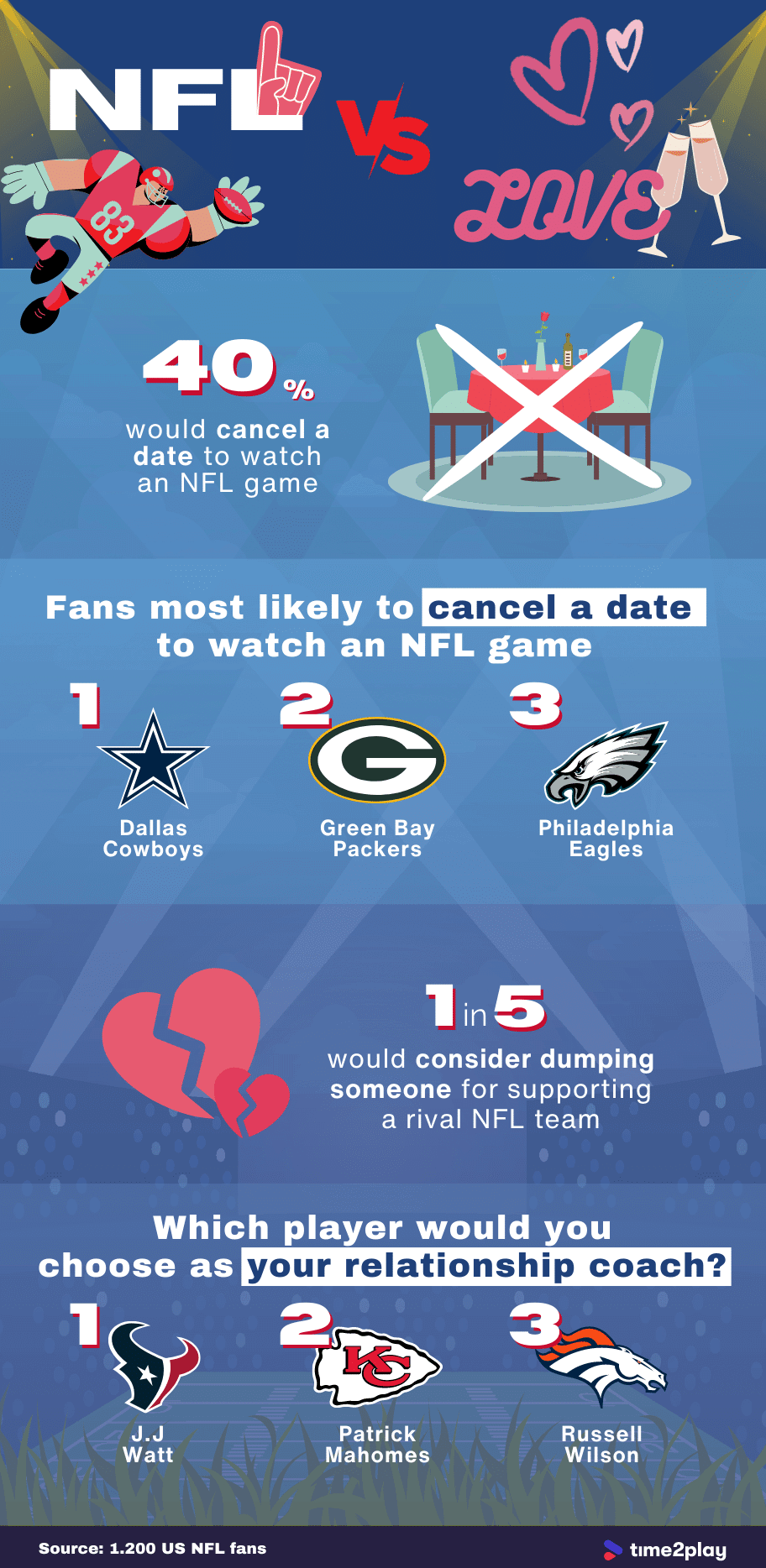 Canceling dates for the game
The study found that 40% of fans would cancel a date to watch an NFL game. Such is the devotion to the game that the prospect of missing a crucial touchdown or game-changing interception is unthinkable for many, even if it means rescheduling or canceling a date.
In a ranking of the fans most likely to cancel a date to watch a game, Dallas Cowboys fans came out on top, followed by Green Bay Packers fans and Philadelphia Eagles fans. 
Given the passionate and loyal fan bases that NFL teams generally have, this may not be surprising. However, the results may be unsettling for those who are dating a fan of one of the above-mentioned teams, who may find themselves playing second fiddle to a football game.
Break up over football?
Rivalries run deep in the NFL. Some fans are so loyal to their teams that they are willing to end a relationship with someone who supports a rival team. According to the survey, one in five fans said they would consider breaking up with someone because of their support for a rival NFL team. This shows that for some, love for a team can be stronger than love for a partner, and supporting the 'wrong' team can be a deal breaker.
Relationship coaches on the field
When asked which NFL player they would choose as their personal relationship coach, fans chose J.J. Watt, Patrick Mahomes and Russell Wilson as their top three choices. These players are not only admired for their skills on the field. They are also admired for their personal qualities and contributions off the field. Whether it's Watt's philanthropic efforts, Mahomes' leadership or Wilson's advocacy for positive change, these players have won the hearts of many fans. This suggests that their wide-ranging qualities would be well suited to providing guidance and support to others in the building of strong relationships.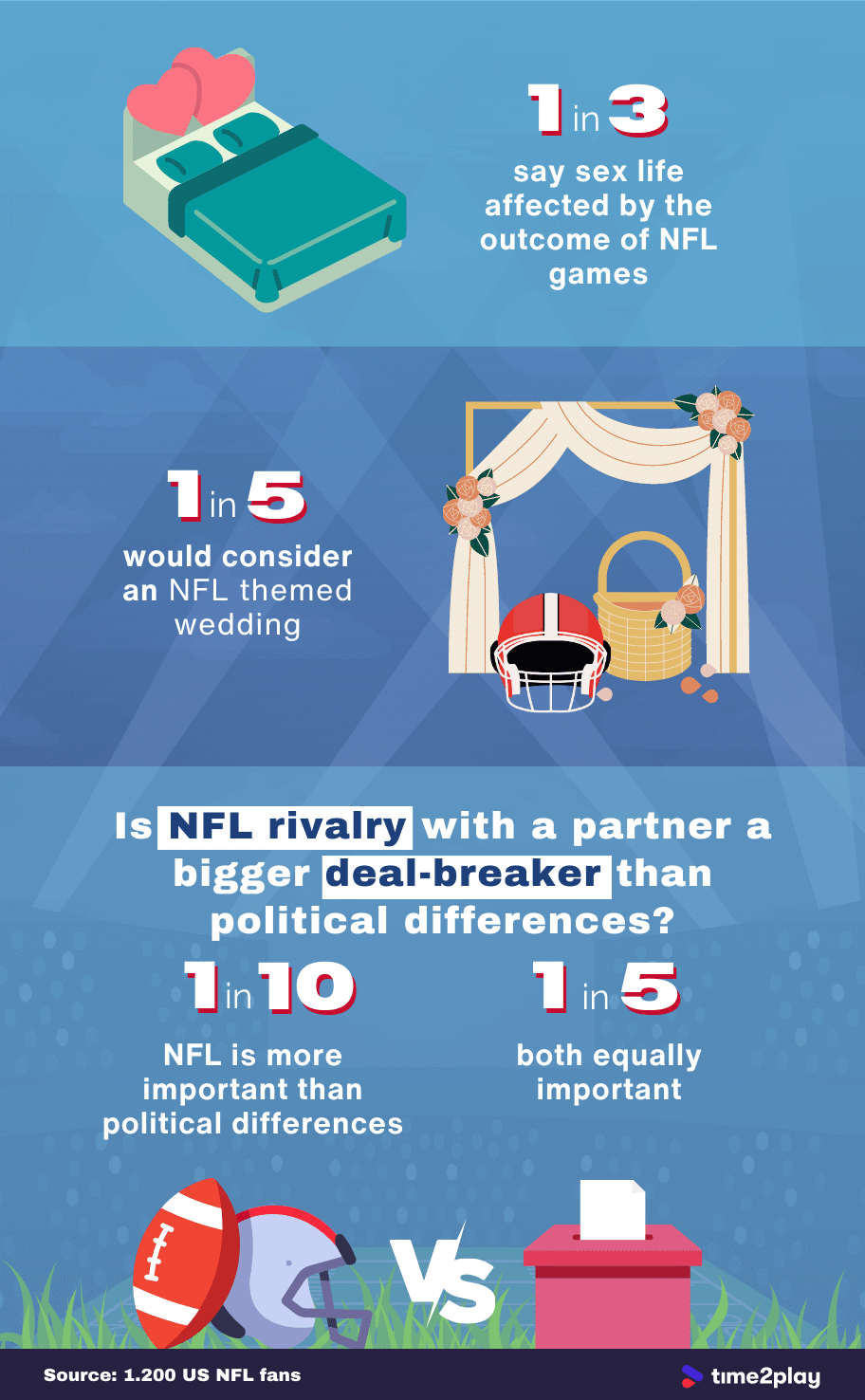 The NFL's impact on relationships
The survey also found that only one in three fans would put the amount of time they spend watching an NFL game at risk for the sake of their relationship with their partner. This highlights the important role the NFL plays in many people's lives, sometimes even taking precedence over time spent with a partner.
In addition, one in three fans report that the outcome of NFL games has had an impact on their sex life. This underscores the strong emotional involvement that people have with sports, as the outcome of the game can have an impact on their mood and consequently on their romantic relationships, either positively or negatively. For example, an improved mood after a victory could lead to happier and more satisfying intimate moments.
NFL-themed weddings and baby names
The NFL's influence extends to major life events. According to the survey, one in five fans would consider having an NFL-themed wedding to show off their love for the game as well as their love for their partner. In addition, 20% of fans would consider naming their child after an NFL player, with Philadelphia Eagles and Dallas Cowboys fans most likely to do so.
NFL rivalry vs. political differences
The study also highlights the surprising extent to which sports rivalries can affect romantic relationships, with one in ten believing that a passionate NFL rivalry can override even deep-seated political differences. Equally intriguing is the fact that individuals seek a delicate balance between shared interests and ideological alignment in their relationships, with one in five fans considering both factors equally important. The findings demonstrate the complexity of compatibility and the potential for different factors to build or damage a relationship.
A cultural phenomenon
The influence of the NFL on romantic relationships reflects the cultural importance of football, which is not just a sport but a part of American culture. It unites communities and creates a sense of belonging. With its high-stakes games, dramatic plays and epic rivalries, the NFL has been a source of fascination for millions of people. For some, it has been a way to connect with family, friends and significant others, to create shared memories and experiences.
However, as the survey results show, the NFL can cause relationship tension for others. The passion and loyalty fans feel for their teams can sometimes clash with their romantic interests. This can be especially challenging for couples who support rival teams, as emotions can run high during games. It may be helpful for couples to find ways to manage their loyalties to the NFL and ensure that their shared love of the game enhances, rather than detracts from, their relationship.
Our findings
In summary, the survey results underscore the powerful impact the NFL has on the lives of its fans. Whether it's the cancellation of dates, the end of relationships because of team rivalries, or the planning of football-themed weddings, the NFL has a special place in the hearts of many fans. For some, it may even take a back seat to their romantic relationships. While the NFL can bring people together and create lasting memories, it's important for couples to find a balance where they can enjoy the game without putting their romance at risk. At the end of the day, it's important to remember that in both love and football, it's the shared moments and connections that make the journey worthwhile.
Methodology
In October 2023, we surveyed 1,200 NFL sports fans in the US.
For media inquiries, please contact [email protected]
Fair use
If you'd like to share this post or its assets with your friends or audience, you are welcome to do so. Please be sure you include attribution linking to this study.
Trending blogs