Spam calls – we all get them, especially the notorious scam calls. No matter how often we receive them, the horror stories are neverending. With millions of dollars stolen in total from Canadians across the country each year, it's no secret that spam and scam calls are a massive security and financial issue for residents. 
With the government, cellphone, and technology companies continuously working together to crackdown on spam calls, we wanted to find out how many spam calls Canadians received per day – and how many have had their identity or money stolen.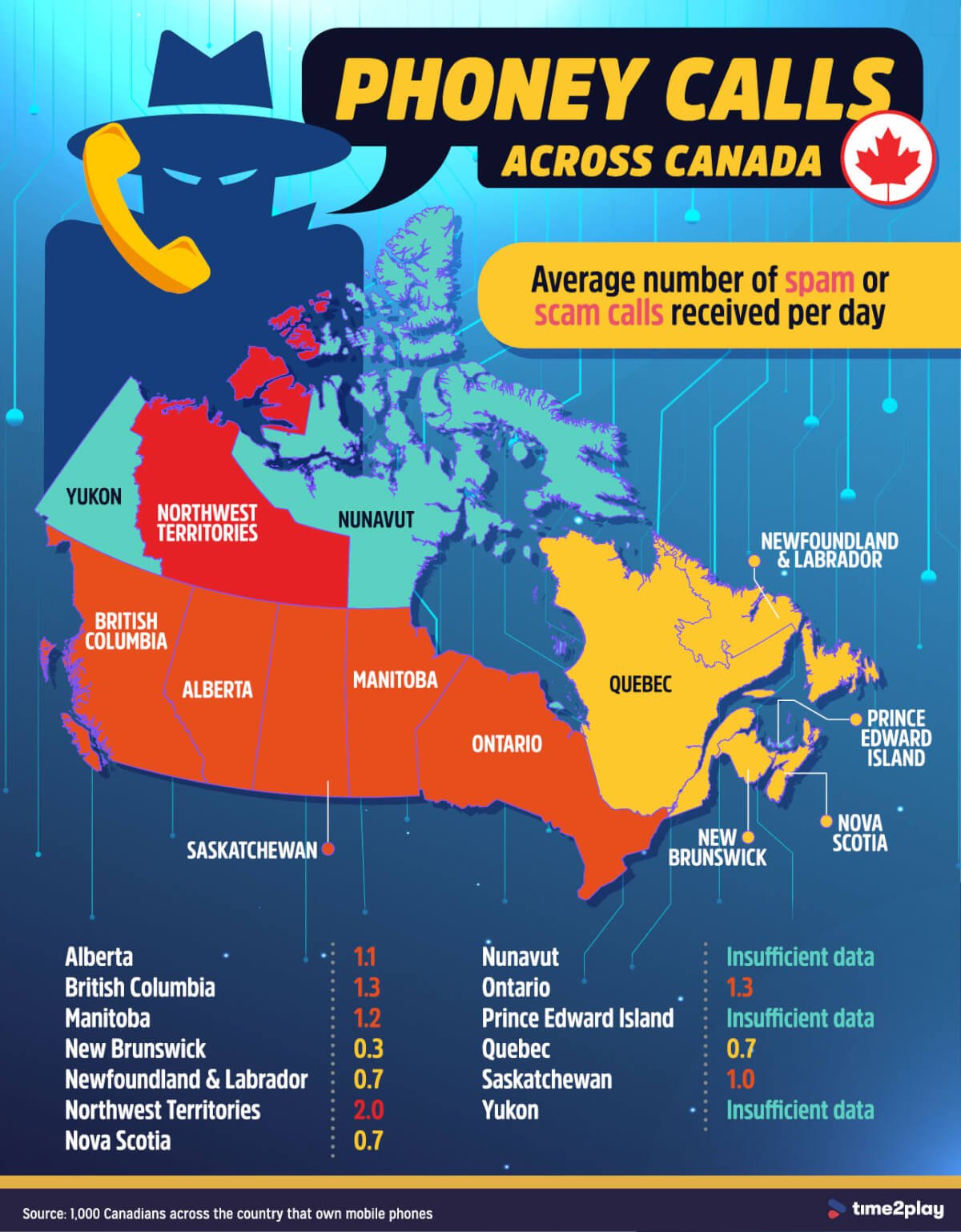 Spam calls are ringing across Canada every day. Surprisingly, the Northwest Territories receive the highest average number of spam calls with two per day – despite having the third lowest population across Canada. Tied for second, British Columbia and Ontario receive an average of 1.3 spam calls per day. Following closely behind in third, Manitoba received an average of 1.2 spam calls per day. To finish off the top five list, Alberta received 1.1 spam calls a day, while Saskatchewan received 1 spam calls a day.
Newfoundland and Labrador, Nova Scotia, and Quebec all tied for the second lowest spam calls received, at an average of 0.7 calls a day. Last but not least, New Brunswick is at the bottom of the list with a low average of 0.3 spam calls a day. That's a 147% difference from the Northwest Territories! 
Prince Edward Island, Nunavut, and Yukon were not accounted for due to insufficient data.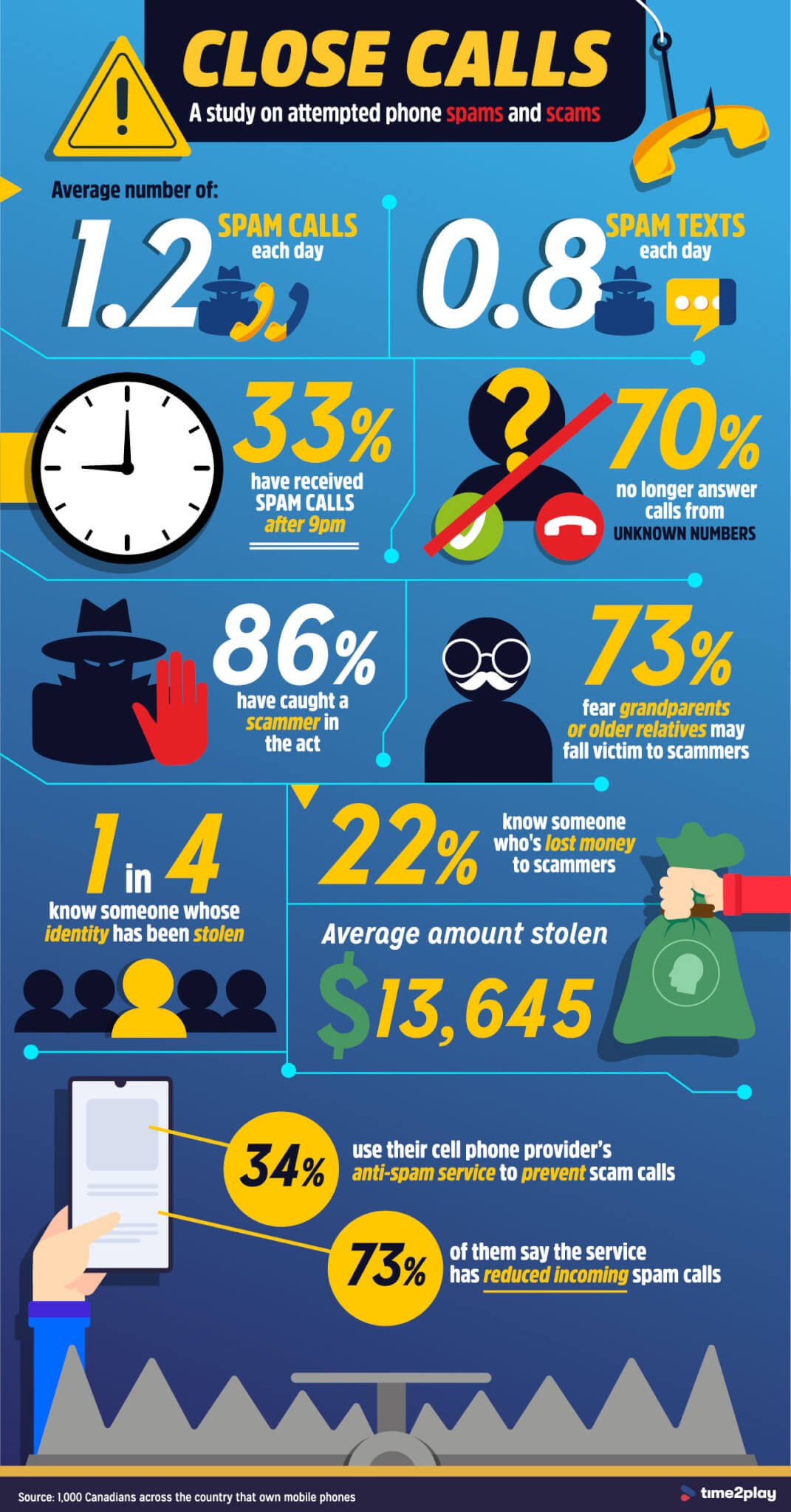 Close calls
Our study took a deep dive into the phone spam and scams that affect everyday Canadians. Our respondents receive about 1.2 spam calls and 0.8 spam texts each day – while 33% of them receive spam calls after 9 PM. When our respondents receive a phone call from an unknown or blocked number, 70% of them don't answer. For those that did answer, 86% recognized during their call that it was a scam call.
Vulnerable victims
As older demographic groups tend to fall victim to these scam calls, 73% of our respondents fear for their grandparents' or older relatives' financial and security safety. 1 in 4 of our respondents know someone whose identity has been stolen, and 22% know someone who's money had been stolen to scam callers. Our study revealed that $13,645 was the average amount stolen from scam calls across the country – whether it was our respondents themselves, or from someone, they knew.
Anti-spam service
In hopes to prevent spam and scam calls, cell phone companies in Canada provide their clients access to their free anti-spam service. 34% of our respondents use their cell phone provider's anti-spam service. Within that 34%, 73% agreed that the service reduced incoming spam calls.
Methodology
In September 2022, we surveyed 1,000 Canadians who own mobile phones across the country. The average age of respondents was 33.8 years old. The average annual household income was $88,829.48.
For media inquiries, please contact [email protected]
Fair use
If you'd like to share this post or its assets with your friends or audience, you are welcome to do so. Please be sure you include attribution linking to this study.
Read more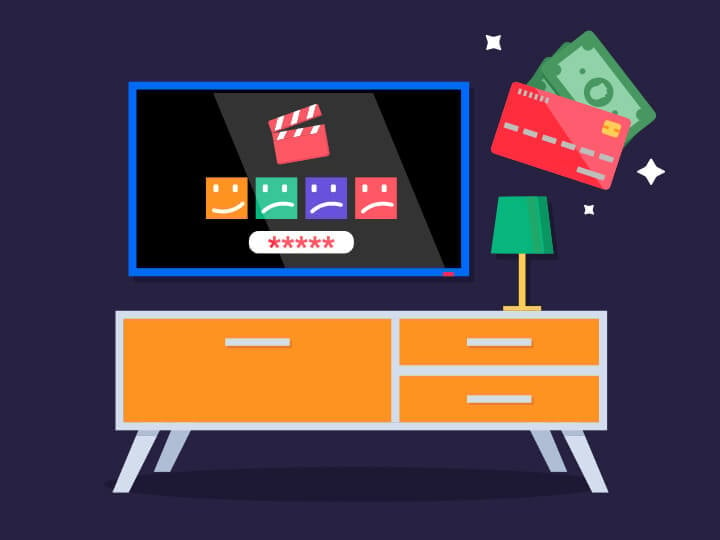 What's your password? — A Netflix study on account sharing
You've heard the phrase before – "Save money. Live better." Let's be honest, who doesn't like to save a little bit of money, especially in today's economy. People are always finding ways to cut down on costs, from budgeting to re-evaluating subscriptions – but that's easier said than done. Many are reluctant to cut a favourite subscription service such as Netflix since it's a popular source of entertainment for many households around the world.