Bbet online sportsbook review — top choice for racing products
69
/100
Expert rating
byby

Bbet sportsbook r.
Excels in racing products
Best sportsbook in your area
Bet365 sportsbook
Most sports markets on offer
In this Bbet review, we're going to take a look at all the features that make this NSW bookmaker stand out from the crowd. To start, we look at the sports on offer.
Just like other Bbet reviews, we also look to see whether quality odds are provided, whether live streaming and live betting are available, and what other betting products are offered. 
Additionally, we check which payment methods are available, how fast transactions are and how easy it is to get in touch with support. We also look at the bet types on offer.
Finally, we make sure the site complies with Australian law. And, we look to see whether there is a Bbet mobile app for you to use.
Pros and cons
Mobile app available
Multiple bets offered
Quick signup
Limited sports
Few payment methods
No live streaming
General ratings
69
/100
Expert rating
byby

Bbet sportsbook r
65
Betting features rating
70
Sports & markets rating
How we rate?
Our main score is the Expert Rating, which ranks sportsbooks on over 60 criteria in seven different sections, including sports and markets, odds, safety, usability, and more.
69%
Playscore
based on 8 critics
90
84
76
75

70
65
61

30
What is our Playscore?
The Playscore represents the average rating according to top critic sites for a given betting operator.
General info
| | |
| --- | --- |
| Launch date | 01/08/2019 |
| Company behind | Behrmann Group Pty |
Best alternatives to Bbet sportsbook
Unibet sportsbook
Betfair sportsbook
Australia's only betting exchange
Ladbrokes sportsbook
In-depth stats and predictions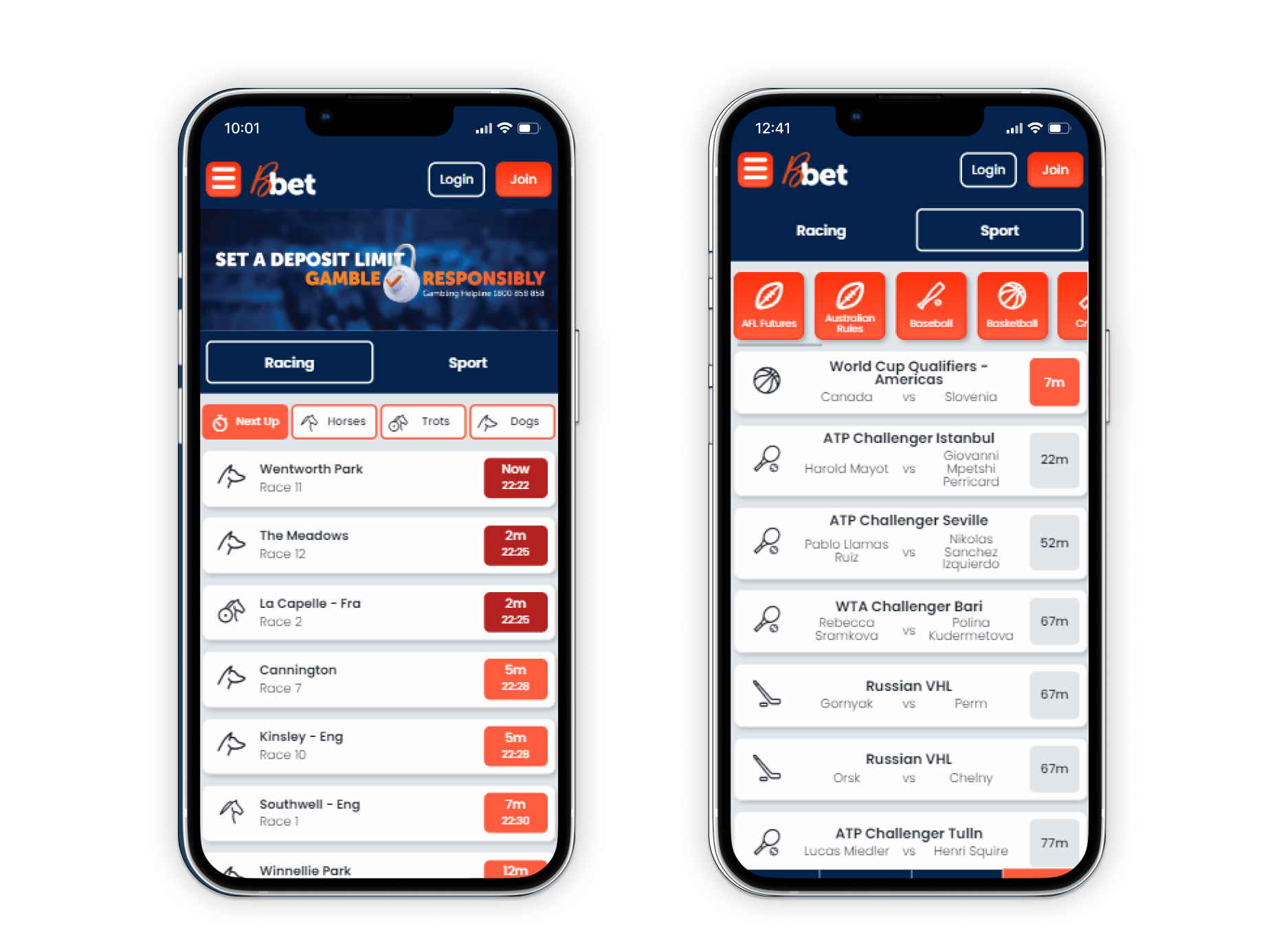 Editor's note
This review is based on the operator's current sports offer in Australia.
Sports and markets at the Bbet sportsbook
Top sportsbooks will make sure they offer players a wide array of different sports to bet on. Due to Aussie gaming laws, any Bbet deposit bonus can't be advertised, so you'll want to concentrate on what sports are on offer instead.
Top sites should offer over 30 different sports. Bbet has just 19, which is a little on the low side. Strangely, there is also no American football on offer, though there are some bets available for the Super Bowl.
The betting markets on Bbet Australia are also somewhat limited. However, this all changes when we look at horse racing as there are both domestic and international racing events on offer.
Sport events facts
| | |
| --- | --- |
| Total number of sports to bet on | 22 |
| Top market | Horse racing |
| Unique markets | eSports |
| Top events | Super Bowl, NBA, Maori All Stars, Six Nations, EPL, A-League, UFC, AFL, NRL |
There are actually a good number of different international leagues across most sports. And, there is an eSports section, though no other unique bets can be found. Keep reading this Bbet review to see what else is on offer.
Featured betting markets
Basketball

Cricket

Esports

Horse Racing

Football

American football

Baseball

Boxing
Cycling

Golf

Greyhound racing

Hockey

Ice Hockey

MMA

Motor racing

Rugby

Tennis
Available events
ATP

Australian Open

La Liga

MLB

MLS

NASCAR

NBA

NFL
NHL

NRL

PGA

Premier League

Rugby World Cup

Super Bowl

Super Rugby Pacific

UEFA Champions League

UFC
Sports and markets rating
70
/100
Limited number of sports on offer 
Comprehensive racing section
Varied international markets
While it's not great to kickstart a review with a lacklustre score, this is what is going to happen. You'll have to log in to find any Bbet promotions, and you're probably going to need them when you hear what betting markets this site has to offer. 

Indeed, this site has nothing on bet365, which offers markets in over 40 different sports. In fact, Bbet is right down at the bottom of the pile here and only has 19 options to bet on, three of which are racing-related. 

While it doesn't have any of the really obscure sports on offer, it does at least offer some eSports betting. That's more than I can say for CrossBet which doesn't even offer that. Having said that, the lack of any American football other than the Super Bowl is a big issue. 

Additional market details: Unsurprisingly, racing in all forms comes top here. The site is clearly geared towards this sector and has strong betting opportunities throughout, It's also the easiest section to navigate and has the widest array of betting options from both domestic and international events. 

Additional market details: Ice hockey is the surprise entrant here. It's got some of the best odds in place across any sportsbook too. There are more than 15 different leagues and events to bet on as well, with a wealth of different betting types on offer.
Betting features at Bbet
One of the ways that different sportsbooks help make themselves stand out is by offering a range of exciting betting features, especially when a Bbet bonus bet is not on the cards.
One of the top features we like to see is cashout as it gives you the option to potentially win money on a live bet before the event is over. Sadly, there is no such option provided here.
There is a good bet builder in place though and you can use this to create a variety of multi-bets, which can really stand to help you gain in the long run. If you're lucky of course.
Betting features facts
| | |
| --- | --- |
| Cashout | No |
| Bet builder | Yes |
| Live stream | No |
| Live betting | No |
| Betting exchange | No |
| Quick bets | No |
| System bets | Yes |
| Virtual bets | No |
| Other bets | Offers a full range of different racing bets |
If you log in to your account, you can look for a Bbet sign up bonus. In the meantime though, you're going to have to resign yourself to the fact that there are no live betting or streaming options on offer.
Betting features rating
65
/100
Very few options provided
No live streaming or betting
Lacks a cashout option
It shouldn't be a surprise here as there are no live bets available. However, this does mean that there's no cashout option either and this is a bit disappointing. These days, most sportsbooks at least manage that. 

I have to say, there is a lot of disappointment here. Just like BoomBet, Bbet has no live streaming (no, there's no Bbet TV) or live betting options. The only place that Bbet does better is that it actually has same race multis on offer, which are lacking on BoomBet. 

In fact, I will say that it's really the horse racing section that pulls it all up here. And that's because the site actually has good tote bets, same race exotics and more, just like Bet Right has on offer. That being said, I am still giving this section a low score. 

Additional features: Multi bets are a great option if you want to give yourself the chance of a bigger win. All you need to do is combine more than one bet into the same big bet. Parlays mean you do this across different sports and events, while a same-game or same-race multi-bet means you do so within the same sports event. 
Bbet sports betting odds
When you sign up for a sports betting site you do need to check out the odds being provided. After all, the better these are, the more likely you will be to score a decent win on any of your sports bets.
In order to check this out, we look at the average payout percentage of each sportsbook. If a site comes in at over 95% then we give this a good score. Sites around 97% are excellent while those under 93% leave a lot to be desired.
Bbet has good odds and is very close to that 95% mark with a payout percentage over 94% on average. There are some sports, such as ice hockey, where the percentage hits our 95% bracket.
Betting odds facts
| | |
| --- | --- |
| Average payouts | 94.64% |
| Highest available | Ice hockey (highs of 95% can be found) |
| Boosted odds | Yes |
| In play betting payout | Highest available |
There are no live betting options here, though odds for these types of bets do tend to be lower. Additionally, sometimes there are odds boosts in place, which can help to increase profits.
Odds rating
82
/100
High odds that are actually competitive 
Competitive odds
Excellent odds for ice hockey 
I was actually impressed with how good the odds are here at Bbet. If I am honest, I did not expect this site to be able to compete on the level that it does, so extra points for that. 

Impressively, Bbet is significantly higher than WinnersBet which has less than 90% for its average payout percentage. And, for some sports, this difference was even greater. If you want ice hockey, then BBet is definitely the site for you. 

On top of that, the average percentage payout from Bbet even beats out the Ladbrokes odds percentage, albeit fractionally. In short, well done, and I am happy to give extra points here. 
Payment methods in our Bbet review
You may not think about it, but it's very important to check out the different payment options available at each sports betting site you check out. After all, you want to be able to use your preferred betting payment method. 
The best sites will have at least 10 different options in place so that you have some variety. Unfortunately, BBet only has five different payment methods for you to use here.
There is not much information provided regarding the transaction limits either. There is no minimum deposit or withdrawal provided anywhere on the site. Nor are there maximums provided for players either.
Payments facts
| | |
| --- | --- |
| Total number of payment methods | 5 |
| Best option | Visa |
| Minimum deposit | AU$10 |
| Maximum deposit | N/A |
| Minimum withdrawal | AU$10 |
| Maximum withdrawal | N/A |
| Average deposit time | Instant |
| Average withdrawal time | 24 – 48 hours |
| Average deposit fees | No fees |
| Average withdrawal fees | No fees |
There are no fees in place though, which is great. Deposits are instant if you are using card payments. However, for those of you choosing a bank transfer or BPAY option, you can expect to wait up to 5 days. This is very slow. Additionally, there is no information provided for withdrawals. It's likely that the bank transfer will also take around 5 days to withdraw.
Deposit methods
Withdrawal methods
Payments rating
65
/100
Very few payment methods are listed and minimal information is provided
Speedy deposits for some options
No fees in place
Instant payments
Very few withdrawal options
Even deposits can take time to process
After the highs of the odds offered, we're back down to earth with a bump here. If I'm honest, I was a bit shocked by the state of the payment section. 

Just five options are really not good enough in my opinion and only one is available for withdrawals. There's just no comparison to BetStar, which has 10 different options all with a fast turnaround time to boot. 

I was also not very happy with the fact that there was no information provided about payments at all. Booki has a high minimum deposit in place of AU$50, but with Bbet I don't even know if this is better or worse! No information is provided at all. 
Safety features
Staying safe online is imperative if you plan on having a good time. To that end, we always take a look at the licensing and security of each sports betting site before we recommend them to you.
Bbet holds a licence from the NTRC, which means that it does have to abide by specific rules and regulations pertaining to the way it protects its players. This includes having SSL encryption protocols in place.
The site doesn't list an auditor, nor does it specify the type of SSL encryption . It can be assumed to be there though as there is the locked padlock icon in the URL bar.
Safety facts
| | |
| --- | --- |
| RNG auditing | N/A |
| Seals of Trust | N/A |
| Responsible Gambling | Gambling help online, RWA, GambleAware |
| SSL encryption | N/A |
| Ever blacklisted | No |
| Licenses | Northern Territory Racing Commission |
| Self-imposed spending limits | Available |
| Self-exclusion | Available |
| Cooling off period | Available |
| Account authentication | Required |
| 2-step authentication | Available |
Bbet also makes sure that it has good responsible gambling policies in place. You can find more details by clicking the link in the footer. This provides you with the self-exclusion, cooling off and bet limit options.
Licensed by
Northern Territory Racing Commission
Trusted by
Gambling help online

Responsible Wagering Australia

GambleAware
Safety rating
77
/100
Decent but nothing special
Aussie-owned
Fully licensed
Responsible gambling protocols
I didn't find anything specifically bad here when it comes to Bbet's safety and security. That being said, there's nothing that really stands out here either. Still, there's a licence so they abide by Aussie regulations. 

However, while there is clearly SSL encryption, I couldn't find how good it was. My bet is that it won't be as good as Bookmaker, which has 2046-bit encryption in place. 

Similarly, the site was decent when it came to responsible gambling though still not as good as zBet, which had far more options and clarity for this section. I really think that Bbet should make it more accessible for players. 
Customer support
Even if a site is operating well, it's important to be able to access a good selection of support options when logging in to your Bbet account. Ideally, we want three different contact options.
Bbet has just one option for you to use. This is an email and no timeframe is given for you to expect a response. There are no other support options provided on the main betting market page.
Additionally, we like to see 24/7 support provided. This again, is not he case here with the sports betting site operating under limited hours each day so you can't expect to get instant responses.
Support facts
| | |
| --- | --- |
| Customer support availability | 10am – 10pm |
| Live chat | No |
| Email | [email protected] |
| Contact no. | N/A |
| On-page support | FAQs and help section |
While there is a help or FAQ section available, it is very minimal. It provides only basic responses eliciting more questions than answers so you will be forced to reach out for more information.
Support rating
62
/100
Very minimal and underwhelming
Email provided
FAQs available
No live chat
Lacks phone line
Limited opening hours
As far as sports betting sites go, this is a poor showing for me. Having just one option, and that being an email is really not good enough for me. At least offer a phone too. 

Similar to Bet Deck, there is no phone or live chat on offer. The only way that I can give Bbet more points here (and I do), is that it has better and longer opening hours. But that's not really much of a recommendation. 

Ideally, there should be a live chat as the bare minimum and 24/7 service just like at BlueBet. As such, despite the helpfulness of the staff here, I can't help but give low Bbet ratings for this section.
Platform and usability
All sites need to go through a careful check by us to make sure that the site is easy to navigate and scroll through. If it isn't, then we are going to give it a poorer score.
At Bbet, the overall design is neat and clear. the colour scheme is a good one and easy on the eyes though there is no dark mode options available, which would elevate this.
All the sports and racing Bbet has to offer is found on the left side of the page. Simply clicking on each event brings you to the list of additional options so you can check out the odds and bets available.
Usability facts
| | |
| --- | --- |
| Sport filters | No |
| Search function | No |
| Web UX | Good |
| Mobile UX | Good |
| Load speed | 0.9 sec |
| Other products | E-Sports |
Everything loads well and there were no glitches found on either the desktop site or the mobile app. There is no search function though, which does slow down the hunt for specific sports bets. The app is compatible with Android and iOS devices.
Play on devices
Android

iOS

MacOS

Windows
Platform rating
65
/100
Decent but matches the desktop which has issues too 
Mobile apps available
Nice design and layout
Sports section isn't obvious
Lacks a search bar
I do like the colour scheme of Bbet, and for the most part, the design is easy to get to grips with. It did take me some time to figure out how to get the list of sports though which was annoying. There are no filters or search bar either. 

When compared to sites like Dabble, then there's no contest. In the future, I'd like to see more features added, in particular more fun bets to compete with social platforms provided by Dabble and other sites. 

That being said, it's still not as bad as some sites – Elitebet for example is just generally poorly designed and confusing. At least on Bbet I was able to find most of the features I needed quickly and easily. Nevertheless, the Bbet ratings aren't going up anytime soon here. 
Expert verdict
As a relatively new betting site, the Bbet website needs a lot of work before it can really compete with the big bookies out there. Currently, the sports markets are very small with fewer than 20 sports on offer and major sports such as American football noticeably absent. 
The horse racing section is the exception and is great, though there is no live streaming on offer nor is there a Bbet TV option. There is a range of bets available and some good odds, but again, no competition to the bigger sites.
However, there is a Bbet app available and this does give you access to all the same features and functions as the desktop site. You can find all the horse racing events easily.
Finally, there are various payment options available including bank EFT though there is not much information provided as a whole. Support is helpful, but there's only email on offer which isn't great for new punters if they need help to sign up.
FAQs
Is Bbet legit? 
Yes, the Bbet site is completely legit. As you can see by some of the positive Bbet ratings out there, the site is fully licenced and secure. This comes from being licensed with the NTRC as well as the site being partnered with Racing NSW. As such, Bbet is safe to play on. Bbet is reliable too as it has SSL encryption protocols in place as well as offering responsible gambling options to players.
Who owns Bbet?
Bbet is owned by the Berhmann Group. This online bookmaker is completely Australian-owned and has its headquarters and offices in various cities around the country. Bbet is reliable too and follows all the laws and regulations as set out by the Australian government. This means that no bonuses or price bump offers can be advertised to its players as this is illegal within the country.
How do I use Bbet bonus bet?
As the site and Bbet app cannot publically advertise any bonus offers, you will need to sign up and log in to your Bbet account to see what the site has to offer. If there is a Bbet offer for you to claim, simply follow the terms and conditions outlined. Make sure that you use any bonus bets within the timeframe stipulated and do not place bets that exceed the maximum size.
What sports does Bbet offer?
Bbet sportsbook has a lot of different sporting events available for sports fans. You can find popular sports such as Aussie Rules, basketball, rugby union and cricket on the site. Additionally, you can find an array of racing markets to enjoy. Within each sport, you can find various international and domestic events and leagues as well as a selection of different bet types.
Is there a loyalty program at Bbet?
Loyal customers will need to log in to their BBet account to see if there are any perks to remaining with the site for the long term. As with all Aussie online bookmakers, Bbet is not allowed to advertise any betting promotions. However, if you are a long-term player, it is very common for betting sites to give you price boosts, odds boosts and so on.