BuddyBet Australia review: all you need to know
72
/100
Expert rating
byby

Elena I.
Social sportsbook with jackpots
Best sportsbook in your area
Bet365 sportsbook
Most sports markets on offer
In this exclusive review, we will outline exactly how this peer to peer betting site works and put you in the perfect position to decide whether it is right for you.
BuddyBet Australia is "an interactive platform where friends can hold each other accountable when wagering". If intrigued, read on to discover everything you need to know.
As well as explaining how BuddyBet works, we will also look at all the background information relating to the site – the payment options, the customer support and the options available for mobile users.
Most importantly, we will assess the online security features at BubbyBet. So without further ado, let's get our BuddyBet review underway by looking at the sports and markets this provider offers.
Pros and cons
Bet against friends
BuddeBet jackpots
User-friendly mobile app
5% platform fee on wins
App can be glitchy
Limited payment options
General ratings
72
/100
Expert rating
byby

Elena I
80
Betting features rating
78
Sports & markets rating
How we rate?
Our main score is the Expert Rating, which ranks sportsbooks on over 60 criteria in seven different sections, including sports and markets, odds, safety, usability, and more.
30%
Playscore
based on 1 critics
30
What is our Playscore?
The Playscore represents the average rating according to top critic sites for a given betting operator.
General info
| | |
| --- | --- |
| Launch date | 02/03/2017 |
| Company behind | BuddyBet Group |
Best alternatives to BuddyBet sportsbook
Unibet sportsbook
Betfair sportsbook
Australia's only betting exchange
Ladbrokes sportsbook
In-depth stats and predictions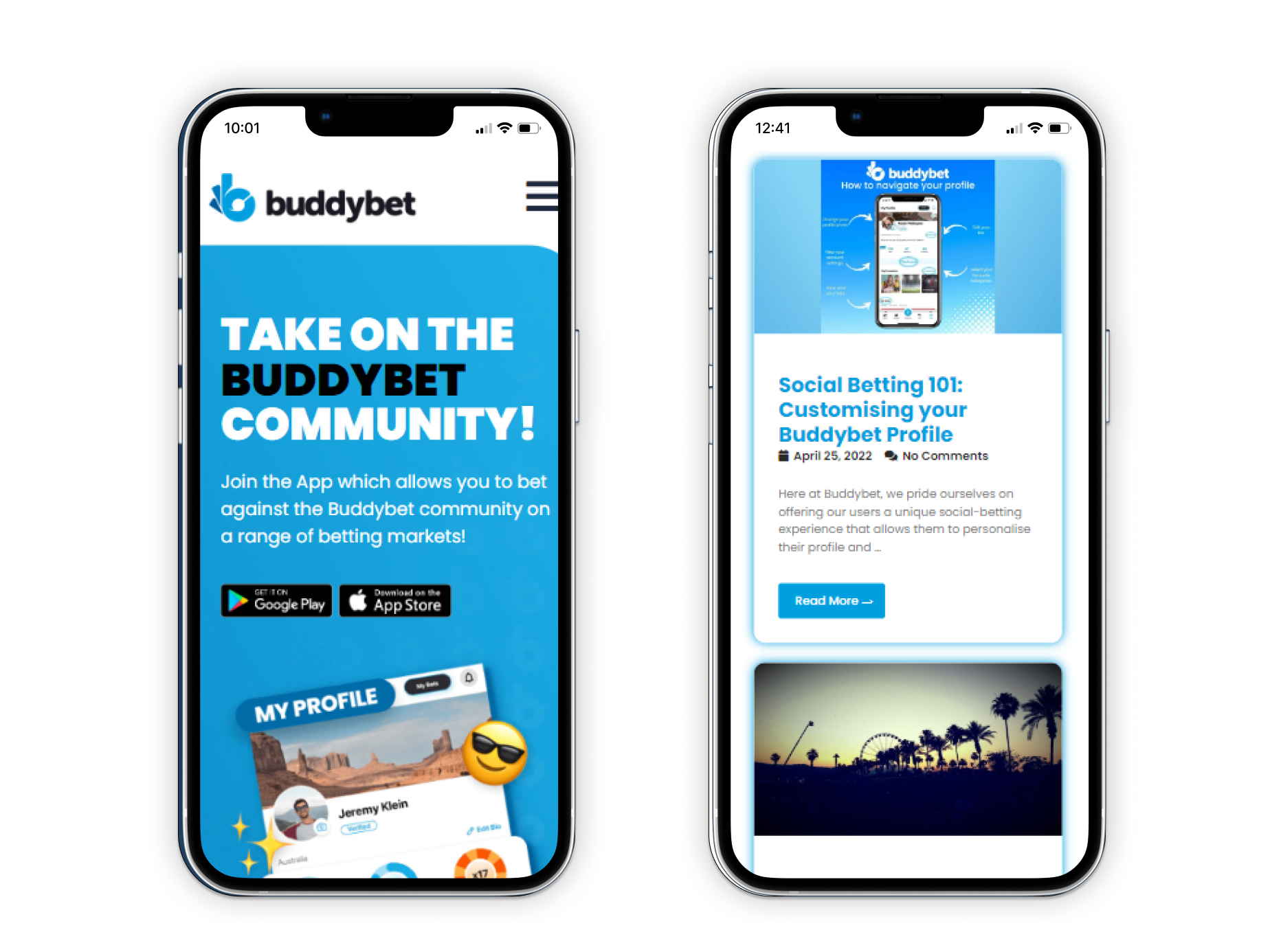 Editor's note
This review is based on the operator's current sports offer in Australia.
Sports and markets at BuddyBet
The sports available at BuddyBet include many of the most popular ones in Oz – rugby league, cricket, soccer and rugby union. There are also esports markets covering many popular leagues.
As you might expect, the events covered by these sports are the biggest ones around. But what's also interesting about BuddyBet is the sheer number of novelty and entertainment wagers.
However, the site doesn't fully list all of them, though you can filter through several options and use the search bar to find a specific bet. The key here is that BuddyBet claims you can bet on almost anything.
Sport events facts
| | |
| --- | --- |
| Total number of sports to bet on | 12 |
| Top market | Aussie Rules |
| Unique markets | Novelty – Weather, Stock market; Entertainment – Movies, Reality TV, Music; The Royals; Politics |
| Top events | Curling competition |
In this BuddyBet review, we discovered it was also possible to place and request bets for a sport, tournament, match or game that was not listed. You can even make side wagers about things in your daily lives with your mates.
Featured betting markets
Cricket

Esports

Aussie Rules

Basketball

Horse Racing

Football

Rugby

Novelty
Tennis

Politics

Baseball

American football

Boxing

Cycling

Golf

Greyhound racing

Hockey

Ice Hockey

MMA

Motor racing
Available events
MLB

NBA

NHL

PGA

ATP

Australian Open

Grammy Awards

La Liga
MLS

NASCAR

NFL

NRL

Premier League

Rugby World Cup

Super Bowl

Super Rugby Pacific

UEFA Champions League

UFC
Sports and markets rating
78
/100
Good selection of betting options in theory
Huge novelty bet selection
Top Aussie sports
Fun entertainment wagers
No full sports list provided
To kick this off, I do like the social bets aspect of BuddyBet. The fact that it claims it can offer almost every betting option out there is incredibly appealing.

However, I would like to see these listed properly. Yes, the betting apps have more information on the markets available, but when you have a concrete 45 sports from Bet365, it's easier to know where you stand.

That being said, BuddyBet is head and shoulders above Elitebet, which offers just 15 sports. Still, I can't give a top score here as it claims to be fully inclusive, but I can't be sure until I see all the options myself.

Additional market details: Rugby league is a prevalent option here partly because it's just so popular in the country. There tend to be a lot of wagers on various aspects of the sport and the ARL, which means you're likely to find someone to take on a bet with you.

Additional market details: The entertainment sector here is also solid. As this is more for bragging rights than cash, social betting works very well for entertainment. There's much on offer, including wagering who will win reality TV shows, the Oscars, Grammies, and much more. Hit discover and find thumb wrestling, turnip tossing, and even pie-eating bets.
BuddyBet betting features
BuddyBet breaks the mould here and goes outside the norm regarding the betting features on offer. For starters, there are no live sports betting or streaming options here.
However, a bet builder is available, which can be used to create a single bet or a full combination of bets to make a great final option for you.
On top of all this, the main features here are the functions that allow you to make your bet, bet with mates, follow others, copy their wagers and so on.
Betting features facts
| | |
| --- | --- |
| Cashout | No |
| Bet builder | Yes |
| Live stream | No |
| Live betting | No |
| Betting exchange | Yes |
| Quick bets | No |
| System bets | No |
| Virtual bets | No |
| Other bets | Bet with your buddies |
It's also possible to message your mates and post your successful wagers and competitions just by using your phones and accessing your social media apps like Twitter, Facebook and even Instagram.
Betting features rating
80
/100
Unique social betting platform

Message friends
Create challenges
Set your own wagers
No live betting or streaming
I do like this as a concept as it means you're able to choose exactly the type of bet you want. You get free reign here if someone is willing to take you up on the opposite side of your bet.

BuddyBet is very similar to Dabble, a social betting site. Both allow you to copy other players' wagers, chat with friends, etc. It's just that Dabble is currently doing it a bit better, in my opinion.

Similarly, Betfair is a betting exchange where you can set wagers with buddies, but again, it's a bit more organised. That being said, I like the option on BuddyBet to challenge either a single friend or my entire network. And all major sports have a live feed to stay updated.

Additional features: If you haven't done it before, creating a bet is a little confusing. All this means is you have to select one of the categories. Once your bet has been accepted by the BuddyBet admins, you can click to add a buddy. Set your stake, which the bet is aimed at, and wait for someone to take you up.
BuddyBet sports betting odds
When it comes to placing wagers, they are very important as they can make a difference in the amount you win. As such, we always look at the odds and payouts for each sportsbook.
We want to see average payout percentages over 95% for the site to get a good score. We consider anything near the 97% range excellent and receive high scores.
However, we do not recommend playing here if a site scores less than 93%. With BuddyBet, we could not check this as no odds are provided. Instead, only one on one odds are given.
Betting odds facts
| | |
| --- | --- |
| Average payouts | N/A |
| Highest available | N/A |
| Boosted odds | No |
| In play betting payout | N/A |
Following on from this, there is no live play betting odds on offer either. If there are live odds, the payout percentage will be at least 2 or 3 percentage points lower than traditional odds.
Odds rating
69
/100
No odds provided
Wagers are against one other person
No payout percentage provided
Lacks fixed odds
This is a bit of a confusing section to score as BuddyBet does not have odds in the traditional sense. Not that I am averse to this, though. I liked having more simple yes or no bet outcomes against one other person.

While it will never reach the highs of Bbet with 94.68% payouts, there is a 50:50 chance of winning your bet or challenge against someone, so the odds are still pretty good.

As this is a betting exchange, don't expect BuddyBet to rival BoomBet with its high racing fixed odds. There are no fixed odds here at all. Because many people are likely confused by this, I did give this a lower score.
Payment methods
When making transactions at an online betting site, the more options you have to deposit and withdraw your money, the better. Ideally, we like to see sites with at least ten options.
BuddyBet only has four options. There is no variation either. These are just card payments from Mastercard and VISA, though you can use both debit and credit cards when you make a payment.
While the options are limited, it is good to note that there are no fees for any of the transactions themselves. This goes for both deposits and withdrawals at BuddyBet.
Payments facts
| | |
| --- | --- |
| Total number of payment methods | 4 |
| Best option | Visa |
| Minimum deposit | AU$5 |
| Maximum deposit | N/A |
| Minimum withdrawal | AU$10 |
| Maximum withdrawal | N/A |
| Average deposit time | Instant |
| Average withdrawal time | 72 hours + |
| Average deposit fees | No fees |
| Average withdrawal fees | No fees |
However, there is a distinct lack of any information provided about the amount or timing of payments. Knowing how card payments work, we can assume they're instantly deposited but take up to 5 days for withdrawals. Nothing was also provided regarding the amount you could withdraw at any time. The only information is that AU$250 is the maximum bet you can place.
Deposit methods
Withdrawal methods
Payments rating
62
/100
Minimal number of payment options available
Speedy deposits on offer
Low minimum deposits available
No transactions fees
Limited number of payment options
No information on withdrawals provided
So, I was not impressed here. Four payment options, both cards to boot, just don't give me any choice. I'd like a bank transfer option as well, at the very least.

On the plus side, there's a minimum deposit of AU$5, which does beat out the very high minimum deposit of AU$50 that Booki has in place. But I'm scraping the barrel for positives here.

Basically, just having four options is disappointing, as even Bet Nation has five payment methods on offer. I was also unimpressed with the complete lack of any payment information provided. It's a no from me here.
Safety features
Being able to stay safe and secure when you play online is a must. Because of this, we always make sure any recommended sportsbook is fully licensed in the correct jurisdiction.
As this is in Oz, BuddyBet needs a licence for the country. It does, in the form of a licence from the Northern Territory Racing Commission, and the details can be found at the bottom of the home page.
It also ensures it is regulated and follows the rules for operating in South Australia. This means that it also follows the gaming regulations set out by South Australia Racing.
Safety facts
| | |
| --- | --- |
| RNG auditing | N/A |
| Seals of Trust | N/A |
| Responsible Gambling | Gambling help online, GamBlock |
| SSL encryption | N/A |
| Ever blacklisted | No |
| Licenses | Northern Territory Racing Commission |
| Self-imposed spending limits | Available |
| Self-exclusion | Available |
| Cooling off period | Available |
| Account authentication | Required |
| 2-step authentication | Available |
Finally, to ensure players are always safe, there are responsible gambling protocols in place as well. These can be found in a quick link at the bottom of the page.
Licensed by
Northern Territory Racing Commission
Trusted by
Gambling help online

GamBlock
Safety rating
81
/100
Standard options, nothing unique
Fully licenced
Aussie-owned
SSL encrypted
Limited responsible gambling information
This is a solid section for BuddyBet. It ticks all the boxes. The only thing it doesn't do is go above and beyond the security and responsible gambling help it could provide.

I found that it has SSL encryption in place, which is necessary to keep your data safe. Ladbrokes uses massive 2046-bit encryption, but, unfortunately, I could not find the exact SSL protocols, so I can't compare the two.

I was disappointed with the minimalist responsible gambling policies too. At least it hasn't been fined like BetNation was for violating various responsible gambling policies, so I can't complain just yet.
Customer support
Even if the rest of the online sportsbook works well, it is always important to have access to staff in case you need help with something.
Generally, we're looking for sportsbooks that have three different support options. At least one of these should be available 24/7 to give you constant help access no matter when you need it.
BuddyBet currently only offers two options for users to get in touch and this is via email, or the different social media channels listed on its site. There is no live chat offered.
Support facts
| | |
| --- | --- |
| Customer support availability | N/A |
| Live chat | No |
| Email | [email protected] |
| Contact no. | N/A |
| On-page support | FAQs |
There is a good FAQ and help section on offer, however. This does cover many of the main points you need to consider and is available on the desktop version of the site so you don't need to download the BuddyBet social betting app.
Support rating
65
/100
Limited number of support options
Email available
Social media contacts
No live chat
Unclear operating hours
I was disappointed once again here. For a site that's supposed to be all about keeping things social, it was hard to get in touch and find out anything.

For me, two options are just not enough. There's not even a phone line. It has nothing on Bet Right, which has four options (including Discord), which is impressive and something a social betting site should adopt.

Like Sportsbet, there doesn't seem to be any 24/7 support, which I was disappointed by. On top of that, there's no information given regarding the opening hours, which is even more annoying.
Platform and usability
Finally, we took a look at the different usability levels of the platform as a whole. First, it's only available on iOS and Android apps, you can't place wagers on the desktop version.
Overall, the look and design are nice, with a strong blue and white theme that is easy on the eyes. The betting-only function on the app also has most of the information available.
Once you're in the betting section, there are four categories – General, sports, entertainment and novelty. Within each section, you can find all the different wagering options available.
Usability facts
| | |
| --- | --- |
| Sport filters | Yes |
| Search function | Yes |
| Web UX | Poor |
| Mobile UX | Good |
| Load speed | 0.5 sec |
| Other products | E-Sports |
The app works well though and is downloadable directly from the desktop version of the website. Alternatively, you can search for it in the relevant app store and download them from there.
Play on devices
Android

iOS

Linux

MacOS

Windows
Platform rating
71
/100
Mobile optimised, but lacks a desktop version
Decent mobile app
Nice layout and design
No browser version
App isn't smooth
I will say that it does annoy me a little when I am forced to download an app. I do like the option of a mobile-optimised site, as I don't necessarily want to clog up the free space on my phone with yet another app.

Though the app is good, it has some glitchy moments and isn't smooth. As such, it's still got nothing on Unibet, which has one of the best apps UIs out there.

Winnersbet may have no app, but at least it offers a simple, quick website. For me and others, the lack of access to a desktop is very frustrating. I'd like both an app and desktop version, please BuddyBet.
Expert verdict
While incredibly innovative, some serious kinks still need to be ironed out here. Some other sites do things better as well, making the issues even more prominent when it comes to this site.
That being said, there are many good things to be found here. For example, the social betting concept is excellent and means you can set up specific wagers you want to bet on without the constraints of a sportsbook.
However, there are minimal payment options here, and there is no way of seeing exactly what is on offer regarding the different sports. BuddyBet simply says you can bet on anything, which is great in theory.
Peer-to-peer wagers are a relatively new concept. This means that, right now, you're not likely to find too many people joining you on the platform, which is the whole point. You're better off waiting for this type of wagering to catch on first.
FAQs
How does BuddyBet work?
BuddyBet works as a sort of social betting exchange. It's one of the first of its kind and means that all wagers are agreed upon between friends and family on the site. These wagers need to be verifiable with official results from reputable governmental sources if you expect to win money from them. If you can't verify the bet, it can only be placed as a handshake bet.
Who owns BuddyBet Australia?
BuddyBet is owned and operated by BuddyBet. This Australian company first came up with the idea of providing a social betting platform in 2017. Since then, they gained a licence from the NTRC in 2020 and launched the platform in Oz. It's still in its early stages but will likely keep growing as it becomes more popular.
Can you win real money on BuddyBet?
Yes, you can win real money on the BuddyBet app today. As this is a social betting site, the type of bet you place is made against a mate. However, you can place a wager on almost anything. You can bet on big sports and events but also dare your mates to bet on smaller things, such as whether or not it will rain in your town on a specific day.
How much can I wager on BuddyBet?
You can place a bet anywhere from just AU$5 up to a top value of AU$250. When you place a bet, a 5% commission is taken from it and given to the BuddyBet app. If you place an AU$10 bet with a mate, the winner will get AU$19, not AU$20. This is the case for all bets, so you must factor that in when placing a wager.
What is a handshake bet?
Essentially, if you're placing a bet that can't be verified, you can make a handshake bet. This bet is then made not for cash but just for bragging rights. As this is a social betting app, you can share the win on various socials, such as Twitter, to let everyone know that you succeeded in your bet.