Best live betting sites in Australia — In-play betting explained
Live or in play betting in Australia differs from what you may be familiar with. Live bets can only be placed via phone, so you need to make sure you're playing at a legal live betting site.
If you want to start in play betting Australia, take a look at our recommended live betting sites below as well as the rest of this article where we cover pros and cons, getting started, and more.
Imagine what you could be buying instead.

For free and confidential support, call 1-800-858-858 or visit gamblinghelponline.org.au
Sportsbook Logo
Odds rating
Bonus
Go to sportsbook Button
Show more
T&C

1

Betfair sportsbook review

83

/100

Expert rating

by Elena I.

92%

Playscore

based on

Australia's only betting exchange

Read review

Good to know

Huge range of live sports
Choose your own odds
AU's only betting exchange

2

Unibet sportsbook review

82

/100

Expert rating

by Elena I.

84%

Playscore

based on

Best mobile betting app

Play now

3

PlayUP sportsbook review

82

/100

Expert rating

by Elena I.

87%

Playscore

based on

Fixed-odds racing and esports

Play now

Good to know

Intuitive live betting section
Great live apps
Very user-friendly interface

6 payment methods

Play now

4

Neds sportsbook review

84

/100

Expert rating

by Elena I.

92%

Playscore

based on

Same, blended, and split multis

Read review

5

Ladbrokes sportsbook review

89

/100

Expert rating

by Elena I.

88%

Playscore

based on

In-depth stats and predictions

Read review

Good to know

Live greyhound streaming
Regular live specials
Competitive live odds

6

PointsBet sportsbook review

89

/100

Expert rating

by Elena I.

79%

Playscore

based on

Most NBA, AFL, and NRL markets

Read review

Good to know

Spread betting for in-play bets
Speedy cash out
Excellent live points betting

4 payment methods

Read review
#1. Betfair — our top choice from all Aussie live betting sites
If you want a live betting site that doesn't require you to phone or call to place the bet, then Betfair is the best live betting app for that. As it is a betting exchange, you can simply place the bets online yourself.
Additionally, there are no set odds. You actually set the live betting odds yourself with the other players on the exchange. On top of that, there are no account restrictions and the interface as a whole is very easy to use.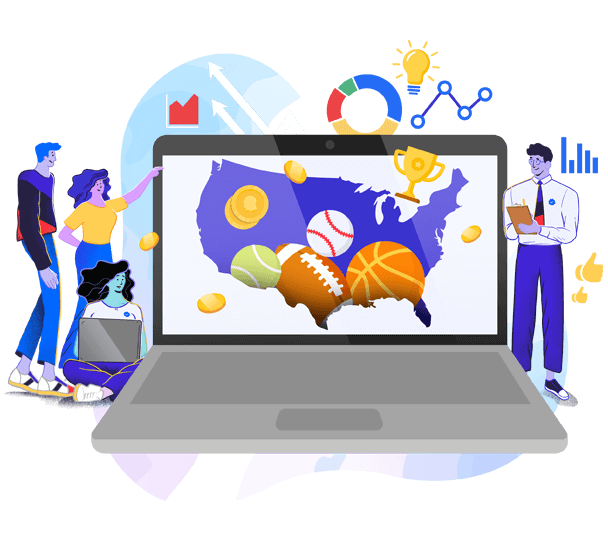 <strong>#2. Unibet: tons of live sports and live streaming options </strong>
Another of the top live betting websites, Unibet is one of the best simply because of the sheer amount of live streaming options available. You can enjoy horse racing live streaming as well as more obscure sports such as ice hockey and table tennis.  Additionally, Unibet is great for live betting odds, maintaining a competitive edge over other top live betting sites. It's also got fast payouts and the ability to cash out early if an in play bet doesn't look like it's going your way. 

<strong>#3. PlayUp: great betting app and interface</strong>
PlayUp offers a dynamic live betting platform, covering over 20 sports, including AFL, NRL, and cricket. While lacking live stream betting, it compensates with real-time stats and competitive live odds, updating constantly to reflect game changes. The in-play offer covers a wide range of markets, from mainstream to niche, ensuring a comprehensive betting experience.
Top live betting Australia sites by category
If you want live betting in Australia, then you should check out the different categories we outline below. We do this because we know that not everyone is looking for the same thing in a live betting site.
| Category | Winner |
| --- | --- |
| Best live betting app | Neds sportsbook |
| No live phone betting | Betfair sportsbook |
| Most live sports | Unibet sportsbook |
| Fastest payouts | Unibet sportsbook |
| Cashout available | PointsBet sportsbook |
Choosing a good live betting Australia site
We know you all want to play at the best live betting sites, so we take the time to look through all the sites carefully rating them on specific criteria. You can check out our rating criteria below to see if you agree with our recommended live betting sites.

<strong>Betting markets covered</strong>
To start things off, we look to see just how many betting markets are available on the live betting site. Ideally, for top live betting sites, we want to see at least 10 different sports available for live betting so that you have some choice. And, these sports should cover various domestic and international leagues for a top score. However, should there be fewer than five different live betting sports markets, we're not going to give that live betting site a high score. For instance, if there is only live horse racing or cricket, then it gets an average score, at least it's better than a site with no in play betting markets whatsoever.

<strong>Live betting odds</strong>
As part of our review of the top live betting sites, we also look at the odds for each betting market. Live betting odds in particular are always changing so we make sure to check out the payout percentages to see which site stands out as a potentially good place to play your in-play bet.  Live payout percentages are typically lower than those found for pre-game bets. So, we usually expect top live betting sites to have payouts of around 93%. Anything higher than this will get an excellent score. Conversely, anything below 91% is deemed not good enough and will be scored down by our team of experts. 

<strong>Licences</strong>
As per Australian law, it is not possible to offer live betting on the website itself, only via calling in. In fact, there is only one betting exchange that is allowed to bypass this legal requirement. To prove that our recommended live betting sites meet these regulations, we check to ensure there is an Australian licence in place. This can be from the NTRC or compliance with Victoria and South Australia racing. If there is no licence at all, then we're not going to recommend the site. In fact, we're going to give it bottom marks. This is because licenced sites also offer other important security features to improve your gaming experience.

<strong>Live betting apps</strong>
Our recommended live betting sites must also have a live betting app in order to give you access to all the live bets no matter where you are. The app needs to be compatible with both Android and iOS devices. It should also be scalable so that you can use it on phones or tablets easily. We also expect that top live betting sites will have an app that matches the desktop version of the site. This means that it should have all the same features and functions. If it doesn't, then we take marks off our score. Additionally, if the app is not smooth-loading or has glitches, this will also reduce our score.

Usability
Even if a live bookie has all the different features we could hope for, if it's not very usable, then we're going to drop the score. For this criteria, we check to see how complex the overall layout is and whether the menus are simple to use and offer players easy access to all areas of the site. We also expect the site to have easy access to any live streams and to have a fast, simple sign up process so that you can place your bets quickly and easily. If the site is full of broken links then we're not going to give it a high score. Nor will we do so if everything is overly complicated.

<strong>Overall betting site offering</strong>
Finally, we look at the overall features of the site. This includes looking at the payment methods available – we want to see at least 10 different options if we're going to give a good score. Additionally, we want to see that there are at least three support options, one of which is available 24/7.  Last, but far from least, we also take a look to see what players think of the site. Even if there are complaints, if these are resolved quickly and efficiently by the sportsbook, then we give a good score. If any of these areas are lacking though (fewer than 4 payments, no 24/7 support), then we mark that site down. 
Popular sports in live betting
There are always some very popular sports to bet on live. Many punters have their favourites and, luckily, live betting markets are pretty vast these days. On top of that, you can enjoy top live sports coverage and the chance to live stream the more popular live sports as well.
Should you opt for live betting Australia? Pros and cons
There are a lot of big differences between pre-match betting and an in-play bet. So, we're going to go through the main pros and cons of live sports betting for Aussie punters. Take a look at what we think are the good and bad points of this type of betting experience.
Fast-paced betting
Losers can become winners
Many game strategies are available
Exciting to bet and live-stream
Lower live odds
Limited number of sports
Live in-play betting 101
In this next section, we're going to cover all that Aussie punters need to know about getting into live betting. We're going to help get you started, give you some tips on the betting process and more.
How does live betting work — steps to place a bet
Right, so now you know exactly what to look for in a good live betting site, but now you have to actually join up and place an in play bet. We've outlined all the steps Aussie punters need to get started, so just read on and, from our own personal experiences, you're going to have a good time.
Pick from our list of recommended live betting sites – each of these sites have been carefully checked to ensure they are compliant with Australian law as well as offering a wide array of live sports.
Sign up – click on the registration button and fill out all the main details so that you can finalize your account.
Make a deposit – go to the banking section and choose a payment method that suits your needs.
Check out the live betting markets – look at both major and niche sports and the live odds that are attached before placing your bet.
Place your bet – fill out the betting slip and wait to see if your in play bet will win.
Types of live bets
Just like with any other bets, there are a number of different betting options. So, before you place in play bets, Aussie punters should know exactly what the different bet types are. That way, you can follow the betting process more easily and potentially have a good outcome. Take a look at the top bet types below.
In-play betting strategy — how to maximise your wins
If you've been convinced about placing live bets, then you're going to want to hear how you can get the best betting experience. From our own personal experiences, we've compiled a quick list of all the top betting tips to consider when getting ready to place your live bet. Have a look at our betting tips and suggestions below.

Start small
This way you can check your own personal experiences and adjust the bets you make without losing too much.

Keep track of how you perform
This way you won't forget exactly how you have succeeded on your live bets. 

Be quick
With an in play bet the odds can change rapidly when live betting is in play. This means that you will need to be able to take advantage of this by shifting your live bet quickly or even attempting an early cashout. 

Pick a strategy
Do this before you start betting. As mentioned live betting is about being quick. You will need to take stock of all the options and the overall betting process before the event starts so that you can plan all potential bets and boost your betting experience on any sporting events. 

Cash out when needed
You should bail out early if you feel that the initial live bet you have placed is not going to come to pass. Then, quickly place a new bet to cancel out the original. 
FAQs
What are the best live betting sites?
The best live sports betting sites are those that are fully licenced within Australia. Not only that, but these betting sites will also have strong live sports betting options across a range of different Australian sports and sporting events. In addition to this, typically, they will have a great live stream in place too, due to partnerships with top broadcasting services in the country as well.
Is live betting allowed in Australia? 
Yes, live betting is actually legal in Australia under Australian law through the click to call betting process. There are now many Australian betting sites offering live bets across a variety of different sporting events. Impressively, these days you can find both niche sports and major sports available on a good live betting interface. Most Aussie punters will easily be able to find somewhere to place live bets and even live stream.
Why is live betting illegal in Australia? 
Live betting is not illegal in Australia under Australian law if you are phoning in to place the live bet. It is now widely available at a number of different sites. Additionally, the Betfair exchange is exempt from the click to call Australian law enabling Australian punters to enjoy this betting experience online. It's now even possible to play at a site streaming live sports so you can watch the action unfold as well as place a live bet for an even more exciting betting experience.
How does live betting work? 
Live betting differs from pre game betting as online betting agencies allow Aussie punters to place in play bets – essentially the game is already underway when the bet is placed. Not only that, but the live bet can be changed while the event is ongoing. Live odds shifts are to be expected during this betting process as they will fluctuate throughout the event as things change.
Is in-play betting profitable?
We do not recommend that any betting at online betting agencies should be done for profit. That being said, a live bet can give you greater profit than a more traditional one. But this is only, from our personal experiences, because you can cash out early if the match doesn't appear to be going your way. That being said, often live bets have lower live odds so payouts are smaller.
Sources