Lottoland review: bet on jackpots and financial markets in AU
82
/100
Expert rating
byby

Elena I.
Best sportsbook in your area
Bet365 sportsbook
Most sports markets on offer
In this comprehensive Lottoland review, we'll take a detailed look at everything Lottoland Australia has to offer, including its games, features, odds, payments, safety, support, and platform.
We will also look at some of the world's biggest lotteries with insurance linked securities at Lottoland Australia. This includes the US Powerball and Mega Millions, as well as Keno games and Lottoland's unique games.
Lottoland offers Major Jackpots, Weekly Jackpots and Daily Millions. Since every win is underwritten by major insurance firms, you'll be paid upon winning one of these jackpots at this official lottery site.
You can access this online lotto betting site on phones and tablets. Furthermore, the platform has mobile Lottoland apps on Google and Apple play stores, which you can launch with the click of a button.
Pros and cons
Innovative jackpot betting
Round-the-clock email support
Interactive lottery-like play
No other betting options
No 24/7 live chat
FAQs and terms lack clarity
General ratings
82
/100
Expert rating
byby

Elena I
85
Betting features rating
80
Sports & markets rating
How we rate?
Our main score is the Expert Rating, which ranks sportsbooks on over 60 criteria in seven different sections, including sports and markets, odds, safety, usability, and more.
76%
Playscore
based on 5 critics
92
90

90
80
30
What is our Playscore?
The Playscore represents the average rating according to top critic sites for a given betting operator.
General info
| | |
| --- | --- |
| Launch date | 25/12/2015 |
| Company behind | Lottoland Australia PTY LTD |
Best alternatives to Lottoland
Unibet sportsbook
Betfair sportsbook
Australia's only betting exchange
Ladbrokes sportsbook
In-depth stats and predictions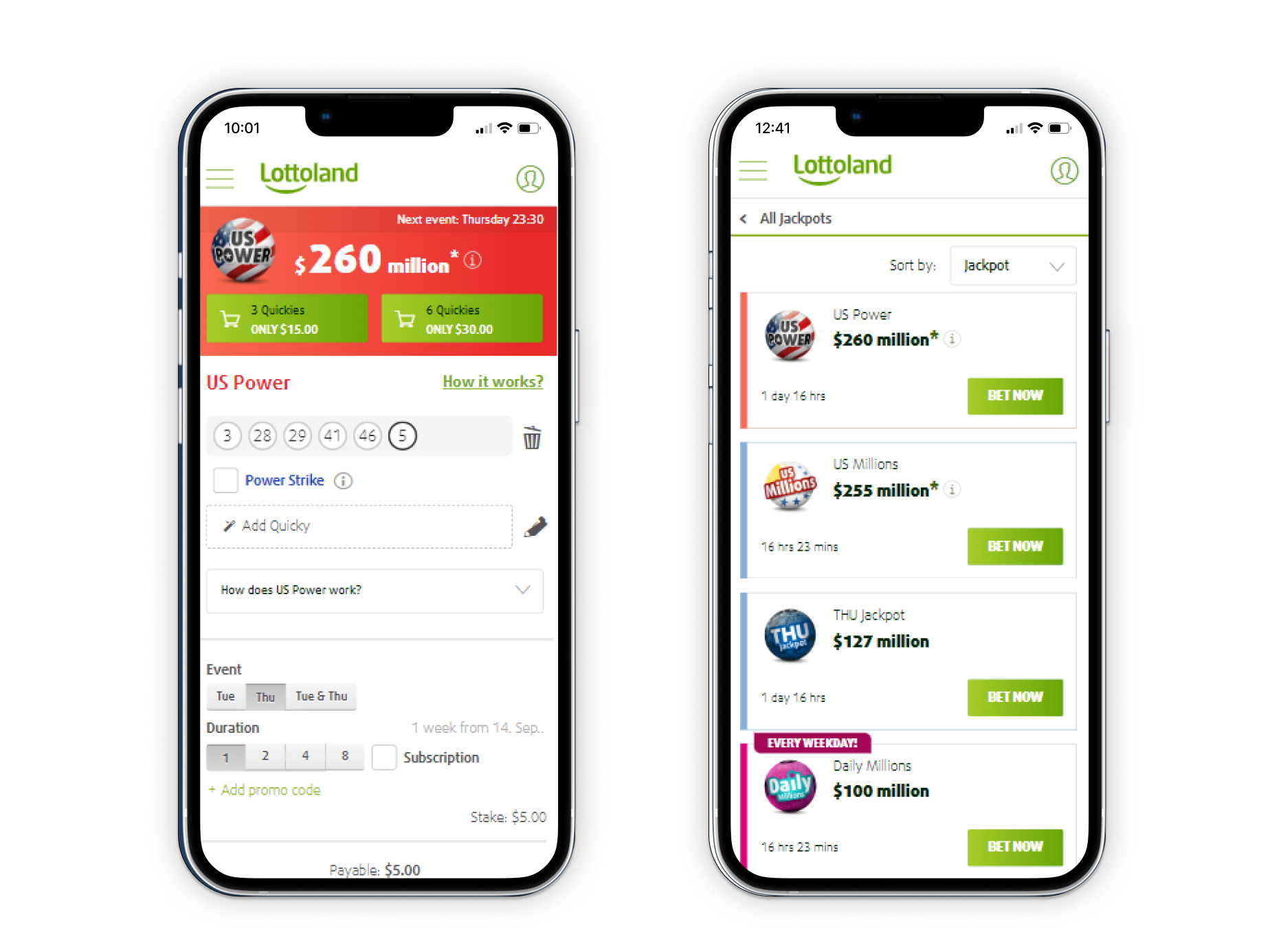 Editor's note
This review is based on the operator's current sports offer in Australia.
Lottoland games: Play a range of fun lottery games
If you have read other Lottoland Australia reviews, you will know that players can choose to bet on a number of famous lotteries, such as the US Powerball and Mega Millions. This extensive range of lotto games is a unique feature that sets Lottoland apart from its competitors.
By offering you the chance to bet on these huge lottery games, Lottoland has the potential to pay out life-changing sums of money. The operator regularly awards prizes of over $1,000,000.
One of the biggest lotteries at Lottoland is the US Powerball. This bi-weekly draw has nine winning tiers and tickets start at $5. So, once you have established the answer to the question 'is Lottoland legit?', this is a great option to play once you have bought your ticket.
Sport events facts
| | |
| --- | --- |
| Total number of sports to bet on | N/A |
| Top market | US Powerball |
| Unique markets | N/A |
| Top events | US Powerball, EuroMillions, Daily Millions, and many more lotteries |
Our Lottoland review also found a number of Keno and scratchcard games at Lottoland Australia. KenoGo is the most popular of these games. There are four KenoGo games, each with a daily draw and the potential to win up to $20,000,000.
Sports and markets rating
80
/100
Impressive range of lotto games with unique markets and good odds
Diverse lotto games selection 
Unique markets like Special and Double Jackpots 
Competitive odds and additional features
Not available to residents of South Australia 
No free games
As far as online lottery sites in Australia go, Lottoland is a standout name with an excellent reputation. I loved exploring the range of big money lotto games on offer. Better yet, I was fully confident that the answer to the question of 'is Lottoland Australia legitimate?' is a definite yes. 

Compared to competitors, Lottoland stands out in the range of lottery markets. While other competitors, such as Bet365, do offer some lotteries to bet on, Lottoland has a clear focus on the area and that is reflected in the quality of their games. 

If you are a sports betting fan, you will need to look at sites like Betfair, and yes, Lottoland would have got a higher score here if they had provided more diverse options. But if you are looking for a pure lotto site, Lottoland takes some beating. 

Euro Millions is one of the biggest international lotteries in the world. The top prize money in Euro Millions has been as high as $130 million and your odds of winning a prize are far better than in other EU lotteries, such as the French lotto. 

Mega Millions, now known as US Millions, is one of the flagship major features at Lottoland. It has a prize pool that exceeds almost every other official lottery that Aussie punters can play. These lottery draws take place on Wednesday and Friday at 11:00 pm AEST.
Betting features at Lottoland
Now that you know the answer to 'how does Lottoland work?', it's time to look at the unique features that the operator offers. Firstly, to expedite gameplay, customers can use the QuickPick option to randomly generate numbers.
Lottoland also offers syndicate betting options, allowing users to purchase shares in a group bet to increase their chances of winning. It is also worth noting that Lottoland is unique in that it doesn't offer traditional lottery ticket purchasing, but rather allows users to bet on the outcome of lotteries.
Lottoland also offers a range of unique lotto betting features, such as DoubleJackpot, which doubles the jackpot prize pool, and NumberShield, which allows users to protect their numbers from being shared in a syndicate. It also offers the ability to view previous lottery results, access a range of statistics and analysis tools, and the option to set up recurring bets.
Betting features facts
| | |
| --- | --- |
| Jackpots | Lottoland offers some of the biggest jackpots in the world, including popular lotteries such as US Powerball, Mega Millions, and EuroMillions. |
| Instant Win Games | Players can enjoy instant win games such as scratchcards and arcade-style games with the chance to win big prizes. |
| Syndicates | Players can join lottery syndicates to increase their chances of winning. |
| Multi-Draws | Players can select multiple draws in advance for a particular lottery, saving time and increasing convenience. |
| Double Jackpot | Lottoland offers a unique feature where players can double their potential winnings. |
| Jackpot Hunt | Lottoland offers a feature where players can search for jackpots with a particular high prize. |
| Betting on International Lotteries | Lottoland also offers betting on lotteries that are not available in Australia. |
| Bet on Numbers | Players can place bets on specific numbers and if they match the winning numbers in the lottery, they win a prize. |
| Betting on Special Jackpots | Lottoland offers special prizes on occasions such as Christmas and other holidays. |
| Bet on Keno | Players can place bets on Keno games from around the world with the chance to win big prizes. |
Our Lottoland AU review also found an interesting feature, namely the option to create a betting syndicate with other players. This allows users to pool their resources and increase their chances of winning large jackpot prizes.
Betting features rating
85
/100
Interesting features to facilitate simple lottery play 
Quick play feature 
Syndicate betting options 
Unique features like DoubleJackpot and NumberShield
No traditional sports betting features 
Some draws cannot be streamed
Lottoland Australia's specialism is clearly in evidence when it comes to its features. Options such as Quick Play and the ability to join syndicates, make taking part in lotteries extremely straightforward. 

Overall, Lottoland's betting features receive a good rating because of their diversity. However, one area where the site could improve is in its social options. Sites like Dabble provide chat options that encourage a more sociable betting experience.

It's hard to compare the features at Lottoland to traditional sports betting sites like Betway. However, Lottoland is clearly adept at enhancing the lottery experience and thoroughly deserves its high score in this section. 

Lottoland offers a unique feature called Double Jackpot. Here, players have the chance to double their potential winnings. For example, if the jackpot for a specific lottery draw is $10 million, and a player selects the Double Jackpot option, they will have to pay twice as much for a single ticket, but the top winnings are raised to $20 million instead.
Lottoland betting odds: Great value lottery play
When looking at lotteries, the concept of odds refers to the likelihood of your numbers being drawn. Unsurprisingly, the chances of you drawing 1 or 2 numbers is significantly higher than drawing 5 or 6 numbers, so the odds are correspondingly lower. At Lottoland, the odds for all official lottery draws are displayed clearly on the website.
The odds can be adjusted if you use options such as the aforementioned Double Jackpot. Lottoland's large range of lotteries means that you can find a wide array of odds on lottery draws.
As you would expect, the odds on landing some of the biggest payouts at Lottoland are extremely long. For example, your chances of hitting every number in the US Powerball are 292,201,228/1.
Betting odds facts
| | |
| --- | --- |
| Average payouts | N/A |
| Highest available | N/A |
| Boosted odds | N/A |
| In play betting payout | N/A |
At the other end of the scale, you will find some very short odds for small payouts on many lotteries. For instance, the Daily Millions prize draw gives you a one in ten chance of winning a prize.
Odds rating
85
/100
Great range of odds 
Winning odds clearly displayed on website 
Huge payouts on jackpot prizes
Very few short odds options
Again, it is very tough to compare the odds of winning a lottery with the odds on winning a sports bet. But I was pleased to see that Lottoland did offer a very broad range of betting options, so you could alter your odds depending on how adventurous you are feeling. 

I guess this ability to decide how many numbers to use and the odds attached to your wager works in a similar way to bet builders at sites like 888Sport. Essentially, it gives you greater control. 

Overall, whilst the nature of lotteries means that you are never going to get very short odds, Lottoland offers a good range of options, compares favourably with direct competitors like NetLotto, and merits a solid score in this area.
Lottoland review: 4 payment methods
Lottoland offers a limited range of betting payment methods. The current options available to players are VISA and Mastercard debit and credit cards, bank transfer and Paysafecard. There are no options for e-wallets such as PayPal or Neteller. 
Withdrawals can be made using a bank transfer or debit/credit card, and there are no fees associated with either deposits or withdrawals. The Lottoland website states that there is no minimum deposit or withdrawal amount.
All deposits should arrive instantly in your Lottoland account. Withdrawal times can vary, but Lottoland aims to process all requests within 2-3 working days. But bank processing times may mean it takes longer for funds to arrive with you.
Payments facts
| | |
| --- | --- |
| Total number of payment methods | 4 |
| Best option | Paysafecard |
| Minimum deposit | N/A |
| Maximum deposit | N/A |
| Minimum withdrawal | N/A |
| Maximum withdrawal | N/A |
| Average deposit time | Instant |
| Average withdrawal time | 72 hours+ |
| Average deposit fees | No fees |
| Average withdrawal fees | No fees |
The Lottoland website states that prior to your first withdrawal, you will be asked to provide account verification information. You can do this via the account section of the Lottland site. All you need to do is provide a piece of government-issued photo identification. Lottoland will then check this ID and contact you to confirm that you can proceed with the payment.
Deposit methods
paysafecard

Bank Transfer

Visa

Mastercard
Withdrawal methods
Payments rating
70
/100
Popular payment options
Instant deposits 
No minimum amounts
Limited payment options 
No eWallets
In terms of payment methods, Lottoland offers a limited range of options for users to choose from. The absence of some popular payment gateways, such as PayPal, puts the brand behind operators like Betstar, who offer 10 payment methods for players. 

The lack of fees for deposits and withdrawals is a plus, and the fast average withdrawal time is also pleasing. That being said, sites like BlueBet do process payments faster, (1-2 days), so there is room for improvement. 

For users looking for a wide range of payment options, Lottoland may not be the best choice. However, for those who prioritize fee-free transactions and fast withdrawal times, Lottoland is a good option. A 'middle of the road' score seems appropriate given the relative pros and cons in this area. 
User safety at Lottoland: Play lotteries securely
Lottoland offers a range of safety features to ensure a secure betting experience. These features include SSL encryption to protect sensitive information and the use of reputable payment providers for transactions.
Lottoland also has a Responsible Gambling section on the website, which provides players with resources to manage their betting habits. The section offers helpful tools and resources for players to stay in control of their betting habits. 
Overall, Lottoland's safety features are comprehensive and provide adequate protection for players. However, the sportsbook does not stand out in terms of unique or advanced safety features compared to other reputable sportsbooks in the industry.
Safety facts
| | |
| --- | --- |
| RNG auditing | GLI |
| Seals of Trust | N/A |
| Responsible Gambling | Gambling help online, GambleAware |
| SSL encryption | 256-bit |
| Ever blacklisted | No |
| Licenses | Northern Territory Racing Commission |
| Self-imposed spending limits | Available |
| Self-exclusion | Available |
| Cooling off period | Available |
| Account authentication | Required |
| 2-step authentication | Not available |
Lottoland offers self-exclusion options for players who want to take a break from gambling. It has a policy of preventing minors from accessing its platform, and players are required to verify their age and identity before they can make a deposit or play any games. An extensive FAQ section and customer support channels are available to players with any safety-related concerns or issues.
Licensed by
Northern Territory Racing Commission
Trusted by
Gambling help online

GambleAware
Safety rating
90
/100
Top-notch safety features, including RNG auditing by Gaming Laboratories International 
Strong RNG auditing 
Support for responsible gambling 
SSL encryption with 256-bit key
Limited information on ownership transparency
Compared to sportsbooks like BoomBet, Lottoland offers a similar set of safety features. While SSL encryption and reputable payment providers are common in the industry, the inclusion of a Responsible Gambling section is a positive aspect. The section offers helpful tools and resources for players to stay in control of their betting habits. 

Compared to sportsbooks like NEDs, Lottoland offers a standard set of safety features. Features such as SSL encryption and a Responsible Gambling section are common in the industry, but I still like to see them present and correct. 

If I'm being picky, I would like to have seen that two-factor authentication and stricter age verification measures could further enhance the safety and security features of the sportsbook. But overall, Lottoland's security measures provide a high level of protection for users.
Customer support: Three options for players
Lottoland offers customer support through live chat, email, and phone support. Live chat and phone support are available from 9 am to 7 pm AEST, while email support is available 24/7.
The website also features a comprehensive FAQ section that covers common topics such as registration, account verification, payments, and responsible gaming. This section can be accessed via the footer of the Lottoland website.
The email support is accessed via the Contact Us option on the website footer. You just need to complete a short form and submit it to the Lottoland AUS support team.
Support facts
| | |
| --- | --- |
| Customer support availability | 9 am – 7 pm AEST daily |
| Live chat | Yes |
| Email | [email protected] |
| Contact no. | 1300 188 911 |
| On-page support | FAQs and help section |
Lottoland has an active social media presence on both Facebook and Twitter. Customers can use these channels to contact the support team or get updates on the latest company promotions and news.
Support rating
85
/100
Reliable customer support, but lacks 24/7 availability 
Quick and helpful live chat 
Multiple support channels, including email and on-page FAQs 
Clear and user-friendly Help section
Phone support not available 24/7 
Live chat not available 24/7
In my opinion, Lottoland's customer support features are comprehensive and offer users multiple options for resolving queries or concerns. The availability of 24/7 customer support through email ensures assistance at any time. 

The FAQ section and help centre on the website is of a very high quality and provides detailed information on a range of topics. I certainly rate it higher than the FAQs at Bet Deck and many other operators. 

The only reason why Lottoland does not receive a 90+ score here is the lack of 24/7 live chat. The opening times of the live chat are broadly similar to those at PickleBet, so it's no surprise that it receives a similar score in this department.
Platform and usability: Lottery play made easy
Lottoland's platform has a clean and modern design with a simple layout. It's easy to navigate and has quick links to major lottery draws and other options. The platform is optimized for mobile devices, with a responsive design that adjusts to the screen size of the device being used.
There is also a Lottoland app that can be downloaded from either the Google Play store or the Apple Store. This mobile app offers the same official lottery draws as the full website.
In addition, the mobile app provides all the features offered on the full Lottoland desktop site in Australia. That means you can use live chat, make deposits and access all the syndicate options.
Usability facts
| | |
| --- | --- |
| Sport filters | No |
| Search function | No |
| Web UX | Good |
| Mobile UX | Good |
| Load speed | 0.9 sec |
| Other products | N/A |
The main lotto betting options on the website and app can be accessed by using the menu at the top of the page. This is also where you can find syndicate options and your personal account information.
Play on devices
Android

iOS

Linux

MacOS

Windows
Platform rating
79
/100
A strong platform with room for improvement 
Smooth navigation and loading speed 
Excellent mobile app 
User-friendly design for both desktop and mobile
One of the standout features of Lottoland is its mobile option. The mobile website is excellently designed and the mobile app performs very efficiently. I had a great time using both the mobile site and the app. 

While Lottoland's platform and usability features are impressive, there is room for improvement. The lack of a search box is slightly annoying, as it makes it harder to locate the official lottery draws you are after. Sites like ZBet, which does have a search option, will generally receive higher scores. 

Overall, Lottoland's platform and usability features are strong and make for an enjoyable user experience. While there are some areas for improvement, the website is still highly functional and user-friendly. In comparison to other lottery operators, including the official Australian Lottery Office, Lottoland holds its own in terms of platform and usability.
Expert verdict
In conclusion, Lottoland is a reliable and reputable lottery site with a variety of Lottoland games available for users to bet on. The platform offers competitive odds for official lottery draws. The ability to bet on international lottery draws is also a significant advantage for Lottoland.
The Lottoland mobile app is a big plus point. It is intuitive and straightforward, providing users with a seamless betting experience. Lottoland's customer support is also commendable, with multiple channels available for users to reach out to them.
Unfortunately, the Lottoland in Australia site does have some minor drawbacks too. The absence of a search box is disappointing, as are the limited payment options and lack of a 24/7 live chat service.
In summary, I would recommend Lottoland to both novice and experienced lottery fans. The platform's ease of use, competitive odds, and unique lottery offerings also make it an attractive option for new customers. While it does have some limitations, Lottoland's overall package makes it a great option.
FAQs
Is Lottoland safe in Australia? 
Yes, Lottoland is a legitimate and licensed site. This means that it has to comply with the Australian racing and betting act. The operator is licensed by the Northern Territory Government for 'Lottery Jackpot' betting. This means that whilst technically Lottoland cannot sell official lottery tickets in Australia, the brand can allow players to effectively bet on the outcome of official lottery draws. However, due to government legislation, Lottoland can no longer accept bets on lotteries that are international (including European lotteries).
Is Lottoland still operating in Australia? 
Yes, Lottoland is still operating in Australia. Despite regulatory hurdles, the online lottery betting company continues to offer its services to Australian customers. Lottoland operates under a licence granted by the Northern Territory government and complies with strict regulations and standards set by the government. Additionally, the company has implemented robust security measures to protect customers' data and funds, ensuring that their experience with the platform is safe and secure. Despite some regulatory challenges, Lottoland remains a popular and reputable choice for online lottery betting in Australia.
Does Lottoland payout? 
Yes, Lottoland pays out winnings to its customers. The company is required to meet strict regulations and compliance standards. Lottoland's financial security is backed by a number of major insurance companies, ensuring that customer winnings are always covered. The company has paid out over $1.5 billion in winnings globally since its launch in 2013. In order to ensure a smooth payout process, customers are required to verify their identity and provide any necessary documentation before a withdrawal request can be processed. Once approved, Lottoland aims to process withdrawals within 72 hours.
How long does a Lottoland withdrawal take? 
Lottoland processes withdrawals within 2-3 business days of receiving the request. After this period, the funds should be available in the player's bank account, depending on the chosen withdrawal method. Players can check the status of their withdrawal request in the "My Transactions" section of their account. Lottoland may also require verification documents and bank details from players before processing a withdrawal to ensure security and prevent fraud.
What are the odds of winning at Lottoland?
The odds of winning vary depending on the game you play. Odds for each game are found on the website under the game's information section. For example, the odds of picking the winning numbers for Powerball are 1 in 292 million. The odds of winning EuroMillions are 1 in 139 million. It's worth noting that Lottoland operates differently from traditional lotteries in that it doesn't sell tickets for the lottery, but allows customers to bet on the outcome of a particular lottery draw.