2023 ReadyBet Australia review and ratings
79
/100
Expert rating
byby

Elena I.
Best sportsbook in your area
Bet365 sportsbook
Most sports markets on offer
In this ReadyBet review, we're going to take a look at all the features of this new bookmaker to see if it is worth placing a bet or two on this website.
First, we're going to take a look at the betting markets to see which sports are on offer. We're also going to check out the different odds to see if they match other sites.
We're also going to look through the payment options provided and see how safe and secure the site is, especially when your money stays there long-term.
Finally, we're going to look at the platform as a whole, the support, mobile apps and the various bonus bets you might be able to claim when joining the website.
Pros and cons
Live streaming
Good for racing
Aussie-owned and operated
Limited payment options
Few sports
No 24/7 support
General ratings
79
/100
Expert rating
byby

Elena I
77
Betting features rating
74
Sports & markets rating
How we rate?
Our main score is the Expert Rating, which ranks sportsbooks on over 60 criteria in seven different sections, including sports and markets, odds, safety, usability, and more.
75%
Playscore
based on 2 critics
80
70
What is our Playscore?
The Playscore represents the average rating according to top critic sites for a given betting operator.
General info
| | |
| --- | --- |
| Launch date | 11/04/2022 |
| Company behind | ReadyBet Ltd |
Best alternatives to ReadyBet sportsbook
Unibet sportsbook
Betfair sportsbook
Australia's only betting exchange
Ladbrokes sportsbook
In-depth stats and predictions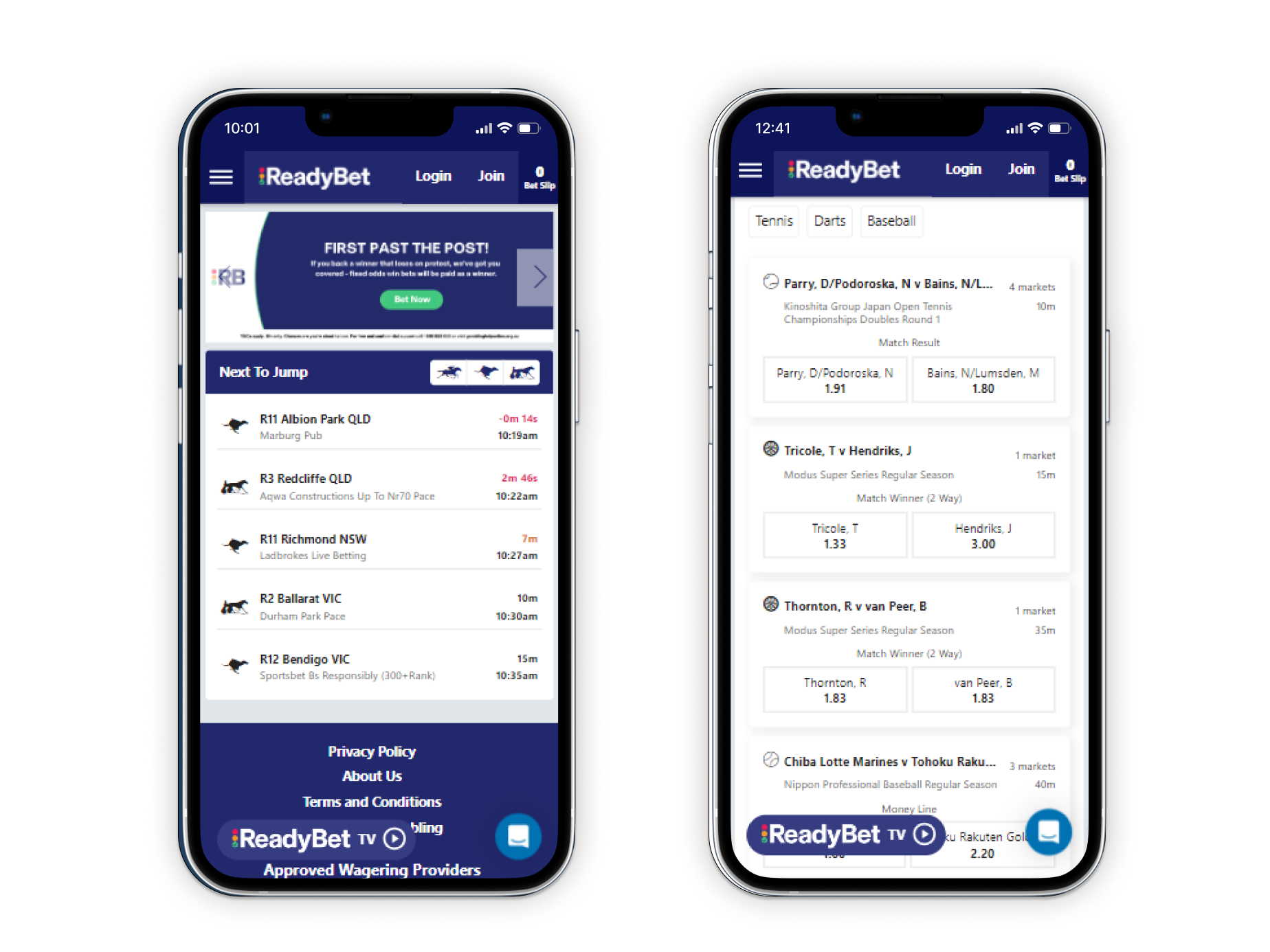 Editor's note
This review is based on the operator's current sports offer in Australia.
Sports and markets at ReadyBet sportsbook
The first thing to look at on a betting website is the number of sports markets on offer. Ideally, we want to see around 30 different sports available at a top betting company.
ReadyBet has markets for 20 different sports. These include horse racing as well as other popular Aussie sports like Aussie Rules, rugby league and union, cricket and tennis. For each of these sports there are markets on a range of leagues and events.
Not only can you bet on domestic leagues like the NRL for rugby league, but you can also bet on international games too. This is particularly the case when it comes to football betting.
Sport events facts
| | |
| --- | --- |
| Total number of sports to bet on | 20 |
| Top market | Rugby Union |
| Unique markets | N/A |
| Top events | PGA, Rugby World Cup, NRL, ATP Challenger, NHL, ICC, AFL, MLB, English Premier League, LaLiga, UEFA Championship, MLS |
In this ReadyBet review, it's also worth pointing out that there are no unique markets or niche sports offered here. All the options available are some of the most popular sports.
Featured betting markets
Aussie Rules

Basketball

Cricket

Horse Racing

Football

American football

Baseball

Boxing
Golf

Greyhound racing

Ice Hockey

MMA

Motor racing

Netball

Rugby

Tennis
Available events
Big Bash League

AFL

ATP

Australian Open

ICC World Test Championship

La Liga

MLB

MLS
NASCAR

NBA

NBL

NFL

NHL

NRL

PGA

Premier League

Rugby World Cup

Super Bowl

Super Rugby Pacific

UEFA Champions League

UFC
Sports and markets rating
74
/100
Decent selection but lacks diversity 
Lots of horse betting options 
Many popular Aussie sports 
International markets
Only offers mainstream sports 
This is a solid start for ReadyBet, but I would have liked to have seen a little bit more from them. Really, I think diversity is key here and the focus on popular sports only is a little bit boring. 

There are only 18 sports on offer here and there's a strong focus on racing. It's the same as Bet Deck and I don't mean that in a favourable way, unfortunately. 

And, when you compare this selection to the vast array of sports offered by bet365, well ReadyBet is definitely not ready to bet on. It's new though so I will come back to it later to see if it's added more options. 

Additional market details: As mentioned, racing is the big one here. This doesn't just include horse race options but also covers harness racing and greyhounds as well. All of these race track sports have international and domestic markets. You can also view a list of the latest races and see constantly updated odds. 

Additional market details: Surprisingly rugby union is a big one here and is one of the sports with the most competitive odds. There is Pacific rugby available as well as the Six Nations, Champions Cup and, of course, the Rugby World Cup.
Betting features at ReadyBet
In order to have a good time online players need to be able to place their bets quickly and easily. This requires access to a series of top betting tools and is the reason why we look at these so carefully.
At ReadyBet, players are treated to a range of different betting tools. First, there is the bet slip, which contains a bet builder for players to add parlays and multis as they choose.
Players can make cashout bets as well as place live bets on the site. In addition, there is a live streaming option to watch some of the races via the ReadyBet TV widget at the bottom of the main page.
Betting features facts
| | |
| --- | --- |
| Cashout | Yes |
| Bet builder | Yes |
| Live stream | Yes |
| Live betting | Yes |
| Betting exchange | No |
| Quick bets | Yes |
| System bets | Yes |
| Virtual bets | No |
| Other bets | No |
Players can also make quick bets through the betting slip. There are no virtual bets available nor are there any other types of bets for customers to enjoy on this online betting site.
Betting features rating
77
/100
Good selection of standard betting features 
Live streaming TV 
Good bet builder 
Limited live streams
Unable to find in play bets
Okay, so this is a weird one for me. The website itself announces the presence of things like cashouts and live betting, but I was unable to find any of these on the website myself. I'll have to take their word for it. 

Still, I was pleased to see that there is the ReadyBet TV widget at the bottom left of the main page. Here you can watch various races. This is better than Elitebet, which doesn't offer any streaming at all. 
I was impressed to see that this TV setup is actually very similar to the Unibet TV setup as well, which means this site is copying the best. And that's as it should be. I'd just like to see more live streamed sports in future. 

Additional features: Multi bets are a great way to add a little more fun to a bet. Being able to do this yourself means you can aim for the most money wins possible. You can combine bets on several of the favorite horses, for instance, alongside a long shot to see if you can win all legs of a multi-bet. Just remember, all legs have to win. 
ReadyBet sports betting odds
With odds at the centre of getting a win, it's essential that you are able to get the best ones. We always want to see the most competitive odds out there, which is why we look at the payout percentages.
Good sites will have average payout percentages from 95% to 97%, which means that the site is keeping up with the latest odds and trends. ReadyBet is just shy of this with an average payout of 94.89%.
While the overall payout percentage is just a fraction low, when we looked at individual sports such as basketball and ice hockey, these payout percentages jumped up past that 95% mark, which is great.
Betting odds facts
| | |
| --- | --- |
| Average payouts | 94.89% |
| Highest available | Rugby Union at 95.47% |
| Boosted odds | N/A |
| In play betting payout | N/A |
Although we were unable to calculate the payout percentages for live betting as we couldn't find any bets, typically these payouts are around 2% lower than those found for pre-game betting.
Odds rating
86
/100
Strong odds for most betting markets
Strong odds across sports 
Highs for Rugby Union 
No live bets found 
Low football payouts 
I really loved that I was able to give a big boost here when it came to the odds. I was really surprised when I did the calculations just how good ReadyBet has become already. 

Okay, so it is not quite as good as Neds, which does sit really rather high at 97% but I am far from complaining about this payout percentage from ReadyBet, it's better than most. 

For instance, BlueBet is seen as a top option with 94.7%, but ReadyBet just scrapes past this putting it up there with the best. I really liked seeing this and only hope it continues this trend.
Payment methods found in our ReadyBet review
So many players never look at the payment methods on offer and this is a big mistake. You need to check these to make sure you're happy with the way your transactions are handled.
For top scores, we want to see ten or so payment methods available. ReadyBet only has four different options and these are card payments and various bank transfer options, which isn't very diverse.
It also means that while you do get very secure transactions, they're not going to be very fast. This is actually the same for deposits as well as withdrawals with the exception of cards.
Payments facts
| | |
| --- | --- |
| Total number of payment methods | 4 |
| Best option | Visa |
| Minimum deposit | AU$1 |
| Maximum deposit | N/A |
| Minimum withdrawal | N/A |
| Maximum withdrawal | N/A |
| Average deposit time | Instant |
| Average withdrawal time | 72 hours + |
| Average deposit fees | No fees |
| Average withdrawal fees | No fees |
There was not much information provided about the transactions. Card payments are instant, but if you do make deposits with POLi or EFT, you can expect that they may take up to a day or more to process. Withdrawal options are very limited, being just card and bank transfers, both of which are slow. At least there are no fees in place from the sportsbook's end.
Deposit methods
Bank Transfer

POLi

Visa

Mastercard
Withdrawal methods
Payments rating
75
/100
Very few payment methods giving very limited choice
Instant deposits are available 
No fees across any of the transaction methods
No transaction limits 
Limited payment information provided
Few withdrawal options
I am sorry to say but this was a bit of a drop in the score for obvious reasons. A total of four payment methods is just not good enough. Even Picklebet has five options to choose from. 

I was also not impressed to find that there is no information available regarding transactions at all. Sportsbet is pretty comprehensive in this area offering a minimum deposit of AU$5. I can only hope the minimum deposit at ReadyBet is something similar. 

I did give credit for the fact that all of the payment methods available are easily accessed and offer secure transactions. But while the sportsbook doesn't charge any fees, you might get stung by the providers themselves, so it's always wise to check.
Safety features
Being safe and secure online is a must, after all you're planning on handing over your hard-earned cash and expecting a payout from the sportsbook if you win. To ensure you don't get cheated, the site must be licenced.
ReadyBet is fully licenced and regulated in Victoria under the Victorian Gambling and Casino Control Commission. This means that it has to abide by the regulations set out by this jurisdiction.
As part of this, ReadyBet is fully protected with SSL encryption protocols. These are in place to protect your data from being accessed by third parties when you give it to the bookie.
Safety facts
| | |
| --- | --- |
| RNG auditing | N/A |
| Seals of Trust | N/A |
| Responsible Gambling | Gambling help online, Gambler's help |
| SSL encryption | N/A |
| Ever blacklisted | No |
| Licenses | Victoria Gambling and Casino Control Commission |
| Self-imposed spending limits | Available |
| Self-exclusion | Available |
| Cooling off period | Available |
| Account authentication | Required |
| 2-step authentication | Available |
The site also has good responsible gambling protocols in place. You can self-exclude, set bet limits and also cool off with ease via the responsible gambling link in the footer of the main page.
Licensed by
Victorian Gambling and Casino Control Commission
Trusted by
Gambling help online

Gambler's help
Safety rating
82
/100
Basic security in place across all platforms 
SSL encryption 
VGCCC licence
I was happy to find a strong performance here from ReadyBet. Of course, I would expect this to be the case as all top betting sites should be prioritizing security for their players. 

ReadyBet is a little more unusual when compared to other sites like Ladbrokes as it has a VGCCC licence rather than the more common NTRC one. This doesn't make it worse in any way though. 

Where ReadyBet does stand out is in the fact that it has decent responsible gambling tools that are easily accessible. It also actually abides by them unlike the recently fined, Bet Nation, which didn't. I really appreciate this about ReadyBet.
Customer support – unknown opening hours
Often players will overlook the fact that they might need to get in touch with support if things go wrong. This is the case even on the very best sportsbooks and betting sites.
We want to see that there are at least three options on offer and that you can get in touch round the clock. ReadyBet offers two support options in the form of a live chat and an email option.
Neither are available 24/7. However, it is unclear what the operating hours are at this time. There is no phone number to call either nor is there one to be found to place any live bets.
Support facts
| | |
| --- | --- |
| Customer support availability | N/A |
| Live chat | Yes |
| Email | [email protected] |
| Contact no. | N/A |
| On-page support | FAQs |
There is an FAQ option when the live chat is opened. However, all the sections are empty and when typing in a query it comes up empty so it appears the FAQ is not complete yet.
Support rating
72
/100
Limited opening hours and unclear when they are 
Live chat 
Email available
FAQ is empty 
No 24/7 support
Again, this was not the best showing from ReadyBet. The site has two contact options in the form of a live chat and email. The former is a prompt and friendly service, which was nice. 

However, later in the day when I attempted to get back in touch, it was unavailable. There were no opening hours provided either which is a little frustrating. So, while ReadyBet does match BBet in the fact that there's no 24/7 support, at least with Bbet I know what the opening hours are. 

I am also going to continue complaining about the lack of an FAQ section, which is just like Crossbet. Except here, they tantalise me into thinking there is one only to disappoint. 
Platform and usability
Finally, we also look at the overall functionality of the site as a whole. We want to make sure that you can quickly and easily find your way around on desktop or mobile.
ReadyBet is very easy to use. It's got a clean interface with an appealing white and blue theme. This means all the text and sections are very easy to read and navigate through.
The sports menus are on the left and these offer you a very simple way of clicking through all the sports, which are conveniently alphabetised. Along the bottom in the footer are links to responsible gambling and support.
Usability facts
| | |
| --- | --- |
| Sport filters | No |
| Search function | No |
| Web UX | Neutral |
| Mobile UX | Neutral |
| Load speed | 2.1 sec |
| Other products | N/A |
The site is also available in a mobile browser version with all the same special offers and prompt and friendly service in place. There's also an app available for iOS users.
Play on devices
Android

iOS

Linux

MacOS

Windows
Platform rating
85
/100
Simple, clean design for easy navigation 
iOS app 
Easy to use 
No glitches 
Lacks Android app 
No filters or search bar 
I actually enjoyed taking a look around this site as the design and layout is very easy to use. It's super minimalistic and, even for me, I didn't mind the clean white spaces here. 

Just like GetSetBet it does lack a sports filter and search bar, but I will say I didn't really miss it. There aren't too many sports and these are in alphabetical order so it's still easy to find the sport you want. 

And, despite missing out on a few more obvious links – it was a bit annoying to find the FAQs in the live chat box – I wasn't confused navigating around. Not like I was when attempting to use BetGold! 
Expert verdict
As far as new betting sites go, ReadyBet has made a good start. It's still got a way to go to compete with the best, but it's really got good foundations to grow from. 
There are 18 sports each with a growing number of domestic and international tournaments available. It would be nice to see more niche or unique sports added here in the future though.
There is a little confusion here as live bets are apparently available but these could not be found. It can be assumed that the in-play betting markets just aren't that big here yet. But, speaking of markets, the odds are great.
Rounding out the features is a rather minimal selection of payment methods and a friendly support service. The site is fully licenced in Victoria as well so it's safe and secure for you to play there.
FAQs
Is ReadyBet a good site? 
Yes, as a new competitive bookmaker, ReadyBet is already trying to make a name for itself. To start with, it's fully licenced and has 20 different sports for you to bet on. You can also claim various bonus bets once you have a verified account with this local bookmaker. As a new bookie, it's still finding its feet, which means that customers may well be treated to the addition of new features to the site as the bookmaker matures.
Who owns ReadyBet? 
ReadyBet is owned by Mark Rhoden and Cameron O'Brien. The site was established in 2022 and, since then, it has continued to grow in order to offer players a fun, Australian owned local bookmaker. It's fully licenced in Victoria and has a wealth of horse racing and sports betting markets on offer. Special offers are only available once you log in with your account and cannot be advertised to customers though.
How long do ReadyBet withdrawals take? 
All the payments for ReadyBet are cards or bank transfers, none of which have short turnaround times. As such, this means that you can typically expect a withdrawal to take around three to five days to appear in your account. It can be longer. You need to make sure that you've met all the terms and conditions otherwise the withdrawal request will be refused and the money stays in your account.
Can I cash out at Readybet? 
Yes, you can cash out with ReadyBet. If you have placed a live bet with this new competitive bookmaker, you can get an early cashout. This is a great option if you think your bet might not win later on in the game. As such, you can withdraw your bet early so that you can claim the win before it becomes a loss.
How do I withdraw money from ReadyBet? 
If you want to claim your money from ReadyBet, then you can do so via bank transfer or debit and credit cards. The options are somewhat limited at this new bookie. All you need to do though is log in to your account. Go to the banking section and make sure you've played through your winnings at least once. Then, select your preferred payment method and type in the withdrawal amount.