SportChamps Australia review for 2023
64
/100
Expert rating
byby

Elena I.
500+ betting tournaments a week
Best sportsbook in your area
Bet365 sportsbook
Most sports markets on offer
In this SportChamps review, we're going to dive in to this tournament betting site and all that it has to offer – from the social side to the necessary boring bits!
First, we take a look to see if there is a SportChamps sign up bonus and whether there is a promotion code needed in order to claim it.
We will also look at the sports available for betting tournaments, the size of the cash prize pool you can score and how you can brag to other punters if you win.
Finally, we'll shine a light on the payment options, support provided and overall usability of SportChamps including whether or not they even offer a mobile app.
Pros and cons
Free tournaments
Australian-owned
Great mobile app
Limited payment options
Few sports
No sports betting
General ratings
64
/100
Expert rating
byby

Elena I
70
Betting features rating
How we rate?
Our main score is the Expert Rating, which ranks sportsbooks on over 60 criteria in seven different sections, including sports and markets, odds, safety, usability, and more.
81%
Playscore
based on 8 critics
100

86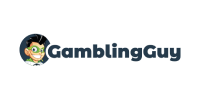 86
82

80
80
70

62
What is our Playscore?
The Playscore represents the average rating according to top critic sites for a given betting operator.
General info
| | |
| --- | --- |
| Launch date | 15/06/2016 |
| Company behind | SportChamps Australia Pty Ltd |
Best alternatives to SportChamps sportsbook
Unibet sportsbook
Betfair sportsbook
Australia's only betting exchange
Ladbrokes sportsbook
In-depth stats and predictions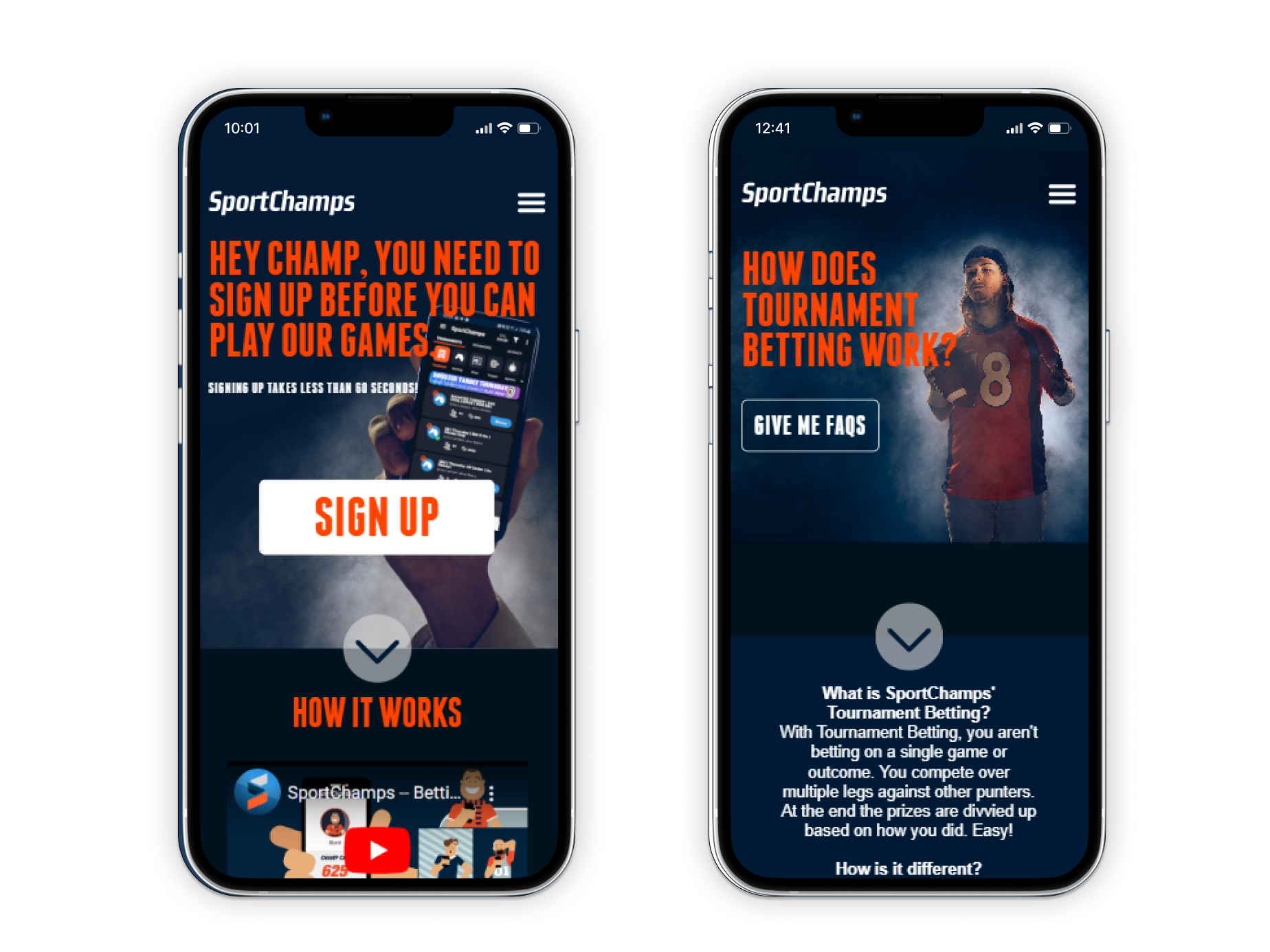 Editor's note
This review is based on the operator's current sports offer in Australia.
Sports and markets at the SportChamps sportsbook
Aside from the possibility of claiming a SportChamps deposit bonus, the main thing we look at here is the sports on offer. Typically, a top site should offer more than 30 betting markets.
SportChamps isn't a typical betting site, so there are only 14 different tournament markets on offer. Top American sports are available including American football, basketball and baseball.
The site is also home to a number of Aussie sports, with a focus on Aussie Rules betting and the NRL, and the SportChamps bonus can be used for both of them. 
Sport events facts
| | |
| --- | --- |
| Total number of sports to bet on | 14 |
| Top market | Racing including trotting, horses and dogs |
| Unique markets | N/A |
| Top events | NFL, NBA, NRL, AFL |
As we have outlined already in this SportChamps review, this is not a typical betting site. As such, you should focus on tournament betting where you can find free, public and private tournaments. Within these tourneys, you can place virtual money bets to make your way to the top of the leaderboard.
Featured betting markets
Aussie Rules

Basketball

Cricket

Horse Racing

Football

American football

Baseball

Golf
Greyhound racing

Hockey

Motor racing

Rugby

Tennis
Available events
NBL

NHL

NFL

NRL

PGA

Premier League

Rugby World Cup

Super Bowl

Super Rugby Pacific

UEFA Champions League
Sports and markets rating
2
/100
Limited number of sports and events
Selection of Aussie leagues 
Multiple tourneys per sport
Few sports on offer 
No sports betting 
SportChamps Australia is actually not a traditional sportsbook and instead has tournaments and eligible events for players to join in with. This did change the way I scored the site somewhat as I don't expect the same number of sports as a traditional betting site. 

However, just 14 sports is a little low and even drops under Bet Deck, which offers 18 sports. It's also not the best selection if I am being totally honest here. 

I wasn't expecting the 40+ sports on offer from bet365 here, but I do hope that SportChamps does add more options and leagues to their tournaments in the future. For now, I'll stick with this above-average score. 

Additional market details: Horse racing tournaments make up the biggest proportion of events here. You can find tourneys for most major races, and we're not just talking Australian and NZ, but international as well. There's a specific horse racing racebook and the tourneys have different entry points ranging from AU$5 to AU$50. 

Additional market details: Australian sports like rugby league are also very popular here. You can find an array of tourneys for the NRL. In fact, the NRL (and AFL) have some pretty big prize pool prizes up for grabs, each with a cash pool of AU$10,000.
Betting features at SportChamps
When it comes to placing bets or playing at SportChamps tournament site, it's important to be able to do so quickly and easily while utilizing helpful betting tools.
SportChamps gambling operations actually does not offer the same type of betting features as you might expect. There is no bet builder, live betting, live streaming or the like. 
This is because you place single bets once you join a tournament. Inside the tournament, you'll be able to see the latest betting markets for that sport. Then, you place your bet on any of the different options using SportChamps virtual money (you get $10,000 to start) and see how fast you can move up the leaderboard.
Betting features facts
| | |
| --- | --- |
| Cashout | No |
| Bet builder | No |
| Live stream | No |
| Live betting | No |
| Betting exchange | No |
| Quick bets | No |
| System bets | No |
| Virtual bets | No |
| Other bets | All bets take place within a tournament |
Within the tournaments, you can find a wide array of different options including target tournaments, free tourneys and private competitions that you can create yourself with friends.
Betting features rating
70
/100
Selection of different betting tournaments 
Make private tourneys with friends 
Free entry competitions
No live betting or streaming
This was a bit of a weird one for me as it doesn't have the usual betting options and tools. Although it has a bet slip once you're in a tournament, that's about it. 

If I am honest, the whole site reminded me a bit of Dabble, which is a social betting site in a similar vein. However, there is a full range of betting tools at Dabble including the copy bet feature, follow players feature and so on. At SportChamps, it's just a tournament site. 

I actually didn't expect there to be live betting or streaming just like Elitebet has none of these options online, as its live bets must be placed over the phone. However, I give more points to SportChamps because the fun part here is playing against other punters. 

Additional features: Tournaments are the name of the game here and they're a lot of fun. Choose the event you want to buy in to, making sure that the tournament entry fee is one you're happy with. Ensure you're following the tournament rules when you place your bets on a variety of different races or matches and see if you can earn SportChamps cash. 
SportChamps sports betting odds
For most sportsbooks in AU, having high odds is an integral component to getting a top score. And this is hardly surprising given this is the way players get good wins in sports betting. 
However, this is a tournament betting site so there are no odds on display here. Nevertheless, it's a good idea to check out the odds on offer for an event to see how likely it is that your chosen team or player will win in your tournament.
You can earn yourself more virtual cash if you do better in a tournament. So, keeping an eye on the overall form and odds of a team or player can be essential to moving up that leaderboard.
Betting odds facts
| | |
| --- | --- |
| Average payouts | N/A |
| Highest available | N/A |
| Boosted odds | N/A |
| In play betting payout | N/A |
As there are no odds here, it's rather hard for us to actually compare whether other tournament sites do well in this category. Just take a look at betting tips on other sites before joining different tourneys.
Odds rating
50
/100
 No odds on offer as this is a social tournament site 
This section is actually not really applicable to the SportChamps tournament site which is why I've opted to give it a more average score as it would be unfair to go lower. 

However, this process is very similar to PlayON where there are no odds available as this too is a fantasy betting site. You can simply check out the tournament entry fee instead to see if the event is worth it. 

Swopstakes is another tournament site and is a good example to compare to. Instead of comparing odds, I did take a look at the entry fees and availability of free tournaments on offer. With 200+ free events a week at SportChamps, I think it comes out on top. 
Payment methods found in our SportChamps review
Being able to use a variety of different payment methods when making your deposit at a sportsbook is a must. Typically, we want to see ten or more options for us to use.
SportChamps has three different payment method on offer, and these are Mastercard, VISA and bank transfer. All can be used to make a fee-free deposit with a minimum of just AU$1.
You can only use bank transfers for making withdrawals though. These can take a few days to process before winnings appear in your account if you've won a cash prize.
Payments facts
| | |
| --- | --- |
| Total number of payment methods | 3 |
| Best option | Bank Transfer |
| Minimum deposit | AU$1 |
| Maximum deposit | N/A |
| Minimum withdrawal | AU$10 |
| Maximum withdrawal | N/A |
| Average deposit time | Instant |
| Average withdrawal time | 72 hours+ |
| Average deposit fees | No fees |
| Average withdrawal fees | No fees |
There are low minimum deposit limits of AU$1 in place. However, unless joining a free tournament, the minimum entry amount is AU$2, so it's likely you will deposit more. Withdrawals need to be a minimum of AU$10. There are no fees for any of the payment methods for any transaction type, and this is the case on the app too.
Deposit methods
Withdrawal methods
Payments rating
68
/100
Limited number of payment methods on offer 
Low minimum deposits 
Speedy withdrawals
Limited withdrawal options 
I was rather disappointed in this section. And yes, I know, SportChamps members can play here without making a deposit at all thanks to the free tourneys, but I'd still like more choices. 

With just three options, you're really forced to pick something that might not be your preference and essentially relies on you providing bank details to the sportsbook. This is worse than Picklebet's five payment methods in my opinion. 

Yes, you can make tiny deposits though. And I was pleased to see that this was even lower than the impressive AU$5 deposits offered by Sportsbet so points to SportChamps for that. 
Safety features
No matter what type of betting site you're playing on, if you're handing over banking information, you need to stay safe. This means we check the security in place on SportChamps.
First, we look for a licence. SportChamps holds one from the Northern Territory government. It has specific regulations in place to which sportsbooks like SportChamps must adhere to.
It's also got SSL encryption protocols in place. This helps to keep any data you give the betting site safe from third parties. Essentially, it means you can provide card details without fear of someone taking them.
Safety facts
| | |
| --- | --- |
| RNG auditing | N/A |
| Seals of Trust | N/A |
| Responsible Gambling | Gambling help online, Relationships Australia, Gamblers Anonymous Australia |
| SSL encryption | N/A |
| Ever blacklisted | No |
| Licenses | Northern Territory Racing Commission |
| Self-imposed spending limits | Available |
| Self-exclusion | Available |
| Cooling off period | Available |
| Account authentication | Required |
| 2-step authentication | Available |
Additionally, SportChamps does have responsible gambling protocols in place. These can be found in the footer and allow you to set your own deposit limits right from the outset before you even start playing. 
Licensed by
Northern Territory Racing Commission
Trusted by
Gambling help online

Relationships Australia

Gamblers Anonymous Australia
Safety rating
89
/100
Fully licenced and secure 
Australian betting site 
NTRC licence 
Responsible gambling tools
South Australian players not accepted
Another strong showing from SportChamps here as there are some excellent security and safety protocols in place – the NTRC licence is the most important one at this point. 

I was happy to see that there is SSL encryption – evidenced by the locked padlock icon in the URL. However, there was no mention of the strength, so I doubt it meets the heights of Ladbrokes, but I could be wrong. 

There are excellent, accessible, responsible gambling tools available, which shows me that the site takes this sort of thing seriously. It's a far sight better than Bet Nation, which has already been fined for violating responsible gambling protocols. 
Customer support
Many players overlook this aspect of a betting site, but it's important to have a range of contact details when it comes to getting in touch with a betting site. Ideally, we want at least three options.
SportChamps has two support options in place and these are live chat and email. The SportChamps customer service is available around the clock if you use the chat located on each page.
There is no phone contact available. Additionally, there is no FAQ or Help section found on the site at all, not even in the footer of the main page.
Support facts
| | |
| --- | --- |
| Customer support availability | 24/7 |
| Live chat | Yes |
| Email | [email protected] |
| Contact no. | N/A |
| On-page support | Blog and How to Play video tutorials |
However, there is a blog that gives you insight into the latest sporting events. There are also a number of helpful videos to get you up and running with regard to the basics.
Support rating
81
/100
Decent support options but could do better 
No phone number 
Missing FAQs 
I did give this a decent score even though I felt that SportChamps was missing some of the more important features and components I want to see in a betting site. 

Just like CrossBet, there is no FAQ. But, where SportChamps comes out on top is that a number of commonly asked questions are actually featured in very informative video tutorials. I did like this novel way of imparting information. 

While initially unclear, SportChamps also beats out BBet by offering round-the-clock support. The live chat is also sticky and available on every page, another feature I really appreciate.
Platform and usability
Being able to access a betting site across a range of different devices is a must. We also want to see that the platform itself is intuitive and navigable for all users.
SportChamps has a clear, modern interface that can be used on all devices. It's scalable too, adjusting to different screen sizes without losing any of the important features.
The SportChamps app is also available for both Android and iOS users. Links to both apps can be found at the bottom of the main SportChamps page.
Usability facts
| | |
| --- | --- |
| Sport filters | Yes |
| Search function | No |
| Web UX | Good |
| Mobile UX | Good |
| Load speed | 0.9 sec |
| Other products | N/A |
All tournaments are available across platforms and most of them also feature a variety of filters such as sport, entry fee and so on, so that you can pick the perfect tourney.
Play on devices
Android

iOS

Linux

MacOS

Windows
Platform rating
90
/100
Strong, user-friendly gaming platform
Tournament filters 
Modern interface 
Swift verification process
I have to say, the overall look and feel of SportChamps is one of my favourite things here. It's a stunning black, orange and white theme that really makes it easy to navigate around the betting site. 

Unlike sites such as GetSetBet, there are clear tournament filters allowing me to find specific horse racing events or how much virtual currency I need to place a bet. 

I really enjoyed how easy it was to get around. The lobby with all the competition is easy to navigate through no matter what platform I was using, unlike the rather confusing BetGold interface. High marks here.
Expert verdict
SportChamps is a unique social tournament betting site. There are no sports betting options here, which means you don't have access to bets like outrights, futures or props. Instead, you join betting tournaments.
There are a number of different SportChamps tournaments on offer including free events, target tournaments, exclusive tournaments and more. The tournament entry requirements vary, but there are convenient filters to find the exact tournament suited to you.
SportChamps also has a wealth of different How to Play videos on the site, which makes it very easy to get up and running. You can also use the site on a very responsive, mobile app for both Android and iOS.
Finally, there is helpful support in place as well as low minimum deposit limits. Payment options are lacking, but more are likely to be added in the future, as are more sports to bet on.
FAQs
Is SportChamps legit? 
Yes, SportChamps is entirely legitimate and operates within the jurisdiction of Australia's Northern Territory government. This means that the site has to abide by specific regulations in order to operate. South Australian residents can't access all areas of this site, though it does abide by the South Australia gambling codes of conduct. It also offers quick online verification and responsible gambling opportunities.
How does SportChamps work? 
Unlike traditional bookmakers, you can't place bets on sports events. Instead, SportChamps offer players the chance to join tournament betting. Simply join SportChamps, make a deposit and buy in to public or private tournaments. When you win, you earn SportChamps virtual currency. The more you win, the more you can earn in real money. You don't even have to come top of the tournament leaderboard to win.
Who owns SportChamps? 
SportChamps is 100% Australian-owned. The company behind this exciting social tournament betting site is SportChamps Australia Pty Ltd. The idea behind this fun setup is to give players a more social betting experience where you can even brag about a big win, something not commonly offered at other Australian bookmakers. New customers can even make use of an exclusive bonus via the SportChamps promo code.
How do I withdraw money from SportChamps? 
Currently, there is only one option for making a withdrawal and that is via bank transfer. Hopefully, in the future, there will be more withdrawal options such as POLi added. Australian punters must ensure that they have met all wagering requirements associated with any bonus claimed when using the SportChamps referral code before the withdrawal can be processed from their SportChamps account.
Is there cash out at SportChamps? 
No, there is no cash out available at SportChamps. This is because cash out is only available on live bets. There are no bets in the traditional sense only the option to play tournaments. Because of this, there is no cashout. However, players can get a boost when playing as there is a sign up bonus that can be claimed using either the referral code or a bonus code.