Looking to game and cash out on-the-go? Check out our list of the best fast payout casinos and the best instant play casinos in Ontario.
Binge-watching – we've all done it, whether we love or hate to admit it. With three-in-four Canadians admitting to binge-watching, we wanted to see which provinces and territories stream their Netflix shows fastest. We also asked Canadians about their binge-watching habits and which Netflix show they streamed the fastest this year.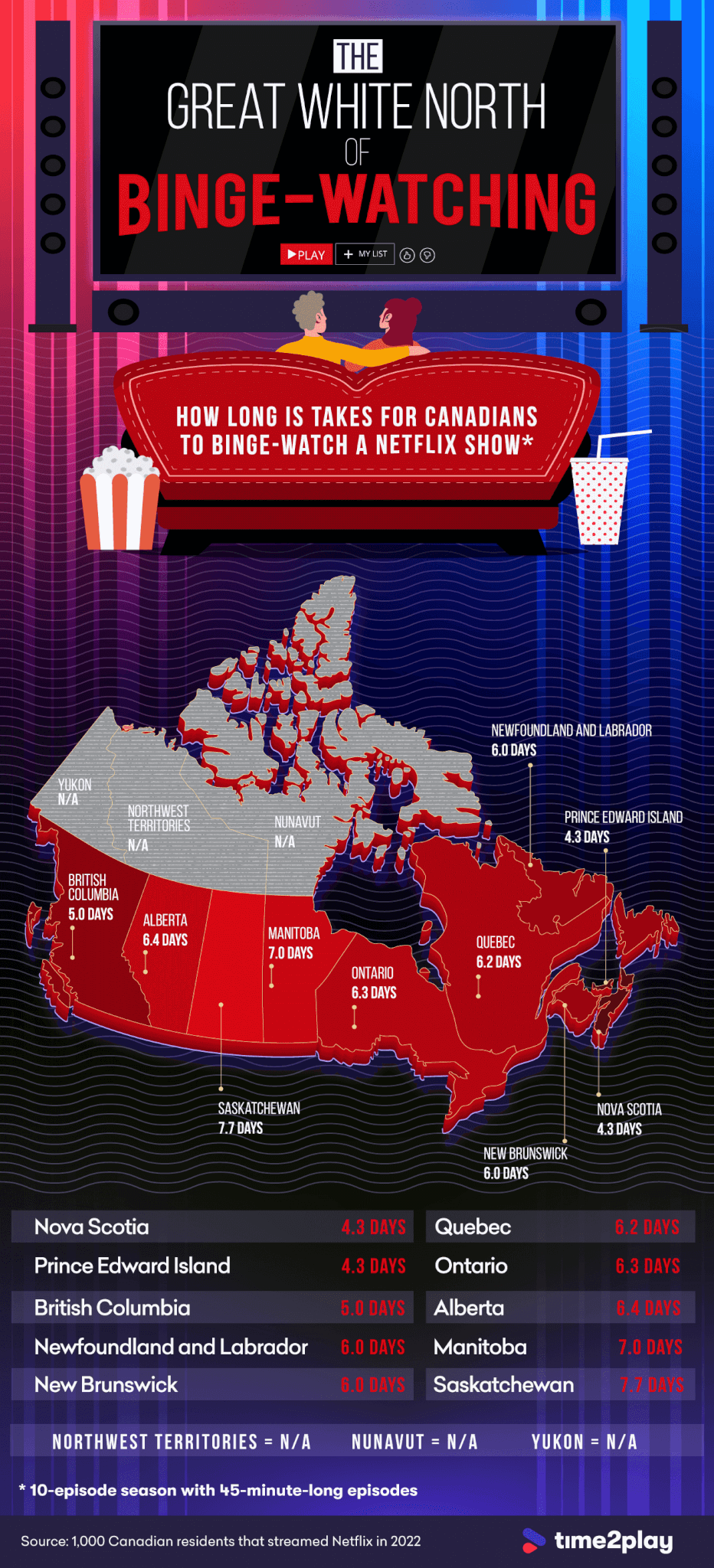 We surveyed 1,000 Canadian residents across the country who have streamed Netflix this past year. We asked the following question: "How many days does it take for you to binge-watch a typical 10-minute episode season on Netflix?"
The two provinces that streamed the fastest across Canada are residents in both Nova Scotia and Prince Edward Island. It took them an average of 4.3 days to start and finish a standard Netflix season. Both provinces are significantly faster than the rest of Canada since the second fastest binge-watchers in Canada are British Columbia (B.C.) residents. B.C. takes an average of 5.0 days to binge-watch a Netflix season. Tied for third, both New Brunswick and Newfoundland and Labrador binge-watch at the pace of 6.0 days.
The fourth-fastest binge-watchers in Canada are Quebec residents – with an average of 6.2 days. Following closely behind, Ontarians finish a Netflix season in 6.3 days, and Albertans in 6.4 days. The slowest Netflix streamers in all of Canada are Saskatchewan residents, finishing a season in 7.7 days.
The Northwest Territories, Nunavut, and Yukon were not accounted for due to an insufficient amount of data.

We asked respondents which Netflix show they've binge-watched the fastest this year. Note: we only asked for Netflix shows that came out with a new season for the year 2022.
Canadians' fastest-streamed show in 2022 was Stranger Things (Season 4). This came as no surprise since the show shattered viewership records. The Witcher (Season 2) was the second fastest-streamed show in Canadian households. To finish the top-five list, Bridgerton (Season 2) was third, Dahmer (Season 1) came in fourth, and Ozark (Season 2) in fifth.
Love is Blind (Season 3) was not only the sixth most binged show in Canada but also the most binge-watched reality Netflix show for 2022. The Umbrella Academy (Season 3) came in seventh, Selling Sunset (Season 3) in eighth, and Never Have I Ever (Season 3) in ninth. Inventing Anna (Season 1) finishes the top-ten list of the most binge-watched Netflix shows in Canada.
Binge-Watching Habits
We wanted to see when the average Canadian typically binge-watches and what their binge-watching habits look like.
The majority of Canadians (62.9%) binge-watch at night, from 8 P.M.-12 A.M. Respondents also wait to watch 2 episodes before deciding to binge-watch the rest of the season. When asked how many episodes they can binge-watch without pausing, the average was 2.8 episodes.
Methodology
We surveyed 1,000 Canadian residents that streamed Netflix in 2022. The average age of respondents was 33.2 years old. The average household income of respondents was $94,873.31.
For media inquiries, please contact [email protected]
Fair Use
If you'd like to share this post or its assets with your friends or audience, you are welcome to do so. Please be sure you include attribution linking to this study.
Read more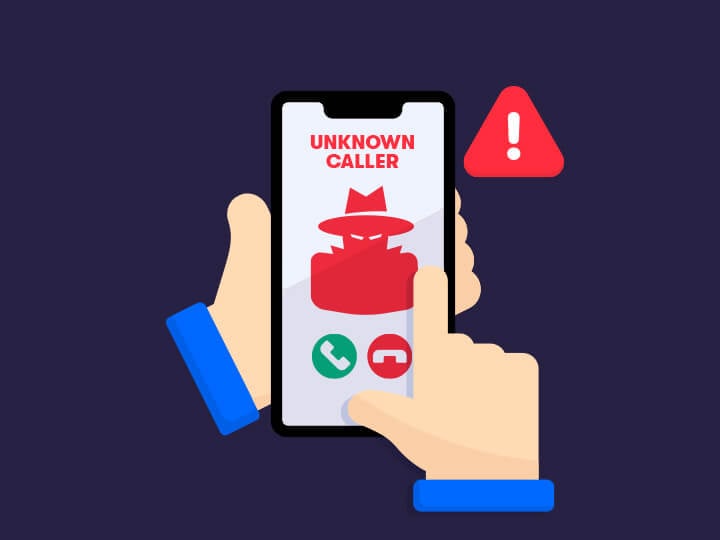 Spams & Scams: A study on fraudulent calls across Canada
Spam calls – we all get them, especially the notorious scam calls. No matter how often we receive them, the horror stories are neverending. With millions of dollars stolen in total from Canadians across the country each year, it's no secret that spam and scam calls are a massive security and financial issue for residents.