Interested in sports betting? Why not check out our list of the top betting sites.
The 2022 National Hockey League (NHL) season is just around the corner and fans are eager to get back to their favourite arenas. With tickets now on sale, we wanted to find out which NHL arenas are the most and least expensive for fans to attend during the upcoming NHL season – taking ticket prices, food and drinks, and parking into consideration.
Taking first place, the full experience at a New York Rangers game will cost fans $188.26USD/$247.99CAD per person. This is no surprise as New York City is the most expensive city in North America. The second most expensive NHL game to attend is the Toronto Maple Leafs, costing fans $182.78USD/$240.78CAD. Again, not so surprising as Toronto is the most expensive city in Canada. Third place goes to the Vegas Gold Knights, where fans will pay about $178.97USD/$235.76CAD for a trip to an upcoming game.
The least expensive Canadian NHL arena that fans can catch a game at is the Ottawa Senators, where a game at the Canadian Tire Centre will cost them $93.47USD/$123.13CAD. The least expensive American NHL arena that fans can attend a game at is the Arizona Coyotes. A game at the Gila River Arena will cost fans $87.93USD/$115.83CAD. The Arizona Coyotes NHL games are also the cheapest overall in both the US and Canada.
As for individual costs, the most expensive NHL ticket out of all 32 teams is a ticket to the Seattle Kraken game – where a single ticket costs $130.85USD/$172.58CAD. The Seattle Krakens also take the lead for the most expensive hotdog as well, for a total of $8.00USD/$10.53CAD. The most costly beer out of the entire NHL league comes from the New York Rangers, where a beer will cost fans $15.00USD/$19.75CAD. The New York Rangers also charge the most for parking, compared to the rest of the NHL teams. Parking at Madison Square Garden costs about $29.20USD/$38.44CAD.
Methodology
Our "Total Costs" and "Most expensive" data came from Team Marketing Report's (TMR) 2021-22 NHL Fan Cost Index. Our total costs consist of the Average Weighted Ticket + 2 Beers + Cheapest Hot Dog + Parking; per NHL team.
For media inquiries, please contact [email protected]
Fair Use
If you'd like to share this post or its assets with your friends or audience, you are welcome to do so. Please be sure you include attribution linking to this study.
Read more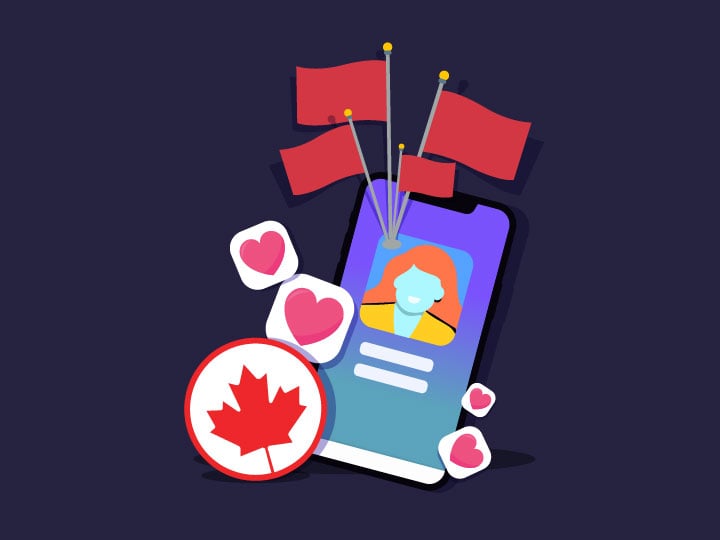 Canada's biggest online dating red flags
Looking for safe online casinos? Check out our list of the top live casinos in Canada. For mobile users, check out our list of the best casino apps that work in Ontario.