19+. All betting-related products and services regulated by iGaming Ontario are available only to those physically present in Ontario. Play responsibly. Contact ConnexOntario for support.
PartyCasino review

83

/100

Expert Rating

by Elena I.

87%

Playscore

based on

Best poker room and tournaments

Play

players accepted

Good to know

Google Pay payments accepted
C$10 minimum deposit
Minimum 24h withdrawal time

8 payment methods

Play

bwin casino review

91

/100

Expert Rating

by Elena I.

85%

Playscore

based on

Great casino for table games

Read review

players accepted

Good to know

Google Pay deposits + withdrawals
No fees
Quick transactions

9 payment methods

Read review

1

WoW Vegas casino review

87

/100

Expert Rating

by Elena I.

89%

Playscore

based on

5,000 WoW Coins + 1 Sweepstake Coin

Play

players accepted

Good to know

Daily login rewards
Mobile-compatible site
All provinces except QC

5 payment methods

Play

2

Fortune Coins casino review

84

/100

Expert Rating

by Dasha G.

87%

Playscore

based on

500 Free Fortune Coins

Play

players accepted

Good to know

Daily and Mystery rewards
Quick processing times
All provinces except ON, QC

4 payment methods

Play

3

BetRivers.NET casino review

74

/100

Expert Rating

by Elena I.

84%

Playscore

based on

Up to 1,000 Virtual Credits

Play

players accepted

Good to know

500+ games to play
Swift customer support
All provinces except QC

1 payment methods

Play
Editor's note
This overview is based on the current offer in Ontario; it's all changeable depending on how the market develops — don't worry about that though, we'll keep it updated. At the moment, only PartyCasino and bwin accept Google Pay in Ontario.
As for the rankings, our long-term goal isn't to make this a carbon-copy of our favourite real money casinos, but to give you a comprehensive overview of which casinos in Canada are best for Google Pay payments. Casinos with higher overall scores can be lower on the list, if other places offer a better experience when using Google Pay.
Casinos that accept Google Pay: Categories
Rating all of the Google Pay casino websites in Canada isn't as simple as looking at who's got the biggest game library. Players have different priorities, and that's something we keep in mind when reviewing which casinos accept Google Pay.
Whether you're looking for the fastest payouts, the best mobile app, or if you are in fact looking for the biggest game library, we've sorted the top Google Pay casino sites into easily digestible categories. 
Right now, we're in a tough situation where only two casinos accept Google Pay deposits, so they dominate the category list. Rest assured that we're on the ball and are updating this as more Google Pay casino sites appear. Until recently, it was just PartyCasino, so a warm welcome to bwin for diversifying the portfolio. 
How to choose Google Pay online casinos
Here, we want to walk you through how we rate the best Google Pay online casinos. Apart from giving you some insight into what we look for in the top casino reviews, our goal here is to give you an understanding for what is good and not-so-good at casinos that accept Google Pay. That way, you'll be armed and ready with all the info you'll need to make your own evaluations in an expanding online gambling market.
Benefits of top Google Pay casinos online 
Here, we'll run you through the positives of using Google Pay casinos online. If you're picking Google Pay, which isn't available at many casinos, you're cutting yourself off from a big pool of potential sites to play at, so you'd better be getting some good perks as a tradeoff. Fortunately, you do get some perks with Google Pay. Let's dive right in and see what's good: instantly, which means you can play right away once your deposit transaction goes through. 
Card numbers aren't shared when pay
Instant Google Pay casino deposits 
Transactions must be authorized through the app
No casino fees or commissions 
Compatible with most banks 
Disadvantages of Google Pay casinos 
Of course, not everything is perfect, and that's the same for Google Pay. The best Google Pay casinos let you deposit and withdraw, but are unlikely to rank on the best instant withdrawal casinos list. So, what are the downisdes?
Not widely available at online casinos in Ontario 
Not available at the fastest payout online casinos
Again, Google Pay is held back by the fact that it's only being run by two casinos in Ontario. While it's an e-wallet, and e-wallets are among the fastest withdrawal methods, huge industry-leading casinos like PlayOJO can process payments with e-wallets like PayPal within just a few hours. Technically, bwin is up there, being one of the top scorers on our online casino reviews, and can pay out within a day or two, but the casino itself states that its payment processing times can be up to 5 days. 
How to deposit and withdraw using Google Pay 
As you'd expect from an online payment method designed to be easy and used from a phone, making a deposit with Google Pay is a walk in the park. The hardest part is finding a casino that will actually accept Google Pay.
The keynote is that you must confirm any Google Pay transaction through your phone. Even if you're using the desktop version of the casino, you'll need to have your phone handy. Depending on the online security protocols you have in place, you will need to provide a security code or use Touch ID or Face ID to validate a transaction. 
Withdrawing is possible at casinos like bwin, and any withdrawals will be processed directly to the credit or debit cards that you used to deposit through Google Pay. So, how do we make Google Pay withdrawals and deposits? Let's dive in and walk you through a typical online casino Google Pay journey.
Sign up — Sign up with Google Pay and add a card, then sign up with a casino that accepts Google Pay
Start your deposit — Go to the cashier section of your online casino, hit deposit, and select Google Pay as your withdrawal method. Once there, enter the amount you'd like to deposit, and choose which card in your Google Pay account you'd like the money to transfer from.
Confirm your Google Pay deposit — Head to the Google Pay app, and use either a security code, Face ID, or  touch ID on your phone to finalize your payment.
Withdraw any winnings — Head to the cashier section, and hit withdraw. Input the withdrawal amount, and follow the onscreen prompts. Money will usually go straight to the card you used to deposit. Processing and payments should take an average of 3 days.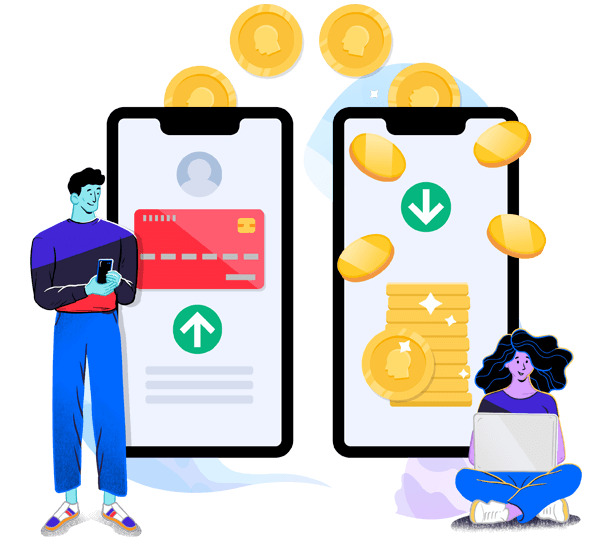 Our top tips for using Google Pay 
Using Google Pay online is quite simple, but we'll throw in a few tips and tricks to make the whole experience as smooth as possible. While Google Pay has its own security, you still need to be playing at a trusted, licensed casino. If you don't you can run the risk of being scammed by the casino and never seeing your money again. Here are some other top tips for using Google Pay. 
Make sure you're at a licensed casino — Seriously. There are a fair few gambling sites licensed in Ontario, and you can find a list of them on iGaming Ontario's website, they're the licensors. Google Pay is a secure payment method, but it doesn't know whether the casino you're paying is licensed in your area or not.
Keep your phone handy — When making Google Pay casino deposits, have your phone nearby. You'll need to authorize the transaction, and the last thing you'll want is to realize your phone is in another room or your car or something.
Set up your security on Google Pay — To authorize a transaction, you'll need a password, Touch ID, or Face ID on the Google Pay app. We recommend setting up a password and at least one other method. A strong password with numbers and some upper-case letters is way better for security, and Touch ID will save you from needing to type out that long password with every transaction.
Have a backup payment method ready — With only two casinos accepting Google Pay payments, there's a chance it might not break into the market. If it doesn't work out long-term, you don't want your funds stuck in the casino. Both of the Google Pay casinos also take Interac and MuchBetter, so those are fine backups to have.
Best alternatives to Google Pay casinos 
Not convinced by Google Pay? That's fine, there are plenty of other options out there.
Apple Pay online casinos could be the ones for you, if you like Google Pay, but can't access it on your device or at your favourite casino. Like Google Pay, Apple Pay has strong security in place and also gives you instant deposits. Apple Pay is available in more online casinos in Ontario, such as 888Casino and BetMGM. If you're not a fan of iPhones, you're stuck with Google Pay though — we're afraid there's no such thing as Android Pay anymore.
Online Visa casinos are another popular option. As one of the world's most popular payment methods, it needs no introduction. In Canada, it can be used in both credit and debit card form.
Interac can be used to make casino payments, marking it as an excellent option for Canadians. You can find it at almost all online casinos in Ontario. It's got super speedy deposits all wrapped up in a secure transaction process, and withdrawals are strong too. 
Trustly online casino sites are our final recommendation. Like Google Pay, it's quite a niche casino option, though more casinos in Ontario are starting to accept it. As an online banking method that requires no cards or apps, it is quick and convenient, and you can make withdrawals as well as deposits.
FAQs
What is the best Google Pay online casino in Ontario?
Our recommendation is bwin casino. There aren't many Google Pay casinos to choose from, and bwin is one of our overall top scorers. It's got nearly 1,000 casino games, good software, and a strong app. For casinos with Google Pay, Party Casino takes the runner up spot. They've both got Ontario casino licenses.
What casinos accept Google Pay?
Is Google Pay a secure online payment option?
Yes, Google Pay is one of the most secure online payment options out there. All transactions need to be approved through the app, and you can customize the approval features for your device. You can opt for Touch ID, Face ID, or a password to enable transactions. Security is one of the main perks of casinos that accept Google Pay.
Can I withdraw with Google Pay?
Yes, you can. Some online casino sites only offer Google Pay deposits, but others, such as bwin, allow withdrawals too. When making a Google Pay withdrawal, money is transferred directly to the card that was used to make the transaction. Learn more about withdrawals from Google Pay online casinos.
Does Google Pay have fees?
Not for casino transactions. However, Google Pay does charge a 1.5% or $0.31 fee (whichever is higher) if you withdraw money stored in Google Pay to another account. This shouldn't affect you, since most Google Pay casino withdrawals go directly to the card that was used to deposit them, rather than to your Google wallet. Top Google Pay online casinos usually avoid charging for deposits and withdrawals too — they know customers hate that. It's always worth reading the terms and conditions to be extra-sure, though. 
How do I know if casinos accept Google Pay?
It's pretty simple to find out whether an online casino offers Google Pay. Usually, if it does, the online casino will display the Google Pay logo in their site's footer. If they're not displaying any payment logos, then you can simply head to the banking or cashier section to see what online payment methods they have in place. Worst case scenario, just check with the casino's customer support. You can also return to this page for the best Google Pay casinos, or any new Google Pay casinos that come to Canada. 
Sources