19+. All betting-related products and services regulated by iGaming Ontario are available only to those physically present in Ontario. Play responsibly. Contact ConnexOntario for support.
1

PartySports sportsbook review

89

/100

Expert Rating

by Elena I.

89%

Playscore

based on

Excellent betting odds

Play

Good to know

C$10 minimum deposit
Withdrawals within 1-2 days
No transaction fees

7 payment methods

Play

2

Pinnacle sportsbook review

83

/100

Expert Rating

by Elena I.

80%

Playscore

based on

Above-average betting odds

Read review

Good to know

C$10 minimum MuchBetter deposit
Instant transaction times
Minimum deposit of C$5

8 payment methods

Read review

3

888sport sportsbook review

84

/100

Expert Rating

by Elena I.

92%

Playscore

based on

Best football betting odds

Read review

Good to know

C$10 minimum deposit
Fee-free transactions
24-48h MuchBetter payouts

6 payment methods

Read review

4

bwin sportsbook review

87

/100

Expert Rating

by Elena I.

80%

Playscore

based on

Top-tier safety features

Read review

Good to know

Processes deposits instantly
Adjustable maximum limits
C$10 minimum deposit

9 payment methods

Read review

5

PokerStars sportsbook review

83

/100

Expert Rating

by Elena I.

88%

Playscore

based on

Excellent live betting options

Read review

Good to know

Speedy transaction processing
C$10 minimum deposit
MuchBetter deposits and withdrawals

10 payment methods

Read review

6

ComeOn sportsbook review

89

/100

Expert Rating

by Elena I.

85%

Playscore

based on

Best for fast withdrawals

Read review

Good to know

MuchBetter deposits and withdrawals
Fast processing times
Minimum deposit of C$10

5 payment methods

Read review

7

Sports Interaction sportsbook review

83

/100

Expert Rating

by Elena I.

87%

Playscore

based on

Daily odds boosts

Read review

Good to know

Instant MuchBetter deposits
Minimum deposit of C$20
Fast MuchBetter payments

8 payment methods

Read review
Editor's note
This overview is based on the current offer in Ontario; the information you see, and our toplist, may change as the market grows. Rest assured that we'll keep our data updated to reflect the latest offer for Canadian players.
As for the rankings, our aim is not to regurgitate our top list of sportsbooks in Canada, but to give you a comprehensive overview of which sportsbooks in Canada are best for MuchBetter payments. If you see a sportsbook high up but with a lower score, it simply means that this sportsbook offers better MuchBetter payment terms than the rest.
MuchBetter sportsbooks: best by category
When you're looking for the best MuchBetter betting sites, there are several things you need to look out for and a few questions you must ask yourself. This will help you understand what an ideal sports site looks like for you, especially considering there are so many in Ontario. 
For example, is it important to you that the best betting sites that accept MuchBetter have certain betting markets available? We all know you'll likely find ice hockey, basketball and American football markets, but does the site also have lesser-known sports like cricket, padel, badminton, table tennis or water polo? 
You also want to know if these MuchBetter bookmakers have good customer support. It's not just about how responsive the team is, but are you comfortable reaching them via live chat, phone or email? Another thing to consider is transaction fees and payment limits. The MuchBetter betting sites listed below are based on which categories they shine best.
| Category | Our winner |
| --- | --- |
| Best for all bettors | 888sport |
| Highest betting limits | PartySports sportsbook |
| Fastest MuchBetter payouts | 888sport |
| Safest for all players | Bwin sportsbook |
| Best betting features | PartySports sportsbook |
| Best customer service | Sports Interaction sportsbook |
Choosing the best MuchBetter betting sites
As a good place to start, if you want to use the best MuchBetter betting sites for your transactions, make sure the payment method is available. But also look into transaction fees, deposit limits and so on. Here's a closer look at what to consider when looking for sportsbooks that accept MuchBetter.

MuchBetter deposit and withdrawal limits
The transaction limits that sportsbooks put on their sites usually attract or deter users. If the limit is too high, few people will want to risk making a big deposit, but if it's too low, it might evoke a bit of distrust. Most MuchBetter betting sites in Ontario offer very reasonable betting limits. The lowest minimum deposit limit you'll see is just $10, which is great because it allows you to cautiously try it out. However, at highroller sportsbooks, this amount will be much higher in order to only attract VIP bettors, and so this isn't great for people with smaller bankrolls. With regards to MuchBetter withdrawal restrictions, the average minimum payout is between $10 and $20. When picking which site to choose, keep in mind your average bankroll, and sign up with one whose limits fit into your budget. 

Transaction speed and fees
One of the reasons why both bettors love using their MuchBetter account to bet online is because of the fast transactions. With it, you'll get to enjoy instant deposits. This is unlike other betting payment methods, which might take a few hours to a few days. At the same time, withdrawals are also instant. It's important to note that sportsbooks may have withdrawal restrictions and need to approve payouts first. Good ones only take up to 24 hours, while others may take up to 72 hours. However, once approved, the cash is immediately available in your MuchBetter account. Note, some sports sites require you to have made a deposit via MuchBetter in the last 180 days in order to be able to withdraw through this method as well. The best bookmakers don't have any transaction fees for MuchBetter deposits and withdrawals. 

Available betting markets
The best MuchBetter sportsbooks not only have the most popular Canadian sports available, but they also provide specialist sports or special events. You might want to avoid sites that accept MuchBetter with less than 10 betting markets, because they don't give you many choices. However, bigger, better sports wagering sites will have additional sports such as padel, water polo, table tennis, cricket and more. You might even find special events to bet on such as presidential elections or reality show competitions. These MuchBetter sites can be considered the best because they give you a lot more choices. This is especially true if you're the type of bettor who loves to experiment. However, if your focus is on sports you know in and out and have followed for years, then a varied range of betting markets might not be so important to you. 

Favourable odds
Another important factor to consider when choosing a MuchBetter betting site is the odds. While the sportsbook might have a wide range of betting markets or covers your favourite sports, you'll need to compare the odds. This is best done by comparing one site versus another. For example, if there's a big tournament like the Soccer World Cup, check futures odds for different MuchBetter sites. When you visit a sportsbook, you'll see odds displayed for each game they are covering. So what should you do if sportsbook X has Qatar (+105) vs Ecuador(-152) as the game odds, but sportsbook Y has them as Qatar (+115) vs Ecuador (-135)? It's simple; it means that sportsbook Y has better odds, and so that sports betting site will give you a higher payout if you win. 

Betting account safety
There are a number of things to look out for when it comes to the safety and security features of a sports site. To begin with, is the site licensed and regulated? All sites legally operating in Ontario are required to be regulated by Ontario iGaming. With regards to licensing, the Alcohol and Gaming Commission of Ontario takes care of this. To see if the MuchBetter betting site is operating legally, check for the above licensing information in the footer. You can also check the Ontario iGaming site to see if the sportsbook is registered with them. Other things to look out for are the encryption software they are using, their privacy policy varied secure payment method options. These are the foundation of ensuring that all personal details on the site don't fall into the wrong hands or get intercepted when being entered on the site. 

Betting app offering
Our mobile devices are a very important, and perhaps intimate, part of our lives, and so, a good sports betting app matters. Since people access their MuchBetter account via the mobile app, it's advisable to join a sportsbook with an app as well, in order to make transactions easier. 888 Sports, for example, is great because it helps you connect with MuchBetter with the click of one button. Also, the fact that they personalise your account and bring to the forefront the betting markets you're most interested in is very convenient. Rivalry, on the other hand, doesn't have an app. Having to use the mobile site makes connecting with your MuchBetter app a bit more challenging. Also, mobile sites, while they may be optimized for the smaller phone screen, navigation can be a bit difficult. Therefore, it's important to pick a betting site with a well-developed betting app. 

Customer support
How do you know which MuchBetter bookmakers have good customer support? To start, 24/7 customer support plus quick help is important. In addition, having several options when it comes to how to contact customer support is also crucial. Live Chat, phone number and email are the most common. But it'd be great to be able to also contact them via their social media accounts such as Facebook or Twitter. More important than several contact options is responsiveness. Getting to speak to a human within a few minutes is great. Most sportsbooks will have a bot responding to messages in Live Chats until you, hopefully, get to speak to a person. So, being able to speak to someone who can help address your issue within a few minutes is an important fact in choosing the best MuchBetter betting site. 
Advantages of using MuchBetter
If you value privacy and convenience, then MuchBetter is for you. This payment method is perfect for Ontario bettors who don't want their online betting activities appearing on their bank statements. Also, it's quicker when it comes to instant deposits and withdrawals when compared to other payment options, such as bank transfers. Let's take a closer look at why you should use the top MuchBetter betting sites below. 
2-Factor authorisation: When conducting MuchBetter deposits, you must approve them in the app before they go through. 
Designed for online betting: MuchBetter was created specifically for online sportsbooks, which means it works well for online betting transactions. 
Dynamic CVV code: Unlike a regular credit card CVV, MuchBetter's CVV numbers change with each transaction. 
Privacy: Your betting activities won't appear on your regular bank statement. The only thing that'll show are the transfers to your MuchBetter account. 
Security: Since MuchBetter is an intermediary between your bank and the betting site, there's an added layer of safety for your personal details. 
Since MuchBetter was designed specifically for online betting, it's no wonder that it works so well. The assurance of security and privacy makes it very attractive to Ontario punters. Moving money between your bank and an online sportsbook without worrying about your details getting intercepted is comforting. More online sportsbooks will likely add MuchBetter as a payment method.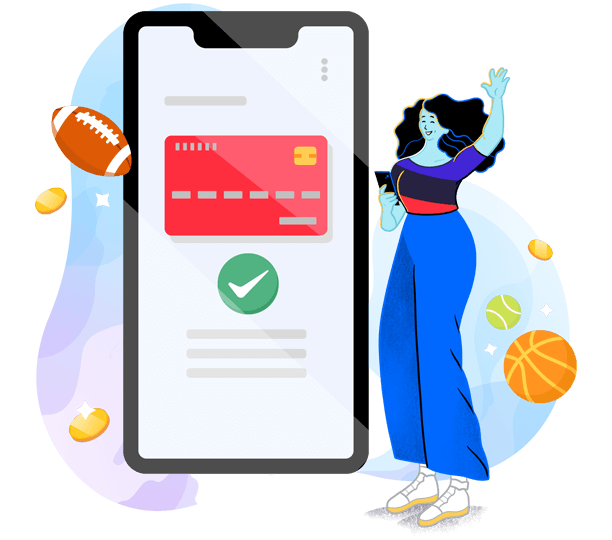 Disadvantages of using MuchBetter
Of course, there are some other factors you need to keep in mind when it comes to MuchBetter for sports. This mobile payment solution was established online in 2019, so it's relatively new. Few people know it as an online payment tool, and few betting sites accept MuchBetter. They are still working on building trust with sports bettors in Canada. However, 
High fees: While sportsbook transactions might be free, moving money from your bank to MuchBetter comes with charges of up to 2.5% 
Not widely available: MuchBetter is not available at many online sportsbooks. This means that your choices are limited regarding MuchBetter betting sites. 
As more people start using MuchBetter, it'll likely become more widely available. The transaction fees with the bank can be managed best by avoiding too frequent transactions. This will ensure that fees do not erode sports wagering winnings. Also, you can get a MuchBetter card and use it for other purchases instead of transferring sportsbook payouts to your bank account.
How to join betting sites that accept MuchBetter 
Signing up at a MuchBetter betting site is quick and easy. Expect to provide basic details such as your email, a secure password and a unique username. You'll also need to prove that you're in Ontario via your device's geolocation software. An email will be sent to you to confirm your account creation, then you can add funds via MuchBetter and start betting. 
Find a MuchBetter betting site 
Click to join the site 
Enter your email address 
Provide a secure password 
Create a unique username 
Confirm your email address 
Click deposit to add funds 
Select MuchBetter payment method 
Add funds 
Start betting 
Some sportsbooks will also require a phone number and government-issued ID, especially if you're a high-roller. A good sportsbook will ensure that this process is quick and smooth for users. This is because they want to make a good first impression on users. If the sign-up process is stressful, one can only imagine what actually placing a bet will be like.
How to deposit and withdraw at betting sites that use MuchBetter
MuchBetter can be used to deposit and withdraw betting site funds. To get started, download the MuchBetter app and add funds to the e-wallet. Then, go to your sportsbook account and select MuchBetter as the deposit method. Enter your deposit amount, then approve the payment on the MuchBetter app. To withdraw, go to your cashier and select MuchBetter as the payout method. 
Download and set up a MuchBetter account 
To deposit, go to sportsbook cashier 
Select deposit 
Choose MuchBetter as payment method 
Enter amount to deposit 
Approve transaction via MuchBetter app 
To withdraw, go to sportsbook cashier 
Select MuchBetter as payment method 
Enter amount to withdraw 
Accept payment on MuchBetter 
It's important to take note of minimum and maximum deposit limits at a MuchBetter sportsbook. The sportsbook usually determines these, but MuchBetter also has its transaction limits. Also, keep an eye out for transaction fees. Most Ontario MuchBetter betting sites allow deposits and withdrawals for free. But check for fees from MuchBetter, especially for bigger transactions and ATM withdrawals. 
Our top tips for using MuchBetter for sports betting
Using MuchBetter comes with a lot of conveniences. From the low transaction fees to the fast processing times, it's no wonder MuchBetter betting sites are a favourite for Ontario punters. But how best can you take advantage of these benefits? Below are our top tips to make the most of MuchBetter as a transaction method in an online sportsbook in Ontario.

Get in touch with MuchBetter
Contact MuchBetter to increase transaction limits.

Choose the right currency
Ensure your currency is CAD to avoid foreign exchange fees.

MuchBetter deposit and withdrawal
For withdrawals, make sure you've had a successful MuchBetter deposit in the last 180 days.

Use the betting app
Use a betting app to make MuchBetter transactions more seamless between the apps.

Contact support
Contact MuchBetter to find out about transaction fees.
By taking the above into consideration, you can make the most of casinos that accept MuchBetter as a payment method. However, before signing up at a MuchBetter sportsbook read all terms and conditions carefully to ensure you are able to use this payment method. You should look out for additional fees that might not be so obvious such as forex fees from depositing Canadian Dollars.
Best alternatives to MuchBetter betting sites 
One of the most widely used payment methods is debit or credit cards from issuers like Visa and Mastercard. They are one of Canada's most widely accepted payment methods for online sports betting. Fees are low, and transactions have a very high success rate. Withdrawing from a credit card can get tricky, though. Most Ontario sports betting sites require you to use alternative payment methods. 
Another popular payment option is PayPal. This is an e-wallet provider that's been around for many years. It's trusted and well-known. You can deposit and withdraw funds from your online betting account with a PayPal account. There are usually no transaction fees unless your PayPal is in a different currency than CAD. Then, you might pay foreign exchange fees. Otherwise, PayPal transactions are fast and safe. 
Made for Canadians, Interac e-transfer is an email-based bank transfer facility that's popular among sportsbooks. Not all banks work with Interac, so you must check if your bank is on the list. Transfers are quick and work directly with your online banking account. This ensures that transactions are secure. Withdrawals take a few days to be paid out, but they are paid directly into your bank account.
FAQs
Do all Ontario betting sites accept MuchBetter?
Unfortunately not. MuchBetter was only established in 2019, and the payment method has been a bit slow to get accepted and used by both sportsbooks and bettors. There are a number of already existing, and reliable alternatives, so uptake of the payment methods has been a bit slow. However, since the app was developed specifically for online betting and gambling, it has proven to have a lot of benefits for people with a MuchBetter account. It's discreet, fast and cheap. These are all qualities that bettors like in a good online payment solution.
How long do MuchBetter payments take?
With deposits, MuchBetter payments are instant. This means that, as you go through the steps of making a deposit, as soon as you approve the transaction via the MuchBetter mobile app, your funds will reflect in your sports betting site account. Withdrawals, on the other hand, take a little longer. However, this is because most online sportsbooks require a day or two to approve withdrawals. As soon as the payout is approved, the funds will be available in your MuchBetter account immediately.
Can I withdraw online betting site winnings with MuchBetter?
Getting a payout from an Ontario sportsbook is possible using MuchBetter. However, you need to have successfully made a deposit through MuchBetter within the last 180 days. To use this transaction method, head to your cashier and select withdraw. Choose MuchBetter and follow the step-by-step prompts to complete the transfer of funds. Make sure you have your phone number ready, as this acts as your MuchBetter "account number". MuchBetter withdrawals are usually free of fees from the sportsbook side, but there may be fees from the banking provider.
What are the transaction limits for MuchBetter account holders?
For ordinary users, the payment limit amounts could be considered small. You can only make transactions of up to $90,000 per year. This can be quite limiting for high-roller bettors, or for someone lucky enough to win a large payout. Fortunately, MuchBetter gives users the option of getting verified, and so, getting their limits increased. This usually involves going through a know-your-customer (KYC) process made up of proving your ID, address, source of income and so on. From there, you'll be able to deposit and withdraw high amounts depending on the sportsbook's limits too.
Are the best MuchBetter betting sites safe?
Yes, it is very safe. MuchBetter uses the latest encryption software to protect customers' personal details. This means that it's not possible for hackers to intercept information as it's being shared between the sportsbook and MuchBetter. In addition, using your MuchBetter account acts as the "go-between" between the sports betting site and the bank, so you don't have to worry about sharing your bank details with the sportsbook. Also, your online betting activities won't be visible on your bank statement. All they'll see is that money was moved from your bank account to MuchBetter.
Sources