19+. All betting-related products and services regulated by iGaming Ontario are available only to those physically present in Ontario. Play responsibly. Contact ConnexOntario for support.
1

bet365 sportsbook review

88

/100

Expert rating

by Elena I.

95%

Playscore

based on

Player-favourite sportsbook

Play

players accepted

Good to know

C$20 minimum iDebit deposit
Same-day withdrawals
No charges on payments

9 payment methods

Play

bet365 operates pursuant to an agreement with iGaming Ontario. #ad

2

LeoVegas sportsbook review

88

/100

Expert rating

by Elena I.

90%

Playscore

based on

Great range of sports

Play

players accepted

Good to know

Fee-free iDebit transactions
Instant deposits and withdrawals
C$10 minimum deposit

7 payment methods

Play

3

NorthStar Bets sportsbook review

81

/100

Expert rating

by Elena I.

82%

Playscore

based on

User-friendly platform

Read review

players accepted

Good to know

Minimum transactions of C$10
No payments fees attached
Fast iDebit payouts

6 payment methods

Read review

4

Betway sportsbook review

82

/100

Expert rating

by Elena I.

91%

Playscore

based on

Most payment options offered

Read review

players accepted

Good to know

C$10 minimum deposit
Fee-free iDebit payments
Instant iDebit deposits

9 payment methods

Read review

5

Sports Interaction sportsbook review

83

/100

Expert rating

by Elena I.

87%

Playscore

based on

Daily odds boosts

Read review

players accepted

Good to know

C$10 minimum deposit
Fast iDebit deposits
Safe and secure transactions

8 payment methods

Read review
Editor's note
This overview is based on the current offer in Ontario; the information you see, and our toplist, may change as the market grows. Rest assured that we'll keep our data updated to reflect the latest offer for Canadian players.
As for the rankings, our aim is not to regurgitate our top list of sportsbooks in Canada, but to give you a comprehensive overview of which sportsbooks in Canada are best for iDebit payments. If you see a sportsbook high up but with a lower score, it simply means that this sportsbook offers better iDebit payment terms than the rest.
Sportsbooks that accept iDebit: best by category
Everyone is different regarding their iDebit sportsbook preferences. And this is why we do not just look at the general best sites but at various categories when picking out the best sites. This way, you can choose the site that best meets your needs.
So, when looking for reputable iDebit betting sites, we have listed the site with the best range of sports on offer. This is great for those who want diversity in their betting options. We have also categorized the best overall betting site and the most reputable one if that is important to you.
For some, the best iDebit betting site has quick customer support. But for others, having additional payment options to choose from or fast withdrawal times are a must. And You can find both of these top iDebit sites here. Finally, we have the site with the best security if staying safe is a priority.
How to find the best iDebit sportsbooks in Canada
When looking for the best iDebit sports betting sites, there are a number of factors to consider. To create a sports betting account that accepts iDebit in Ontario, you must check that it is licensed and regulated in a reputable jurisdiction. Besides that, other factors include the number of customer support channels, the security on offer, banking options available, and more.

iDebit deposit and withdrawal limits
The most significant aspect of the player experience at an online iDebit website is online withdrawals and deposits. Nothing is more annoying than trying to cash out only to discover that the payout method means it could take up to 5 days. Additionally, some sites might even charge an iDebit fee. The best sites do not charge any fees. Also, there might be a minimum withdrawal requirement, with top iDebit sportsbooks allowing withdrawals of as little as $1. However, the average transaction limit at most online sports betting sites is $50, with a weekly limit of $5,000. Besides that, the top iDebit sportsbook process deposits instantly or within 24 hours. Similarly, the time required to withdraw your winnings online should be minimal. The best betting sites will take no more than three days. All in all, choose a site that offers instant deposits and takes minimum time to process iDebit transactions. 

Transaction speed and fees
The terms and conditions of a payment method should always be considered when using any online payment method. It is crucial when there are any processing fees. Nobody enjoys being surprised by a fee when using an online sportsbook payment service. Reading the terms and conditions before playing at an iDebit betting site is crucial for this reason. The best online sites accept payment methods with no transaction fees. Contrarily, less desirable sites occasionally charge a processing or transfer fee for transactions, especially when cashing out. It can happen on a sliding scale, which means that the higher your winnings, the higher the transfer fee. This may be charged in addition to any standard fees. Hence, select an iDebit sportsbook that, at the very least, charges no iDebit fees and, at the very least, charges a small transfer fee. Overall, pick betting sites with fast speeds and limited transaction fees.

Available betting markets
The best betting sites will offer multiple sports options — ideally, we're looking for at least 20 different sports to be available. These commonly include NASCAR, NFL, NHL, MLB, College Football, and more. However, we don't want to just see that the betting site has North American sports, they should also offer sporting events from around the world such as soccer, rugby and more. Additionally, all sports should have a number of leagues or tournaments to bet on for increased diversity. Besides all that, they should have different bet types available if they want to get the top scores from us. If a betting site has fewer than 10 sports on offer, limited global sports and a very small selection of bet types, we won't be giving the sportsbook a high score at all. 

Favourable odds
When picking the best betting sites, check the odds on offer. You want to get the most favourable odds from the best betting sites for betting on sports online. A good betting site will give you a great return on your investment in addition to offering excellent customer service. Make sure to conduct research and identify a reliable and secure website. You won't get an accurate picture of the betting trends for a race or match if the betting site you select is weak in a particular sport or geographical area. Some of the most popular sports leagues will have better coverage from betting sites in the country where those leagues are based. For example, NHL betting will probably have better service from Canadian betting companies. To conclude, the best sports betting sites will offer the best odds and multiple lines. 

Safety
Everyone wants to use secure online payment methods. We are all aware that conducting financial transactions online can be risky. As with all risks, there are ways to reduce, if not eliminate, the danger. Make sure to only play with an iDebit betting site that offers complete encryption. The best sportsbooks provide SSL encryption. The payment provider should use specific security gateways to avoid fraud while conducting transactions, like a captcha, when processing payments. By being aware of the fundamentals of online payment security, you can significantly lower the risk of making deposits and withdrawals at an online bookie. Finally, ensure that the iDebit sites have encryption and security features for your payments. So, if sportsbooks do not have SSL encryption or any other security features, avoid them. 

Betting app offering
In recent years, there has been a dramatic rise in online sites supporting compatibility with mobile devices. Today, players can easily access their favourite games and sports while on the go from renowned sportsbooks and providers. Mobile compatibility allows you to bet on a sport wherever you go. It should come as no surprise that the top sportsbooks support mobile phones, tablets, laptops, and other electronic devices. However, compatibility by itself, though, is insufficient. The best betting sites will have mobile-friendly apps. Hence, stay away from sites with poor interfaces. It could involve a lack of connectivity, problematic weblinks, or broken games. Finally, the best sites will have different sports on offer with favourable odds. Hence, play with iDebit bookmakers that have an excellent mobile app. 

Customer support
Good customer service is of the utmost importance, particularly when it comes to choosing an iDebit bookmaker. Easy access to your chosen sportsbook's customer service is one of the essential features. First, there should be multiple contact channels. For example, a 24-hour live chat service online is required. Besides that, a phone line that is available during business hours is an additional option. Typically, they are from 9 AM to 5 PM. Next, contact through social media channels like Twitter or Facebook are also another preferable alternative. Although it is not required, if your betting sites do offer these contact channels, then it is a plus. Hence, these are the customer support options you should look for at a sports betting site or an iDebit bookmaker. You can safely avoid an online sportsbook if it does not provide live chat and two or more contact channels. 
Advantages of using iDebit
Players at online bookies can benefit from iDebit in several ways. It is the sole betting payment provider that does not call for a bank card or credit card to start. All you need is an email address and a phone number to register. After registering, you can deposit money and withdraw winnings using your debit card. All in all, it is a simple online banking process.
A safe online banking system.
Using iDebit sportsbook for online transactions entails no fees.
Can be used on mobile
You can start right away, thanks to the simple sign-up process.
One of the easiest ways to deposit and withdraw money from an online sportsbook is through iDebit. You only require an internet-connected smartphone. The advantage of this method is that registration only requires your phone number. Because your bank card information is never needed, there is no chance that cybercriminals will access your account and steal money.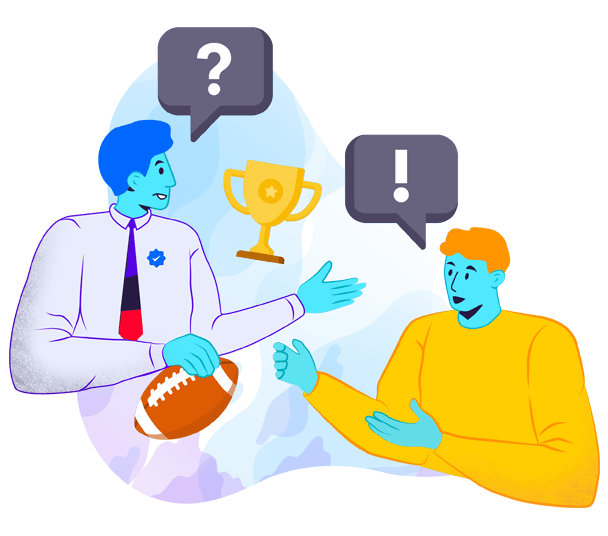 Disadvantages of using iDebit
The waiting period is by far iDebit's biggest drawback, as seen in online sportsbooks. Five days may pass before you can use your money to play. However, if you have a debit card, then it only takes one day. Besides that, some betting sites levy a fee on your withdrawals. Hence, you are charged a nominal fee when you withdraw to your bank account.
Sometimes, long waiting times before receiving your money in your bank account.
Most betting sites will have a withdrawal fee.
Every payment system has drawbacks. For the player, some of these might even be too much. If these disadvantages are unavoidable, you may look into alternative online iDebit payment options like PayPal or direct payment through Visa or Mastercard. However, you must confirm that your online sportsbook offers these banking methods.
How to join iDebit betting sites
Go to the iDebit website and select the "sign up" link as your first step if you want to register for iDebit. When you get to the sign-up page, you should choose a password and enter your email address. After that, you'll have to give your name, address, and other details. As soon as iDebit has confirmed your information, they will email you.
Initially, head to the iDebit website.
You can use iDebit to make deposits to your gambling account as a guest or create an account in advance and add funds directly to it.
If you sign up for iDebit, you will be prompted to make a deposit via a screen where you will enter your online banking information.
Choose the supported bank account from which you want to withdraw funds, and the funds will be added to your iDebit balance immediately.
The transfer should take place instantly, and your funds will be available for betting in your account.
If you do not have an iDebit account and do not wish to create one, you may use the service as a guest as long as the Canadian banks accept iDebit payments.
Using the service as a guest is simple. You need to transfer Canadian dollars from your online Canadian bank account to your sportsbook via iDebit.
All in all, opening an iDebit account and joining an iDebit betting site is a simple process. You can follow the steps above and start playing at any iDebit sportsbook in Ontario. Also, if you want to learn which sites accept iDebit as a payment method, you can check out our list above. Finally, don't forget to check the supported banks before making any online banking transfers.
How to deposit and withdraw at iDebit sportsbooks
Setting up your account with iDebit is the first step you must take if you have decided to play at an online sportsbook that supports withdrawals with iDebit to your bank accounts. The only step in this simple process is to complete their online application form. Once you've completed this, iDebit will confirm your identity before mailing you an ATM card. You can then use this for online banking, deposit and withdrawals.
At your iDebit betting site, head to the 'Banking' section.
Click on the deposit section.
Choose iDebit as your preferred payment method.
Enter the deposit amount.
Select your bank. You will need to enter your online banking details.
Approve the payment.
To withdraw money, follow the same process, but instead of clicking on the deposit section, click on the withdrawal option.
Enter your withdrawal amount along with your banking credentials.
Then click on the "withdraw" button. The Canadian dollars will be sent to your iDebit ATM card or bank account.
When it comes to withdrawals, there is no option for guest check-out. Besides that, transaction fees for withdrawals are marginally higher than those for deposits. Finally, an iDebit online sportsbook in Canada will usually set the minimum withdrawal at $50 and the maximum at $4,000 per week. So, remember to check with your betting site regarding transaction fees and withdrawal limits before making any online banking withdrawals.
Our top tips for using iDebit for sports betting
We've compiled a few helpful hints for using the iDebit online payment method below. Read these suggestions carefully and try to remember them when using iDebit in an online sportsbook. It will undoubtedly assist you on your journey and throughout your use of the iDebit service. You'll find a short list of these helpful hints below, so keep reading to learn more.

Sign up
Do not register your account as a guest. Create an iDebit account. 

About fees
Always double-check transaction fees in advance. 

Your bank status
Keep track of your payments using your bank account to view your transaction history. 

Keep card details private
Do not share your personal and banking credentials with anyone. 

Safe and secure
Check the security of your chosen bookie. Ensure it has SSL encryption to ensure your online banking experience is safe.
Make sure to conduct research and identify a reliable and secure website. To prevent any issues in the future, it's also crucial to select online betting sites accepting iDebit with a solid reputation. So, choose an iDebit sportsbook that guarantees the security and safety of your online transactions. As a result, we recommend looking at various websites and evaluating them using the factors we've mentioned above.
Best alternatives to iDebit betting sites
Of course, there are other online payment options besides iDebit. While some of these alternatives are somewhat different from iDebit, others are comparable. You should be aware of these options when playing online if you decide not to use iDebit for any reason. We suggest starting with options such as PayPal, which offers instant deposits and fee-free transactions.
An alternative to iDebit is Interac. Given that it works with regional banks, this method is advantageous for Canadian customers. You can use it to transfer money online, including through gambling websites. It has a 24-hour support team and the same level of security as a typical bank transfer. Every financial transaction happens very quickly. Moreover, within 72 hours, the withdrawal can be completed.
Players can always rely on credit cards when playing games at online sportsbooks. It offers advantages like easily managing money using the bank's official app or depositing money and requesting withdrawals. However, you cannot ignore this payment method's drawbacks as well. Moreover, Visa, MasterCard, and AMEX credit cards can only be used at sites that have licenses from reputable bodies.
FAQs
What are the best iDebit sportsbooks in Ontario?
Finding the top iDebit betting sites in Ontario is really down to each individual. Everyone is different, so what we consider the best site may not be the one you prefer. However, there is one constant that must be met. And that the site must have an Ontario iGaming licence. If the site doesn't have this licence, we won't recommend it to you to play. Other top features include a great selection of betting options, fast withdrawals and low minimum deposits and withdrawals with iDebit.
How long do iDebit withdrawals take?
This is the one downside when you make an online banking account with iDebit. If you're looking for fast withdrawals, this is not your option. Generally, there is a pending period in place at the betting site, which can be as many as two days. After this period, the iDebit payment method can take an additional five business days before the funds appear in your bank account. This is quite long, so you may wish to look for another payment method.
Are there any fees with iDebit?
Typically there are no iDebit fees. However, some services do have a small processing fee. For instance, opening an iDebit account and registering it are both free of charge. However, there is a $1.50 fee for using online banking to make a payment. On the other hand, using your iDebit balance to make a payment is free and without any additional fees. The transfer of money from a retailer to iDebit is also cost-free. However, there is a small $2.00 fee to transfer money from your iDebit account to your online bank account.
Is iDebit safe?
Yes, it is. iDebit has many security protocols in place to prevent any of your bank account details from falling into the wrong hands. Because this payment option works as an intermediary between your online banking account and the casino account, you don't have to provide any personal information to the sportsbook itself. All your details stay with your bank, meaning there isn't any data for anyone to intercept, steal or use to make payments from your account.
How to set up an iDebit account and deposit?
Getting set up with iDebit is very straightforward. First, you don't need to make an online banking account with this provider. You can use it as a guest only. However, you can go to the main iDebit page if you want an account. Here you can fill in your details and link your bank account. Make sure you have a bank account with one of the Canadian banks that support iDebit. The top-rated iDebit sites will allow you to deposit through these banks.
Sources