19+. All betting-related products and services regulated by iGaming Ontario are available only to those physically present in Ontario. Play responsibly. Contact ConnexOntario for support.
1

PointsBet sportsbook review

85

/100

Expert rating

by Elena I.

87%

Playscore

based on

Interactive betting experience

Play

players accepted

Good to know

24-48h PayPal payouts
Processes deposits instantly
No transaction charges

5 payment methods

Play

2

BetRivers sportsbook review

89

/100

Expert rating

by Elena I.

88%

Playscore

based on

Best for novelty betting

Play

players accepted

Good to know

PayPal deposits and withdrawals
Same-day PayPal payouts
No transaction fees

6 payment methods

Play

3

PokerStars sportsbook review

83

/100

Expert rating

by Elena I.

88%

Playscore

based on

Excellent live betting options

Read review

players accepted

Good to know

Instant PayPal deposits
Minimum deposit of C$10
Fee-free PayPal payments

10 payment methods

Read review

4

FanDuel sportsbook review

88

/100

Expert rating

by Elena I.

85%

Playscore

based on

Best for daily fantasy sports

Read review

players accepted

Good to know

Withdrawals within 1-2 days
C$10 minimum deposit
Fast PayPal payments

3 payment methods

Read review
Editor's note
This overview is based on the current offer in Ontario; the information you see, and our toplist, may change as the market grows. Rest assured that we'll keep our data updated to reflect the latest offer for Canadian players.
As for the rankings, our aim is not to regurgitate our top list of sportsbooks in Canada, but to give you a comprehensive overview of which sportsbooks in Canada are best for PayPal payments. If you see a sportsbook high up but with a lower score, it simply means that this sportsbook offers better PayPal payment terms than the rest.
PayPal sports betting sites: winners by category
When looking for which betting sites accept PayPal, we consider various other factors that we believe are important to you. We understand that each person is unique. Hence, we have categorized each sportsbook based on certain features. To begin with, as PayPal betting sites are a lesser-known option, we look for the best sites that accept a range of other payment methods. 
Similarly, we will award the top spot to a betting site that provides simple, quick, and free deposits and withdrawals. In addition, we will recommend betting sites with the most diverse selection of sports. To rank first in this category, we consider the number, quality, and variety of games available. 
The site must also be licensed and regulated to be included on our list of the best betting sites that accept PayPal. At Time2play, we put our visitors first, so we look for sports betting websites with the best customer service department and mobile site accessibility. The list below includes our top picks for each category. 
Choosing the best sports betting PayPal sites 
We at Time2play don't just want to recommend the best PayPal betting sites. Our experts have developed a set of criteria for rating each online betting site, and we want to share those with you. With this information, you will then be able to make an informed decision on whether to join the betting site. 

PayPal deposit and withdrawal limits
If you want to bet using your PayPal account, there are several factors to take into consideration. At Time2Play, we focus mainly on limits and speed. PayPal's deposits are typically instant. However, withdrawals may take longer because every transaction from your betting account to your PayPal account needs to be processed to prevent money laundering. The best sites can complete this in under 24 hours, and even average sites can do it in under 48 hours. Besides that, look for a minimum deposit limit of C$10. Although it rarely happens, some PayPal online sports betting sites occasionally cut the minimum bet to C$5 or even don't have one. Finally, we look at the deposit limits. The best sites that accept PayPal deposits will have a max limit of more than $3,000 per transaction or $5,000 per week. Overall, avoid betting sites that take a long time to process transactions. 

Transaction speed and fees
Operator fees are rare for betting sites that support PayPal. Hence, you should probably find another place to play if they do. In addition to no fees, we expect complete transparency for all betting payment options — not just PayPal. All bettors, even those who don't have accounts, should have easy access to information about transaction limits, fees, and T&Cs. The best betting sites will try to provide you with as much information as possible. If a sportsbook does not offer the following details, we recommend not creating a sportsbook account. It will save you from any hidden fees. Only open a PayPal account with a betting site that is transparent with you and has clear terms and conditions. Overall, any PayPal site that includes additional hidden fees is completely unacceptable to us, and we'll not recommend them. 

Available betting markets
Having good PayPal options is useless if there are no sports to bet on. When evaluating the best sportsbooks, we look for a wide range of sports and markets. We naturally look for all the popular sports. It includes popular sports such as the NFL, NBA, NHL, NASCAR, and more. However, PayPal sports betting should also offer a few less well-known sports, like skiing or cricket. Though 15 or more sports is ideal, we would like to see sportsbooks have at least a minimum of 10 sports. Sportsbooks with markets on non-traditional sports like esports, fantasy sports — or even topics like politics or the Oscars — receive extra points from us. Hence, for any sportsbook that does not meet the benchmark of offering 10+ sports, we do not recommend them. All in all, pick a betting site where you can bet on your favourite sport. 

Favourable odds
At Time2play, we want you to get the best odds from the top sites for online sports betting. A good betting site with excellent odds will offer you a great return on your investment. So, make sure to do your homework and find a reputable, secure website. If the betting site you choose does not cover a specific sport or geographic region, you won't get an accurate picture of the betting trends for a race or match. In those cases, we recommend staying away from such betting sites. We recommend only picking a sportsbook that offers the sport or game you are looking to wager on. Besides that, check the odds on the offer. We recommend checking multiple sportsbooks' odds on offer before finalizing one. The higher the odds are, the more you will win relative to your stake. 

Safety
When playing at sportsbooks that accept PayPal, safety and security are essential. Firstly, we ensure the betting sites that take PayPal provide 100% encryption. In this case, sportsbooks that offer SSL encryption are the best. Besides that, when processing payments, we ensure the payment provider you use has security gateways, like a captcha or two-factor authentication, to prevent payment interception or card fraud. Secondly, we only recommend sites that take a proactive approach to educate you about keeping your PayPal and sportsbook accounts safe. This way, you'll know that you play on legal online sports betting sites. We also check that the best PayPal sites have licenses from reputable organizations. In this case, the Ontario Alcohol and Gaming Commission. At Time2play, we avoid sports betting sites that do not have adequate security measures in place. 

Betting app
The number of online betting sites with mobile apps has drastically increased. Today, players can easily access their sports from reputable sportsbooks and providers while on the go. Therefore, we examine how the mobile offering performs overall. At least all the sports available on the desktop platform should be playable on mobile, and native iOS and Android apps are a requirement. We also anticipate a smooth user experience with quick loading times. However, compatibility is insufficient on its own. The top betting sites will also have mobile-friendly apps. So avoid sites with subpar user interfaces. It will ruin your experience, and you may become frustrated because of the long waiting time. Finally, check the reviews on the Apple and Google Play stores. We do not recommend any sports betting site with fewer than three stars. 

Customer support
You may encounter problems with games or transactions while playing on a PayPal betting site. In such cases, you will require assistance from the sportsbook's customer service. We advise players to select a betting site that offers multiple support channels, such as a phone number, live chat, and email. Moreover, these options should be available 24 hours a day, seven days a week, and the sportsbooks support staff should respond quickly. The best PayPal sites will also reply within 5-10 minutes for live chat and take no longer than 24 hours to answer your emails. Some may also answer customer queries through social media platforms like Twitter or Facebook. Although it is not necessary, it is a plus. Overall, we do not recommend any sports betting site that does not have a live chat service on offer. 
Advantages of betting sites that accept PayPal 
Using PayPal as a payment option on sports betting sites has many advantages. Firstly, it verifies the legality of the sportsbook internally before approving them. Therefore, the presence of PayPal on a betting website is highly beneficial. All in all, the advantages of using a PayPal sportsbook in Ontario are listed below to help you decide whether to choose this payment option. 
Recognized brand 
Offers quick and secure transactions 
Allows both deposits and withdrawals 
Bettors can bypass banking hurdles 
Hence, from the list above, you can see there are numerous benefits of using PayPal on betting sites. It is a well-recognized brand, easy to use, offers the best security, and can be used as a deposit or withdrawal method. Hopefully, this list of PayPal benefits that we've compiled will persuade you to consider PayPal on online betting sites.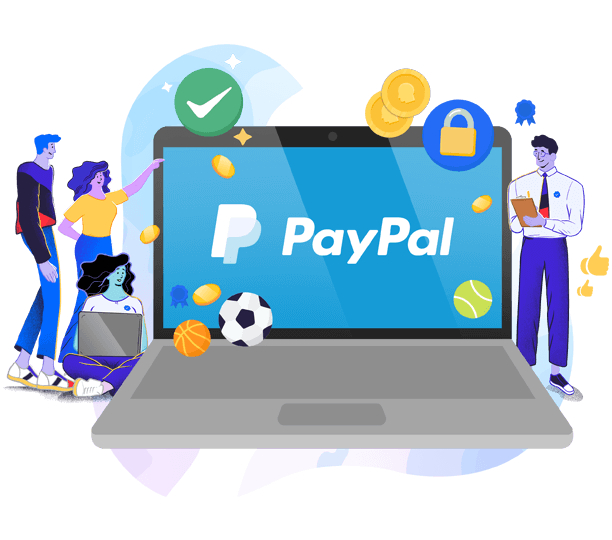 Disadvantages of using PayPal 
Despite the many benefits of PayPal on betting sites, there are two drawbacks to using this payment method. The two main disadvantages are that withdrawing through PayPal at some sportsbooks can take some time to arrive at your PayPal account. Secondly, in some cases, some operators charge a small fee for processing your online transactions. The commission is between 1.9% to 2.9%. 
Withdrawing funds can take time at Canadian sports betting sites. 
Some Operators charge a transaction fee for transferring funds to your debit cards, credit cards, or bank account. 
Every payment system has its flaws. Some of these might even be a dealbreaker for the player. So, if you don't like this payment's drawbacks, you might want to consider other online payment methods like Interac, MuchBetter, Visa, Mastercard, or others. However, make sure that your online sportsbook accepts those payment options.
How to join betting sites with PayPal
Joining a PayPal betting site is very easy. They are excellent options for depositing funds, especially if you want to keep your banking information secure. Indeed, one of the primary advantages of sportsbooks that accept PayPal is the security they offer. We'll walk you through creating a sportsbook account to making deposits using PayPal.
Head to the PayPal site 
Click "Sign Up" 
Choose your PayPal account type (Business Account or Personal Account) 
Enter your mobile phone number and click "Next"
Then, enter the confirmation code to confirm your PayPal account.
After that, enter your details and create a password. 
Follow the onscreen instructions, and then your PayPal account is created. 
Then, head to your preferred betting site, and choose PayPal as a deposit option at the Cashier. 
Choose your deposit amount and wait for the funds to appear in your account. 
The deposit should be instant.
Overall, opening a PayPal account is a simple process. You can begin playing at any PayPal betting site in Ontario by following the steps above. Also, if you want to know at which sportsbooks PayPal is an accepted payment method, see our list above. However, don't forget to connect your bank account or credit or debit cards to your PayPal account before making transfers.
How to deposit and withdraw at PayPal betting sites
Online sportsbooks that accept PayPal should allow you to use it as a deposit and withdrawal method. The best PayPal sites will always provide both but double-check the terms and conditions. If you're still unsure, contact customer service. The following list serves as a guide for all the steps you need to take to carry out your PayPal transactions in an Ontario sportsbook. 
Set up a PayPal Account if you don't have one 
Sign up for betting sites that accept PayPal 
Select PayPal as your payment method. 
Log in with your PayPal credentials, not the sportsbooks. When prompted, confirm the transaction's validity. 
And you're good to go. Start betting online on your favourite sports. 
How to withdraw? 
Ensure your sportsbook accepts PayPal withdrawals. 
Select PayPal from the cashier, and enter the amount you wish to withdraw. 
If it is your first withdrawal, you may have to submit some documents to remove the payment method restrictions. 
After PayPal receives your documents, they will process your withdrawals within 24 hours. 
All in all, making deposits and withdrawals with PayPal through your preferred sportsbook is an easy process. It won't take more than five minutes to link your PayPal account to your sportsbook. After which, you will be ready to go. So, if you like instant deposits and withdrawals, using PayPal is the ideal option for you. However, remember to check your betting site transaction fees and withdrawal limits.
Our top tips for using PayPal for sports betting
In the following section, we've put together some tips for using PayPal as a banking method on sports betting sites. There are many sportsbooks in Ontario that accept PayPal. However, it's sometimes difficult to tell which ones are reliable. If you've never gambled before, or if this is your first time using a PayPal betting site in Ontario, the following suggestions can help you make an informed betting decision.

Sign up
Sign up to your sportsbook using the same email address you use for PayPal to avoid declined transactions.

Check for any fees
Always check if there are transaction fees applied. You can confirm these by talking to customer support or in the FAQs section.

Check your balance
Before making any deposits with PayPal, always ensure you have funds on your existing PayPal balance.

Keep account details private
Do not share any personal information regarding your PayPal account with anyone.

Stick to secure sites
Choose betting sites with PayPal offering excellent security on offer. They should include SSL encryption and two-factor authentication, among others.
So, do your homework and find a reputable, secure website. It's also important to pick PayPal-accepting betting sites with excellent reputations, to avoid any issues. Consequently, choose a PayPal sportsbook that ensures the safety and security of your online transaction and keeps your information safe. As a result, when browsing different PayPal sportsbooks, we recommend assessing them based on the criteria we've provided above. 
Best alternatives to PayPal betting sites
It may seem strange for us to offer alternatives after praising PayPal for the entirety of this page. We understand that not all bettors are looking for PayPal, so we thought we'd offer a few other options. Nothing can ever replace personal preference when choosing a payment method. The following section will discuss debit cards, credit cards, and iDebit. 
Online betting sites also accept traditional credit and debit cards as payment methods. Fast transaction times make cards like MasterCard or Visa excellent choices. These typically have the best limits and the quickest transaction times. So, if you are a novice bettor, we recommend depositing using debit or credit cards. It is easy to use.
Besides traditional cards, iDebit is another excellent option. Users of the iDebit online payment system can quickly and securely pay for online purchases or make deposits to online sportsbooks. The money transfer is immediate, and neither a debit nor credit card is needed. iDebit only serves as an intermediary during the transaction process. Finally, the transaction fees charged are also fairly low. 
FAQs
Can you use PayPal for online betting?
Yes, PayPal is an accepted payment method at online betting sites in Canada. You can place bets on a variety of sports using PayPal. This includes NFL, NASCAR, NHL, boxing, horse racing, football, PayPal esports betting, and more. Moreover, if you want to know which online betting PayPal sites are the best for you, you can see our list above. All the sports betting sites mentioned above are reliable and safe. Moreover, they all have excellent security features, meaning all your banking information is also safe.
Which betting sites accept PayPal?
Currently, there are many PayPal betting sites in Ontario. However, we recommend checking our top picks – PointsBet, FanDuel and PokerStars Sports, as they only offer the best payment terms but also great withdrawal times plus unbeatable safety standards. With a variety of markets to choose from alongside competitive odds, there is sure to be something that meets everyone's individual needs.
What are the advantages of PayPal on betting sites?
When adding money to your PayPal balance with a credit or debit card, you will incur a 2.9% fee and a fixed fee of $CA0.30. However, all online betting transactions involving your existing balance are free. You can also keep your banking information private with PayPal. When you register with an online sportsbook after linking a bank account to your PayPal account, you won't be required to provide the same information again. So, after knowing these advantages, if you think PayPal is the ideal option for you, go for it. 
How do I deposit to an online sportsbook with PayPal?
If you want to use your PayPal account to place deposits in an Ontario sportsbook, follow these steps. First, choose a sportsbook that accepts PayPal. Then, sign up and fund your account by choosing PayPal from the deposit menu in the cashier section of your sportsbook. You will be taken to PayPal's website or app after entering the amount you wish to add to your sports betting account. Once you log in and confirm your deposit, your transaction will be completed immediately. Then, you can start placing bets on your preferred sport. 
Is it safe to bet on sports with PayPal?
Absolutely. End-to-end encryption will stop even the most skilled hackers from accessing your personal information. That means you can rest easy knowing that your financial and personal details are in safe hands. As a result, sports bettors in Ontario have an extremely safe and secure way to fund their accounts and withdraw money at online sportsbooks. PayPal has several security measures to ensure that personal information and financial details remain private and secure. However, we also advise players to keep their personal and banking information private. 
Sources