19+. All betting-related products and services regulated by iGaming Ontario are available only to those physically present in Ontario. Play responsibly. Contact ConnexOntario for support.
1

bet365 sportsbook review

88

/100

Expert Rating

by Elena I.

95%

Playscore

based on

Player-favourite sportsbook

Play

Good to know

C$10 minimum Paysafecard deposit
7 other withdrawal methods
Same-day withdrawals available

9 payment methods

Play

bet365 operates pursuant to an agreement with iGaming Ontario. #ad

2

BetVictor sportsbook review

91

/100

Expert Rating

by Elena I.

88%

Playscore

based on

Most reputable sportsbook

Play

Good to know

Accepts Paysafecard deposits
C$5,000 max Paysafe deposit
Three withdrawal options

4 payment methods

Play

3

888sport sportsbook review

84

/100

Expert Rating

by Elena I.

92%

Playscore

based on

Best football betting odds

Read review

Good to know

PIN-protected Paysafe vouchers
Deposits start at C$10
Five withdrawal methods

6 payment methods

Read review

4

Betway sportsbook review

82

/100

Expert Rating

by Elena I.

91%

Playscore

based on

Most payment options offered

Read review

Good to know

C$10 minimum Paysafecard deposits
Five options to withdraw
Fast withdrawal processing

9 payment methods

Read review

5

ComeOn sportsbook review

89

/100

Expert Rating

by Elena I.

85%

Playscore

based on

Best for fast withdrawals

Read review

Good to know

Paysafecard deposits available
Seven other payment methods
Minimum deposit of C$10

5 payment methods

Read review

6

Sports Interaction sportsbook review

83

/100

Expert Rating

by Elena I.

87%

Playscore

based on

Daily odds boosts

Read review

Good to know

Secure Paysafecard payments
C$10 minimum Paysafecard deposit
Mobile-compatible payments

8 payment methods

Read review
Editor's note
This overview is based on the current offer in Ontario; the information you see, and our toplist, may change as the market grows. Rest assured that we'll keep our data updated to reflect the latest offer for Canadian players.
As for the rankings, our aim is not to regurgitate our top list of sportsbooks in Canada, but to give you a comprehensive overview of which sportsbooks in Canada are best for Paysafecard payments. If you see a sportsbook high up but with a lower score, it simply means that this sportsbook offers better Paysafecard payment terms than the rest.
Paysafecard sportsbooks: best by category 
When picking the best Paysafecard betting sites, it's not easy to choose the right place to play. After all, not all sites accept Paysafecard. And not everyone looks for the same features in online sportsbooks. So, when online betting, it's important to ensure that players choose the best Paysafecard online sportsbooks based on other criteria. 
With that in mind, we consider other features, such as betting markets, when it comes to Paysafecard betting. We list the sites with the most betting markets, so you can have as wide a range of options as possible when you open your Paysafecard betting account. Additionally, we pick sites with the fastest withdrawals. 
You may not just want a Paysafecard sportsbook but also one with a range of other payment solutions, so we list the top sites here too. For instance, you may want betting sites that accept Paysafecard but also are new, offer enhanced security or have a top-quality mobile experience. Finally, you may want high Paysafecard deposit options if you're a high roller.
Choosing the best Paysafecard betting sites
When betting online at Paysafecard sports betting sites, it's important to know exactly how to choose the best place to play. We use specific ranking for different criteria to ensure you're playing at the best Paysafecard sportsbook. But we want to ensure you can do this for yourself too. So, here is the ranking system we use.

Deposit and withdrawal limits
When it comes to the best Paysafecard sports betting sites, it's important to be able to choose one that accepts this betting payment solution as a first step. But after that, it's important to see the site's limits for this payment method. Essentially, we ensure the Paysafecard betting site is flexible regarding those deposits. We like to ensure that the best Paysafecard betting sites have low deposit limits, preferably around C$10. For instance, we tend to avoid a higher minimum of around C$50. At the other end of the scale, we want a sports betting site to offer a decent-sized maximum deposit of at least C$5,000 for each transaction. If the platform offers maximums lower than this, don't play there.

Transaction speed and fees
The next thing we look at on sites that accept Paysafecard is the transaction speeds and fees in place. Regarding online betting, we want to ensure that everything is clear and transparent in these areas. That's why we choose betting sites and sportsbooks with fast transaction times across all online payment methods. If we're honest, we want to see instant deposits and withdrawals that take no longer than 24 hours. Anything over that, and we're going to get a bit impatient. Additionally, we also don't want to see any fees in place. The best Paysafecard betting sites should be fee-free across all payment methods. And if they aren't, well, they need to state this clearly so there are no surprises. Any sites that don't even state their fees should be avoided at all costs.

Available betting markets
When it comes to online betting, we know that you are going to want to have a great range of betting options to choose from. That's why we always take a look at the entire betting market before recommending a sportsbook for you to play at. Really, the very best sportsbooks will have at least 20 different sports to choose from. These will range from popular options such as football, hockey, soccer and basketball, through to more niche sports like rugby union, golf, darts and gymnastics. We also expect to see a wide array of different tournaments from around the globe within each of these sports, not just those from North America. Paysafecard betting sites that only offer 10 or so Canadian-specific sports, with a limited number of tournaments or championships, is not worth it.

Favourable odds
Of course, when it comes to online betting a lot of this is about winning. We want to give you the best shot at winning and winning big. And this means that you need to be able to play somewhere that offers competitive odds. To that end, we make sure that the betting site you're signing up to regularly checks its odds and adjusts them online. In fact, sites that have clear policies on their odds and don't add too much vig or juice are the preference here. If Paysafecard betting sites are not changing their odds regularly or keeping up with the rest of the gaming market, then you won't be getting good payouts even if you do win. You should stay away from these types of sites and choose more reliable ones. 

Safety
When playing at Paysafe betting sites it is very important to stay secure and avoid scams. Online betting can be plagued with dangerous sites, so it's very important to keep your betting account safe. In order to ensure you're safe at a Paysafecard accepted sportsbook, we recommend playing at sites that are licensed within Ontario. If they do not hold the Ontario licence, do not play here. Additionally, we prefer the site to use 256-bit encryption protocols to protect any private data you are providing to it. However, 128-bit is also acceptable. But, if there are no SSL encryption protocols in place, you should definitely be playing somewhere else. We also like to see strong responsible gambling policies in place as well to ensure that Paysafecard betting sites are covering all bases. 

Betting app
The top Paysafe betting sites will also cater to the fact that many players like to play while on the go. This is a little trickier to rate as players do have preferences whether they want a dedicated sportsbook app, or just a mobile browser version. At the very least, the site should be accessible via mobile through either one of these options. Additionally, the sportsbook should work smoothly without any glitches. We also want to see that all the betting options, payment methods and so on are accessible in the mobile browser or app form. If the mobile version of the site is glitchy, slow to load or is missing many of the desktop features, think again. We don't think you should be playing there as the experience isn't going to be great. 

Customer support
In the ideal world, the Paysafecard betting site you're at will work so well that you won't need to get in touch with support. But, let's be honest, with online gambling that's not always the case. Because it's important to be able to get in touch if you need to, we make sure to check out all the customer support options available. The top sportsbooks will have at least three different options for you to use to get in touch. One of these, usually the live chat, should be available 24/7. We also want to see fast response times with the top sites replying within minutes. If a sportsbook only has one contact option, slow response times or doesn't even offer any form of 24/7 support, then we're not going to be very impressed.
Advantages of Paysafecard betting
There are several excellent reasons to use Paysafecard. For instance, there are no Paysafecard fees in place at this time. This means you don't have to worry about covering any additional funds when you deposit. However, it's important to check this from the sportsbook's side. Another plus is the Paysafecard Mastercard which can be used at many online sites. 
Paysafecard MasterCard can be used in a range of places. 
High-security protocols in place. 
Gives you control over your bankroll. 
Easy to use and set up. 
Due to the great security features that come with Paysafecard, you won't ever have to share your bank account details with the betting site you're playing at. And all your deposits will remain completely anonymous. Additionally, as you can only top up relatively small amounts, you can maintain much better control over your bankroll. This prevents you from overspending.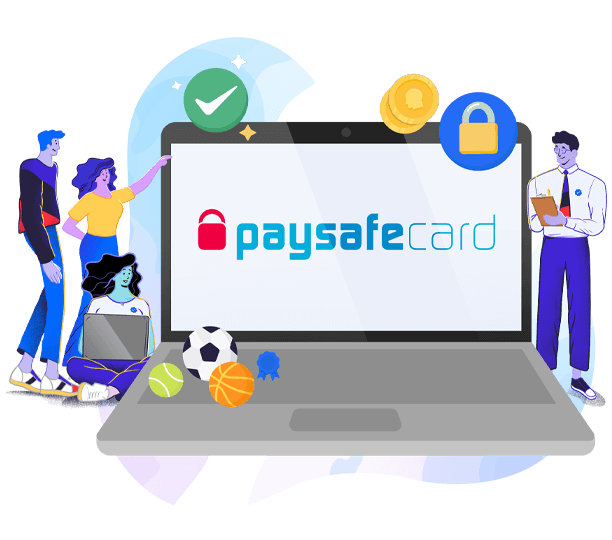 Disadvantages of using Paysafecard
While this is great as a deposit method, having a Paysafecard account means you can't withdraw from the site. Although it can be used for withdrawals, most Canadian sites still do not allow this. What this is is that you can't cash out any winnings with it when you manage to get a win under your belt. 
Not able to withdraw with Paysafecard. 
It's not convenient.
The other main problem is that it's not quite as convenient as other eWallets or card payments. This is because you must buy the card or the voucher in person at a store. You also have to regularly top it up, which can be more inconvenient when compared to other payment methods.
How to join a Paysafecard bookmaker
So, once you decide to play at a Paysafecard site, the next step is joining the site. But how do you do that? Most importantly, signing up for an Ontario sportsbook account is very easy. But, to ensure you have an easy time of it, follow these steps to get up and running quickly and easily. 
Check out our top Paysafecard betting sites. 
Choose a sportsbook that offers the features most important to you. 
Click the register or sign up button on the main page of the sportsbook. 
Fill out the registration form for the sports betting account, providing accurate details. 
Details include name, date of birth, address, email and other information. 
Verify your account and follow any KYC protocols providing ID and proof of address. 
Link your Paysafecard account to make a deposit. 
Once you have signed up for the site and created a betting account, it's time for you to deposit to get playing. Of course, most sites will let you look around first, so you can get familiar with the setup. But you can't place any bets without funds in your account, so you must deposit.
How to deposit and withdraw using Paysafecard
At this point, you've probably decided that Paysafecard payments are an option for depositing at your favourite betting site. To help you, we will show you how to make a deposit using your Paysafe account and get you playing as quickly as possible. The following section gives you the steps to deposit with Paysafecard. 
Log in to your betting site account. 
Get a Paysafecard top-up voucher by visiting a store or buying a prepaid card. 
Top this up with anything from C$10 to C$100. 
Head to the banking section of the site and choose Paysafecard from the options. 
Select how to deposit using either a voucher or direct from an eWallet. 
Either use a prepaid voucher — type in the 16-digit code, and the entire value of the voucher will be deposited. 
Or, use a Paysafecard wallet account — deposit your funds there, head to the banking section, and choose the amount you want to deposit. 
The only problem with a Paysafecard account is when it comes to withdrawing funds. While technically you can, most sites only accept Paysafecard deposits and do not permit Paysafecard withdrawals. This means you must choose a different payment option to claim your winnings. However, there are many options, like PayPal or Skrill, that you can use. 
Top tips for using betting sites that accept Paysafecard
When it comes to creating a Paysafecard account and using this as a payment option, it's a good idea to check out all that Paysafecard offers. To get the best out of this payment method, we're going to run through some top tips that will help you have the best experience when betting online. Here are some key points to think about: 

Check if the sportsbook is secure
Only play at a licensed betting site in Ontario.

Set the budget
Set a budget and stick to it. 

Deposit an affordable amount
Only fund your Paysafecard with the amount you can afford.

Have a backup card
Make sure you have an alternative payment method in place.

Make your purchase on time
Purchase a card before beginning to play online.
There are many things you can do to make it easy to make Paysafecard your go-to payment method. One of the best things you should do is be prepared before you sign up to the betting site. This is because you will need to buy the voucher before you can play. Having this ready will make it faster to get online and betting on your favourite sport.
Best alternatives to betting sites that accept Paysafecard
While Paysafecard offers a number of benefits to players, it's not always the option everyone wants to use. With that in mind, here are a couple of other options to make transactions online. One of the obvious ones here is to switch to Mastercard instead. This is accepted at most betting sites, and you likely already have a Mastercard associated with your bank account. 
Alternatively, you can use Visa, which is accepted in more places. Better yet, Visa is even more readily accepted as a withdrawal option, even when compared to Mastercard. And, like Mastercard, it has incredibly strong security protocols, making it one of the safest and most securest options. The only downside is the slower withdrawal times in place. 
If you want something Canadian-specific, then Interac is a great option. Almost all Ontario sportsbooks offer it. Better yet, it's fast and cheap, so you can make instant deposits with just a button. It's also easy to set up — just like Paysafecard, you don't need to make a betting account to enjoy anonymity.
FAQs
Can I use Paysafecard on sports betting sites?
Yes, Paysafecard is actually optimised for sports betting sites due to its high levels of security, anonymity and ease of use. Almost all gaming sites regulated for play in Ontario accept Paysafecard for making deposits. These sites tend to offer easy ways to deposit your funds, whether you are playing as a desktop client, a Web user, or you are playing on a mobile device via the app. However, some platforms do not permit withdrawals using Paysafecard, so be sure to check if this might be a problem for you.
Which online betting sites have Paysafecard?
At the last count, the vast majority of reputable sportsbooks accept Paysafecard. Some of Canada's best-known betting sites such as 888 Sports, Sports Interaction, Betway, TonyBet, Bet365, LeoVegas and PokerStars Sports prominently feature Paysafecard as a payment option on their own webpages. Do remember to check whether these sites offer Paysafecard deposits. Also, be sure to check what each site's minimum deposit limits are — usually around $10. There are usually maximum limits on payouts too.
How do I bet online with my Paysafecard account?
The Paysafecard voucher works just like a credit or debit card. This is because a Paysafecard voucher actually has a 16-digit number on it to use when making a payment. To make your deposit in the banking section, simply input this 16-digit PIN when requested by the betting site. Alternatively, you can input your Paysafe account username and password. The betting site will give you the prompts to complete your payment. Remember there is a $400 maximum deposit limit for each transaction, with a $3,500 maximum value of PINs on the card and a monthly total limit of $10,000.
How long do Paysafecard deposits take at online bookmakers?
As with most payments these days, Paysafecard deposits are virtually instant. All you need to do is head to the banking section on the site and then choose Paysafecard as your deposit option, just like a normal bank account. Once you input how much you'd like to deposit, you just need to follow the security steps in order for your payment to be processed and verified by the betting site. As soon as you have confirmed the payment, it should pop into your account instantly.
Is Paysafecard safe to use as a payment method?
Yes, in fact this is the major selling point of Paysafecard, and the reason Canada's top betting sites use it. You enjoy high levels of online security as well as the ability to remain anonymous when making payments. This is because you don't need to share any financial details when making a payment. All transactions take place virtually instantly and are as safe as using cash. Also, you can choose exactly how much you spend, thanks to the budget control options in place.
Sources