You've heard the phrase before – "Save money. Live better." Let's be honest, who doesn't like to save a little bit of money, especially in today's economy. People are always finding ways to cut down on costs, from budgeting to re-evaluating subscriptions – but that's easier said than done. Many are reluctant to cut a favourite subscription service such as Netflix since it's a popular source of entertainment for many households around the world.
But you've also heard "sharing is caring" as well. Instead of canceling subscriptions, people are sharing their login info with friends and family – whether they're in the same household or not. With Netflix cracking down on password sharing, we asked 1,007 Canadians across the country about their account sharing and streaming habits.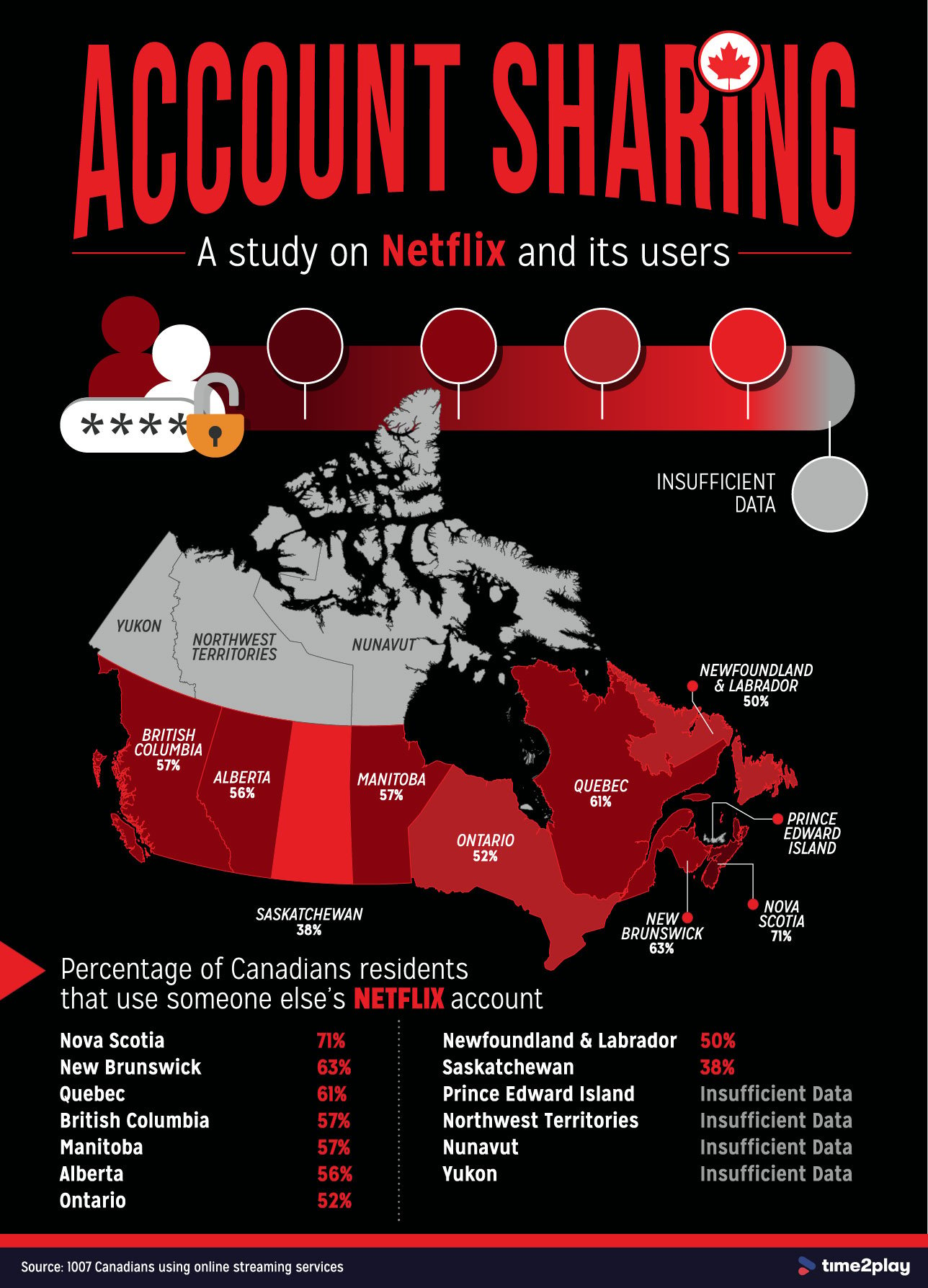 The Great White North of Streaming
We wanted to find out if Canadians log in to Netflix through their household's Netflix account or through someone who isn't a part of their household. We first asked Canadian residents in every province if they use someone else's Netflix account (outside of their household). Don't let the size of Nova Scotia fool you because the small and mighty province is Canada's biggest account-sharer, with a high percentage of 71%. In fact, Nova Scotia's neighbour, New Brunswick, had the second highest percentage (63%) of account sharing. Following closely behind, Quebec ranked third (61%), British Columbia (57%) and Manitoba (57%) tied for fourth, and Alberta ranked fifth (56%) highest. Although Ontario (52%) and Newfoundland & Labrador (50%) followed closely behind, one province was significantly lower than the rest. While at least more than half of other provinces share Netflix accounts, only 38% of Saskatchewan residents use someone else's Netflix account. 
Prince Edward Island, Northwest Territories, Nunavut, and Yukon were not accounted for, due to an insufficient amount of data.

The more, the merrier?
To find out more about account sharing in Netflix, we asked Canadian residents about their streaming habits. Over half (54.9%) of Canadians use a friend or family member's Netflix account while the rest (45.1%) access Netflix through their own accounts. We also asked respondents if they personally share their Netflix account with friends and/or family members – 59.6% of our respondents answered yes. Since many were keen on sharing their Netflix account, we asked our respondents how many people were allowed to use their account. Turns out, an average of 2.3 Canadians are using the same Netflix account. A similar Time2play study was conducted in the US in April 2022. While 76.2% of Americans expect the favour to be returned through other streaming services, 21.3% of Canadians don't. Canadians also share Netflix accounts more than Americans by 10.5%. Sharing really is caring, eh?
Netflix subscription prices rose since the last year already. The Standard Netflix plan is now $16.49 and only allows two screens to be using Netflix at the same time, while the Premium Netflix plan costs $20.99 but allows four screens to use Netflix at the same time. Assuming that Canadians will continue to share Netflix accounts with these prices, we asked at what price they would stop paying for a Netflix subscription – the average price came back to $23.29, only $2.30 away from the current Premium plan cost. Not only that, but 64.4% of respondents would opt out of paying for their subscription if Netflix bans account sharing. With that small price margin and Netflix's crackdown on account sharing, Netflix subscriptions in Canadian households could significantly decrease.
To stream or not to stream
We also asked respondents a series of questions about their streaming habits. More than half (53.7%) of Canadians watch movies and/or TV shows through illegal sources for a variety of reasons. 50.8% use illegal sources to watch content that isn't legally available in Canada. While 20.7% simply don't want to pay for streaming, 13.3% can't afford to pay for streaming services. A few respondents (7.2%) also find the quality of entertainment on legal streaming services to not be worth its' price. These percentages may rise if users can't afford to pay for Netflix subscriptions in the future. 
For the other 46.3% of Canadians who don't use illegal sources to watch movies and/or TV shows, we wanted to find out why. The majority (44.8%) find it inconvenient to use. The hassle of searching for a website with decent streaming quality without getting a virus was not worth their time. Of the rest, 16.3% don't use illegal sources for moral reasons, while 12.6% fear a potential lawsuit/prosecution. Some Canadians (12.2%) simply don't know how to stream through illegal sources – which is probably better that way. Only a small handful (5.5%) fear computer viruses – which is surprising since illegal streaming is notorious for computer viruses.
Methodology
In August 2022, we surveyed 1,000 Canadian residents throughout the entire country. We used our respondents' answers to calculate percentages, averages, and a number of other factors. The average age of our respondents was 31 years old, while the average household income was $90,579.31. 
For media inquiries, please contact [email protected]
Fair use
If you'd like to share this post or its assets with your friends or audience, you are welcome to do so. Please be sure you include attribution linking to this study.
Read more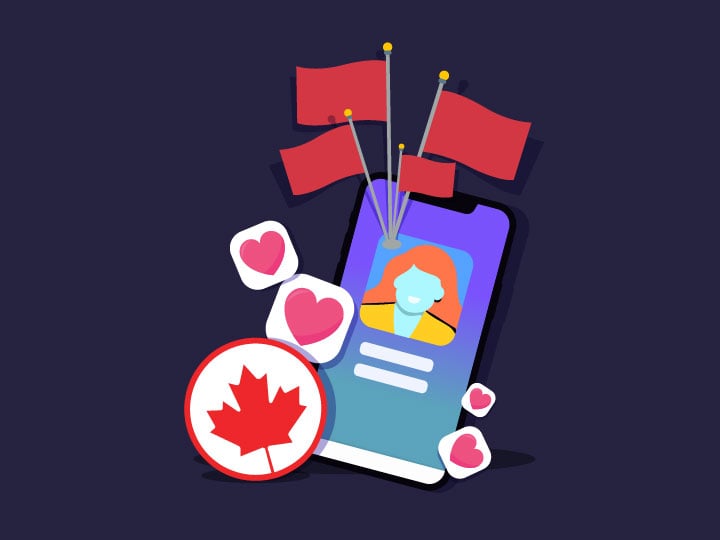 Canada's biggest online dating red flags
Looking for safe online casinos? Check out our list of the top live casinos in Canada. For mobile users, check out our list of the best casino apps that work in Ontario.