Cats or dogs? No matter how many decades or centuries it's been, this preferential question has really stuck around. While both have their own set of advantages and disadvantages, it is clear that pet owners rule in strong favour of one pet over the other.
With National Love Your Pet Day coming up on February 20th, we surveyed 1,000 Canadian pet owners to find out which provinces and territories prefer cats or dogs.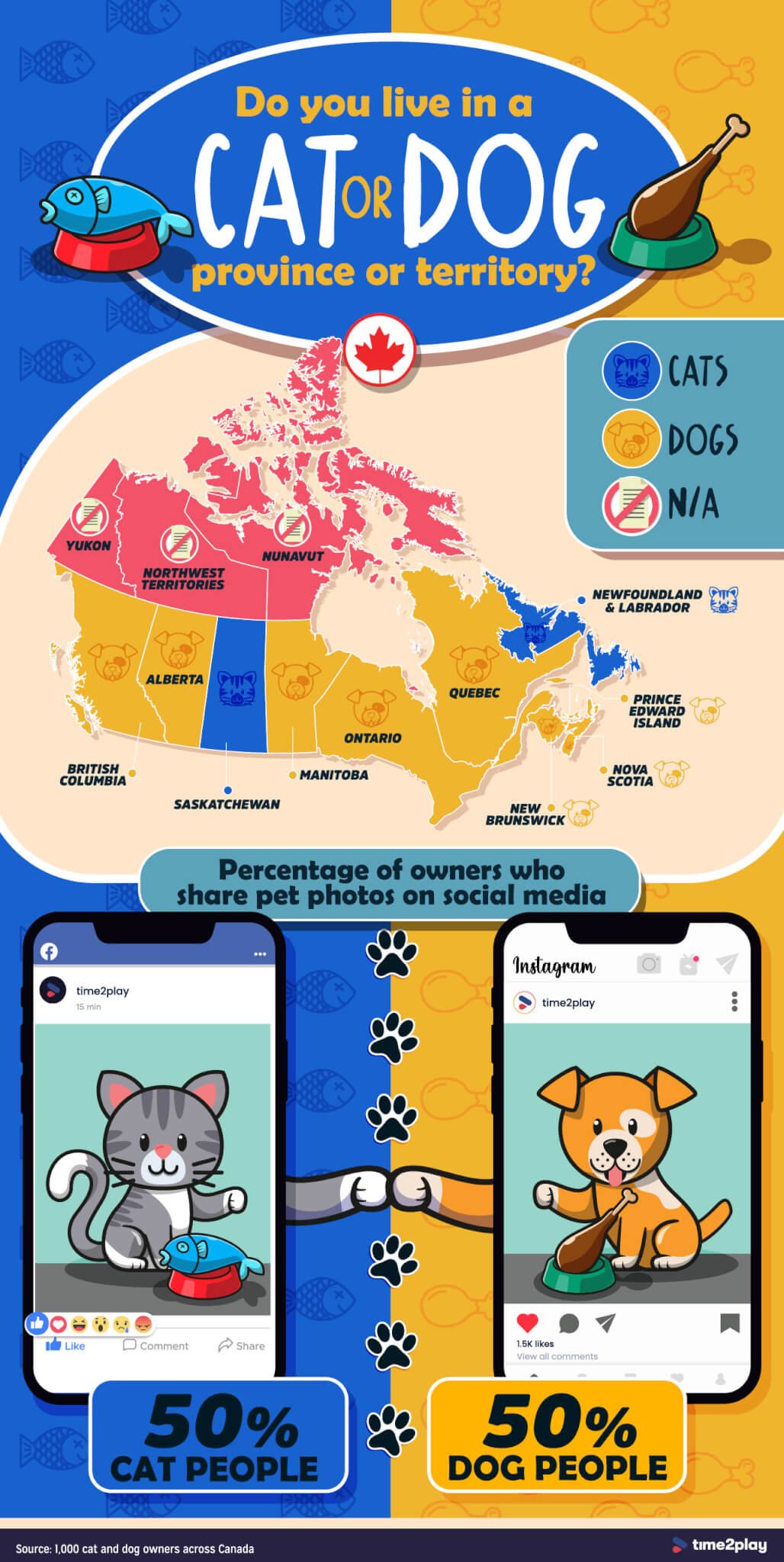 Survey says …
We asked pet owners the debatable question: "Do you prefer cats or dogs?"
Eight out of the ten provinces surveyed ruled in favour of dogs. The only two provinces that are huge cat fans are those who reside in Newfoundland and Labrador and Saskatchewan.
Although most provinces are dog fans, 56% of respondents prefer dogs while 44% prefer cats. So there you have it, the Canadians have spoken and the majority of the nation prefers dogs, rather than cats.
The territories (The Northwest Territories, Nunavut, and Yukon) were not accounted for due to an insufficient amount of data.
The more, the merrier!
Posting photos of pets on social media is now the norm – so much so, pet owners even create Instagram and/or Tiktok accounts for their furry friends.
We asked our respondents if they post pictures of their pets online. More than half (64.9%) share photos of their pets, while 35% don't.
With that said, we also looked at which animal gets posted the most on social media among our respondents. Of those that post photos of their animal(s) on social media, our data surprisingly shows a tiebreaker – 50% dogs and 50% cats. Despite the majority of the nation choosing dogs over cats, cat owners are not shying away from spotlighting their cats online these days.
Generationally, Millennials share the most pet pictures on social media (52.9%). Gen Z accounts for 22.8% while Gen Z at 20%. Only 3% of Baby Boomers share photos of their pets online, while only 0.6% of The Silent Generation post online. The Silent Generation is the only generation that prefers cats over dogs as well.
Methodology
In February 2023, we surveyed 1,000 Canadian cat and dog owners. The average age of respondents was 34.1 years old.
For media inquiries, please contact [email protected].
Fair use
If you'd like to share this post or its assets with your friends or audience, you are welcome to do so. Please be sure you include the attribution linking to this study.
Read more