Looking for online casino games? Check out our list of the top mobile casinos and apps in Ontario. For a more instant experience, check out our top instant play casinos list.
Kraft Dinner (KD) is a household staple for many worldwide due to its convenience, low costs, and cheesy taste. In fact, Canada has been making a name for itself over the years with its KD purchases, consuming 55% more than Americans.
With that being said, we wanted to see which province or territory consumes the most KD. We also wanted to know if Canadians still consumed mass amounts of KD frequently – and if not, why the change of heart? We asked 1,000 Canadian households across the country to find out.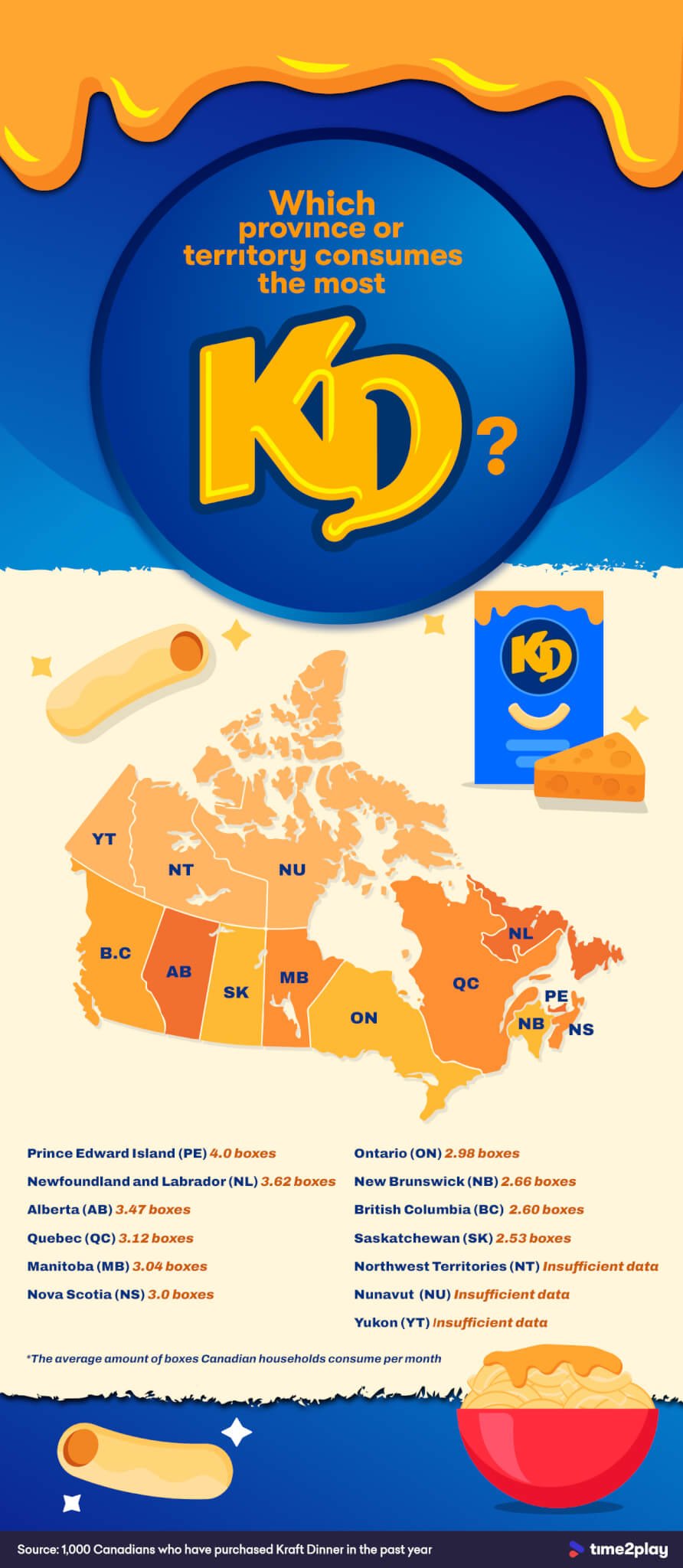 Kraft Dinner's biggest fan goes to …
We asked households across the entire country how many singular boxes of Kraft Dinner they consume per month. Surprisingly, the small but mighty Prince Edward Island averaged out to being KD's top consumer with 4 boxes a month. Following closely behind, Newfoundland and Labrador consume about 3.62 boxes a month, with Alberta at 3.47 boxes a month. To finish off the top five list, Quebec came in fourth (3.12 boxes) and Manitoba in fifth (3.04 boxes). Saskatchewan consumes the least amount of KD at 2.53 boxes a month.
In total, Canada as a country consumes about 3.15 boxes a month – which is less than it did 10 years ago.
Northwest Territories, Nunavut, and Yukon were not accounted for due to an insufficient amount of data.
Consumer behaviour
We asked our respondents a series of questions to learn more about their KD purchase and consumption habits. Of the 74.7% that have purchased KD in the past year, a majority (59.1%) of them consumed KD sporadically. 29.1% only ate KD a few times a month, while 11.5% of our respondents had KD on a weekly basis. Some of our die-hard KD respondents (0.4%) said they consumed KD daily. 
While some households spend a few bucks on KD per month, others are willing to pay up to $50 per month on KD. In total, the average Canadian household spends about $7.26 a month on KD.
The fall of Kraft Dinner?
We asked the remaining 25.3% of our respondents why they haven't purchased KD this past year. The majority (39.7%) find KD to be unhealthy due to the lack of nutrients. This is no surprise since KD has also been rumoured to have harmful chemicals in their products a few years ago too. Following closely behind, many of our respondents (34.4%) simply don't like the taste of KD. The powdered cheese may not be cutting it enough for cheese lovers these days. 21.2% can't buy KD due to dietary restrictions – such as lactose intolerance, gluten intolerance, or are vegan. A few (4.8%) can't afford KD. High costs of food in certain provinces or territories may be a potential factor in people's inability to purchase certain food items, such as KD.
Methodology
In August 2022, we surveyed 1,000 Canadian residents throughout the entire country. We used the data collected from our survey to calculate the average amount of boxes consumed per province or territory. We used the same survey to find the percentages for a variety of questions.
For media inquiries, please contact [email protected]
Fair use
If you'd like to share this post or its assets with your friends or audience, you are welcome to do so. Please be sure you include attribution linking to this study.
Read more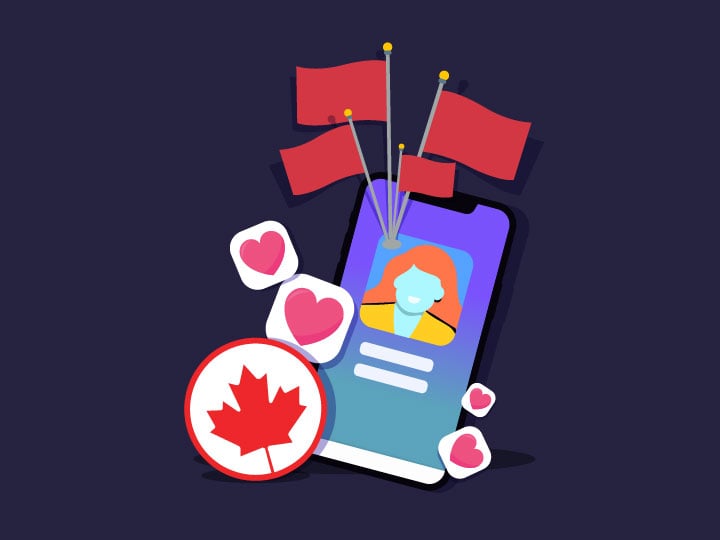 Canada's biggest online dating red flags
Looking for safe online casinos? Check out our list of the top live casinos in Canada. For mobile users, check out our list of the best casino apps that work in Ontario.