For those who aren't quite up to date on this particular cryptocurrency phenomenon, welcome to the world of NFTs. To put it simply, they are one-of-a-kind, verifiable digital assets that can be collected and traded on online crypto marketplaces. Equally as entertaining are online casinos for real money.
As people look to learn more about NFT buying, collecting, and selling, they search for someone who can give them the insider scoop. Some prefer to consult high-profile influencers, while others like to stay up to date with the digital artists themselves, or by watching Netflix documentaries. To learn more about who's the go-to source for news, advice, and other helpful NFT-related insights, we've surveyed 971 NFT enthusiasts and analyzed the social media followings of some of the top names in the space, like Elon Musk. You can also use our advice to find a safe online casino. We came out the other side with a ranking of the most influential people in the NFT space, and the most trusted names for NFT news, updates, and advice. For a deeper look, take a look at the world of NFTs.
Key Takeaways
Mark Cuban is the most influential person and most common go-to source in NFTs.
Gary Vee had the largest social media following of major NFT influencers.
Beeple was the most recognizable name among NFT influencers, followed closely by the CryptoPunks created by Larva Labs.
The Binance NFT Marketplace was the favorite place to shop for NFTs among enthusiasts.
Top of the food chain
Regardless of individual preference, who are generally the most prominent and prestigious people in the NFT space?  To create these rankings, we've combined data from social media and survey data. The social component takes into account the person or channel's following across Twitter, Instagram, and YouTube, while the survey component is derived from the number of respondents who were familiar with the influencer. 

The top NFT influencer right now is Mark Cuban, one of the world's most successful and well-known entrepreneurs. He is the owner of the NBA's Dallas Mavericks, and has been one of the investors on the hit show 'Shark Tank' over the last ten years, among many other business pursuits.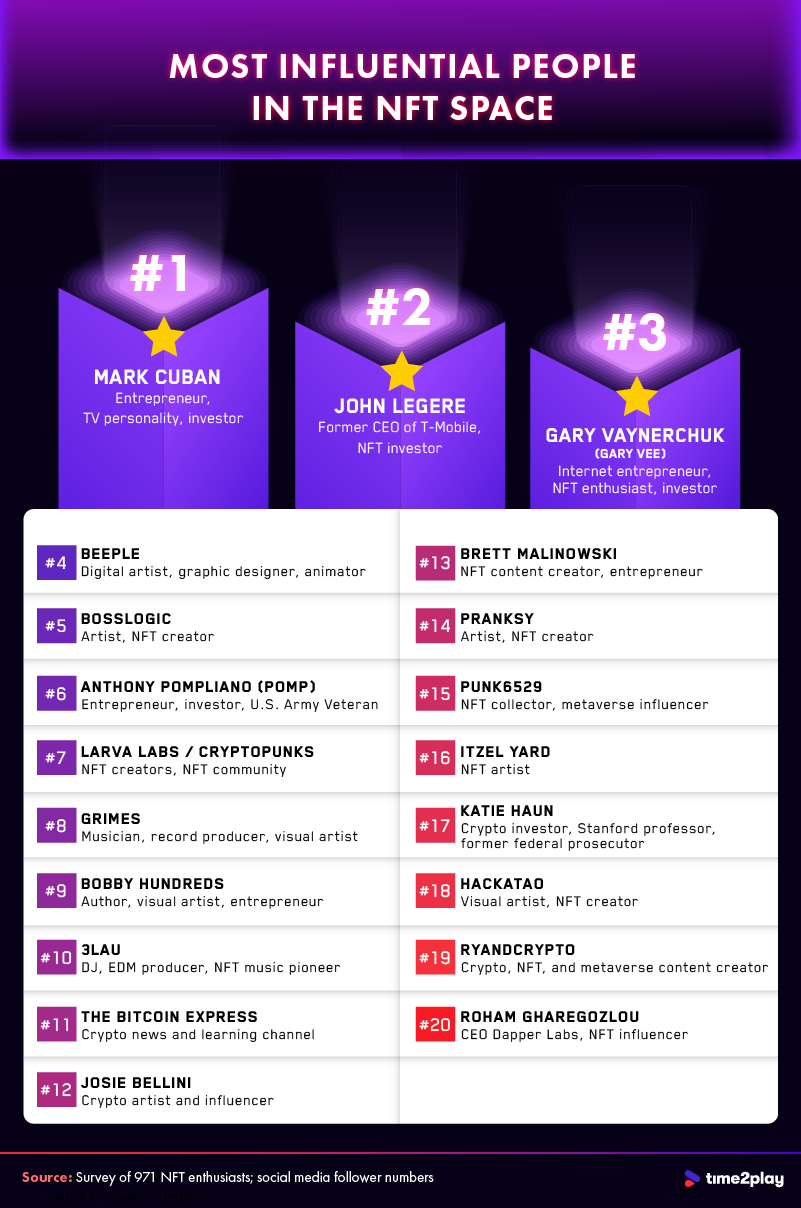 The second-most influential figure was John Legere, former T-Mobile CEO and one of the world's top NFT buyers. In March 2021, he bought an NFT from world-famous DJ Steve Aoki for the cool price of $888,888.88. Taking home bronze was Gary Vaynerchuck, better known as Gary Vee, who's a prolific investor with a sharp understanding of how to use the internet to your financial advantage.

Although the top three NFT personalities are all entrepreneurs and investors, the rest of our influencer list contains artists, content creators, and tech innovators who've carved out names for themselves in the space. Beeple, the fourth-place finisher, is a digital artist renowned for his Everydays project, in which he creates a new digital art piece every day.
Strength in numbers
These days, success on social media is linked to success just about everywhere else. Let's see which influencers also happen to be social media mavens. For this index, we considered Instagram and Twitter followers, as well as YouTube subscribers. To account for varying numbers of followers on each influencer's platform, we normalized their number of followers for each platform used, then averaged those scores to get their overall social rank.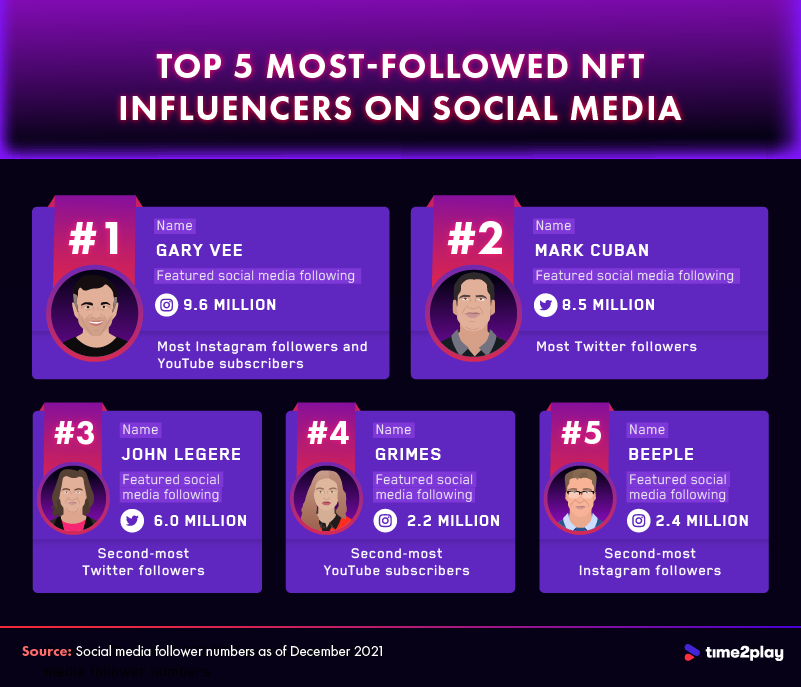 On popular platforms, Gary Vee dominated the rankings—he has the largest following of any of the 20 top influencers on both Instagram and YouTube. Mark Cuban and John Legere round out the same top three once again, having the most and second most twitter followers of any NFT influencer, respectively. 
Although some of the top-ranked people on this list had huge audiences before NFTs blew up in popularity in Spring 2020, some artists and NFT-specific influencers have gained a massive following since. For example, Beeple, Murat Pak, the Bored Ape Yacht Club, and punk6529 all ranked in the top 10.
Most trusted influencers
We asked survey respondents to rank the NFT personalities that they go to first for news, advice, and updates and found that social media following doesn't necessarily translate to trust in the NFT space.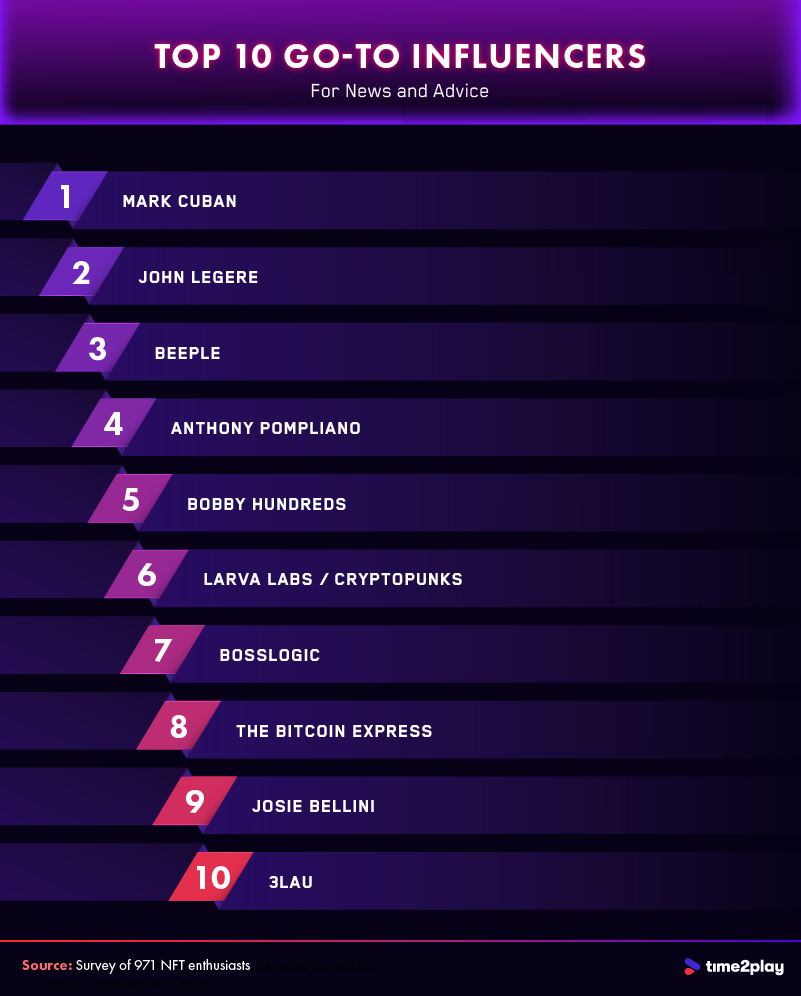 While Gary Vee dominates the social media world, he finds himself on the outside looking in when it comes to influencers whom NFT enthusiasts are seeking advice from. In fact, he ranked 20th among the NFT influencers that enthusiasts followed most closely for advice and news. The popularity of Mark Cuban and John Legere didn't waver, though.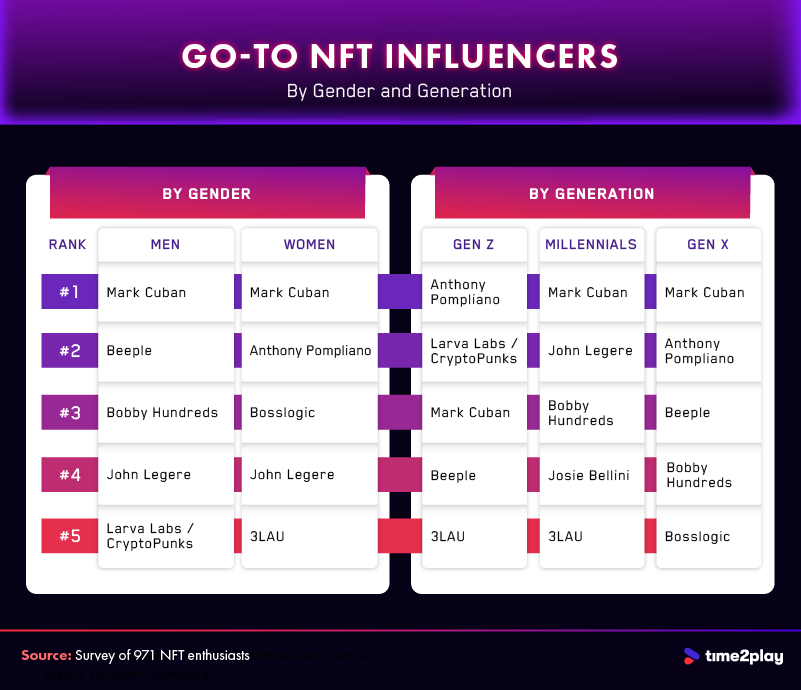 Mark Cuban was the go-to influencer for women, men and Gen X'ers and millennials. While he was close to sweeping the rankings, Gen Z'ers had him third on their list, below young, hotshot investor Anthony "Pomp" Pompliano and the creative technologist duo over at LarvaLabs. Once again, Gary Vee was not seen anywhere in these top 5 lists, and John Legere only popped up a few times.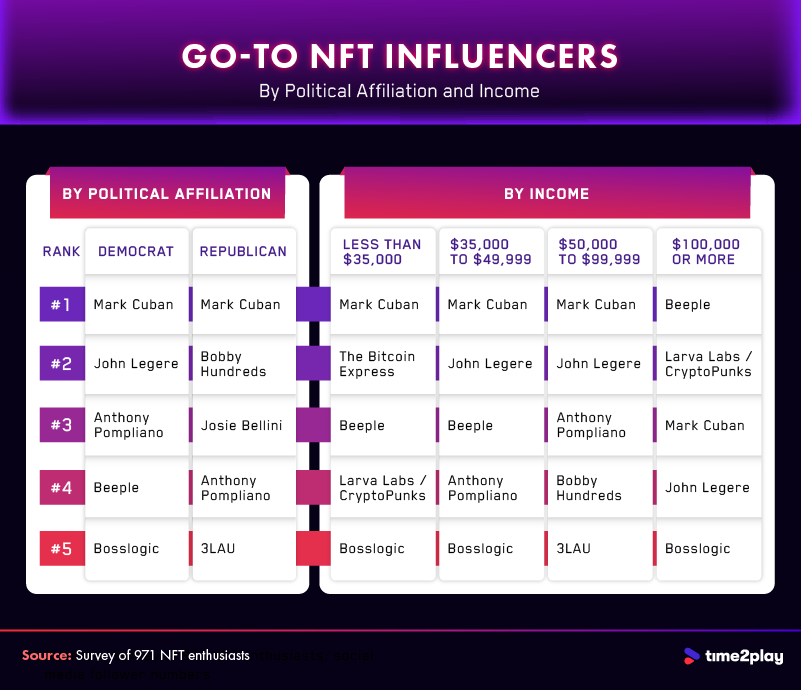 When it came to breakdowns by political affiliation and income, Mark Cuban was one category away from sweeping the rankings. NFT enthusiasts with the highest income seemed to favor NFT creators over NFT influencers for their news, advice, and other related information. For example, people making $100,000 or more ranked NFT artists Beeple and LarvaLabs/Cryptopunks as their go-to's instead of the Mark Cubans and John Legeres of the world.
NFT shopping spree
There are a ton of online marketplaces to find NFTs. Our survey turned up the marketplaces that best-liked among NFT enthusiasts.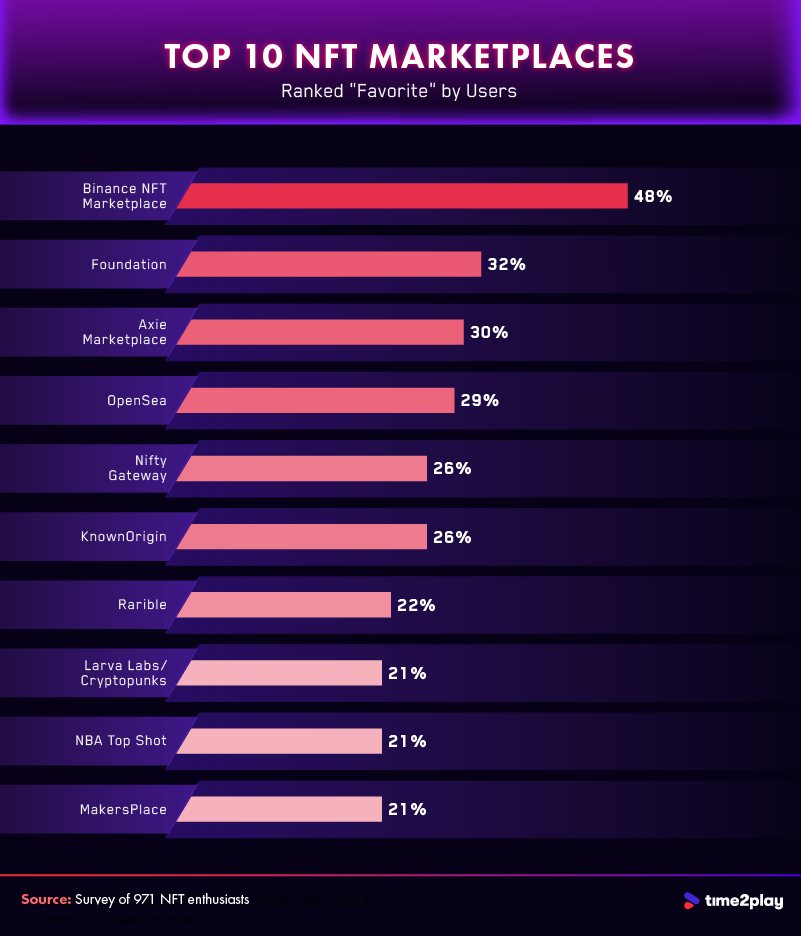 By a sizable margin, the best-liked NFT marketplace according to respondents was the one available on the popular cryptocurrency exchange platform Binance. With over 1,400,000 transactions occurring on their platform per second, it's the world's most popular crypto trading platform. It's also notable that the NFT marketplace rankings didn't vary much between our high-roller NFT surveyees and our more casual enthusiasts. That being said, two outliers existed, being KnownOrigin and Solanart, which proved slightly more popular among frugal investors (those with less than $500 in NFTs).
The biggest thing since stamp collection
As NFTs continue to rise in popularity, so do its influencers. Mark Cuban, in particular, has achieved total dominance in this particular sphere. He was listed as the number one NFT influencer for nearly all of our respondents. Cuban was already a famous celebrity with a massive following before the NFT craze, but pre-NFT success doesn't necessarily translate to NFT influence. For example, Gary Vee was deemed a top 3 influencer and had the largest social media following by far, but only ranked 20th as a source for NFT news and advice.
Regarding marketplaces, there are an abundance of websites to buy, collect, trade and sell these digital collectibles. Binance.com is the most used one, but to each their own. If you're thinking about learning more about the wild world of NFT collecting, one of these platforms would be a great place to start.
Methodology and limitations
Survey data used in this analysis came from a survey of 971 NFT enthusiasts, defined as those who researched and invested in NFTs weekly or more frequently. Samples of relevant demographics are as follows:
Gender

Men: 60% Women: 39% Other gender identities: <1% Declined to disclose: <1%

Annual personal income

Less than $35,000: 22% $35,000 to $49,999: 17.5% $50,000 to $99,999: 45% $100,000 or more: 15.5%
Generation

Generation Z (born 1998 to 2017): 18% Millennials (born 1981 to 1997: 47% Generation X (born 1965 to 1980): 27% Other generations: 8%

Political affiliation

Democrat: 54% Republican: 24% Other affiliations: 22%
This survey has a 4% margin of error at a 95% confidence level. To help ensure survey data quality, all respondents were required to identify and correctly answer an attention-check question. Please note that survey data may be subject to certain limitations related to self-reporting. These limitations include telescoping, exaggeration, and selective memory.
Social media follower and subscriber numbers were collected manually in December 2021 from the primary Twitter, Instagram, and YouTube pages for each of the influencers analyzed in this project. To develop a ranking of followership across these social media platforms, follower counts were normalized per platform, so the individual with the highest follower count received a score of 1 for that platform, and the individual with the lowest follower count received a score of 0. Scores were not assigned for platforms on which the individual did not have a presence. Scores across platforms were then averaged, and the resulting score was used to rank overall social media following.
The original list of 35 NFT influencers was developed by selecting the most frequently-occurring names from multiple lists of prominent figures in the NFT space. The final ranking score used in the primary ranking of "most influential" figures was a sum of the social rank score described above and a survey rank score, which resulted from normalizing the number of survey respondents who indicated they were familiar with each influencer on the list.
Fair use statement
We hope you've learned a thing or two about the top NFT influencers and the go-to places to buy and sell NFTs. If you know anyone who you think might get a kick out of our findings, feel free to share this article with them. We just ask that you do so for noncommercial use only, and to provide a link back to this page.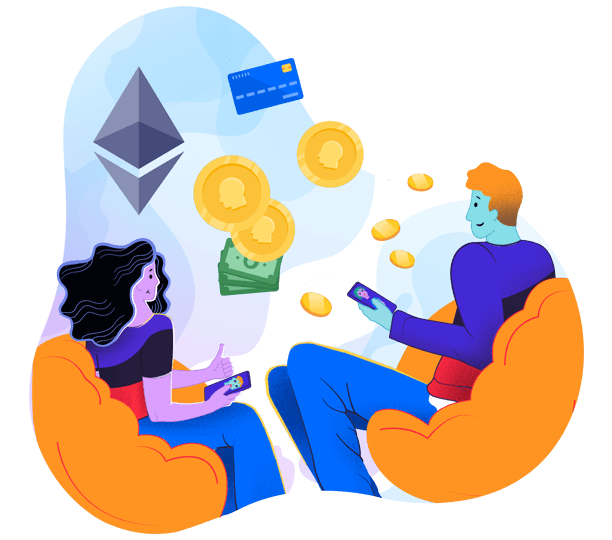 Trending blogs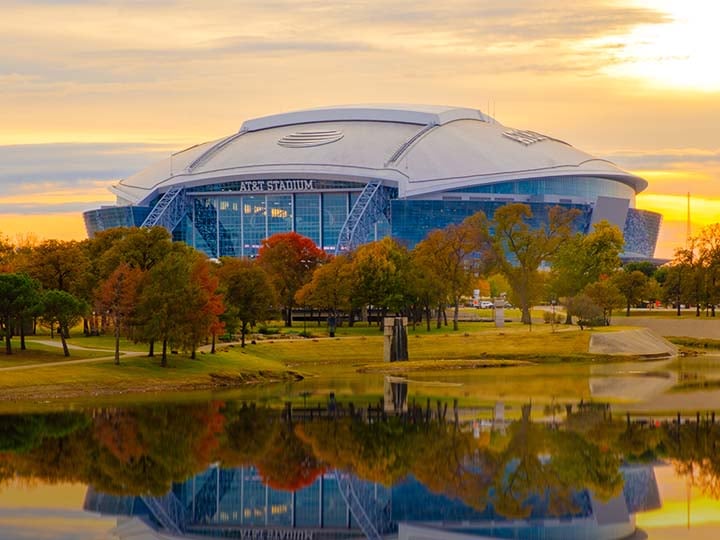 Why do some NFL stadiums give their home team an edge?
As the NFL's 102nd season kicks off, we wanted to know if and why home-field advantage really exists. So we examined interesting features of 12 of the NFL's most unique stadiums to see what sets them apart from the competition.