The well-publicized Twitch data breach in October 2021 showed that the top channels on the popular platform rake in millions of dollars from subscriptions and advertising. But what about earnings that come from other sources? Especially for Slot streamers who earn revenue through partnerships with top online casinos. 
Time2play has gathered details on the most-watched slot channels in 2021, using its own proprietary data to establish the Top Ten Slot Streamers for 2021. We looked at who earns the most per hour streamed and just how many hours a worker on the Federal minimum wage, currently $7.25 per hour and less than the cost of a Netflix subscription, would need to put in to make the same amount.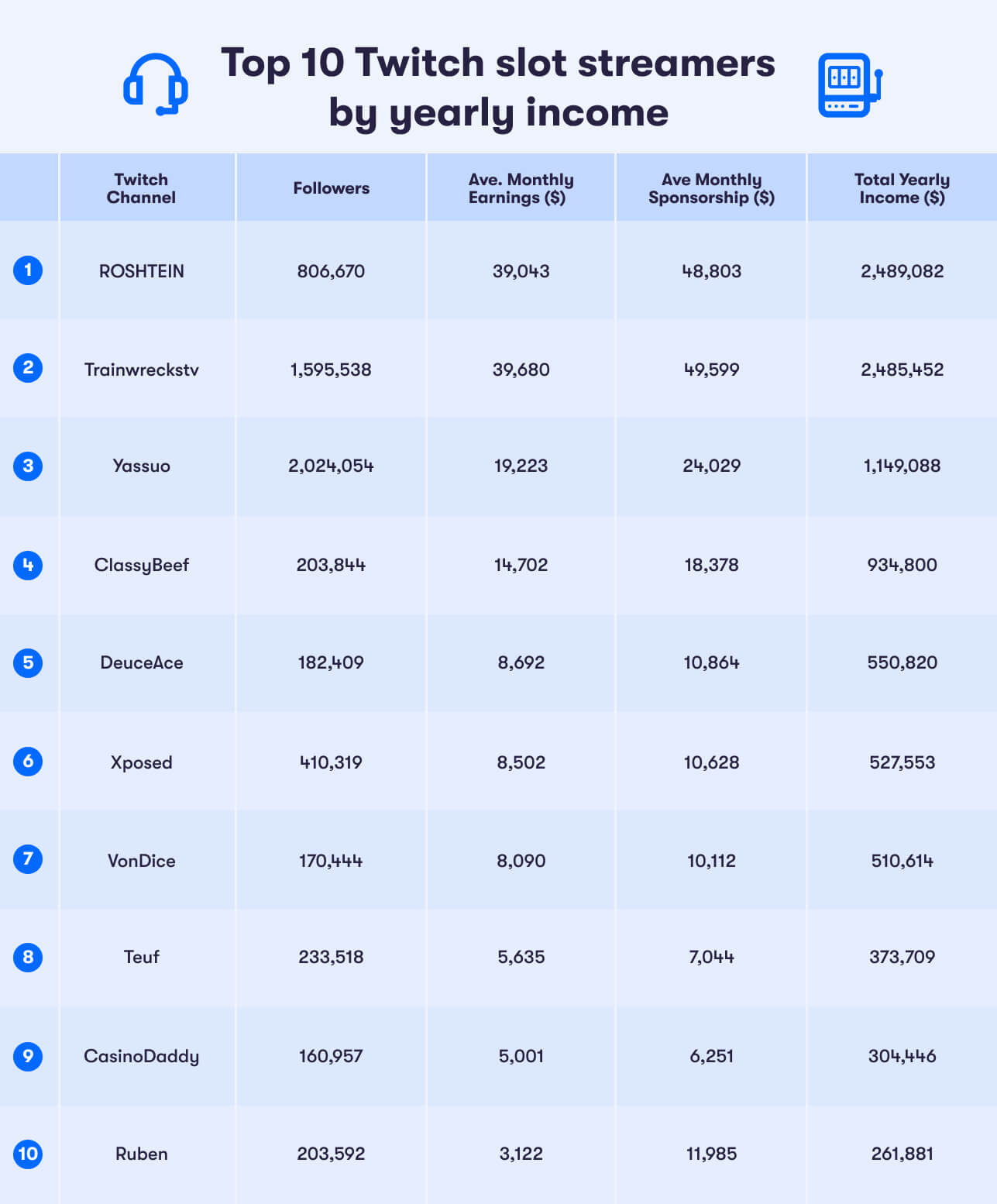 Who is the top Twitch slot streamer?
Unsurprisingly TrainwrecksTV and ROSHTEIN take the top two spots. Both had their Twitch earnings revealed in the October 2021 leak, meaning that they are in the top Twitch earners globally across all categories. 
Despite having almost 50% fewer followers than TrainwrecksTV, ROSHTEIN takes the number one spot thanks to his higher average daily viewer count. 
However follower numbers don't always seem to translate directly into income; third place Yassuo leads the pack with over 2 million followers but is $1.3 million behind the two leaders when it comes to estimated earnings. Another metric, hours spent streaming, doesn't necessarily translate directly into dollars either.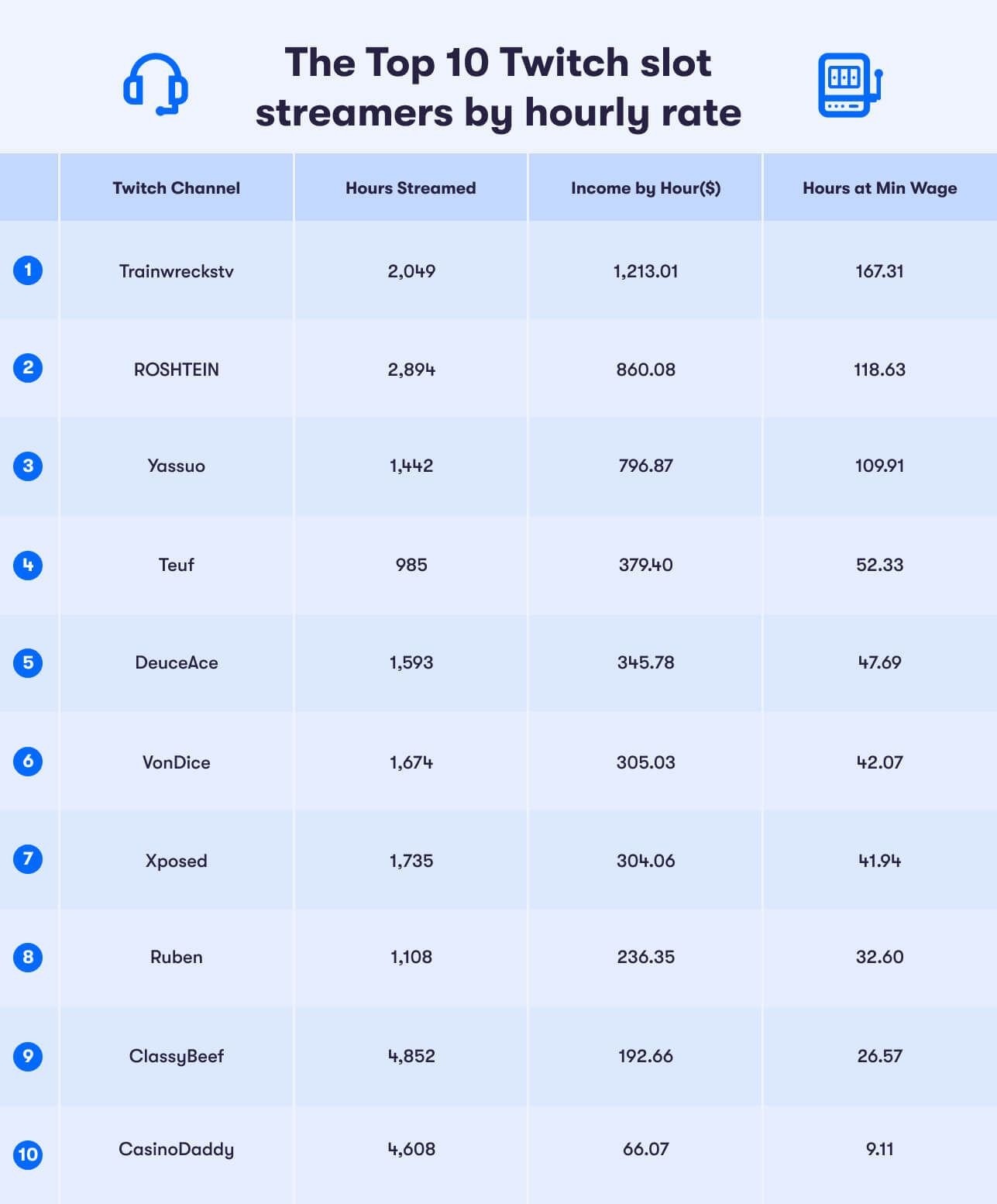 CasinoDaddy is the most frequent streamer in our top ten but comes in last place in the earnings by hour table. By streaming for an average of 15 hours a day with a lower viewer count means that their income is a mere $66.07 per hour. Although that would still take someone on the federal minimum wage of $7.25 more than 9 hours of effort to earn the same amount.
At the top of the table, Trainwreckstv and ROSHTEIN swap places. Thanks to TrainwrecksTV's lower hour count, 2049 hours versus ROSHTEINs' 2,894 between January and November 2021, he makes an estimated $1,213.01 an hour — figure that would take someone on minimum wage over a month of 40 hour weeks to achieve. 
How average US incomes compare to Twitch earnings
When we compare the earnings of streamers of online slots to incomes for typical jobs, the contrast is stunning. A waitress would need to work for 134 years to take home what our top streamer does in just one. Even a relatively well paid role, such as an Assembly Line Supervisor is out earned by 34 times!
The truth is that these estimated figures are far below the actual amounts that the featured channels, and those streamers outside of the top 10, actually earn. In July 2021 TrainwrecksTV revealed that he is paid $1million a month to gamble on the platform. This revelation came after gaming and slots streamer Adin Ross accidentally revealed a conversation with crypto casino Duelbits. In the conversation a Duelbits representative complained he had offered nearly $2 million a month. Ross turned down the offer in favor of a more lucrative partnership with Roobet, as they would also give him an outlet for referrals and cover expenses including potentially any losses incurred.
Because such deals and partnerships typically remain hidden, it is impossible to accurately assess just how much these channels truly earn.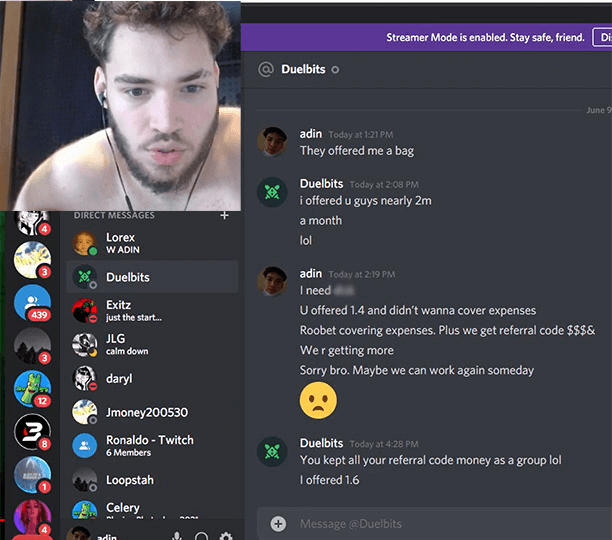 | Job | Average yearly earnings ($) | % of top slots streamer yearly income | Number of times outearned by top streamers |
| --- | --- | --- | --- |
| Assembly line supervisor | 72,400 | 2.91 | 34 |
| High school teacher | 62,285 | 2.5 | 40 |
| Police officer | 58,800 | 2.36 | 42 |
| Delivery driver | 43,700 | 1.75 | 57 |
| Auto mechanic | 41,349 | 1.66 | 60 |
| Taxi driver | 36,701 | 1.47 | 68 |
| Laborer | 34,051 | 1.37 | 72 |
| Hairdresser | 27,522 | 1.10 | 90 |
| Grocery store cashier | 24,269 | 0.97 | 103 |
| Waitress | 19,201 | 0.77 | 129 |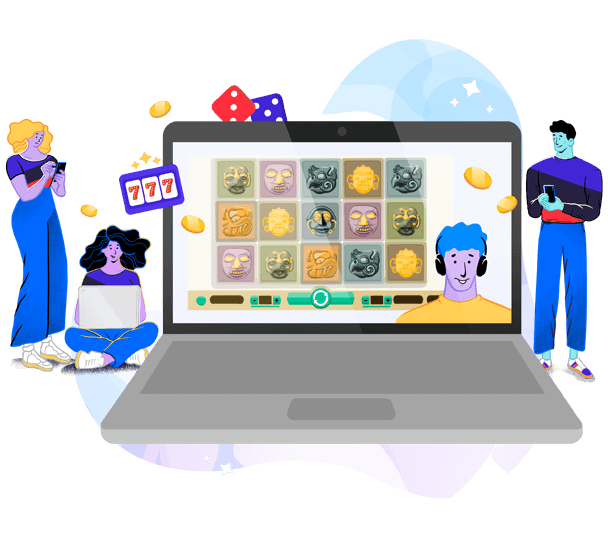 Sources and methodology
Data was gathered about the top 25 most watched Slot streamers as listed on TwitchMetrics most watched leaderboard for slot channels as of 1st November 2021. 
Follower counts and Average Channel Views per month were sourced from https://socialblade.com/. Information on total hours streamed between 1st January and 1st November 2021 is publicly available from https://twitchtracker.com.
Only accounts that were established before December 2020 were considered for inclusion, also only channels that stream slots content were considered. Accounts that focus purely on poker and/or live online casinos were also not included. 
Time2play is part of the Kafe Rocks Group, an established iGaming affiliate with a global portfolio. Estimations about earnings from partnerships are based on data on player behaviour within this portfolio and partnership agreements with  online casino operators. The conservative assumption that 0.25% of viewers will register at one of the streamers' partners. With a further estimation that 5% of those registered players will then deposit, with a commission level of €100/depositor.
The estimated earnings directly from Twitch are calculated with a standard rate of conversion between views and earnings. It includes a calculation to reflect a mix of subscriptions and potential ad revenue.
These calculations do not include any payments that casinos might make directly to streamers or any money that the streamers might receive in order to cover their losses. 
The hourly income was created by dividing the estimated annual earnings by the number of hours streamed. The current Federal minimum wage of $7.25 was used to calculate how many hours would need to be worked to equal the streams income per hour. 
Data about the median salaries for US jobs came from https://www.salary.com/. The comparison was made with the estimated yearly income of the highest earner from our results. 
FAQs
What is Twitch?
Founded in 2011 and purchased by Amazon in 2014, Twitch gives users the ability to live stream and view a wide range of content. The most popular channels feature video games, but there are a significant number that feature channel hosts playing online slots, poker, or participating in live casino games.
How Popular is Twitch?
Twitch is the most popular live-streaming platform on the planet, with over 1,240 billion minutes watched already in 2021 and almost 9 million users streaming content each month. 
How do Twitch streamers make money?
Streamers make money through Twitch in a variety of ways, including subscriptions, receiving and selling virtual goods, and advertising. They might also have sponsorship deals or receive direct donations.
What Twitch data was leaked in October 2021?
Over 100GB of data was made public on Wednesday, October 6. Along with the source code for Twitch's platform and plans for future product releases, payments made to the top few hundred streamers between late 2019 and October 2021 were also included.
Can you use PayPal on Twitch?
Yes, Twitch currently only accepts payments via Amazon payments and PayPal. For more information about PayPal casinos, check out our dedicated page.
What are the most popular software providers among top Twitch slot streamers?
It depends. When it comes to slot streamers, it tends to come down to the type of slot rather than the provider. So for instance new slots and jackpots provide more thrills than classic slot games. That said, slots by NetEnt, IGT and Playtech are all popular.