Best PayPal betting sites for real money
PayPal betting sites have become increasingly popular in the US and with good reason.
The e-wallet boasts a ton of perks for bettors — not only does it allow you to place a deposit without having to give your card details, it also offers some of the fastest transaction times around. 
Not sure how to get started? Not to worry! Here we'll go over everything you need to know about PayPal sports betting, including which sites are the safest, how to deposit and withdraw money, and which sports you can bet on.
But first, our top PayPal gambling sites!
Sportsbook Logo
Odds rating
Bonus
Go to sportsbook Button
Show more
T&C

1

BetMGM sportsbook review

98

/100

PayPal rating

by Anna M.

91%

Playscore

based on

Up to $1,000 back in Bonus Bets

Play now

Good to know

Strong odds on football
Stellar customer support
Live streaming and live data

14 payment methods

Play now

2

Borgata sportsbook review

92

/100

PayPal rating

by Ian Z.

85%

Playscore

based on

Bet $20 get $100 in Free Bets

Play now

Good to know

Great odds on football
Regular parlay boosts
Bet on 19 different sports

14 payment methods

Play now

3

Caesars sportsbook review

87

/100

PayPal rating

by Ian Z.

94%

Playscore

based on

Up to $1,250 Stakeback + 2,000 loyalty credits

Play now

Good to know

Excellent rewards program
Fast payouts
Bet on 20 different sports

9 payment methods

Play now

4

DraftKings sportsbook review

82

/100

PayPal rating

by Anna M.

92%

Playscore

based on

Bet $5 Get $150 in Bonus Bets + a daily No Sweat SGP

Play now

Good to know

Official NFL partners
Great football betting options
User-friendly bet builder

11 payment methods

Play now

5

ClutchBet sportsbook review

81

/100

PayPal rating

by Paul P.

80%

Playscore

based on

100% up to $1,000 in Free Bets

Play now

Good to know

Live micro-betting
Same-game parlays
Excellent customer support

7 payment methods

Play now

6

bet365 sportsbook review

80

/100

PayPal rating

by Ian Z.

89%

Playscore

based on

Bet $1 get $200 in Bonus Bets

Play now

Good to know

Several user-friendly offers
Large parlay boosts
Includes virtual sports

7 payment methods

Play now

21+. Gambling problem? Call 1-800-Gambler (call or text in Colorado).

7

Fliff social sportsbook review

80

/100

PayPal rating

by Ramona D.

83%

Playscore

based on

100% up to $100 FC

Play now

Good to know

Good sport selection
Offers college sports
Available in 41 states

5 payment methods

Play now

8

Betsafe sportsbook review

72

/100

PayPal rating

by Melanie H.

78%

Playscore

based on

Second Chance Bet up to $500

Play now

Good to know

Unique sports to bet on
Wide range of payment methods
Great app design

10 payment methods

Play now

9

BetRivers sportsbook review

62

/100

PayPal rating

by Ian Z.

86%

Playscore

based on

Second Chance Bet of up to $500

Play now

Good to know

Many regular promotions
Huge number of sports
Trusted by many state licensors

6 payment methods

Play now
We take our job seriously, which is why we didn't simply throw in any random gambling sites that accept PayPal here. The PayPal betting sites above are curated to show the sportsbooks with the best PayPal gambling options. We looked at the withdrawal times, the transaction limits, the transparency policies, and more to give players the best options available. For more info, you can jump forward to see how we rate.
PayPal sports betting sites: breakdown by category
There's a lot of information to break down, and we understand that bettors might not care about all of it. To make life easier for you, we've gone ahead and split it into segments, so you can jump right into what interests you.
Here's a quick look at the upcoming categories as a shortcut before we explain each type:
The idea with these categories is to cater to the different types of players who would be interested in PayPal sports betting. You can click on each area to launch yourself forward into the category that best jives with you.
Esports betting with PayPal
Esports betting is a fascinating new sector that, unfortunately, tends to go unnoticed in the US. Many US sportsbooks leave out esports altogether, focusing on more traditional sports like football or basketball. Still, at least some sportsbooks do provide it, and thankfully these are all online gambling sites that accept PayPal.
You can't talk about esports without mentioning Counter-Strike: Global Offensive, more commonly known as CSGO. CSGO betting PayPal sites are more common than other e-sports, which is not surprising considering the game's popularity. Alongside CSGO, bettors can sometimes find League of Legends (stylized as LoL) and Valorant.
Unfortunately, we don't have a lot of options to show for this section. Bet365 has at least impressed by having markets for several competitions across several e-sport games. If you live in Colorado then you're in luck as Betsafe sportsbook does offer a good range of esports betting. Hopefully, more PayPal gambling sites will provide in  future.
PayPal football betting
It wouldn't be a US sportsbook if it didn't have football in it. Easily the most popular sport in the US, it should be no surprise that sportsbooks that accept PayPal would also heavily feature football.
Not all sportsbooks are equal, though, even with football. Some offer better odds than others or have more markets. Bet365 even gives bettors the chance to bet on virtual football. Unfortunately, when it comes to US sports betting sites that accept PayPal, fantasy football tends to be left out, or at least, relagated to DFS sites. It's a shame to see this segment not be included, but the list we've put together should help make it easier to find great football sites and bet with PayPal online.
Horse betting sites that accept PayPal
Horse racing is another option that does not crop up often in the US. Still, we did our best to find the best horse betting sites that accept PayPal. Or rather, site.
The options here are very limited, with only two sportsbooks that accept PayPal also having horse racing at the time of writing. And one of them, bet365, only has virtual horse racing. BetMGM allows bettors to bet on proper horse racing, but only in a select few states, Florida, Louisiana, and Ohio.
Bet365 has an entire segment dedicated to virtual sports, and among them, bettors can find horse racing. It's pretty detailed, has a lot of betting options, and even offers markets for different competitions such as 1-minute bullet racing, flat racing, and jump racing. It's a shame that most PayPal betting sites don't have this sport available, but we have to make do with what we've got. We'll update this as more stuff comes in.
Online boxing betting with PayPal
Sometimes, all we want to do is watch a man punch another man really hard in the face. PayPal betting sites help scratch that itch by letting us bet on some good old-fashioned boxing.
Boxing is quite popular on PayPal betting websites. Most sportsbooks will feature boxing and other martial arts competitions like the UFC. Of course, not every sportsbook that accepts PayPal is equal, and some are far better for boxing enthusiasts than others.
The 3 sportsbooks present were chosen for their number of boxing, UFC, and MMA markets and the bonuses tied to said markets. FanDuel also has a full transparency section on its boxing odds right underneath the boxing markets, letting bettors know exactly what they are getting into.
How to choose sportsbooks that accept PayPal
Transparency is something that we take very seriously. After all, we criticize any PayPal sports betting site for not being transparent, so it's only fair that we hold ourselves to the same standard. When we're curating our lists of the best sportsbooks that accept PayPal, we look at 6 different categories. Among these are the betting sites PayPal deposit and withdrawal methods, the cashier policy, the sports and markets, and how mobile-friendly the site is.
Here's our full breakdown of all the categories, explaining what we look at and why, so you can get a glimpse at Time2play's data-driven rating vision.
Deposits and withdrawals
When it comes to sports betting with PayPal, withdrawals and deposits are prioritized. The main things we look at are speed and limits. Depositing with PayPal is usually instant, however; withdrawals take time, as any transaction with PayPal betting accounts needs to be processed to protect against money laundering. Good PayPal betting sites can get this done in under 48 hours, and the best sites can get it done in under 24.
When it comes to limits, we expect sportsbooks to set a minimum limit of $10.  Some PayPal sports betting sites will occasionally cut to $5 or even have no minimum limit, but this is extremely rare. Maximum deposit limits will vary from sportsbook to sportsbook, so we keep an eye out for any PayPal betting site that accepts over $3,000 per transaction, or $5,000 per week.
Cashier policy
It's rare for betting companies that accept PayPal to charge operator fees. Most sportsbooks, regardless of whether they accept PayPal or not, will not charge any fees. If they do, you'll probably want to play somewhere else.
Apart from no fees, we also expect to see complete transparency on all transaction methods, not just PayPal. Things such as the transaction limits, times, and any T&Cs should be easily available to all bettors, regardless even if they don't have an account. Some sportsbooks won't show the limit information if you do not have an account, which loses them a point for transparency.
Payment methods
Sure, we're going to look for PayPal in our list of 'best sportsbooks that accept PayPal'. However, you shouldn't put all your eggs in one basket, and likewise, we can't expect PayPal to be the only option available.
When we look at payments, we expect to see a good 10-15 different types of payment methods that bettors can choose from. This isn't just for convenience's sake; it also shows that these top financial companies trust the sportsbook. We also look out for the top, popular brands, such as MasterCard, Visa, Discover, and VIP Preferred.
Sports and markets
It's pointless to have good options for PayPal if there are no sports to bet on. We want to see a large number and variety of sports and markets when we judge our best sportsbooks.
Naturally, we look out for all of the popular sports, such as football, basketball, baseball, or soccer betting; however, PayPal betting sites should also have some less popular sports, like cricket or lacrosse. We want to see our sportsbooks at least get higher than 15 sports, though 20+ is the ideal. We also give out extra credit to sportsbooks that have markets on alternatives to traditional sports, such as esports, fantasy sports, or even things like politics or the Oscars. With its status as one of the most permissive gambling states, we expect NJ sports betting to do very well in this regard.
Apps
This section can be a bit tricky. As a baseline, we want mobile PayPal payments to at least not-be-worse to make than the desktop alternative, but there aren't many concrete ways to measure it. Still, if we see that mobile PayPal is acting up, that's certainly a red flag for us.
Overall, we also look at the mobile experience, not just the PayPal transactions. Native iOS and Android betting apps are a must, and we expect all the offerings on desktop to be present on mobile. Not only that, but we expect the mobile platform to run just as smoothly as the desktop, with fast loading times and no glitches.
Full offering
Finally, we come to 'everything else.' We want all of it to tie together into one great sportsbook, the odds, the betting features, the customer support, and even the bonuses.
Are the payout percentages fair, or is the sportsbook shifting the odds too much in its favor? Does the sportsbook have live betting? If it does, then does it have in-depth data to go along with it? Does the sportsbook have strong SSL encryption? Everything affects the player experience. Our online sportsbook reviews go into all the nitty-gritty to make sure you guys can safely bet with the best sportsbooks around.
Betting apps that take PayPal — a closer look
We're in the 2020s now, well into the digital age. Our mobiles nowadays have more power than a supercomputer from the 1980s and can fulfill all of our PayPal sports betting needs. So when we see a PayPal betting site, you can be certain that we're going to make sure it has a good mobile app to go along with it.
All self-respecting PayPal betting sites will have native apps for both iOS and Android. Many of them will have a separate app for each state that the sportsbook is in, so you'll need to be careful to download the right app most of the time. By far, the best state for PayPal mobile betting is New Jersey, as all of the best PayPal sportsbooks have native apps for that state. However, Golden Nugget and BetMGM offer other options, with BetMGM offering mobile betting in 17 different states.
The table up next shows the best PayPal mobile betting sites available, as well as what states they're in and what native apps they have. This should help you decide which apps to download on your phone and which to leave out and save space.
| PayPal betting app | Available states | iOS App | Android App |
| --- | --- | --- | --- |
| Bet365 sportsbook | NJ | Yes | Yes |
| Borgata sportsbook | NJ | Yes | Yes |
| Golden Nugget sportsbook | NJ, MI, VA, WV | Yes | Yes |
| BetMGM sportsbook | NJ, MI, VA, WV, AZ, CO, FL, IN, IA, LA, MS, NV, NY, OH, PA, TN, WY | Yes | Yes |
PayPal sports betting: Deposits and withdrawals 101
If an online sportsbook accepts PayPal, it's most likely that it will accept it for both deposits and withdrawals. This is not always the case, but the best PayPal sports betting sites will certainly have things this way.
We'll run you through a step-by-step guide on making a PayPal gambling transaction. We know how stressful it can be to make transactions with a large amount of cash, so this guide will help you rest easy and ensure you don't miss any vital steps.
Deposits

Step 1
Set up a PayPal account
This one may seem obvious, but you cannot pay with PayPal without first having a PayPal account. It's completely free and requires you to fill in some personal details and connect a debit or credit card.

Step 2
Sign up with a sportsbook that accepts PayPal
You're going to want to go through the payments page of the sportsbook to make sure that it accepts PayPal before signing up. Doing the research is something we always recommend, as it helps you see if there are any sneaking T&Cs like hidden fees. You can also check out our top PayPal sportsbooks to see which ones accept PayPal.

Step 3
Select PayPal as your payment method
Once you've signed up with a sportsbook, you're going to head over to the cashier to make your first deposit. Input the sum you want to deposit, then choose PayPal as your method for doing so. If any promotions are going on, this is the section where you might have to input a bonus code.

Step 4
Log into PayPal
At this point, a pop-up window redirecting you to PayPal should appear. Simply input your login details to enter PayPal and confirm the transaction.

Step 5
Bet away!
Congratulations, you did it. Your funds should have appeared in your account, so you're ready to bet away on all your favorite sports.
Withdrawals

Step 1
Research the sportsbook's PayPal policy
Most sportsbooks that accept PayPal deposits will also take PayPal withdrawals; however, some only have it as a deposit option. Other sportsbooks will let you withdraw with PayPal, but only if you deposited first. These are all things you're going to want to know from before, so make sure you head to the sportsbook's banking page and get all your research done before making any withdrawals.

Step 2
Select PayPal in the cashier
If your research has given you the all-clear, head to the cashier page and select PayPal as your preferred withdrawal method. Once that's done, input the amount you want to withdraw and hit confirm.

Step 3
Submit your documents
If this is your first time making a PayPal transaction on the sportsbook, they will require you to verify your identity before withdrawing funds. This process is simple enough, usually only requiring you to submit a copy of your passport or ID and perhaps a recent utility bill, and you should be good to go.

Step 4
Wait
Unlike deposits, PayPal withdrawals are not instant and need to be processed by the sportsbook before they go through. The best spots can get this done in less than 24 hours; however, this is not always the case, so make sure to check the transaction times before withdrawing to be sure.
Transaction details — Time, fees, limits
We've prepared a table for you that should help break down the nitty-gritty details relating to deposits and withdrawals for our top PayPal betting sites. This mainly relates to transactions times, limits, and fees.
With transaction times, we fully expect deposits to be instant. If it's not instant, it doesn't make the top list. Withdrawals, however, do need to be processed, with sportsbooks needing to verify it internally for safety. The fastest sportsbooks can usually get this done in 24 hours, as can be seen with bet365, Borgata, and BetMGM.
Fees are also a no-go for us, and any sportsbook that we see charging a fee also doesn't go on the top list. After all, why would you pay for a service that everyone else is offering for free? PayPal itself doesn't charge fees to spend money or withdraw to your bank account; however, if you're using an ATM, then there may be a charge, so be sure to check out PayPal's T&Cs for that.
Finally, there are the limits. Almost all sportsbooks have a minimum deposit and withdrawal limit of $10, but the maximum limit varies greatly between sportsbooks. We're happy when we see sportsbooks hit that $10,000 limit, so usually, a sportsbook like Golden Nugget would have disappointed us with its $1,500 deposit limit per transaction if it didn't also make up for it with a whopping $60,000 withdrawal limit per transaction.
| Betting site | Deposit time | Deposit limits | Withdrawal time | Withdrawal limits | Fees |
| --- | --- | --- | --- | --- | --- |
| Bet365 | Instant | $10,000 | Up to 24h | $10,000 | No |
| Borgata | Instant | $50,000 | Up to 24h | $25, 000 | No |
| Golden Nugget | Instant | $1,500 per transaction/$40,000 per month | Up to 48h | $60,000 | No |
| BetMGM | Instant | $50,000 | Up to 24h | $25,000 | No |
Advantages of PayPal betting sites
If you've made it this far and are still not convinced, then congratulations; you're one tough nut to crack. Hopefully, this list of advantages for PayPal that we've whipped up should finally succeed in changing your mind. There are many pros to using PayPal, which you should be able to see here.
The best PayPal alternatives
We've spent this entire page singing PayPal's praises, so it may seem weird for us to suddenly offer alternatives. However, we get that sometimes, PayPal isn't what a bettor is looking for, so we thought we'd put a few other choices out there.
When it comes to picking a payment method, in the end, nothing is ever going to beat personal preference. People have been using cards for years, and they're not going to die out any time soon. Cards like MasterCard or Visa are great options and also benefit from fast transaction times.
Most sportsbooks will also have their own branded Play+ card. These usually have the fastest transaction times, the best limits, and sometimes even some bonuses attached to them. Sportsbooks like to promote their Play+ cards, so we understand that they're sometimes the best option for the particular sportsbook.
Finally, if you want an e-wallet but refuse to use PayPal for any reason, there are alternatives like Skrill or Neteller, though be warned that these are not as popular as PayPal and will not be accepted in the same amount of sportsbooks.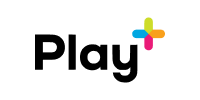 Gambling-specific card
Play+
The sportsbook Play+ card has quick transactions and high limits

Traditional card
VISA
The most popular card payment processor, accepted in almost every sportsbook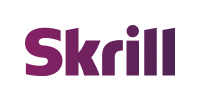 E-wallet
Skrill
A good and safe e-wallet alternative to PayPal
PayPal safety features
We understand that you may have safety concerns; however, we can assure you that you have nothing to fear when it comes to PayPal. PayPal is the most popular e-wallet for a reason and is trusted by most US sportsbooks and most companies in the world.
PayPal offers the highest security levels and even has its approval process for gambling partners. Before a sportsbook can even use PayPal, it has to prove to the e-wallet that it is safe and legit. If you see a sportsbook accepting PayPal, you know that the sportsbook had to go through a whole approval process just to have the honor of hosting PayPal on its site.
If that's not enough, PayPal also has its own fraud team. If anything goes wrong or seems suspicious, this team will be there to make sure that your money stays safe. Finally, we would like to reiterate that Time2play only recommends sportsbooks that have gone through a government-sanctioned licensing board and are publicly acknowledged as gambling providers in their states by these boards. So if you stick to the sportsbooks that we recommend to you, you should never have to worry about safety concerns.
Their own fraud team
Rigorous approval process
Anonymity on bank statement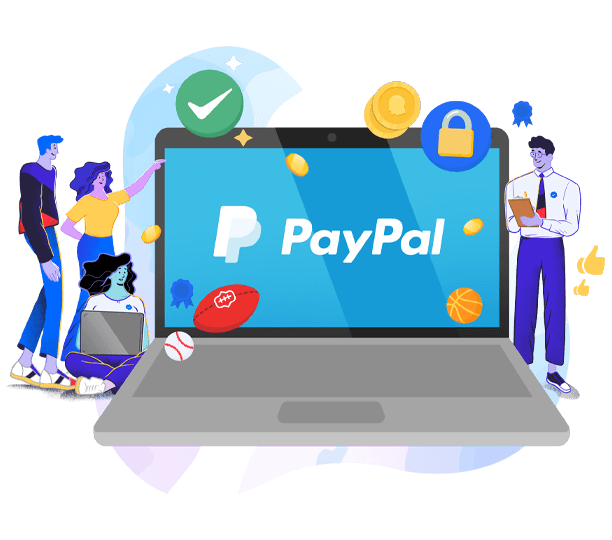 FAQs
Do any betting sites accept PayPal?
The benefit of using a popular e-wallet like PayPal is knowing that the best sites will accept it. You can safely expect most US sportsbooks to accept PayPal, though you should check the list above for what we consider to be the best options.
Can you use PayPal for betting?
What are the advantages of using PayPal?
Apart from being accepted virtually everywhere, PayPal also has fast transaction times, low fees, is easy to use and set up, and most important of all, is safe and anonymous. Check out our complete list of advantages.
How do I deposit into a sportsbook with PayPal?
Which betting apps accept PayPal?
Nearly all sportsbooks that accept PayPal will have native apps offering the same payment methods. Golden Nugget and BetMGM are some of our favorites but we suggest you take a look at the PayPal betting apps section to take your pick.
Is PayPal safe?
PayPal is extremely safe, as it makes all sportsbooks go through an approval process before allowing them to accept transactions with PayPal. It even has its own fraud department. For exactly why PayPal is safe to use, head over to our safety section.