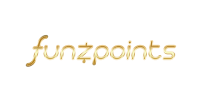 75
/100
Expert rating
by

Claire S.
Best similar casino
We're not in partnership with this casino. Consider our recommended brands below for a similar experience.
BetRivers casino
Bonus Money reload up to $500
Funzpoints launched in 2019 as a social and sweepstakes casino and has been going strong ever since.
Want to find out more? Let's kick off our Funzpoints casino review with a look at the basics – how the site works, the different playing modes, and how to claim bonuses.
Pros and cons
Daily jackpot prizes
Sweeps prizes available
Bespoke software
No loyalty program
No e-wallets available
Limited bonus offers
General ratings
75
/100
Expert rating
by

Claire S
How we rate
Our main score is the Expert Rating, which ranks casinos on over 60 criteria in eight different sections, including bonuses, games, safety, and more.
Read more
75%
Playscore
based on 6 critics
87 84
80
80
66
50
What is our Playscore?
The Playscore represents the average rating according to top critic sites for a given gambling operator.
Read more
General info
| | |
| --- | --- |
| Launch date | 01/01/2019 |
| Company behind | Woopla Inc. |
Best alternatives to Funzpoints casino
BetMGM casino
100% up to $1,000 + $25 Free Play
Caesars casino
100% up to $1,000 + $10 bonus bet + 2,500 Reward Credits
Borgata casino
$20 Bonus Dollars + 100% up to $1,000
Editor's note
This review is based on the operator's current offer. Data and analysis are accurate at the time of publishing, but may be subject to change as the operator's offer expands.
Expert verdict
Funzpoints casino is a basic online casino that offers both a social and sweepstakes experience. Our review revealed that you can play in Standard mode for entertainment purposes only and Premium mode for the chance to redeem Funzpoint casino real money prizes.
It's got a lot going for it, with a decent selection of games all powered by Funzpoints' bespoke software. The site runs really well, both on desktop and mobile browser.
There are a few caveats though. The overall amount of bonuses are low, and you'll need to play on Funzpoints Premium or make a purchase to have access to the whole games library.
The final verdict? I think Funzpoints is a good social casino for low-maintenance players, who want a more casual experience. If you're looking for a great overall experience however, there are better social casinos out there.
State differences
Being a social casino, Funzpoints is available in most US states. The only state Funzpoints is not available in is Idaho. As for the casino itself, Funzpoints has the same offering regardless of which state you currently reside in.
How does Funzpoints casino work?
Funzpoints is a social and sweeps casino that you can play for entertainment and play to win sweepstakes rewards. You can choose to play in the social or sweepstakes casino by selecting Standard mode or Premium mode.
Funzpoints casino rewards you with free funzpoints to play in the Standard casino every three hours along with tickets for the daily jackpot. You can play a limited selection of games here, all without needing to spend a time.
You can play in the Premium section of Funzpoints casino by purchasing premium funzpoints. You can redeem your Premium winnings after converting them to real money through Funpoints casino's funzwallet. You'll also have acces to the full game catalog in this section.
Bonuses — free spins, daily jackpots
Signing up immediately nets you 250 funzpoints, which can be spent on the free games in the Standard section.
You'll be eligible for a daily Funzpoints casino bonus every three hours via the funzwheel – one spin gives you a combination of Standard coins and tickets for the daily jackpot.
Bonus facts
| Bonus topic | Bonus fact |
| --- | --- |
| Sign-up bonus | 250 funzpoints |
| Bonus codes | N/A |
| Daily credits | One spin on the funzwheel every three hours |
| Free spins | N/A |
| Game specific bonuses | N/A |
| VIP rewards | N/A |
| Other bonuses | Facebook contests, jackpot |
The jackpot splits a prize pool of $1,000 between 100 lucky tickets every day. If you win you'll receive an email and you'll be listed on the daily post on Funzpoints casino's Facebook page.
You'll receive one ticket for every 500 funzpoints you win on any of the casino's games or when spinning the funzwheel. You'll enter the funzone with every 55 wins – you'll be able to collect extra tickets and random mystery boosters here.
There's the Funzpoints casino Facebook page, where you can stay up-to-date with the latest offers, game releases, and occasional contest. You won't need any Funzpoints promo code to claim offers.
Bonus rating
65
/100
Not enough bonuses
Free funzpoints every 3 hours
Facebook contests
Daily jackpot
Not many bonuses
FB contests posted rarely
When it comes to online casino bonuses, you won't find as many as Slotomania and BetRivers.net. However, there are still freebies that you can enjoy. You'll get a spin on the funzwheel every three hours, which is where you'll win Standard coins and tickets for the jackpot as a Funzpoints casino no deposit bonus.

There's also the jackpot itself, which lets you net Premium coins. If you keep an eye on their FB page, you'll find some contests posted though these can be quite rare.

Overall, it's just a very small offering, especially compared to the competition out there. I hope to see plenty more bonuses in the future, especially if Funzpoints wants to stand out in the crowd.
Games at Funzpoints casino
There are a total of 60 video slots at Funzpoints casino. How many you have access to depends on whether you're playing in Standard or Premium Mode. There are no table games or live casino games at Funzpoints casino.
In order to unlock the full Funzpoints casino slot catalog, you'll either need to play in Premium mode or make a purchase in Standard mode. The latter will unlock the portfolio for 30 days, after which you'll return to the basic games.
Games facts
| Games topic | Games fact |
| --- | --- |
| Expert's pick | Big City Heist |
| Total number of slots | 60 |
| Example top slot | Kongo's Adventure |
| Total number of jackpots | Local Jackpot |
| Example of top jackpot | Local Jackpot |
| Example of top table game | N/A |
| Example of top live casino games | N/A |
| Average RTP | 96.48% |
| Demo play | N/A |
Your game experience with Funzpoints casino won't change when switching devices. You'll have access to the same features whether playing on the Funzpoints casino mobile browser or on desktop. Funzpoints sweepstakes casino works on the latest versions of Chrome and Safari browsers.
Funzpoints casino slots are only available to registered players. There are no demo versions available and you won't be able to view Funzpoints casino unless you're logged in.
Games rating
50
/100
Good game selection but only on Premium
Total of 60 games
Available on all devices
Registration is required to play games
Only 15 games on Standard
It's always nice to have a selection of games to choose from – there are 60 Funzpoints casino slots on site. However, you won't have access to all of them if you do not opt for Premium play, which, of course, comes at a price.

If you choose Standard play, which is the free to play version of Funzpoints casino, you'll only have a choice of about 15 games. You can purchase more free coins and unlock the entire portfolio for 30 days, but that requires spending money – something that not every player may be willing to do.

You'll also need to register before you can even view Funzpoints casino, which sucks as it means you need to open an account before knowing if you like the way the site is laid out. There are no demo versions of the Funzpoints casino games – you'll need to spend free coins to try them out.

I would have given the site a better review score if I could access all the Funzpoints casino games without having to pay, but it is what it is.
Additional games details
Funzpoints casino slots
We've put together a table with some of the casino's most popular slot games (in Standard Mode) as part of our Funzpoints casino review.
| Slot title | Software provider | Paylines | Key features |
| --- | --- | --- | --- |
| Kongo's Adventure | Woopla | 20 | Wild, Scatter, Free Spins, Bonus Round, Multipliers |
| Enchantress Luna | Woopla | 50 | Wild, Enchanted Mirror, Bonus Scatter, Enchantress Bonus, Free Spins |
| The Java Cafe | Woopla | 20 | Wild, Free Spins, Bonus Round, Multipliers |
| Maximo the Magnificent | Woopla | 10 | Wild, Free Spins, Maximo the Magnificent Bonus |
| Bombon Bash | Woopla | 30 | Bonus Round |
Software at Funzpoints casino
Every game available on Funzpoints is bespoke – meaning the games are developed in-house by Woopla Inc, Funzpoints casino's operating company.
Software facts
| Software topic | Software fact |
| --- | --- |
| Best software at the casino | Woopla |
| Number of software providers | 1 |
| Best live software provider | N/A |
| Bespoke software | Yes |
| Download software | N/A |
Playing at the best online casinos that only have bespoke software like at Funzpoints means you'll get a unique experience. The game themes at Funzpoints casino are quite varied with plenty of different themes.
Available software
Woopla
Software rating
70
/100
Great variety of themes, but the features are too similar
Bespoke provider
Plenty of game themes
Games have the same layout
I like that Funzpoints casino has bespoke software as the games offer a unique experience that you won't find at real money casinos. There's also a variety of themes like jungle and magic.

However, the slots all seem to have the same layout. What's more, there isn't much difference between the features, so although Funzpoints casino slot themes are different, you'll be playing the same game for the most part.

This could be solved if Funzpoints was willing to add outside software providers, and a live provider would also be nice to see, but right now Funzpoints is making do with its exclusive games.
Payments at Funzpoints casino
You can purchase funzpoints (the casino's virtual currency) using Mastercard, AMEX, and VISA. You can do this on desktop or through the browser on your phone or tablet.
The Funzpoints casino Standard mode is a social casino – this means you won't be able to withdraw any of your winnings. If you want payouts, you'll need to play in Premium mode. Funzpoints casino offers prize redemption using the same credit card used for purchasing currency.
You'll need to verify your age before receiving your first prize redemption from Funzpoints casino. The site's team will need to approve your request, after which you'll need to wait up to ten business days to see your funds in your bank account.
Payment facts
| Payment topic | Payment fact |
| --- | --- |
| Total number of payment methods | 3 |
| Best purchase method at the casino | Mastercard |
| Min. purchase limit | $4.99 |
| Max. purchase limit | $99.99 |
| Average purchase time | Instant |
| Redeem prizes | Yes |
To redeem real money prizes from Funzpoint casino's Premium mode, you'll need to transfer your winnings to your funzwallet by clicking on the 'Cash Out' button. This will break down the number of funzpoints you have versus the cashable funzpoints. You can transfer funzpoints to your funzwallet for safekeeping or to request a payout from Funzpoints casino.
Deposit methods
Withdrawal methods
Payments rating
75
/100
Not enough payment methods available
Major credit cards accepted
No e-wallet payment options
PayPal not available
You don't need to make any purchases at Funzpoints, what with it giving out free funzpoints every three hours. Still, you can always choose to purchase more if you'd like to keep gaming a bit longer.

I'm not too crazy about the fact that you need to disclose your credit card details. I think it would be much better to have other options like PayPal or Skrill.

The paid options give other perks at Funzpoints casino. These include the removal of ads on the Funzpoints casino app, boosters, and access to the entire game catalog.
Is Funzpoints safe?
Funzpoints casino has a strong reputation that is backed up by thousands of social media followers, positive reviews, and high scores in online gambling sites reviews. You can play at Funzpoints casino anywhere in the USA except in Idaho.
Funzpoints is a safe social and sweepstakes casino that uses high-tech encryption to safeguard your personal information and activity. You'll also need to verify your identity before redeeming prizes. Finally, you need to be at least 18 years old to be able to play at Funzpoints casino slots.
Safety and other key company facts
| Safety topic | Safety fact |
| --- | --- |
| License | N/A |
| RNG auditors | N/A |
| SSL encryption | 218-Bit |
| Legal age | 18 |
| Company behind | Woopla Inc. |
| Established | 2019 |
If you're a Premium player, you'll need to provide personal identifying information before being allowed to redeem prizes at Funzpoints casino. You'll need to give your name, address, date of birth, and the last four digits of your Social Security Number.
An additional layer of security is the option to set your gaming limits at Funzpoints casino. Real money and social casinos offer this as part of their responsible gaming protocol. You can set your budget or choose to self-exclude for a while. You can close your account permanently by emailing the customer support team.
Safety rating
85
/100
You'll feel safe at Funzpoints casino!
Latest SSL encryption technology
Importance to responsible gaming
Age verification necessary
Not accessible in ID
RNG seals not visible
A quick Funzpoints casino review is all you need to find all the safety information – that's how easy it is to find. First off, you've got the high-tech encryption protocol. Then, the site asks you to verify yourself when using the Premium version of Funzpoints casino. This is to make sure you are at least 18 years old.

Funzpoints casino gives importance to responsible gaming, which is always a plus. You can suspend or close your account at any time you wish by contacting the Funzpoints casino customer service team. You can also set limits to help you budget and control your spending.

My only real complaints are two – the first being that the RG seals are not visible and the second being that you cannot play at Funzpoints casino if you are in Idaho.
Support
As far as customer service at Funzpoints casino goes, you'll have FAQ, and email options to choose from. Although Funzpoints doesn't offer a live chat service, you can message the casino via its Facebook page.
Support facts
| Support topic | Support fact |
| --- | --- |
| Customer support availability | Not disclosed |
| Live chat | N/A |
| Email | [email protected] |
| Phone | N/A |
| On-page support | FAQ and Help section |
We've found the site usually resolved matters within one hour. However, if your inquiry requires more complex insight, the customer support team may take up to two business days to close the case.
Support rating
85
/100
Excellent customer support, as long as you can wait.
FAQs available on site
Email support
No live chat available
Long wait times
I have mixed feelings with regards to Funzpoints' customer support. The agents themselves where very helpful and informative, but the actual options available are limited and the wait times are quite long.

There is an FAQ section that also gives you the contact details for email support. It's a chore to read through, but it does give a lot of useful information, so bonus points for that. It should be enough to deal with any problems you might have.

Funzpoints casino doesn't offer a live chat service or phone support like most real money casinos, but you can contact the site via its Facebook page. Someone will get back to you within a few hours.

If you do end up needing an agent, there's the email or Facebook messages. It's a low amount of options, and your minimum waiting time will be about an hour. The responses are worth the wait, so I've still given a high score, but I certainly expected more options and faster responses from this casino.
Usability at Funzpoints casino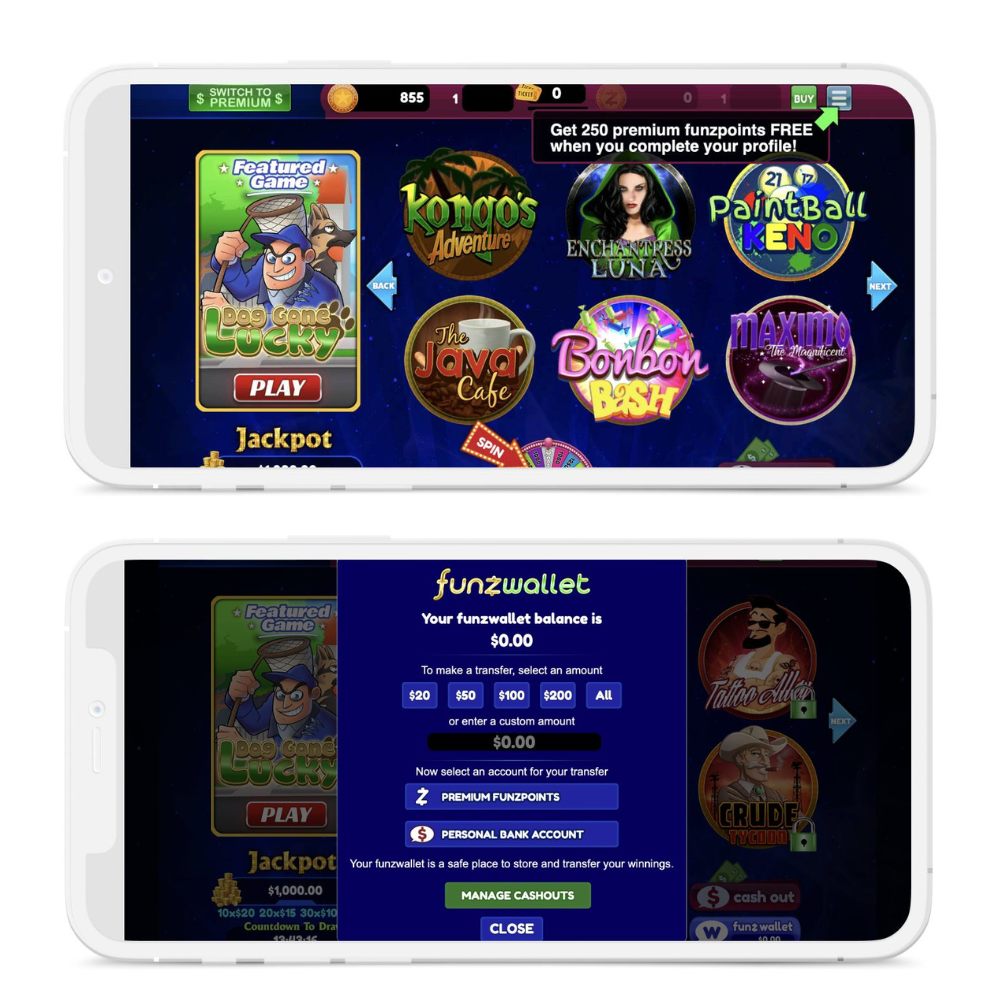 Funzpoints casino is intuitive to navigate. The bright colors separate the different elements of the site, making it easy to get from one to another. The experience doesn't change when changing devices, meaning you can play on tablet, desktop, or mobile.
Usability facts
| Usability topic | Usability fact |
| --- | --- |
| Mobile app | Web browser |
| Game filters | N/A |
| Search function | N/A |
| Mobile game availability | Full suite |
| UX rating | Excellent |
| Other products | N/A |
There are no filters or search options in the Funzpoints casino lobby. This means you'll need to look for the slot machine you want to play by clicking on the arrows on either side of the screen.
Since there is no Funzpoints casino app, you can access the site through a browser. However, the social casino is only available on the latest versions of Google Chrome and Safari.
Usability rating
85
/100
Hashtag no filters
Intuitive navigation
Contrasting colors
Full catalog on mobile
No filters or search function
Not available on all browsers
I'm quite pleased with the usability of Funzpoints. I found the colors were carefully chosen to ensure easy navigation. This is true for any device, including when browsing Funzpoints casino on the mobile browser.

I'm not too crazy about is that there are no filters or search bars at Funzpoints casino. I don't particularly enjoy clicking through pages to find the game I'm looking for.

You can also access Funzpoints mobile casino via a browser – just keep in mind that you'll need the latest version of Google Chrome or Safari to do so as the site isn't available on any other browsers.