Best online betting sites Dec 2023
The best US sports betting sites will offer you a great betting experience. But with so many to choose from, where do you even start?
Our experts will share their list of betting sites where you'll get the best sports betting experience and some tasty bonuses.
If you're an avid sports fan looking at cashing in on their knowledge, or just looking at adding that extra bit of excitement, read on.
In Brief: The best online betting sites 2023
🥇 Caesars sportsbook — Up to $1,250 Stakeback + 2,000 loyalty credits
🥈 BetMGM sportsbook — Up to $1,000 back in Bonus Bets
🥉 Borgata sportsbook — Bet $20 get $100 in Free Bets
⭐️ bet365 sportsbook — Bet $1 get $200 in Bonus Bets
⭐️ OwnersBox sportsbook — 100% match up to $500
⭐️ Fliff social sportsbook — 100% up to $100 FC
⭐️ ParlayPlay sportsbook — 100% match up to $100 + $5 Promo Pick
⭐️ DraftKings sportsbook — Bet $5 get $200 in free bets
Sportsbook Logo
Odds rating
Bonus
Go to sportsbook Button
Show more
T&C

1

Caesars sportsbook review

90

/100

Expert rating

by Ian Z.

94%

Playscore

based on

Up to $1,250 Stakeback + 2,000 loyalty credits

Play now

Good to know

Excellent rewards program
Fast payouts
Bet on 20 different sports

9 payment methods

Play now

2

BetMGM sportsbook review

85

/100

Expert rating

by Anna M.

91%

Playscore

based on

Up to $1,000 back in Bonus Bets

Play now

Good to know

Strong odds on football
Stellar customer support
Live streaming and live data

14 payment methods

Play now

3

Borgata sportsbook review

85

/100

Expert rating

by Ian Z.

85%

Playscore

based on

Bet $20 get $100 in Free Bets

Play now

Good to know

Great odds on football
Regular parlay boosts
Bet on 19 different sports

14 payment methods

Play now

4

BetRivers sportsbook review

83

/100

Expert rating

by Ian Z.

86%

Playscore

based on

Second Chance Bet of up to $500

Play now

Good to know

Many regular promotions
Huge number of sports
Trusted by many state licensors

6 payment methods

Play now

5

bet365 sportsbook review

82

/100

Expert rating

by Ian Z.

89%

Playscore

based on

Bet $1 get $200 in Bonus Bets

Play now

Good to know

Several user-friendly offers
Large parlay boosts
Includes virtual sports

21+. Gambling problem? Call 1-800-Gambler (call or text in Colorado).

6

OwnersBox sportsbook review

80

/100

Expert rating

by Anna M.

87%

Playscore

based on

100% match up to $500

Play now

Good to know

Twist on the traditional
User-friendly DFS platform
Available in 37 states

7

Fliff social sportsbook review

80

/100

Expert rating

by Ramona D.

83%

Playscore

based on

100% up to $100 FC

Play now

Good to know

Good sport selection
Offers college sports
Available in 41 states

5 payment methods

Play now

8

ClutchBet sportsbook review

79

/100

Expert rating

by Paul P.

80%

Playscore

based on

100% up to $1,000 in Free Bets

Play now

Good to know

Live micro-betting
Same-game parlays
Excellent customer support

9

ParlayPlay sportsbook review

78

/100

Expert rating

by Anna M.

86%

Playscore

based on

100% match up to $100 + $5 Promo Pick

Play now

Good to know

Mix of DFS with sports betting
Members Club rewards
Available in 27 states

4 payment methods

Play now

10

DraftKings sportsbook review

76

/100

Expert rating

by Anna M.

92%

Playscore

based on

Bet $5 Get $150 in Bonus Bets + a daily No Sweat SGP

Play now

Good to know

Official NFL partners
Great football betting options
User-friendly bet builder

11 payment methods

Play now

11

SugarHouse sportsbook review

75

/100

Expert rating

by Ramona D.

89%

Playscore

based on

Second Chance Bet of up to $500

Play now

Good to know

High number of markets
User-friendly interface
Available in CT, NJ, PA

10 payment methods

Play now

12

Betsafe sportsbook review

75

/100

Expert rating

by Melanie H.

78%

Playscore

based on

Second Chance Bet up to $500

Play now

Good to know

Unique sports to bet on
Wide range of payment methods
Great app design

10 payment methods

Play now
The three best betting sites in USA – a closer look
Choosing the best betting sites in USA can be quite a challenge at the best of times. There are a lot of things to consider, from cash-out speeds to the generosity of the platform's bonuses.
Using our advanced data-driven rating system the sportsbooks mentioned below have come out as the three best US betting sites. We've broken down these down in more detail so you can decide where to wager from your desktop.
🥇 Caesars sportsbook site
Live streaming of NFL matches
Speedy payouts
Fantastic rewards program
Caesars is a giant of both the casino and sports betting markets across the US. They have a long history of offering high-quality products and services, and their sportsbook is no exception.
The Caesars sportsbook app is available on both desktop and mobile devices. It is a user-friendly app that offers a variety of features.
The website is very easy to use and navigate. You can find the sports and markets that you are interested in quickly and easily. The odds offered by Caesars are competitive, so you can get good value for your bets.
🥈 BetMGM sportsbook site
Smooth desktop navigation
Healthy betting odds
Top class live chat
BetMGM is a well-established name in the US sports betting industry. They have been operating since 2018 and have a wide range of products and services, including a mobile app.
The betting markets offered by BetMGM are very extensive. You can wager on a wide variety of sports, including football, basketball, baseball, hockey, soccer, and more. You can also bet on individual games, as well as futures markets.
Their live streaming feature allows you to watch live sporting events on your desktop or mobile device. This is a great way to follow your favorite teams and players, and to make live bets.
🥉 Borgata sportsbook site
Best football odds out there
Bet on 22 diferent sports
Live sports streams and stats
Borgata is a popular online sportsbook that is operated by two of the biggest names in gambling: MGM Resorts International and Entain Holdings. This shines through in their easy to use website that works well across all devices.
They offer a welcome bonus worth up to $1,000, and you can bet on 22 different sports with over 250 betting options per match in some of them. Regular odds boosts on parlay bets help sweeten the deal, and the football odds are great.
The best betting sites in USA by category
Each sportsbook has its good points and there are many factors that go into choosing the top online betting websites. We've covered the strong points for what we consider are the best sports betting sites.
You can always customize your choice based on the betting site qualities that are most important to you, the bettor.
For example, if you play exclusively on mobile you want access to the best sports betting apps you can fire up on the go.
If you're interested in the best NFL be (not forgetting the NCAAF) then you'll want a sportsbook that is best set up for football bets.
Choosing the best online betting sites by sport
Whether you're a sports nut that follows all sports or you just like betting on the occasional football game, you want to make sure the sportsbook you pick is right for you.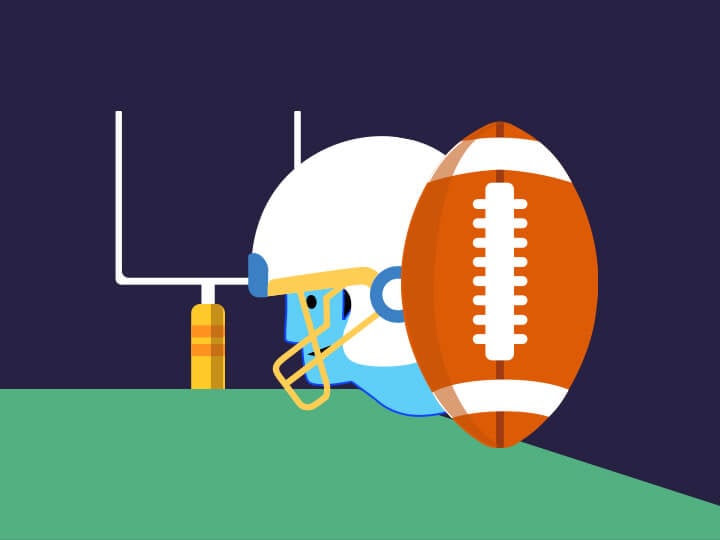 Football betting sites
Who doesn't love a football parlay? Always look at the betting site's daily offers for parlay boosts + parlay insurance for NFL wagers.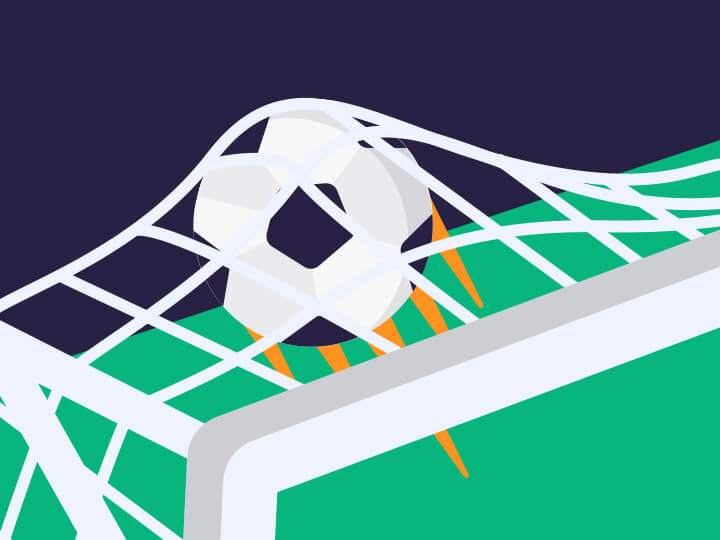 Soccer betting sites
Some of the best sportsbooks in the US offer over 300 different wagers per game allowing the player to drill down into each event within the match.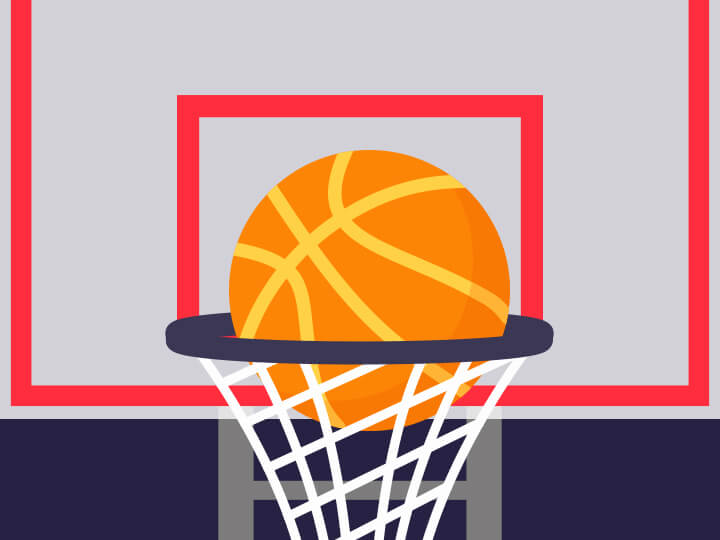 Basketball betting sites
The best basketball sites offer NBA, NCCA, and basketball leagues from around the world, with around 100+ wagers on major matches.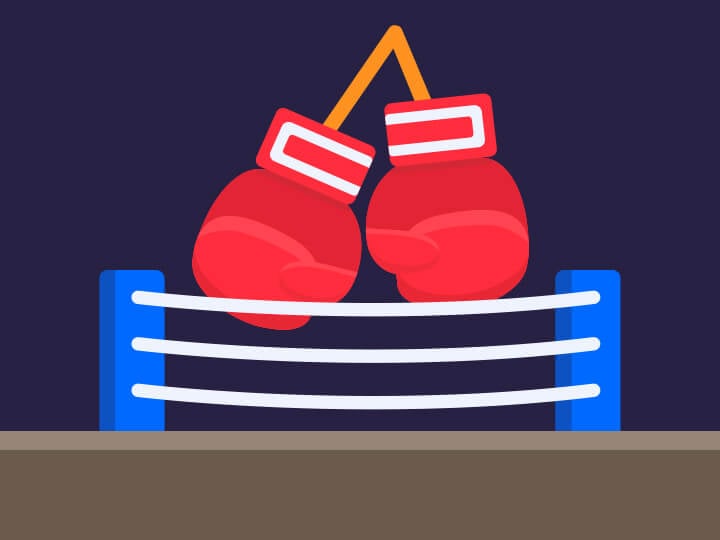 Boxing betting sites
With fewer markets, most betting sites will only offer a 1×2 straight bet. A good boxing online betting site offers more wagers with round betting and other in-fight bets. 
Picking the best betting sites by major events
Major events like the NFL, NBA, NHL, and MBL not only bring the bettor the possibility to bet on each individual match. They give players a chance to bet on what's called future bets.
The bets will have some of the most interesting odds (and lucrative, if you win) you'll find, and are normally related to which team or player will win a particular tournament. It's not unusual that at the start of the season picking the tournament winner will have odds of more than +500 — and that's for the favorite. Other teams may go well above +1,000, sometimes even above +10,000.
Each type of sport has several tournaments not just in the US but all around the world. We'll go through some of the major events and what to look for in a betting site when choosing your favorite sportsbook.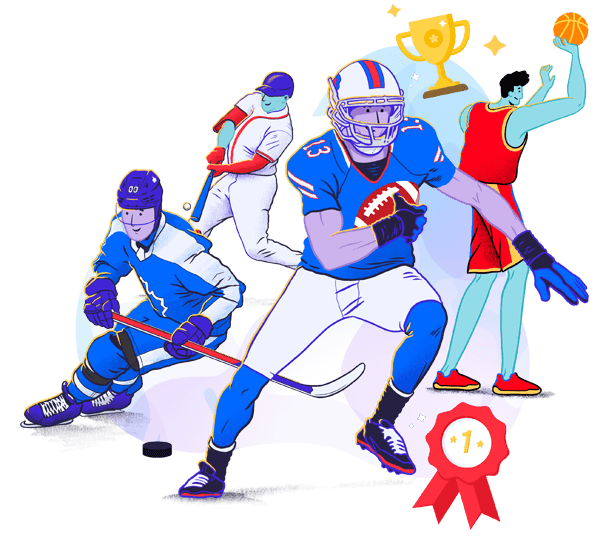 NFL betting sites
Between September and January, weekends are mostly about football. Sportsbooks know this and a good betting site will offer some great bonuses on NFL matches to new and existing players. So always look out for NFL betting sites that offer promotions such as parlay insurance or bet boosts before placing your wagers. Betting sites sometimes have special partnerships too — for example, plenty of PA sports betting sites run exclusive deals with the Eagles and the Steelers.
NBA betting sites
With more than 80 games in the season, NBA action will have any basketball player glued to their devices. Thirty teams battle it out throughout the season to be able to compete in the NBA best-of-seven finals. Look out for bet boosts and parlay insurance when betting on seasonal matches.
NHL betting sites
The National Hockey League brings together 32 teams (25 from the US and 7 from Canada) to compete in a series of 82 matches between October and April. The playoffs — happening between April and June — will decide who will take home the Stanley Cup.
Other important types we take into consideration
Sports is the main event, but we also look at some other categories that can make a bet site interesting to players. We're talking about the new sportsbooks on the block, or those online sites that excel in live bets (check out our BetRivers sportsbook review for that one!) and even ones that offer lightning fast payouts. In this section, we talk about why these other categories may be of interest to sports bettors.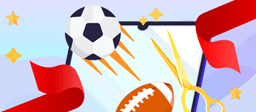 New betting sites
What do we mean by new betting sites? Normally 'new' means new to the online market in the US. Unibet, for example, has a long history in Europe but they are relatively new to our shores.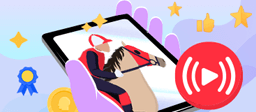 Live betting sites
Any good sportsbook will offer live betting. Here we're looking at those sites that have the quickest updated odds and the most user-friendly live betting system. Borgata and BetRivers are a great example of live betting sites with their sleek live betting user interface.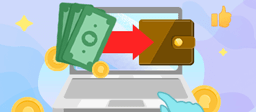 Betting sites fast payout
Payout times are greatly affected by the type of withdrawing method you use so here we focus on how long it takes a sportsbook to process the withdrawal. Golden Nugget, for example, offers instant withdrawals on some of their payment methods (such as Play+).
Betting apps vs mobile betting sites
What's better: betting apps or mobile betting sites? The truth is that this is all up to personal preference. It also depends on the mobile app versus the mobile site of your sportsbook of choice. Most of the time a sportsbook betting app will mirror their mobile betting site so you can have a similar experience. However, there are some sportsbooks that only have a mobile app and you aren't able to access their sports betting site via your desktop.
Betting apps
Quick and easy access
App-specific bonuses
Possibility of better gamification
User interface may be limited
Drain your mobile battery
May also drain your data
Mobile betting sites
Same user experience as desktop
No need for extra apps on your phone
May not be fully optimised for small screens
Navigation can be tricky
Betting site reviews: how we rate them
Real money betting sites may be quite a new addition to the US gambling scene. However, the market is already full to the brim with competitive players. So how do we choose which betting sites will take the top spot?
We start off by only including sportsbooks that are regulated under US law. Then we move on to dissecting each sportsbook along a list of criteria we believe are the most important at giving you, the player, the best experience.
There's a number of factors we take into consideration when rating our list of betting sites. We start out with the most important ones: the number of sports (and markets for each sport) and the odds provided by each online betting site. These two areas make the foundations for a solid betting site, but it doesn't end there.
Next, we have a look at the promotions on offer and here we look at bonuses for both new and existing customers. Then, we look at betting features such as parlays, live betting, cashouts. etc. Finally, we take a look at their mobile offering, their payouts section, the legal structure behind their sportsbooks, and also their customer support offering.
Sports markets
One of the main building blocks for a successful sportsbook is to offer a number of sports for players to bet on. A good sportsbook will have at least 10 different sports at any one time. A great one will have over 15.
We also look at each individual sport to check the number of markets for each sport. A betting market is made up of different elements of an event. The most used markets for football for example are the moneyline (where you pick the winner), the point spread, and total points. But the action doesn't stop there. Football betting sites can easily have over 150 events per match to bet on. An NBA game can have around 100 events and some NHL games can even have around 200 events.
However, it's probably soccer where the number of events is highest. On the best soccer betting sites you'll easily find English Premier League and Champions League matches boasting around 400 markets per game.
Sport betting odds
Betting odds are the basic building blocks of the betting market and when choosing a sportsbook you need to make sure they are providing their players with good odds. What are good betting odds? Well, a sportsbook or bookmaker will always have a slight advantage on any bet placed — this is commonly known as the house edge. This is similar to the 4% house edge on slot machines and the 5.26% on roulette. This is why the cliché 'the house always wins' is true.
A sportsbook will add a tax on every bet (known as the juice). The standard juice is -110 (which you normally see on spread bets). This means that for every dollar you bet you'll pay the house an extra 10c. This juice tends to vary between one bet and another and it will vary between one betting site and another. However, it doesn't tend to change between different states. For example, West Virginia online sports betting odds should be no different to the odds you'll get on Michigan online sports betting.
There are several calculators online that you can use to find out the house edge before you place a bet. We like seeing payout percentages around 96% for opening bets and around 94% for live betting.
| Market | Margin | Top pick |
| --- | --- | --- |
| General odds | ≈96% | FanDuel |
| Live odds | ≈94-95% | SugarHouse |
| Football | ≈96% | SugarHouse |
| Basketball | ≈96% | FanDuel |
| Hockey | ≈96% | Caesars |
*These picks are a result of mathematical workings done by our experts during November 2021.
Sport betting features
Once you have your sports markets and betting odds in place, it's time to look at what features set a particular sportsbook apart from the competition. Without doubt one of the most important and powerful features is the cashout. You want a sportsbook that is quick to update cashout amounts and doesn't lock this option for a long period of time when the action is happening.
A great online betting site will have live streaming available for some matches (but keep in mind major matches might not be available due to TV licensing restrictions). If live-streaming isn't available, the sportsbook should have live tickers with the latest data and sports animations showing you what's happening in the match.
Finally, you need to look at betting options and how easy and user-friendly their bet builder is. You want to be able to choose your bets seamlessly and have the bet builder calculate the odds and payouts immediately.
Accurate and quickly updated cash out
Live betting covering all of the major events
Live streaming and ticker animation available
Bet builder is intuitive and quickly calculates odds and payout
Easy parlay builder
Sport betting offers
Welcome bonuses are important when choosing a sports betting website from our sportsbook list. Many will offer a risk-free bets (sometimes up to $1,000) or a bet match promo and these are a great way to start your online betting journey.
However, make sure to also have a look at current promotions available for existing players. You want an online betting site that offers extras such as parlay boosts, parlay insurance, boosted odds on specific events, even a refer-a-friend bonus. These different offers will help you narrow the house edge and get more from your wagers.
Mobile
The top sports betting sites will have a platform that seamlessly works either by accessing the site via your mobile browser or a betting app. If a site has both, the two platforms should mirror each other and have the same user experience. Both types of platforms should be glitch-free and offer the full set of features available on the desktop site. On a native app, we're also looking at features that make the experience even more user-friendly and secure. An example of this is being able to sign in using face recognition for example, rather than entering your password manually.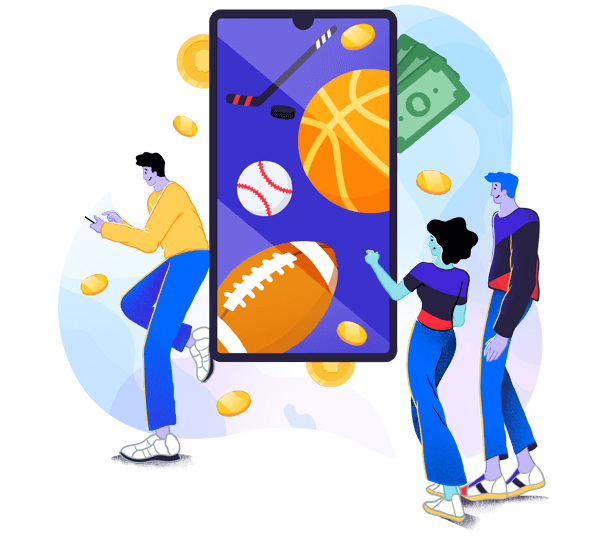 Safety
We only rate and review legal sports betting sites. You can check if sports bets are legal in your state by visiting our online sports betting page. If online betting sites are legal within your state they'll always show the logo of the licensing agency somewhere around their site (normally in the footer). Here we're looking for trust seals and logos of, for example, the DGE at NJ sports betting sites. After that, we also look at the transparency of bonus terms, their responsible gambling promise, and if they proactively take care of their players. Other factors we consider: if partnered with a land-based casino, their list of awards, and positive user reviews.
Payment methods
This is an important point when choosing what is the best sports betting website for you. You need a sportsbook that offers a range of different betting payment methods. We're ideally looking at more than 15 methods here, but if a sportsbook has more than 10 payment methods then it's satisfactory. Ideally, you'll be able to deposit and withdraw through the same method, and we like to see providers such as Play+ and PayPal in the list. In a perfect world, there should be no fees to deposit or withdraw.
American Express

Apple Pay

e-Check

MasterCard

PayPal

Play+

paysafecard

Skrill
Visa

VIP Preferred
Customer support
For an online betting site to be counted among the best online gambling sites, we expect a very high standard of customer support. We're particularly looking at around-the-clock support with quick queuing.
It's important for sportsbooks to also have a live chat option together with email support and a phone number. Finally, we expect a rich FAQs section with a powerful search option so any player is able to find the answer to their questions quickly.
We give more points when these features are available for users who haven't yet registered to the sportsbook. It's also important that they're easy to find. If you're having an issue, one or two clicks should get you chatting to the support team, you shouldn't need to bash your keyboard like the pro gamers the esports betting crowd are shouting for.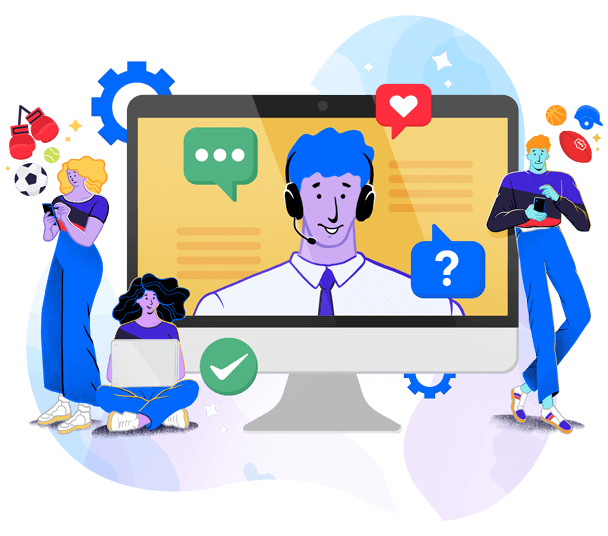 You — the user
Here at Time2play your opinion matters and in fact, it's an important part of our rating system. We want players to share their experiences whether these are positive or negative ones.
We are firm believers in the power of community and we want to create a space where information is freely shared so we can all enjoy the best online sports betting experience. This is why we value our user reviews and encourage each player to share the good, the bad, and the ugly of online betting sites.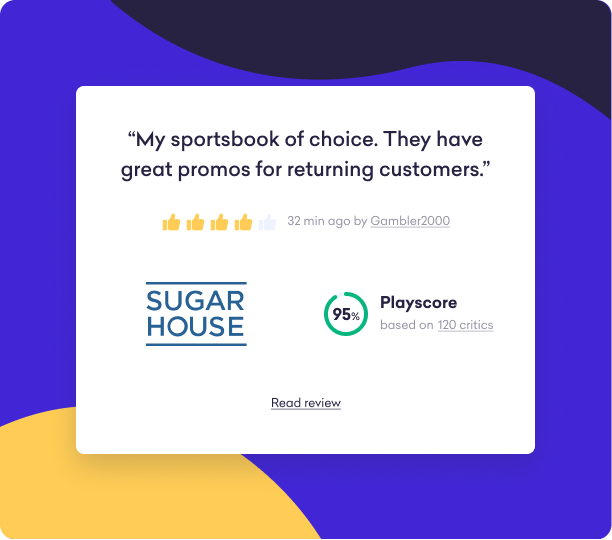 Blacklisted betting sites
There are many offshore betting sites that promise you the moon. However, keep in mind that these sites aren't regulated by your local government, meaning US law doesn't have any jurisdiction over their practices.
They might offer huge bonuses but reading through the terms and conditions you'll notice impossible wagering requirements. Withdrawals too can be tricky, and worst of all is that there is no local agency you can take a dispute.
Finally, always remember that setting up a casino requires you to part with some very sensitive personal data. With offshore sportsbooks, you never know what is happening with your data as, again, there are no regulations the operator needs to adhere to.
This is why we always make sure to only include legal US sportsbooks in our reviews and keep the blacklisted ones as far away from you as possible.
FAQs