Betr social betting app review and promo code 2023
80
/100
Expert rating
by

Paul P.
Best similar sportsbook
We're not in partnership with this sportsbook. Consider our recommended brands below for a similar experience.
Fliff social sportsbook
Pros and cons
24/7 customer support
Available in 41 states
Loyalty programs
Limited sports
Limited payment methods
No live chat
General ratings
77
Betting features rating
75
Sports and markets rating
How we rate
Our main score is the Expert Rating, which ranks casinos on over 60 criteria in eight different sections, including bonuses, games, safety, and more.
Read more
83%
Playscore
based on 8 critics
96
96
89
85
80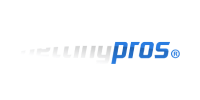 76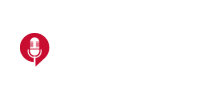 76
66
What is our Playscore?
The Playscore represents the average rating according to top critic sites for a given gambling operator.
Read more
General info
| | |
| --- | --- |
| Launch date | 01/09/2023 |
| Company behind | Betr Media |
Best alternatives to Betr social sportsbook
OwnersBox sportsbook
ParlayPlay sportsbook
100% match up to $100 + $5 Promo Pick
BetRivers sportsbook
Second Chance Bet of up to $500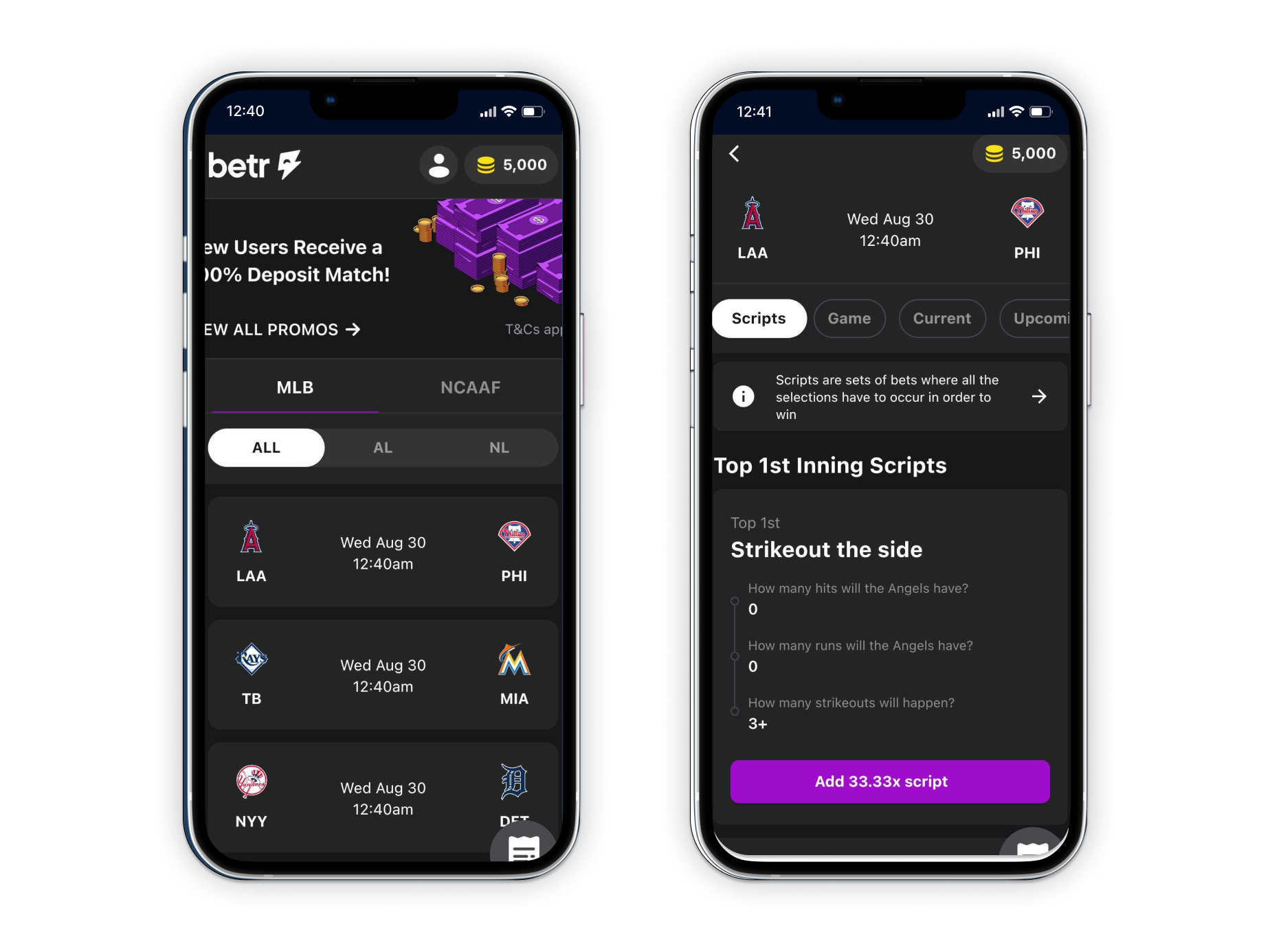 Betr sportsbook promo code and bonuses
Betr social sportsbook extends a warm welcome to new players with a purchase match bonus of up to $100 for deposits of $50 or more. No bonus codes are necessary to claim this enticing offer.
Loyalty points can be earned by placing bets using free Betr Coins and Betr Cash. These points can then be exchanged for valuable prizes. On-site rewards like Betr Coins are also available, but they can't be used to redeem real-life rewards.
Bonus facts
| | |
| --- | --- |
| Sign-up bonus | 100% deposit (purchase) match up bonus up to $100 |
| Wagering requirements | 1x |
| No deposit bonus | No |
| Risk-free bet | No |
| Other bonuses | Loyalty program, tournaments, daily boosted odds |
Bonus rating
75
/100
Could be better
Loyalty program
Generous welcome bonus
Daily boosted odds
The Betr welcome bonus provides a solid opportunity for bettors looking to amplify their bankroll through a 100% deposit match. I was content with this bonus as it effectively doubled my play funds. While this $100 deposit match might not be as substantial as promos from other US sportsbooks, it still delivers a worthwhile boost to bettors. It's important to remember that Betr isn't a full-fledged sportsbook or DFS platform. Rather, it provides a chance to engage in sports betting without using real money.

In this Betr online social sportsbook review, I found the existing player promotions to be somewhat lacking, which was disappointing. Nevertheless, the loyalty program makes up for this shortfall. Additionally, prizes can be won through Betr's tournaments by placing bets and achieving winning outcomes. With each bet and victory, you'll accumulate points. The participants with the highest points at the tournament's conclusion can claim prizes in the form of Betr Coin and Betr Cash rewards.

Although daily boosted odds are on offer, I still believe that the variety of bonuses is somewhat limited, especially when compared to DFS and traditional sports betting platforms. However, it's worth noting that the promotions available at Betr can certainly provide bettors with ample entertainment.
Betr sports and markets
At Betr social sportsbook, you have the opportunity to engage with six distinct sports, with seven competitions covering those categories. All the major league sports are well-represented, and you also have the option to place wagers on NCAA football games.
Market facts
| | |
| --- | --- |
| Number of sports markets | 6 |
| Markets per match (football) | 8 |
| How many competitions | 7 |
Sports and markets rating
75
/100
Quality with very little quantity
Markets for all major league sports
Betting lines for NCAA football games
For someone who enjoys major league sports, I was thrilled to observe that Betr's sweepstake sportsbook offers odds for these competitions. The array included moneylines, point spreads, and totals for every NFL, NBA, MLB, and NHL game. 

Additionally, there were odds provided for some MLS matchups. It's noteworthy that Betr also supports predictions for NCAA football, with a wide coverage of most games. This holds up quite well when compared to established fantasy sports sites like OwnersBox.

I was disappointed at the limited sports selection at Betr online social sportsbook. The sportsbook falls short in offering betting lines for other popular US sports such as tennis or golf. Moreover, there's an absence of niche sports like NASCAR or MMA. 

While Betr's sportsbook might not appear as comprehensive as a stand-alone social betting app, it certainly lays the groundwork for a promising foundation. Hopefully, the platform will continue to build upon these strengths.
Betr social sportsbook betting features
The standout betting feature available at Betr online social sportsbook is the cashout option. This enables you to conclude a wager ahead of time and secure a slight loss or profit, based on the evolving dynamics of the event.
While you can make combination bets (parlays), you can't do the same for bets within a single game. Also, Betr social betting app offers live information and stats during games, but there's no live streaming.
Feature facts
| | |
| --- | --- |
| Cashout | Yes |
| Bet Builder | Yes |
| Live stream | No |
| Live betting | Yes |
Betting features rating
77
/100
Limited features available
Social betting
Cashout available
Betr's main attraction is its unique social and sweepstake sports betting. On their app, you can choose between two types of currency. Betr Coins lets you make predictions without using real money, but you can't win real money from these bets. 

On the other hand, you can buy Betr Cash with real money, and later exchange it once you're done betting. This special feature caught my attention and appeals to both casual and experienced bettors.

However, Betr's range of betting features is quite limited. While the cashout option is there, it didn't impress me much. There's no live streaming, no possibility to make combination bets within one game, and the live betting stats aren't very detailed. 

Overall, what makes Betr attractive is its social and sweepstakes betting, which will draw in many players. Yet, if it aims to compete with the top online sportsbooks, it needs to offer more choices.
Odds at Betr online social sportsbook
Betr's payout rate stands at 95%, which is around average in the industry. The best odds are found in NFL markets, where payouts reach 95.5%. Especially appealing is Betr's platform, which makes it easy to see odds even during live events.
Odds facts
| | |
| --- | --- |
| Average payout | 95% |
| Football payout | 95.5% |
| Live payout | 93.% |
| Boosted odds available | No |
Odds rating
76
/100
Average overall offering
Good NFL and NBA odds
Solid in-play odds
Average overall payouts
Low live odds
Regarding odds, my take in this Betr social sportsbook review is a bit mixed. While you can play for money, many players choose to play for free. It's a letdown that Betr doesn't offer competitive odds for these players, even though the risk is lower. 

Still, there are good odds to consider at Betr. Particularly noteworthy are the favorable odds for NFL moneylines. Plus, live betting odds give bettors a good shot. Keep an eye out for daily boosted odds that slightly improve payouts.

In conclusion, Betr's sweepstake sportsbook offers odds that should keep players satisfied. However, given the limited markets and the number of free players, it's disappointing that the odds aren't more competitive.
Payments at Betr betting app
This Betr online social sportsbook review found five different payment methods, allowing you to purchase on-site currency. You can use Visa, Mastercard, and online bank transfers to add funds directly from your bank account. Additionally, e-wallets such as PayPal and Skrill are also accepted. Purchases made on-site are processed instantly, and Betr doesn't charge fees for deposits or withdrawals.
Payment facts
| | |
| --- | --- |
| Total number of payment methods | Five |
| Min deposit limit | $10 |
| Min withdrawal limit | $10 |
| Max withdrawal limit | $5,000 |
| Average deposit time | Instant |
Payments rating
80
/100
Decent offering for a social sportsbook
E-wallet option
Reputable payment methods
I found the variety of payment methods at Betr to be impressive, considering that many bettors will bet for free. While the selection might not be extensive, every payment option I encountered was reliable and reputable. 

In the US, not all betting sites have embraced e-wallets, so I was pleased to see Betr stand out by welcoming PayPal and Skrill. The inclusion of such payment methods certainly addresses any concerns about Betr's legitimacy.

All purchases of on-site currency are processed instantly, and I noticed no charges for deposits or withdrawals. On the whole, Betr provided a secure payment experience with all the necessary elements. However, offering more options would certainly enhance its competitive edge against other leading sportsbooks.
Is Betr social betting app safe?
Betr is accessible in 41 states and offers its own responsible gambling support. The platform employs SSL encryption to safeguard your financial and betting details.
Safety facts
| | |
| --- | --- |
| SSL encryption | 256-bit |
| Ever blacklisted? | No |
| Spending limits | Yes |
| Self-exclusion | Yes |
| Cooling-off periods | Yes |
Safety rating
88
/100
Good safety measures in place
Available in several states
Company funded by gambling veterans
No third-party regulation
It's great that Betr is accessible in 41 US states, allowing a wide range of bettors to engage with its platform. The operator is transparent about who can and cannot use Betr's services, prioritizing customer safety. The support section provides information on the legality of Betr and how it maintains a secure operational environment.

Betr also shows commitment to responsible gambling through its dedicated responsible gambling page. Here, I encountered a wealth of information about identifying signs of problem gambling and strategies to address such issues. 

Additionally, Betr offers explanations of account tools, including deposit and time limits. Measures to prevent underage gambling, such as using internet filters, are also discussed.

Betr offers a secure avenue for US bettors to partake in sports picks and the potential to win. The utilization of SSL encryption ensures the protection of your information. To enhance customer confidence, the platform could consider inviting testing from an agency like eCOGRA.
Support at Betr sportsbook
Betr provides customer support throughout the week via the web form on the Betr social sportsbook app. After using this form, expect the customer support team to reach out to you via email within a few hours, although responses might take longer during late hours. While FAQs are absent from the app, Betr does offer information on its US operations.
Support facts
| | |
| --- | --- |
| Customer support availability | 7 days a week |
| Live chat | No |
| Email | Yes |
Support rating
70
/100
Lacking in options
Helpful customer support
24/7
Good customer support is important for any betting site, and Betr's sweepstake sportsbook steps up with a support team that's available all week to help with any issues. 

What's a bit disappointing is that you can only contact the support team through the app's form. Still, I got replies to my questions within a few hours, and they were really helpful even with tricky stuff.

While Betr gives you info to reassure you about the safety of playing, I felt let down by the absence of FAQs. Lots of players might not be familiar with sweepstake sites, so having easy-to-find info about betting, signing up, and putting money in or taking it out would've been handy. 

All in all, Betr's customer support has room to get better. Offering help every day of the week is good, but without live chat or detailed FAQs, it's not as versatile as other options out there.
Betr sports betting platform
Betr offers a user-friendly registration process that allows new bettors to get started within minutes. Similarly, navigating the Betr social sportsbook app is incredibly straightforward. While there's no search function for specific sports, you can switch between different markets in a matter of seconds. Currently, Betr doesn't have a desktop site.
Platform facts
| | |
| --- | --- |
| Search function | No |
| Sticky live chat | No |
| Interface rating | Excellent |
| User experience rating | Excellent |
Platform rating
86
/100
Excellent mobile betting
Highly rated native apps
Easy to navigate
For those interested in using Betr, you can download the app from both the Apple App Store and Google Play Store. I was pleasantly surprised by the high ratings the apps have received, and it didn't take me long to understand why once I started using them.

The app is incredibly user-friendly, and I'm confident that even inexperienced bettors will find it easy to start placing wagers within minutes. Markets load and update swiftly, allowing you to switch between bets and make the most of in-play odds. Furthermore, the app boasts an appealing design and the color scheme aids in distinguishing different betting lines.

I was a bit let down to discover that Betr currently lacks a desktop site, as many bettors prefer this method of wagering. However, the mobile app compensates by offering an excellent betting experience.
Betr social sportsbook availability by state
Betr sports betting operates without requiring a license in the US, making it accessible to bettors in 41 states. Across most of these states, you enjoy the same complete access to Betr's markets, features, and promotions.
Betr in Alaska
While Betr doesn't feature local Alaska teams for wagering, it provides odds for all major league matchups. This includes moneylines, point spreads, totals, and more for both pre-game and in-play events.
Betr in Arizona
Residents of Arizona can engage in gambling with Betr sports betting. Registering with the site also grants you access to a generous welcome bonus, enhancing your bankroll. This betting app allows you to place wagers on local teams like the NFL's Arizona Cardinals and the NBA's Phoenix Suns.
Betr in Arkansas
Known for its University of Arkansas Razorbacks college football team, the state offers a vibrant sporting scene. You can back this team with free predictions or purchase on-site currency, which you can later exchange for cash.
Betr in California
With the highest number of major league sports teams, California boasts abundant options for sports enthusiasts. Using Betr's sweepstake sportsbook, you can wager on teams such as the NFL's Los Angeles Rams, the NBA's Los Angeles Lakers, and the MLB's Los Angeles Dodgers.
Betr in Colorado
Betters in Colorado gain access to Betr's full range of markets and promotions. This allows you to utilize Betr Coins or Betr Cash to place wagers on local franchises like the NFL's Denver Broncos and the NBA's Denver Nuggets.
Betr in Connecticut
Connecticut bettors can reap the benefits of Betr's bonuses, including its welcome offer, loyalty promotions, and tournaments. Although the WNBA's Connecticut Sun plays in the state, you won't find betting lines for this team on Betr.
Betr in Delaware
Connecticut bettors can reap the benefits of Betr's bonuses, including its welcome offer, loyalty promotions, and tournaments. Although the WNBA's Connecticut Sun plays in the state, you won't find betting lines for this team on Betr.
Betr in Florida
Florida boasts several iconic major league franchises, from the Miami Dolphins in the NFL to the Miami Heat in the NBA. Registering with Betr's sweepstake sportsbook lets you wager on all of them, complete with the option to claim a welcome bonus and boost your bankroll.
Betr in Hawaii
While Hawaii lacks legal online sports betting, you can still utilize Betr's social sportsbook to predict outcomes of your favorite sports teams. This includes NCAA football games featuring the University of Hawaii Rainbow Warriors.
Betr in Illinois
Utilizing Betr's social sportsbook in Illinois allows you to wager on every major league game, including the MLS. Market options cover franchises such as the NFL's Chicago Bears, the MLB's Chicago Cubs, and the NBA's Chicago Bulls, with each bet earning you loyalty points.
Betr in Indiana
Indiana residents are familiar with celebrated sports teams like the Indianapolis Colts in the NFL and the Indiana Pacers in the NBA. Betr provides odds for all matchups featuring these teams, allowing you to bet before a game or during an event.
Betr in Iowa
Betr's social sportsbook offers NCAA football predictions, enabling you to utilize Betr Cash to bet on the Iowa State University Cyclones in the Big 12. Any Betr Cash winnings can be exchanged for real money.
Betr in Kansas
While Kansas lacks major league franchises within its borders, the Kansas City Chiefs and the Kansas City Royals are located just across state lines in Missouri. Many Kansas sports fans will be eager to make predictions about these teams using Betr.
Betr in Kentucky
Known for the Churchill Downs horse racing track and the Kentucky Derby, Kentucky players can bet on various sports using Betr. You can utilize free Betr Coins or purchase Betr Cash to play for money.
Betr in Louisiana
Louisiana legalized sports betting in 2022, but access to sportsbooks varies by parish. Betr can operate statewide, allowing you to download its app and make free or paid sports predictions.
Betr in Maine
Betr's app is downloadable for iOS and Android devices in Maine. Simply visit the Apple App Store or Google Play Store to download the app, sign up, and start betting.
Betr in Maryland
Major league franchises such as the Baltimore Ravens from the NFL and the Baltimore Orioles from the MLB are hosted in Maryland. This provides a multitude of betting options for fans, along with wagering possibilities for other major league teams within the state.
Betr in Massachusetts
Massachusetts is home to major teams like the New England Patriots and the Boston Celtics. Betr's social sportsbook is accessible throughout the state, offering betting opportunities for these teams and more.
Betr in Michigan
Michigan sports fans can make use of Betr's app for free and paid predictions. College football is popular in the state, with teams like the University of Michigan Wolverines and the Michigan State University Spartans competing in NCAA Division I.
Betr in Missouri
With four major league teams, including the Kansas City Chiefs and the St. Louis Blues, there are ample betting options in Missouri. Registering with Betr provides access to odds for all these teams.
Betr in Montana
Montana bettors can earn loyalty points through Betr's loyalty program, using them to claim prizes and promotions on the site or real-life rewards.
Betr in Nebraska
Montana bettors can earn loyalty points through Betr's loyalty program, using them to claim prizes and promotions on the site or real-life rewards.
Betr in New Hampshire
Choose between Betr Coins or Betr Cash for betting, with the former allowing free predictions. Accumulate more Betr Coins by placing bets, though this currency can't be exchanged for real money.
Betr in New Jersey
As one of the first US states to launch sportsbooks outside of Nevada, New Jersey offers Betr as an option. Betr provides odds for every New Jersey Devils game in the NHL, with both pre-game and in-play options.
Betr in New Mexico
Despite tribal casinos offering betting in New Mexico, Betr's social sportsbook allows predictions throughout the state. Simply download the app from the iOS or Android app stores to sign up and start playing.
Betr in New York
Betr's social sportsbook app allows betting anywhere in New York state, whether in the city or Buffalo. You can add local favorites like the MLB's New York Yankees and the NBA's New York Knicks to your bet slip.
Betr in North Carolina
Cash sports betting in North Carolina is confined to tribal casinos, but Betr enables predictions state-wide. Use Betr Cash to place bets and exchange any resulting profit for real money.
Betr in North Dakota
Bet on the North Dakota State University Bisons with Betr, a program that has secured nine national championships since joining NCAA Division I. Place futures bets on the team's titles or individual game wagers.
Betr in Ohio
Ohio features numerous sports teams that fans adore. Betr enables predictions about these teams, including point spreads, futures, and totals for popular US sports like the NFL, NHL, MLB, and NBA.
Betr in Oklahoma
Following the Seattle SuperSonics' relocation to Oklahoma, the state gained a major league franchise known as the Oklahoma City Thunder. Betr enables betting on this team and numerous others across the state.
Betr in Oregon
Betr's social sportsbook operates in Oregon, complete with leaderboards for player competition based on accurate predictions. Top the leaderboard to earn rewards, including Betr Coins and more.
Betr in Pennsylvania
Betr's presence in Philadelphia makes its sweepstake sportsbook accessible in Pennsylvania. You can utilize the app to bet on every major league sports game and some NCAA football events.
Betr in Rhode Island
Those seeking different odds and promotions can download Betr and bet throughout the state. RI residents can also claim the site's welcome bonus.
Betr in South Dakota
South Dakota bettors gain access to all of Betr's features, including customer support available seven days a week and a variety of payment methods. These options include trusted choices such as Visa and Mastercard.
Betr in Tennessee
With three popular sports teams in Tennessee, there are ample reasons to sign up with Betr. NFL fans can bet on the Tennessee Titans, while the NBA's Memphis Grizzlies and NHL's Nashville Predators also provide betting opportunities.
Betr in Texas
Texans' strong passion for sports finds an outlet in Betr's sweepstake sportsbook. Texas residents can utilize the app to make free predictions or buy Betr Cash and risk their own funds.
Betr in Utah
Utah's pride lies in the Utah Jazz basketball team. With Betr's app, you can bet on the team's matches using Betr Coins wagers.
Betr in Vermont
While Vermont lacks teams for direct betting, you can access Betr's markets and claim rewards from the state. Engage in leaderboard promotions to earn prizes and loyalty points.
Betr in Virginia
Betr offers betting opportunities for the successful Virginia Tech Hokies football program. Wager on every game outcome for the college, including player prop and futures bets.
Betr in West Virginia
The University of West Virginia Mountaineers football team is a significant NCAA team in the Big 12 Conference. Registering with Betr lets you bet on the team's progress and potentially win anywhere in WV.
Betr in Wyoming
Despite having a smaller population, Wyoming residents can utilize Betr to make predictions using Betr Coins for free. Additionally, you can purchase on-site currency for a chance to win cash.
Expert verdict
Overall, Betr and its social betting app have a lot of positive aspects for bettors. The main advantage is that it lets people in states where online sports betting isn't allowed to predict outcomes in their favorite sports. This is done using a really good mobile app and safe payment methods to buy the virtual currency used on the site. Betr also gives bonuses to all its players through a loyalty program.
However, there are some issues with the site. The biggest problem is that there aren't many different types of bets available. Only being able to bet on major league sports puts Betr behind other sites. This made me want more, especially when comparing it to other places to bet on sports.
Also, Betr could improve its customer support by adding things like a live chat and a frequently asked questions (FAQ) section. Despite these things, Betr is a trustworthy sweepstakes betting site in the US, and it has a lot going for it. I really hope they work on the issues to compete better with the big sports betting companies.
FAQs