Gambling statistics 2023: The definitive guide
This is the ultimate guide to gambling statistics. We cover all important topics and trends happening in this space – and we throw in an Easter egg or two as well. 
So if you're in it to get the complete overview of what moves and doesn't in US-based gambling… this is for you.
US gambling statistics in overview
The US has always been a leader when it comes to revenue from brick-and-mortar casinos, and the pandemic gave this area of income a good beating. The gambling industry in the US was one of many markets to be negatively impacted by restrictions imposed as a result of the COVID-19 pandemic (1). Gambling activity dropped with around 47% of regular gamblers saying they were betting less often due to the crisis, 23% at the same levels, and just 5% saying they were betting more. (2)
While sports betting increased by over 68% in 2020, no doubt as a result of that decision by the Supreme Court, with 19 States, plus the District of Columbia legalising sports betting. It was also hampered by Covid restrictions that severely reduced the amount of sporting events available to be one. We expect to see huge year on year growth in 2021 for American sports books. Some analysts are predicting that the combined sports and iGaming market in the USA will be worth $15 billion by 2025 and will have doubled by 2030. (3)
The COVID-19 pandemic actually had a positive impact on the online gambling sector, which saw exponential growth in 2020. All 30 states offering legal forms of gambling reported increased revenue over the lockdown period. It is considered possible that more states will legalize gambling activities as an outcome of the pandemic.
Concerningly, despite the rapid predicted growth In a recent survey conducted by Time2play (4) on attitudes towards gambling in American Citizens fewer than 20% of respondents said they were a little worried about the increasing number of states legalizing gambling and almost 42% were not worried at all.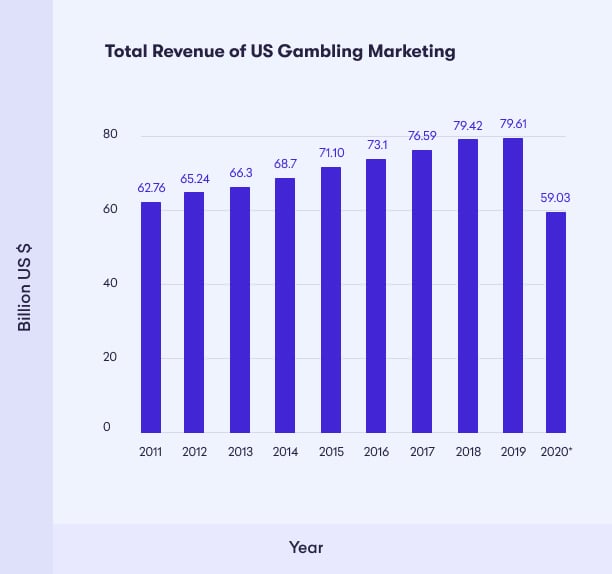 Sports betting revenues
While playing at online casinos remains restricted to New Jersey, Pennsylvania, Delaware, Michigan, and West Virginia. Since 2018 legal sports betting has extended to 19 States (5). With more potentially on the way as operators and major media companies to create partnerships to further integrate sports betting into the sporting world. August 2020 saw the first sportsbook open inside a sporting venue at the home of Washington Capitals in downtown Washington DC. In August 2021, the Chicago Cubs announced it will be building a 2 story extension on Wrigley Field that will house its sportsbook. 
Interestingly, an independent survey carried out by Time2play in August 2021 found that almost no respondents claimed that they had taken part in sports betting over the last few months. On the other hand, 497 participants claimed that they had participated in the lottery in the previous year. Indicating that this is still a very immature market. Especially as the survey also found that 50.65% of respondents had never placed an in-game or live sports bet. (6)
Tax generated from Pennsylvania sports betting revenue has exceeded $1 billion since the market first launched.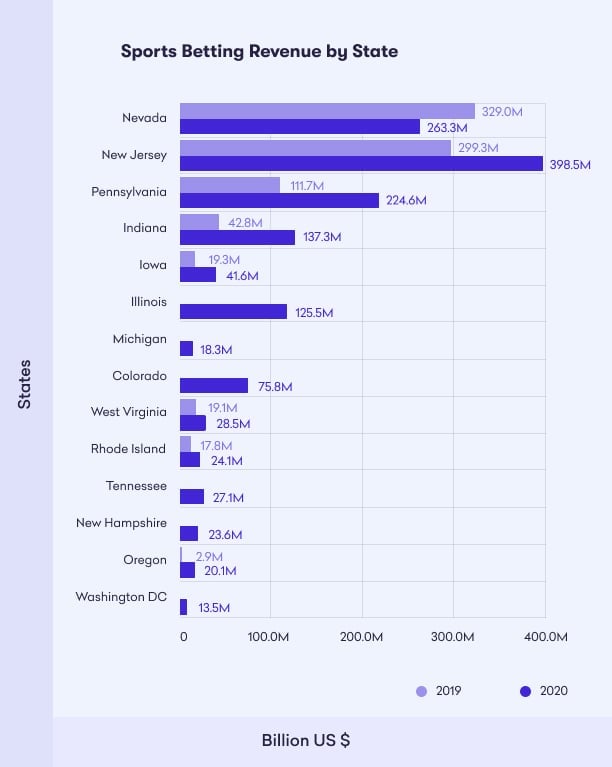 State level revenues
According to the survey carried out by Time2play, 43.44% of the respondents preferred to play at physical casinos, while just 15.38% played at online casinos. 27% of respondents enjoyed playing at both. This means that most US players still only favor playing at brick-and-mortar casinos. One of the reasons for this could be the overall live experience of being in a physical casino with all the sights and sounds that it brings. Although perhaps the more traditional players will be tempted online by new live casino offerings.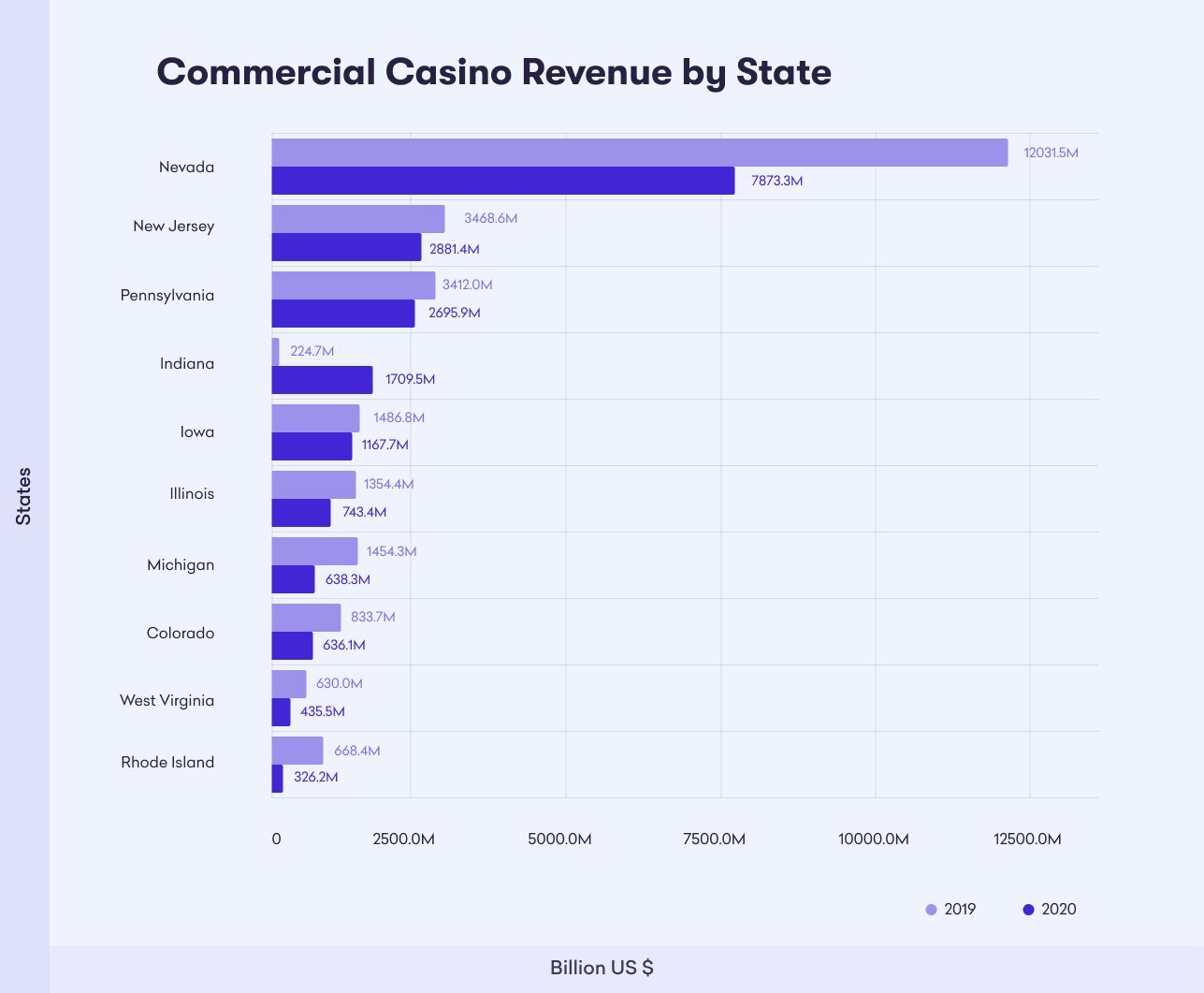 Despite being predicted to account for 50% of all global online gambling sites sales by 2023 (7), live casino is still very much in its infancy in the States, with only operators in New Jersey, Michigan and Pennsylvania able to offer players that authentic live dealer experience. That seems set to change though with top providers such as Evolution and Playtech opening up live casino studios in New Jersey, Pennsylvania and Michigan in the past three years.
US player trends
Many more trends define the gambling market these days. As more and more American gamblers join the game, more and more US player trends appear.
We cover the most prominent ones in the following. As well as some that are simply just interesting for anyone looking for gambling statistics.
Trust us, these go way beyond just who has the best casino bonuses or the top mobile US casinos! Discover more below.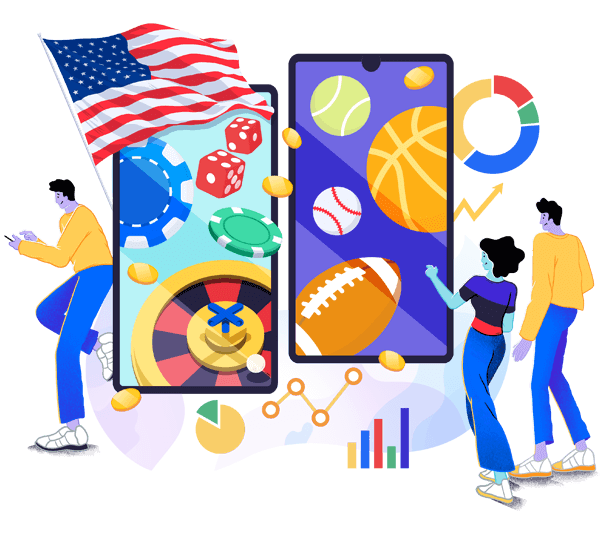 Even more US player trends
US online gamblers are younger than the global average
Online gamblers tend to be younger in the US than in the rest of the world, although this demographic could be skewed for a reason. There is a thriving grey/black market for gambling in the US, the economy of which is unquantifiable due to its illicit nature.
While regulated online betting and gaming is new to many states, there has been widespread unregulated online activity in the US for many years now. Consequently, the age distribution of online gamblers in the US is at the younger end of the scale than in other countries, with 52% in the 18-34 age range.
The table below shows the age ranges of American adults who gambled online for money in the 12 months prior to the 2021 study, compared to the global average: (24)
| Age range | US average | Global average |
| --- | --- | --- |
| 55+ | 24% | 29% |
| 45-54 | 7% | 18% |
| 35-44 | 17% | 21% |
| 25-34 | 38% | 22% |
| 18-24 | 15% | 9% |
70% of gambling revenue came from mobile gambling in 2020
Along with user-friendly apps, companies in the online gambling space are heavily investing in Artificial Intelligence (AI) to improve overall user-experience (U/X). AI allows for the personalization of apps to analyze gambling preferences and offer customized content accordingly.
AI also improves improved customer support, with chat-bots to quickly resolve queries and access to comprehensive playing stats. Behavior patterns that suggest fraudulent activity can also be identified using AI technology, which significantly reduces the risk for gambling firms.
Rapid developments in technology are also fueling growth in online gambling, with augmented and virtual reality software, providing users with a more immersive and realistic experience.
In addition to high-tech updates, mobile gaming providers and gambling firms are employing their own tactics to gain more online users. Some provide free to play (F2P) products, often referred to as 'freemium', which generally have limitation on the user's experience. Although no money is made from the F2P game directly, add-ons and upgrades that unlock extra features for the users attract healthy revenues. (27)
Breakdown of gambling preferences by age group in the US
The question asked in a June 2021 YouGov survey was: Which, if any of the following are you likely to do in the next 30 days? (44)
| | All | 18-24 | 25-34 | 35-44 | 45-54 | 55+ |
| --- | --- | --- | --- | --- | --- | --- |
| Play a lottery game | 37% | 20% | 24% | 35% | 46% | 51% |
| Place bets in a casino | 21% | 15% | 21% | 22% | 22% | 23% |
| Play online slots | 17% | 16% | 21% | 22% | 16% | 11% |
| Play table or card games online | 15% | 11% | 23% | 18% | 10% | 10% |
| Purchase a lucky draw ticket | 14% | 15% | 18% | 19% | 10% | 9% |
Monthly Spend Across Gambling Categories
| Gambling method | $1-$15 | $16-$50 | $51-$100 | $101-$500 | $501-$2,000 | | |
| --- | --- | --- | --- | --- | --- | --- | --- |
| Casino games | 11% | 13% | 6% | 11% | 6% | 1% | 2% |
| Slots | 12% | 13% | 8% | 14% | 6% | 1% | 2% |
| Sports and fantasy sports betting | 10% | 13% | 7% | 11% | 7% | 2% | 1% |
| Bingo or keno | 9% | 13% | 6% | 10% | 7% | 2% | 2% |
What is the most popular online casino game by downloads?
Coin Master is described as a casual slot game, with a user experience targeted at a younger demographic. It was the most downloaded casino game in the world in May 2021, generating almost 7.2 million downloads. However, the game has courted much controversy from parent groups because it involves spinning a wheel to win coins and introduces the adult theme of gambling to young children.
The consumer group Internet Safe Education, (ISE) is concerned that the main focus in Coin Master is on using a slot feature to earn coins. It urges parents to be aware of the many in app purchases the come with the game, with frequent prompts for money in order for the player to progress.
Despite these reservations, Coin Master seized the lion share of the download market in May 2021. (40.1)
The most popular casino gaming apps worldwide rank as follows:
| Online casino game | Revenue in million $ |
| --- | --- |
| Coin Master | 73.98 |
| Bingo BlitzTM | 22.13 |
| Slotomania | 22.07 |
| DoubleDownTM | 16.08 |
| Jackpot Party Casino Games | 15.76 |
| Cashman Casino | 14.99 |
| Cash Frenzy | 14.87 |
| Lightning Link Casino | 13.28 |
| House of Fun: Free Casino Slots and Casino Games | 11.22 |
| Slots: Heart of Vegas | 10.23 |
Most popular ways to gamble in the US 2021
There are multiple ways to participate in gambling including through online or app based companies and in person at gambling facilities. A survey conducted in the US in January 2020 revealed that 30% of American gamblers preferred to use online platforms for gambling. This is most probably due to the increased market size of online gambling that has resulted from changes to Federal and state legislation. Following very closely behind are casinos, race tracks or sports venues, with 29% indicating a preference for gambling in person. It is very likely that many of these gamblers switched to online services during the extended closures of land-based casinos and cessation of sporting events during 2020. 13% of gamblers surveyed said they chose a combination of land-based and online gambling, while 18% preferred not to say which method they preferred. (41)
One in five Americans choose to gamble in casinos
Casino betting is one of the most popular types of gambling after the lottery. Although fewer young people engage with lottery products, 37% of US gamblers said they planned to play a lottery game in the next 30 days. One in five gamblers expressed a preference for casino betting, (21%), which has shown to be consistently popular among all age ranges, apart from 18-24 year olds, where interest drops to just 15% among younger gamblers. (43)
Annual consumer spending on commercial casino gaming
2020 saw consumer spending in land-based casinos decline from $43.63bn to $29.98bn, down just over 31%. The fall in casino based gambling activity was largely the consequence of extended closures and capacity-limiting restrictions on reopening in response to COVID-19. In the four years from 2016 to 2019, the annual average consumer spending on commercial casino gaming was $41.14bn and the relative poor performance in 2020 is a direct result of COVID-19 restrictions and shut downs. (42)
Slots remain online casino game of choice for US gamblers
As of the fourth quarter of 2020, the leading casino slot gaming app in the United States was Slotomania Vegas Casino Slots. The app accounted for 7.85% of iOS revenue in the slot casino games sub-segment. Slotomania has been around for a decade and was developed by an Israeli digital entertainment company, Playtika.
The slot game's success is attributed to its monetization strategy that uses a blend of mechanisms that make the game fun, addictive and profitable. An example is a rare jackpot reward, which is when a rare but substantial jackpot is awarded on a random spin.
Slotomania has a progressive rare jackpot reward, which increases every time a player spins a specific slot machine without winning the jackpot. The rare jackpot reward is a highly effective mechanism to motivate players to keep spinning. This is the secret of Slotomania's massive success, albeit in questionable in terms of encouraging problem gambling.
Slotomania is significantly more popular among online gamblers than any other casino slot game. In 2020 alone, revenues from the game brought $332mn to Playtika's coffers. Since the game's creation, Slotomania has been downloaded 87.6 million times, generating $1.64bn in revenue.
The top ten slot gaming apps in the US as of Q4 2020 by revenue share:
| Casino slot game | Percentage revenue share |
| --- | --- |
| Slotomania Vegas Casino Slots | 7.85 |
| DoubleDown | 7.21 |
| Jackpot Party | 6.85 |
| Cashman Casino Las Vegas Slots | 6.56 |
| Cash Frenzy | 5.5 |
| Big Fish Casino | 3.75 |
| House of Fun | 2.83 |
| Lightning Link | 2.55 |
| Huuuge Casino Slots | 2.54 |
| POP! Slots Live | 2.54 |
Smartphones are the most popular devices for online slots
Across all age groups, smartphones are the most popular devices for online gambling, with 50% of gamblers expressing this preference. Laptops are next at 23% but the only age group using tablets for gambling are the 35-44 year olds. Around 75% of 16-24 year olds use their smartphones and the remaining 25% their laptops.
Average bets placed PER BET for casino games online
Most gamblers in the US bet up to US$10 per bet on online casino games (26%). 23% of gamblers bet on online casino games with no real money, known as Free to Play or F2P games. Although F2P games are generally designed to be played for nothing, there are various mechanisms within the game to create revenue streams by tempting players to stay locked-in to the action.
| | |
| --- | --- |
| Amount of Bet Placed | Percentage of Gamblers |
| No real money | 23% |
| Up to $10 | 26% |
| $11-$20 | 17% |
| $21-$50 | 12% |
| $51-$100 | 11% |
| $101-$300 | 5% |
| $301-$500 | 1% |
| $501-$1,000 | 3% |
| >$1,000 | 3% |
How online gamblers find a betting platform
There are 3 principal advertising channels through which online gamblers found a gambling platform to suit them: · Gambling ads on social media websites including, Facebook, YouTube, Twitter and Instagram, 44% · Gambling ads online on websites excusing social media, 16% · Gambling ads on TV, 16% 43% of online gamblers in the US discovered gambling online from friends and family members. A further 27% said that watching family or friends gamble was their favorite way of picking up tips and tricks about casino games.
More than half US online gamblers follow gambling companies on social media
With social media ads being the most successful medium for promotion for gambling companies, it is not surprising that 55% of American online gamblers follow them on social media. In terms of popularity, the social media channels most used to follow gambling companies are ranked as follows:
| Platform | Percentage of players |
| --- | --- |
| Facebook | 19% |
| Twitter | 16% |
| Instagram | 13% |
| YouTube | 4% |
| Other | 3% |
Around 35% of American online gamblers use social media but don't follow gambling operators, and 9% don't use social media at all.
More Americans than ever playing poker online in the US
While many land-based casinos remained closed due to social distancing restrictions, online gambling platforms gained a much larger slice of market share. As people were forced to sit at home during the lockdown, internet traffic increased significantly on all fronts. More people frequently visited gambling websites and thousands of new users were registered every day. The US saw an increase of first-time online poker players of a massive 255%, since the start of the COVID-19 lockdowns. Overall, the poker industry has seen 43% growth since April 2020. Around the world, more than 100 million people play online poker and 60 million of those poker players are in the US. That means there are more Americans playing online poker than there are playing tennis, golf, or billiards. (71)
Poker leads cards casino gaming apps in the US by revenue share
Poker dominates the ratings in terms of popularity among cards casino gaming apps in the US, claiming more than 70% of the revenue share. The World Series of Poker (WSOP) app ranked as the most popular platform for online poker players, attracting more than one third of the total revenue of leading apps in the US as of Q4 2020. (72)
Key US gambling trends by state
It's no secret that introducing different online verticals into the US has been an ongoing struggle. The US casino industry is like a spaceship that's been waiting to take off for some time.
With many brick-and-mortar establishments having to remain closed due to the pandemic, several operators accelerated their digital operations. Many others have taken pains to expand the online portfolio that they already had to keep their players engaged. It would also be impossible to ignore the impact the sports betting vertical and the legalization of it in several states between 2019 and 2020 has had on the US online gambling scene.
Let's take an even closer look at the top US states for gambling and which trends they currently represent.
Colorado
What's on offer: 35 physical casinos and online sports betting.
Minimum Age: 18
Gross gaming revenue in 2020: $636.08 million
What's going on: Colorado has managed to make $6.6 million from its first year of legalized sports betting after it launched in May 2020. Although 80 percent of sports betting is done online in states where online betting is available, experts are forecasting that the numbers for in-person betting will soar once restrictions are eased even more and life goes back to normal. (8)
Delaware
What's on offer: 3 physical casinos, online casinos, online poker, and online sports betting.
Minimum Age: 17
Gross gaming revenue in 2020: $340.35 million
What's going on: Unlike several of the other states, Delaware has not had the easiest of times in 2021. Although there was a 12.04% year-on-year increase, July offered one of the lowest monthly totals since February. Many will be curious to see if the Diamond State will shine again by the end of the year. (9)
Illinois
What's on offer: 10 physical casinos, online sports betting, and social casinos.
Minimum Age: 18
Gross gaming revenue in 2020: $743.41 million
What's going on: Sports betting may not have been around for long in the state of Illinois, but they're certainly making up for lost time. In July, the Illinois Gaming Board reported a sports betting handle of $507.3 million for May, which meant that the state held its No. 2 spot nationally for the second month in a row. (10)
Indiana
What's on offer: 14 physical casinos, online sports betting, and social casinos.
Minimum Age: 18
Gross gaming revenue in 2020: $1 709.48 million
What's going on: Sports betting is flourishing in Indiana, where it was reported that there was a revenue increase in June of 35% when compared to May. There was a 771.4% increase when looking at the year-on-year statistics. (11)
Michigan
What's on offer: 27 physical casinos, online casinos, online poker, and online sports betting.
Minimum Age: 18
Gross gaming revenue in 2020: $638.66 million
What's going on: Michigan hasn't had the strongest of starts to the summer since the launch of sports betting and online casinos throughout the state in January. May's total revenue showed a 4.9% decrease from April's offerings. It will be interesting to see how the Michigan situation develops. (12)
Nevada
What's on offer: 219 physical casinos, online poker, and online sports betting.
Minimum Age: 21
Gross gaming revenue in 2020: $7 873.31 million
What's going on: Although there was a dip in casino gaming revenue between 2019 and 2020, things are heating up again in Nevada. In May 2021, Nevada made a record-breaking $1.23 billion in gaming revenues from casinos across the state. (13)
New Jersey
What's on offer: 9 physical casinos, online casinos, online poker, and online sports betting.
Minimum Age: 18
Gross gaming revenue in 2020: $2 881.38 million
What's going on: New Jersey is nothing short of a beast when it comes to the online gambling world. The first US state to be opened to online gambling, New Jersey is an online casino pioneer. Although 2020 saw a decrease in figures, NJ more than made up for it this June with the $392.8 million revenue it brought in, which represented a 302.7% increase from this time last year. (14)
Pennsylvania
What's on offer: 13 physical casinos, online casinos, online poker, and online sports betting.
Minimum Age: 18
Gross gaming revenue in 2020: $2 695.91 million
What's going on: Like New Jersey, Pennsylvania can make more money than most states because multiple verticals are open in the Keystone state. Through land-based table games and slots, online casinos, sports betting, fantasy sports, and video gaming, this state made $403.2 million in March alone. If that wasn't impressive enough, there was a $100 million increase between February and March. (15)
Tennessee
What's on offer: online sports betting, betting on horse races, lottery games, daily fantasy sports (DFS), and limited charity gambling.
Minimum Age: 18
Gross gaming revenue in 2020: $27.12 million
What's going on: Although the sports betting market opened here in November 2020 while the pandemic was in full swing, Tennessee has been going from strength to strength. The Tennessee Education Lottery reported that players had wagered no less than $174.5 million in June, almost 9% more than was wagered in May. (16)
West Virginia
What's on offer: 5 physical casinos, online casinos, online poker, and online sports betting.
Minimum Age: 18
Gross gaming revenue in 2020: $435.52 million
What's going on: West Virginia had an atypical May month which saw the sports betting handle dropping by 3.8% but the revenue rising by 38%. As this state continues to expand, it will be interesting to see what direction things will go next.
US sports betting statistics
Sports betting is another major driver of growth in the US gambling sector, as more players become eligible to wager legally in their state. There are currently 42 US states where some form of sports betting is legal. Prior to changes in Federal law in May 2018, sports betting was largely illegal across the country, apart from a few major exceptions:
All forms of gambling remained legal in Nevada 
State sports lotteries remained legal in Delaware, Montana, and Oregon 
Jai alai and pari-mutuel wagering formats on horse and dog racing remained legal
Betting on fantasy sports falls into a different category than traditional sports
Betting is allowed in all states except Washington, Idaho, Montana, Nevada, and Arizona.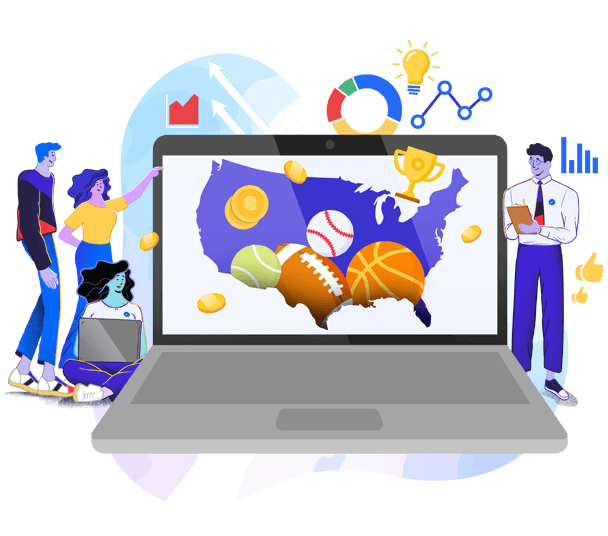 We dive into the most interesting sports betting statistics in the following:
Further interesting sports betting statistics
Online sports betting to overtake land-based sportsbooks by 2025
The sports betting industry in the United States is growing with relative speed, with more states in the process of introducing their own gambling regulations. In 2025, online sports betting revenue is forecast to reach $5bn, while land-based sports betting revenue is predicted at $1.5bn (55). This reflects the general trend towards online gambling that is seen in other segments of the industry in the US and is set to continue.
In terms of the most popular sports betting services used by gamblers in the US, DraftKings came out on top in 2020 with 50% of the market share. FanDuel followed close behind, however, with 45% reporting that they used the service. Because most sports betting takes place online in the US, revenues are forecast to reach nearly three times as much as land-based casinos by 2025 (56).
| Sports betting service | Sports gamblers' preference |
| --- | --- |
| DraftKings | 50% |
| FanDuel | 45% |
| Barstool Bets | 15% |
| Action Network | 15% |
| William Hill | 13% |
| PointsBet | 9% |
Age of sports betting and fantasy app users in 2021, by company
| App brand | 18-25 | 26-35 | 36-45 | 46-55 | 56-65 | 66+ |
| --- | --- | --- | --- | --- | --- | --- |
| DraftKings Fantasy | 8% | 27% | 21% | 19% | 13% | 13% |
| FanDuel Fantasy Sports | 7% | 28% | 22% | 20% | 12% | 12% |
| FanDuel Sportsbook | 7% | 27% | 23% | 20% | 13% | 11% |
| DraftKings Sportsbook | 7% | 27% | 23% | 20% | 13% | 11% |
| ESPN Fantasy Sports | 7% | 26% | 22% | 21% | 13% | 11% |
| Yahoo Fantasy Sports | 5% | 25% | 25% | 21% | 13% | 11% |
(59)
Gender gap remains consistent in sports and fantasy sports gambling sector
Sports betting and fantasy sports are generally lumped together in the gambling industry sub-segment, mainly because sports gamblers tend to bet on both. However, the same gender gap appears in this gambling arena, with the smaller female demographic showing similar preference for wagering on both sports and fantasy sports (61).
| App brand | Female | Male |
| --- | --- | --- |
| ESPN Fantasy Sports | 22% | 78% |
| Yahoo Fantasy Sports | 21% | 79% |
| FanDuel Sportsbook | 20% | 80% |
| FanDuel Fantasy Sports | 19% | 81% |
| DraftKings Fantasy | 19% | 81% |
| DraftKings Sportsbook | 17% | 83% |
Ethnicity of sports betting and fantasy app users in the US 2021
According to research among gamblers from different black and white racial groups, African Americans were shown to be 96% more likely to exhibit problem and pathological gambling (PPG) than Caucasian Americans, (45%). This potentially explains why there is more hesitancy for gambling among black Americans, and could represent cultural attitudes towards gambling in general. Another factor could be the gap in earnings between the two ethnic groups.
As of March 2021, the ethnic distribution of sports betting and fantasy app users as averaged across six companies* stood as follows:
| Ethnic group | Percentage of players |
| --- | --- |
| White | 78% |
| Black | 11% |
| Latinx | 6.5% |
| Asian | 2.5% |
| Other | 2% |
Breakdown of Preferred Betting Methods for NFL Games in 2021
While NFL betting is projected to be up across all wagering methods, betting with online sportsbooks is expected to see the largest increase over 2020 while illegal bookies are expected to see the slowest growth:
21.7 million American adults were expected to bet on the 2021 NFL season casually with friends, up 31% from 2020.
19.5 million via online wagering, (legally and illegally), up 73% from 2020.
14.6 million projected to participate in a paid fantasy contest or other types of pool competition, up 69% from 2020.
10.5 million expected to use a physical casino sportsbook, up 58% from 2020.
6.7 million to place a bet with a bookie, up 13% from 2020.

The research from the American Gambling Association also shows sports betting's significant value to the league, with 37% of NFL fans planning to wager on this year's NFL season, including nearly half (47%) of self-described avid NFL fans. Moreover, 44% of all Americans and 63% of NFL fans believe that in-venue sportsbooks will add entertainment value to attending sporting events in-person.

21% of fans from the Northeast of America are most interested in betting on the NFL, followed by the West (18%), Midwest (17%) and South (15%). The NFL has 32 teams in its league and has shown a strong intention to capitalize on the potential of sports betting to drive fan engagement.
US offline gambling stats
Despite the widespread closures of land-based casinos due to COVID-19 in 2020, gamblers hitting the tables and slots in person as restrictions are lifted, has given a much-needed boost to the industry.
According to figures published by the American Gaming Association in August 2021 (90), commercial casinos in the US had their second best financial quarter in history. The only possible drag on record-breaking revenues is the possible emergence of a new and more contagious variant of COVID-19.
The data shows that casino revenues were at $13.6bn in the second quarter in 2021, which nearly equals the entire revenue from US casinos last year when there were widespread closures.
Record-breaking year for US offline casinos
It is very clear at this point in 2021, that this will be the best ever year for American land-based casinos. In fact, casinos across the nation are on target to surpass 2019 ($43.6bn) to become the highest-grossing year ever. Casino gaming is legal in 44 states with the addition of four states in the last five years, which has contributed significantly to market growth.
Despite the slow start due to lingering shutdowns and substantial operating restrictions early in the year, 2021 is on track to become the highest-grossing year in the history of the gaming industry, having generated $24.8 billion in revenue in the first six months.
The data strongly implies that although online gambling surged ahead while land-based casinos suffered last year, it is very evident that there is still a great deal of enthusiasm for playing in person in 2021.
"These first half results are truly remarkable," said Bill Miller, CEO of the American Gambling Association. "COVID-19 is not yet in the rearview mirror, but I'm confident the record first half of 2021 has laid a strong foundation for the industry's full recovery."
Currently, all commercial casinos in the 25 states that have them are open and operating without capacity restrictions. Although sports betting and internet gambling kept the casino industry buoyant last year, revenue in 2021 is clearly being fueled by in-person gambling in land-based casinos.
500% revenue growth for offline casinos
According to the American Gambling Association (AGA), gaming revenue in the second quarter of 2021 grew by almost 500% compared to the same period last year, when COVID-19 impacted the industry.
This growth was mainly driven by strong gambler spending trends, with many people having increased disposable funds as a consequence of being unable to spend money on leisure and entertainment during 2020. Casinos were also able to increase capacity after reopening, which accommodated the surge of gamblers seen in the second quarter of 2021.
Other segments of the wider hospitality industry in the US such as live entertainment, dining, hotel bookings, meetings and conventions – including the international market – have not as yet fully rebounded in the second quarter, unlike the gambling sector (92).
Notion that land-based casinos are dead unjustified
It is worth noting that there is considerable scope for growth in gaming revenue, despite the record-breaking performance in the first half of 2021. This is because of the state reopening guidelines that limited capacity, offerings and amenities at the start of the second quarter of 2021.
When Q2 began, 15 of 25 states—home to three-quarters (345 of 463) of US commercial casinos—restricted capacity to no more than 50%, but all had fully reopened by the close of the quarter (93).
The COVID-19 shutdowns and regulations involved in reopening some months later have shown not to dampen the enthusiasm of in-person gamblers. The data supports the view that experience of playing in land-based casinos has even more appeal for gamblers this year than it did before the pandemic-related closures of 2020.
The recent revenue reports also suggest that land-based casinos are set to make a quick recovery from the COVID-19 crisis. In March of 2021, casinos in Maryland and Pennsylvania reported their best compound growth rate (CGR) ever, with Atlantic City and Nevada posting best gaming months since the beginning of the pandemic (94).
The increasing appetite for in-person gambling seen in 2021 is despite the almost meteoric rise of online gaming. Throughout 2020, online gambling supported the industry as a whole, as gamblers were forced out of casinos and onto their devices. The record-breaking revenues achieved in the first six months of 2021 give a strong indication that land-based casinos are far from dead.
American approval of gaming grows as industry expands
According to the AGA, around 65% of American adults view the gambling industry as a positive economic contributor, providing high-quality jobs across a wide range of skillsets. 73% supported moves to legalize sports betting in their respective state (95.)
American adults also view gaming as a good community partner in terms of supporting the state economy. Around 7 in 10 American believe the industry behaves responsibly, with the majority (57%) stating that casinos give back in the communities where they operate.
The trust level among Americans in regard to the gambling industry has improved considerably in recent years, increasing by almost 40% since 2018. Furthermore, almost 80% of Americans who had gambled in the past year say they are aware of the resources provided by the industry to ensure responsible gaming.
Of this gambling majority, three-quarters identified specific measures such as deposit limits, casino employee training and time limits as being the most effective responsible gambling measures (96).
Land-based casinos historically perform consistently
Out of the world's 4,926 land-based casinos, 462 are in the US, representing around 9.5%. The number of commercial casinos grew consistently from 2010 until 2016, when there was a slight annual decline in the years after. In 2020, there were a total of 462 commercial casinos, down 3 from 465 in the previous two years. This reflects relative stability in the commercial casino segment, despite the COVID-19 closures and corresponding losses in revenue. The fact that the segment has avoided the economic pressures of the pandemic and emerged with great strength is a solid indication of continued revenue growth going forward. Perennial popularity for in-person gambling is expected to continue to add value to commercial casinos, despite increased online gaming. Going forward, as domestic and international markets reopen and travel resumes, a further boost to the whole US gaming sector is anticipated. (97).
Consumer spend in commercial casinos boosted in 2021
The annual consumer spend in commercial casinos across the US maintained an average $41.13bn prior to the onset of the COVID-19 pandemic and subsequent closures in 2020. The disruption cause to commercial casinos resulting from pandemic restrictions, led to a fall in consumer spending by around 27% to $29.98bn, ringing alarm bells around the industry. However, when casinos started to reopen in early 2021, American gamblers spent record-breaking amounts on the machines and tables, contributing to the significant rebound seen in the first half of the year. Consequently, pessimistic forecasts have been adjusted to suggest spending in 2021 will surpass $44bn in gambling revenue to become the highest-grossing year in the history of legal gambling. (98).
Offline gambling in the US vs the world
Offline gambling participation is slightly ahead of the global average, with 18% of gamblers preferring to wager in-person, compared with 16% elsewhere in the world. However, 35% of American gamblers who gamble both online and offline with equal frequency, compared to 20% worldwide (99).
The best performing US commercial casino markets
Since changes to Federal law in 2018, which lifted the lid on sports betting in the majority of US states, the commercial casino market's landscape is starting to shift. Going forward, fortunes of each respective state are expected to improve considerably, as legal gambling becomes more widespread.
In the meantime, Las Vegas Strip holds the crown as the top performing casino market, with a considerable lead. Continuing changes to the overall market dynamic in the US in the coming years, could see Vegas relegated from the top spot as the competition heats up. New Jersey gambling taxes already contribute heavily to that state's economy,  Pennsylvania gambling taxes aren't far behind, and revenues will continue to soar as the online industry expands.
| Market | State(s) | 2020 revenue |
| --- | --- | --- |
| Las Vegas Strip | NV | $3.65bn |
| Atlantic City | NJ | $1.48bn |
| Baltimore-Washington DC | MD/WV | $1.31bn |
| Chicagoland | IL/IN | $1.12bn |
| Gulf Coast | MS | $1.04bn |
| Philadelphia | PA | $755m |
| St. Louis | MO/IL | $677m |
| New York City | NY | $658m |
| Boulder Strip | NV | $642m |
| Detroit | MI | $620m |
| Lake Charles | LA | $594m |
| Reno/Sparks | NV | $577m |
| Kansas City | MO/KS | $571m |
| Poconos | PA | $616m |
| Shreveport/Bossier City | LA | $461m |
| Black Hawk/Central City | CO | $456m |
| Tunica/Lula | MS | $445m |
| Cincinnati | OH | $426m |
| Downtown Las Vegas | NV | $387m |
| Indianapolis | IN | $386m |
Sports betting in commercial casinos takes off in 2020
Following the Supreme Court's decision to strike down the Federal bank on sports betting in the US in May 2018, the industry has expanded considerably. Around $21.51bn was wagered on sports in-person at commercial casinos across America in 2020. This gives a strong indication that there remains a strong preference among American gamblers for using bricks and mortar casinos.
Green shoots of recovery for non-hotel casinos in US
The market size of the non-hotel casino segment in the US declined in 2020 as a direct consequence of the global pandemic. The sector finished up 2020 being valued at $10bn, a massive 53% drop from the previous year. However, the non-hotel casino segment is expected to see recovery of at least 50% during 2021, having enjoyed a record-breaking first six months of the year. The data shows that American gamblers have been flocking back to land-based casinos as they have reopened, and there are no signs of their appetite abating any time soon (101).
US non-hotel casinos starting to hire again after pandemic
In 2011, the number of employees in America's non-hotel casino sector stood at 117,880. Then years later, there is less than half that number with just 64,390 employees in the sector, a decline of almost 55%. However, the figures are slightly skewed by the dramatic fall in the number of casino employees in 2020 to 48,840 from 77,930 the year before. This is due to the impact of the closures surrounding COVID-19, which resulted in a significant reduction in the non-hotel casino workforce. Nevertheless, employment in the sector had been in steady decline in the past decade leading up to the pandemic (102). This year, the annual growth rate for a career in a commercial casino is estimated to be an average of 0.7%, which reflects a strong recovery from low employment levels in 2020. Employment in the wider US leisure and hospitality sector, which includes the gambling industry, is expected to increase rapidly in 2021, largely driven by growth. This will be in stark contrast with the industry prior to COVID-19, which had been contracting slowly over the past decade. It is also extremely good news for the thousands of out of work casino employees, ousted as a consequence of the pandemic (103).
Non-hotel casino businesses see modest improvement
In 2012, the number of non-hotel casinos in the US peaked at 384 and the segment has experienced mixed fortunes since. In 2013, the most dramatic decline in the number of casinos saw this number drop by 31% to 266. In the years to 2019, the number of casinos operating in the non-hotel segment in the US hovered around an average of 245, falling by 24% in 2020 to a ten-year low of 184. However, the strong start to 2021 has benefited the segment significantly, with forecasts suggesting that around 28 more non-hotel casino businesses will open through the year, representing 15% growth (104).
Casino hotels segment takes a beating from COVID-19 in 2020
Casino hotels and gaming resorts were among the first to be closed down in response to the COVID-10 pandemic. However, the sector was quick to reopen at the first opportunity in early 2020 and since then 95% of casino hotels have reopened. Restrictions on capacity on reopening vary from state to state, with some resorts halting certain services such as midweek operations or 24/7 opening as a result of diminished demand. The casino hotel segment of the gaming industry was severely impacted by the coronavirus pandemic, with revenues falling to $34.75bn in 2020 from $67.36bn the year before, a decline of 52%. However, with the public's sentiment toward travelling, coupled with progress on the vaccination front, the sector is very likely to see a strong recovery in 2021. In the nine years preceding the pandemic, casino hotels attracted average annual revenue of $62.74bn, which had continued to grow steadily until 2020. 2021 is already seeing significant recovery, and this accelerated performance is expected to continue driving growth in casino hotels through the year. At the beginning of 2021, annual revenue estimates for the casino hotel sector stood at $54.85bn, although the final number is likely to be much more (105).
Dramatic declines in casino hotel sector
The pandemic has had a widespread impact on the US casino hotel sector, which fell by almost 20% to generate $34.75bn during the year. However, this was due to the dramatic impact of COVID-19 restrictions on travel and the reliance of the casino hotel sector on domestic and international tourism. Following an extremely good first half of 2021, it is predicted that hotel casinos will enjoy a strong recovery this year to increase revenues by at least 58%. The easing of restrictions on international travel into the US will resume driving revenues higher within the casino hotel industry (106).
Casino hotels expected to rebound with strong performance in 2021
Over the past decade, the annual count of casino hotel businesses in the US has hovered around the average of 257. Although 2020 saw a 16% reduction in the number of businesses in this sector to 247, this was just below the ten-year average, and there is likely to be a strong recovery in 2021. The casino hotel market is forecast to comprise of 272 properties by the end of 2021, an increase of just less than 10% on last year. However, following the relatively low base point of the casino hotel market through 2020, this represents a robust recovery that is very likely to be sustainable.
Casino hotel employment expected to improve in 2021
The American hospitality industry was perhaps the most ravaged by the coronavirus pandemic, with 141,340 workers in the hotel casino segment alone becoming out of work in 2020. This represents a loss of one in three jobs in the segment, with just 294,790 employees remaining, 33% fewer than in 2019.
In 2019, employment levels in casino hotels were at their highest number in ten years, with 436,130 staff working in the segment.  Despite the significant reduction to the labor force a strong start to 2021 has resulted in the casino hotel sector being forecast to have 401,770 employees on the collective payroll, representing growth of around 27% on last year.
Tribal casinos do not contribute to the state through taxes
Native American tribal casinos are permitted to operate a full range of services without paying taxes to the government. There are certain stipulations that ensure casinos pay local states a share of the profits, although they are not based on taxation and depend on market performance.
However, state legislators recognize that tribal casinos contributed positively through the economy through indirect routes. In particular, tribal casinos improve employment in the areas they operate, while also providing opportunities for local small businesses through outsourced services such as catering for example.
Tribal casinos contribute towards social development
Under IGRA legislation, Native American casinos are obliged to support local tribal economies by investing profits to improve infrastructure or support charitable organisations. The economic clout of US tribal operators is expressed in the numbers, which show that the segment generates more than 44% of the overall US gaming revenue. Additionally, seven out of the top ten states with the highest gaming revenue include tribal gaming.
California has the most tribal casinos in America
The state that accommodates the most tribal-operated casinos is California. In the state of California, there are a total of 72 gaming facilities, 86.5% or 63 or which are owned by federally recognized tribes. It is hardly surprising that California contributes more than 25% to the overall tribal gaming revenue in the US year-on-year.
Hotel occupancy rate in Las Vegas to rebound in 2021
With a population of over 1.5 million, Las Vegas is the most densely populated cities in the state of Nevada. Vegas is well-known for its gambling, dining, shopping and nightlife which draws millions of domestic and international tourists each year. However, the market was hampered by growing cases of COVID-19 infections in 2020, and the repercussions they caused to tourism.
As a consequence of travel restrictions and closures imposed in response to COVID-19, Las Vegas revenues fell considerably during 2020. Hotel occupancy for the year stood at 42.1%, reflecting a decline of almost 47% on the previous year.
Macau makes 10x more revenue than Vegas per visitor
When most people think of the idyllic casino city, they think of Las Vegas. Times have changed, however, and the Chinese city of Macau is now at the summit of the gambling league. Massive investment in line with China's economic rise and the opening of impressive new venues has led to incredible growth in the casino industry.
Last year, Macau's casinos had a $38 billion turnover – over six times what Las Vegas took in. Interestingly, gambling revenue is significantly higher in Macau than Las Vegas on an individual level. In 2012, revenue per visitor was $1,354 in Macau while it was just $156 in Las Vegas. Why?
Unlike Las Vegas where the bulk of gambling revenue comes from throngs of visiting tourists, Macau manages to attract so called "high-rollers" – Communist Party officials and wealthy businessmen. Unlike the highly regulated casinos in the United States, those in China are quite lax – gamblers are not asked too many questions about the origin of their wealth.
Australia had the second highest gambling revenue per visitor in 2012 at $736. Singapore comes third, with $446, providing further proof of an impressive Far Eastern boom in the gambling industry.
Global gambling statistics
Globally, the pandemic left its mark with a year on year decline of 13% in the overall gambling market in 2020, despite an 8.8% growth in the global iGaming market during the same period. Along with physical restrictions preventing sporting events and visiting bricks and mortar casinos. Several well-established markets, such as Germany, Italy and Spain increased regulation around advertising and customer communications. The debate surrounding the wisdom of these changes continues and it is undoubtedly going to take time for the dust to settle and for us to get an accurate reading of how things will affect the players of these countries in the long haul.
In 2017, the United States barely made the top ten list of countries with the largest gambling losses per person. With the average American gambler losing $421 per year compared to the table-leader Australia, whose citizens lost an average of $958 (30). Back then the total gambling revenue for the US was $76.59 billion, thanks to several interesting changes in the past few years, that market is predicted to grow exponentially and those losses per person will be set to grow alongside them.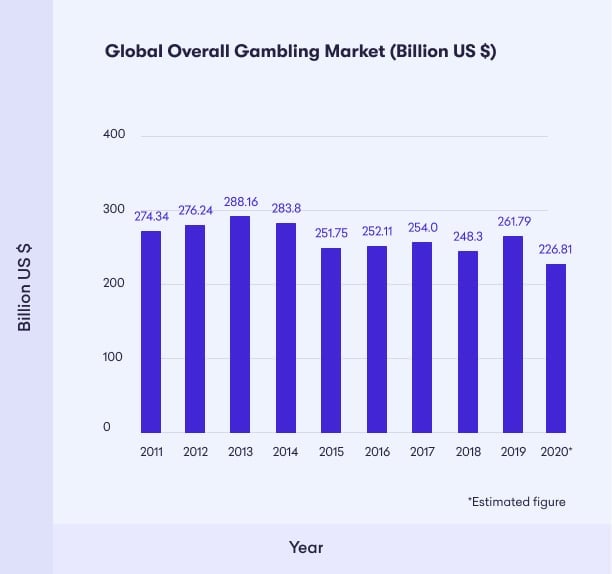 Increased global digitalization has made the online gambling market accessible to a much wider global audience, however. As a consequence the online gambling market is growing exponentially and is expected to attract $92.9bn in annual revenue by the end of 2021 – the actual numbers will be released early next year.
This represents growth in the online gambling market of almost 65% on 2019, when revenues for the sector were recorded at $58.9bn. (31)
By 2025, the global online gambling market is projected to be worth $113.12bn. (32)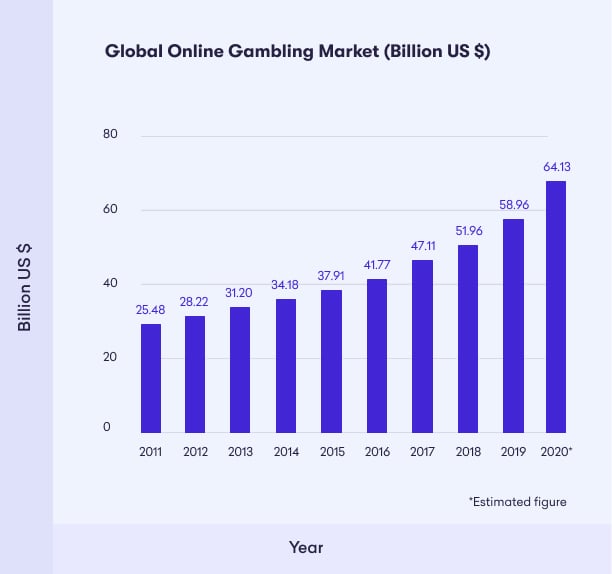 Social casinos
Social Casinos which feature free-to-play gambling-like games have been increasing in popularity throughout the world and especially in the USA, which accounts for 70% of the global market.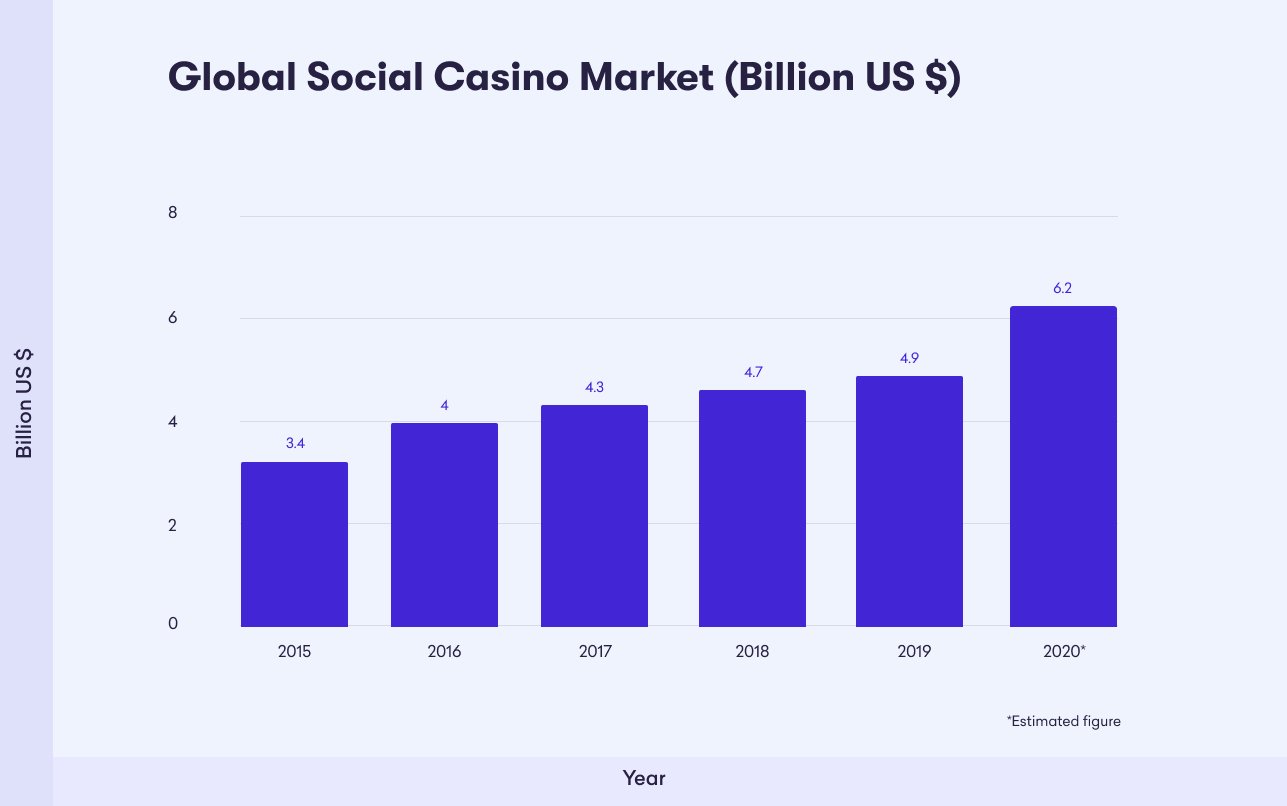 Potentially another vertical set to drive growth in the US market as our survey found that 84.35% of respondents had never played at a social casino. And while you can't cash out with real money from a social casino 75.23% of our respondents still considered it gambling.
Global gambling trends
So, how is the rest of the world doing, according to casino statistics?
While the US continues to battle to gain online ground, most of Europe is rethinking and reworking what has already been legal for some time. The United Kingdom especially is constantly revising its positions on regulation. One of its most interesting moves has been the ban of using images or characters which may appeal to kids in its casino marketing a few years ago. (33)
Europe dominates the international online gambling market with 54% of the total, and since the UK's revenue makes up 15% of that total, it is clear to see that it still takes the cake when it comes to the world of online gambling. Below we will be looking at some of the leading European players in more detail. (34)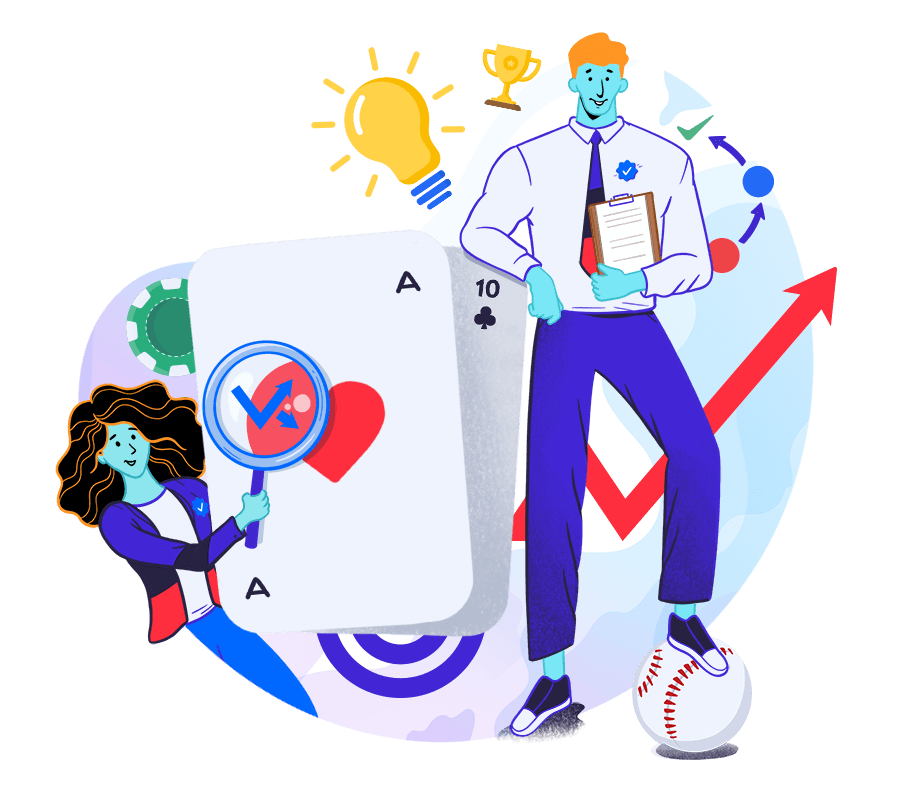 Sources