Gambino Slots casino review
Gambino Slots social casino has been around since 2015. Its 104 slots are available on any device with a dedicated mobile app that you can download for free.
It's worth pointing out that you can only play for fun at the casino. If you're looking for the thrill of winning cash then we suggest Fortune Coins, a sweepstakes casino with redeemable cash prizes.
The biggest selling point? Gambino Slots' no deposit bonuses. You collect G-Coins each day through gifts, login bonuses, free spins, and more. The VIP program offers additional perks like multipliers, and contest boosters.
Is it all cracked up to be? Read our full Gambino Slots casino review as we dive into the safety and legitimacy of this social casino.
Pros and cons
Daily gifts
Bespoke software
Facebook Pay for extra security
Only three payment methods
Need to unlock levels to try more games
No e-wallet payment options
General ratings
79
/100
Expert rating
by

Claire S
How we rate
Our main score is the Expert Rating, which ranks casinos on over 60 criteria in eight different sections, including bonuses, games, safety, and more.
Read more
85%
Playscore
based on 6 critics
94
94
92
84
76
70
What is our Playscore?
The Playscore represents the average rating according to top critic sites for a given gambling operator.
Read more
General info
| | |
| --- | --- |
| Launch date | 01/06/2015 |
| Company behind | Spiral Interactive |
Editor's note
This review is based on the operator's current offer. Data and analysis are accurate at the time of publishing, but may be subject to change as the operator's offer expands.
Expert verdict
I think Gambino Slots casino stands out when it comes to social casinos in the USA. It's got a great interface which doesn't change according to the device, a host of exclusive games, and loads of no deposit bonuses that help make Gambino Slots stand out.
There are certainly some downsides. The loading time can be slow and I would like to see more software providers on the platform. Still, I think the positives outweigh the negatives here.
I highly recommend you give Gambino Slots casino a try – it's got something for everyone!
Where can you play on Gambino Slots casino?
Being a social casino, Gambino Slots is available in most US states. The only states that do not allow Gambino Slots are Nevada, Idaho, and Washington. Gambino Slots social casino has the same offering in all the states it is available in.
How does Gambino Slots social casino work?
Gambino Slots social casino is an online social casino created for entertainment purposes only. Although you will be able to make real money purchases, you will be playing with G-Coins which you cannot withdraw, regardless of how much you win on the slots.
You can earn G-Coins by playing the games and claiming rewards from the Gambino Slots casino promotions.
To login all you need to do is click on the 'Play Game' button on the dedicated Facebook page. You'll start off with one game and you'll unlock more as you play and increase your level.
Bonuses and Gambino Slots free coins
While putting together this Gambino Slots review we found plenty of ongoing promotions. You'll start off with a Gambino Slots no deposit bonus of 200 free spins as your welcome bonus, in the form of 20 spins on ten consecutive days.
There are also plenty of other promos, including:
A daily gift of a random amount of G-Coins or free spins.
A free spin on the G-Wheelz every day, with accumulative bonuses for returning on consecutive days.
The G-Reelz bonus that gives G-Coins on a three hour timer, with a free spin every fifth collection.
Free G-Coins handed out in a button in the shop, with the amount increasing according to your level.
"Brags" available through the Facebook wall to get G-Coins, including G-Coins from the hostess Gaby.
A Piggy Bank that saves 10% of all winnings, and returns them back to you with interest.
Bonus facts
| Category | Details |
| --- | --- |
| Welcome bonus | 200 Gambino Slots free spins |
| Bonus code | N/A |
| Daily credits | Yes, a random amount of G-Coins or free spins |
| Free spins | Yes |
| Game-specific bonuses | N/A |
| VIP rewards | Gambino VIP Club |
| Other promotions and events | Special Gaby Gift; G-Wheelz, Daily Gift, Contests, Loyalty Points, Free Coins Reels Bonus, Piggy Bank, Level Up Bonus |
The amounts gained from bonuses vary depending on your level. The higher your level is on Gambino Slots, the more G-Coins and free spins you'll receive. This can increase even further depending on your level in the Gambino VIP Club.
You'll be able to participate in the weekly contests Gambino Slots casino hosts when you reach Level 8. Simply click on the trophy at the bottom of the screen to find out which game you need to play. A prize pool of G-Coins will be distributed among the winners when the contest period is over.
Bonus rating
90
/100
Plenty of chances to get G-Coins
Huge selection of promos
Regular free spins
Bonus terms are tricky to find
Indeterminate amounts of G-Coins awarded
I'm impressed with the number of promos Gambino Slots casino offers. You're welcomed with plenty of Gambino Slots free spins – an online casino bonus that you can enhance if you want to splurge by adding some real money to your package. 

Then there's even more free spins, the G-Wheelz, G-Reels Bonuses, and Facebook promotions – all these offer free gameplay. A great Gambino Slot hack is to compete in contests and save your winnings while accumulating interest in the Piggy Bank.

Although you can choose to purchase more G-Coins and spins in the store, Gambino Slots casino makes sure you can enjoy the games without forcing you to spend additional cash.

The lack of promo codes helps as you won't need to read through any terms and conditions to claim a bonus – it's all there in your inbox. All you have to do is click on the Gambino Slots casino promotion and you're good to go.

There's so much going on that it's a bit confusing and some things may be a bit tricky to find if you're new to the Gambino Slots casino app, but it's not too bad once you get used to where everything is and how the social casino works.
Gambino Slots casino games
Gambino Slots houses a portfolio of 104 slot machines. These are all available on any device. You'll only have access to one game when you begin playing – more will unlock as you collect XP and level up.
Games facts
| Category | Details |
| --- | --- |
| Expert's pick | Luxury Living |
| Slots | 104 |
| Popular slot | License to Win |
| Jackpots | N/A |
| Top jackpot | N/A |
| Table games | N/A |
| Popular table game | N/A |
| Live games | N/A |
| Popular live game | N/A |
| Average RTP | 96.64% |
| Demo-play availability | N/A |
You won't find any live casino games or table games at Gambino Slots casino. However, the games have the same features as real money casino slots do: wilds, multipliers, jackpots, bonus rounds, and free spins.
The Gambino Slots casino games are only available to logged-in players. There are no demo versions, which means you'll have to spend G-Coins to try the games out.
Games rating
65
/100
Lots of very samey games
104 slot machines
Exclusive games
No demo versions
Games locked behind levels
The exclusivity of the games makes up for the limited game catalog Gambino Slots casino has, but let's face it, 104 games isn't much. It is far off exceptionally good spots like Betrivers.net casino, which boasts nearly 500 games including live tables.

You'll also only have access to one game when you first start off. While this is interactive, it's always nice to have a choice. You'll unlock new games as you gain XP and level up, so patience is key

You'll have access to all the games when you gain entry into the High Roller Room, which is where the minimum stakes are higher. However, this isn't the place for you if you want to budget your G-Coins. So those who prefer low stakes may want to stay away from this room.

Something I really like is that your progress will be saved (if you've logged in through Facebook) so you can continue your game later. Since all the games are available on all devices, you can pick up where you left off on another device.

If you're OK with the rules and playing the same games until you level up, the Gambino free slots choice is worth a try.
Gambino Slots software providers
The Gambino Slots casino games are all powered by the site's bespoke software. This means the social casino offers exclusive slots for you to enjoy.
Software facts
| Category | Details |
| --- | --- |
| Most popular slot software | Spiral Interactive |
| Number of software providers | 1 |
| Live providers | N/A |
| Most popular live software | N/A |
| Bespoke software | Yes |
| Download required? | N/A |
Available software
Spiral Interactive
Software rating
60
/100
More software providers wouldn't hurt
Bespoke software
Exclusive games
The Gambino Slots casino slots are powered by the app's own bespoke software. This means that you'll play games by Spiral Interactive (the owners of Gambino Slots) that you won't find at any other casino. This makes the casino unique, but also very small.

I get it, Spiral Interactive wants to promote its own games. Thing is, having other providers gives a casino variety. Eventually, all the games in Gambino Slots start to come off as samey and get old quickly.

Still, the exclusivity of it all does help make Gambino Slots stand out. I'd like to at least see them invest in some software for table games down the line, but for now the exclusive slots will have to do.
Gambino Slots payment options
You can buy G-Coins on the Gambino Slots casino app using Facebook Pay. This allows you to make in-app purchases using credit or debit cards, PayPal, or Pay with Phone.
Payment facts
| Category | Details |
| --- | --- |
| Number of payment methods | 3 |
| Popular payment | PayPal |
| Minimum purchase | $0.99 |
| Maximum purchase | $99.99 |
| Average purchase time | Instant |
| Prize redemption | N/A |
| Minimum prize redemption | N/A |
| Average prize-redemption time | N/A |
You'll be presented with a window when clicking on 'Buy' – all you need to do is choose the package you'd like to purchase and select your preferred payment method. There are no Gambino Slots casino bonus codes, so you won't need to include any additional information.
Payments rating
90
/100
Smooth and easy transactions but pushed far too much
Facebook Pay for extra security
Major credit cards accepted
Few e-wallet payment options
Too many pushes for micro-transactions
I like the fact that Gambino Slots casino uses Facebook Pay as it makes it safer to use. The app won't have access to your bank details and you can use reputable payment methods like credit/debit cards and PayPal.

Personally, I do feel Gambino Slots pushes the micro-transactions a bit too much. I get that it needs to make money, but the regular pop ups get grating after a while.

What makes up for this is that the volume of free G-Coins handed out is high, so you should be able to play without ever having to spend a dime. If you do want to spend, the payment methods presented are safe and top-notch.
Is Gambino Slots safe?
Since you'll be playing via your Facebook account, you'll be safe while playing at Gambino Slots casino. Although the app collects basic information like your email address and your friends list, you'll be protected through the privacy policy.
Safety and other key company facts
| Category | Details |
| --- | --- |
| RNG auditing seals | N/A |
| Responsible gaming seals | N/A |
| Licenses | N/A |
| SSL encryption | 256-Bit |
| Two-factor authentication | Not available |
| Legal age | 18 |
| Purchase, play amount, and gameplay limits | All available |
| Self-exclusion | Available |
| Cooling-off period | Not available |
The Gambino Slots casino app won't publish anything on your Facebook feed without your consent. This means you can play the games without worrying about anyone seeing your activity.
Safety rating
70
/100
Facebook play adds another layer of protection
256-bit SSL encryption
Register using your Facebook account
Information is difficult to find
No RNG seals visible
Considering that Gambino Slots is a social casino, I think it's quite safe. You won't need to fill in any registration forms to begin playing, which keeps the personal information you disclose to a minimum.

Since you're signing in from Facebook, the Gambino Slots casino app will have access to your email address, your date of birth, and your friends' list, but the privacy policy protects you from them messing with it.

Gambino Slots is a play-for-fun casino, which means that there are no responsible gaming or licensing bodies visible within their app. However, they have a large follower base and their app has over 1,000,000 downloads, which I believe speaks for itself.

You only need to be 18 to enjoy the slots. However, always play responsibly, especially if you are purchasing G-Coins.
Support options at Gambino Slots
You can contact the Gambino Slots casino customer service team by sending them an email or speaking to them on their Facebook page. You'll also find an FAQ section on the desktop site.
Support facts
| Category | Details |
| --- | --- |
| Customer support availability | Not disclosed |
| Live chat | N/A |
| Email | Ticketing system |
| Contact number | N/A |
| On-page support | FAQs and Help Center |
Online social casinos like Gambino Slots generally don't offer live chat services, and this social casino is no different. However, you can contact the customer support team via Facebook messenger. Their FB ratings show that the Gambino Slots casino customer service agents are very responsive.
Support rating
75
/100
For a social casino, we can't complain
FAQs available on site
Facebook messenger available
The general rule is that you get what you pay for, so I wasn't expecting much from Gambino Slots casino. My review proved me wrong! There are plenty of customer service options: FAQs (though these are only available on the desktop site), email, and Facebook messenger.

I found that the customer service team is quite responsive on Facebook messenger, which is great as it means that any difficulties you may have will be sorted quickly despite being a free service.

I also noticed that they reply to comments players leave, which I think makes Gambino Slots casino seem more like a community than a play-for-fun casino – thumbs up!
Gambino Slots usability — the casino-for-fun experience rated
Gambino Slots casino is easy to navigate regardless of whether you're using a browser or the mobile app. The layout is exactly the same, only scaled to fit the device you're accessing it from. There are no filters or search functions.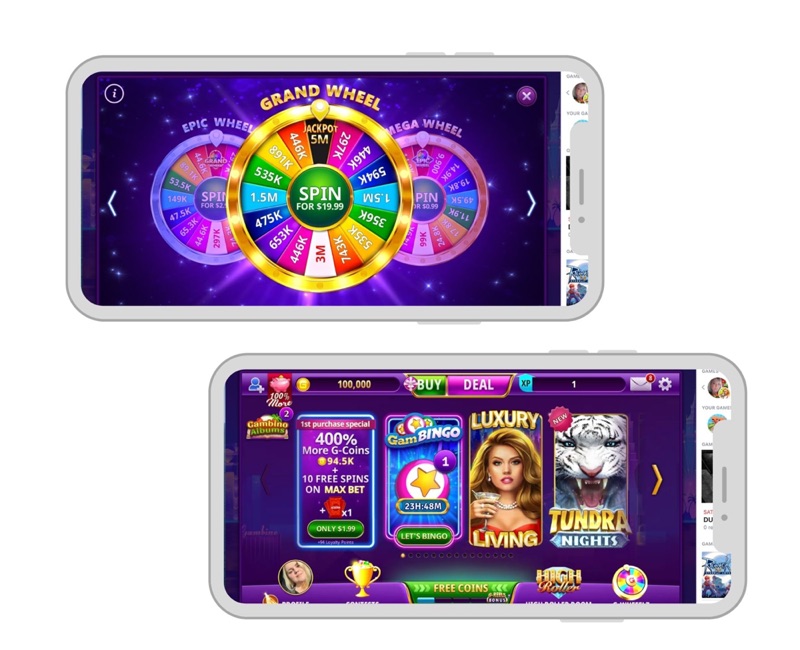 You can also play instantly on desktop, but you will have to download the Gambino Slots casino slots if you are using a mobile device. All that you need to do is click on the green arrow on the game you wish to play.
Usability facts
| Category | Details |
| --- | --- |
| Mobile app | Yes |
| Mobile game availability | Full suite |
| Ease of navigation | Very easy |
| Game filters | N/A |
| Search function | N/A |
| Loading speed | 0.3 sec |
| UX and UI rating | Very Good |
| Other products | N/A |
Although the overall user experience is smooth, the social casino can take a while to load when changing pages, switching between games, or accessing Gambino Slots casino bonuses.
Usability rating
83
/100
Looks great but can be slow at times
Contrasting colors for easier navigation
Optimized for all devices
Loading time can be slow
No filters
I like how Gambino Slots casino has designed the app and features. The bright colors allow for easier navigation and a better user experience. The game tiles are also big, which makes it easier when looking for games especially since there are no search functions or game filters.

Logging in to the site is easy – you can either access it through the app or through the Facebook page. However, loading times can be a bit slow, which is a bit annoying, especially when trying to understand what all the different buttons do.

You'll need to download the games individually to play the Gambino Slots casino slots on the app, which is a bit annoying. I recommend trying them out on desktop first as you can play instantly. Once you've found your favorites, download them on the app.

It was a bit challenging to figure out how Gambino Slots casino works. I'd say not too bad for a social casino, but I've seen better.