bet365 online sportsbook review
For sports betting fans, bet365 should require no introduction. Starting out from a humble portable cabin in the UK, the 'little sportsbook that could' has spent the past 21 years turning itself into a global powerhouse, spanning over 200 countries.
Recently it's opened its doors to the United States, starting with the state of New Jersey. Bet365 NJ online sportsbook not only has an impressive selection of sports to choose from (34 sports in total), but it is also one of the few sites that offer betting on virtual sports. It especially excels in football, with 147 different markets on the NFL alone.
This doesn't mean that the site is not without a few caveats. The interface isn't really beginner-friendly, with information overload after entering. It also lacks markets for esports and has few betting options for experienced players (beyond parlays).
Let's kick off this bet365 online sportsbook review with a look at their bonus offerings.
Pros and cons
Lots of football
Good promos for existing players
Strong parlay boosts
No esports
Email responses take long
Faulty search bar
General ratings
96
Betting features rating
81
Sports and markets rating
How we rate
Our main score is the Expert Rating, which ranks casinos on over 60 criteria in eight different sections, including bonuses, games, safety, and more.
Read more
89%
Playscore
based on 6 critics
94
91
90
90
84
83
What is our Playscore?
The Playscore represents the average rating according to top critic sites for a given gambling operator.
Read more
General info
| | |
| --- | --- |
| Launch date | 01/08/2019 |
| Company behind | Bet365 Group |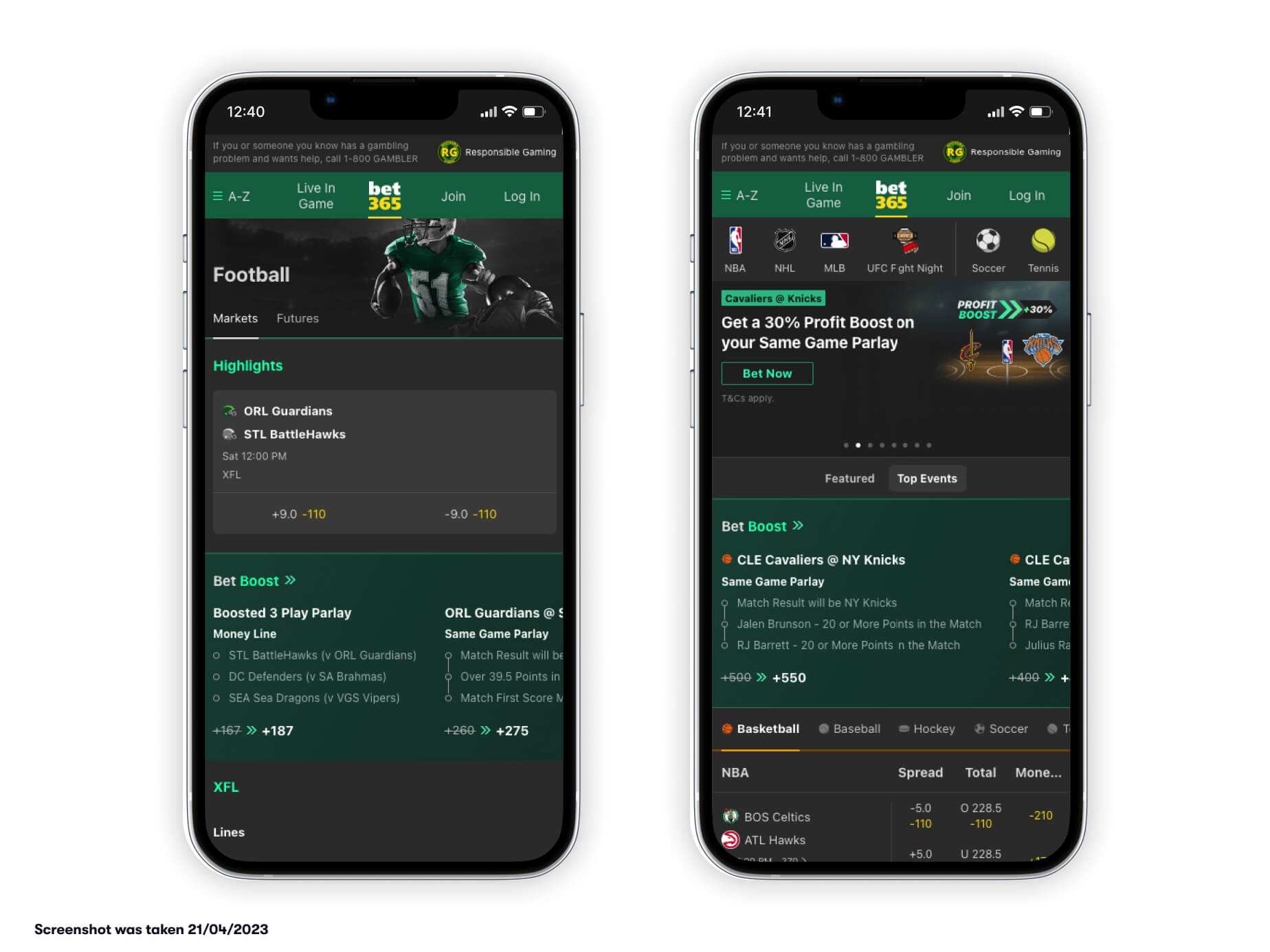 This review is based on the bet365 NJ online sportsbook. Currently, it's available in Colorado and Ohio too, and they have a license to begin operating soon in New York. Any differences between states will be highlighted in the states section of this review. They adhere to the Responsible Gaming initiatives of each state they operate in, and include self-help resources. If you need help, call 1-800-GAMBLER.
bet365 bonuses: $200 in bonus bets
Click on the bet365 online sportsbook site and you'll see 'New Customer Offer' – offering up to $200 worth of bonus bets. All you have to do to claim the money is deposit $10 into your account and place a $1 qualifying bet. Sounds good, right? Well, it is. The only real catch is that the money will be credited to your Bonus Bets.
But $200 in bonus bets isn't exactly chump change, and it's always nice to be able to gamble without risking your own cash. However, when it comes to welcome bonuses, compared with other sportsbooks it's a little on the lower end. Borgata, for instance, offers new players a risk-free first bet offer of $1000, a lot more than the amount bet365 is offering. Our betting offers page covers more of the good stuff running around the US sports betting scene.
New players will also need to jump through a couple of hoops before earning their bonus bets. Depositing money is unfortunately not good enough, players will also need to bet the money on odds of -500 or greater. We should note here that bet365's bonus bets are non-withdrawable — you can withdraw your winnings, but not your stake. Also, risk is excluded from any returns, the bonus can't be used for some bet types such as the parlay bonuses, and it'll expire in 90 days if the player's account is inactive.
Bonus facts
| | |
| --- | --- |
| Welcome bonus | Bet $1, Get $200 |
| Wagering requirements | Qualifying bet at odds of -500 or greater |
| Other bonuses | Parlay boosts |
| VIP offers | No |
Bet365 does have a considerable amount of other offers available, mainly a sizable amount of early payout offers which we'll go over in more detail in the expert section below. 
Bonus rating
74
/100
An average welcome bonus saved by other options
Several early payout options
Good parlay bonuses
Need high-risk bets to qualify for the welcome bonus
Yeah, things don't seem off to a great start. However, there's still quite a lot to look forward to here. As we highlighted $500 is still a sizable amount of money, and once claimed it is yours to keep so long as the account stays active. It's also nice to see that bet365 online sportsbook bonus codes are not necessary here, and you can instead just claim your bonus once you've met all the conditions.

The downsides can however be hard to ignore, particularly with the Bonus Bets. I'm simply not fond of how bets placed with Bonus Bets do not qualify for the parlay bonuses. Those bonuses are easily the best offer that bet365 has, and being excluded from them just feels like being forced to stay outside while all the cool kids' party indoors.

Fortunately, bet365 does have other offers up its sleeve. As stated before, the parlay bonuses are particularly enticing, allowing a player to even have a multi-sport parlay bonus of up to 70% on 14 team parlays and upwards. To compare, Unibet sportsbook only allows you to go up to a 50% boost.

There are also several early payout options that I particularly like, as it gives you more chances to leave with your hard-earned winnings. With soccer, for instance, bet365 will pay out your bet in full if the team you back to win goes even just 2 goals ahead, at any stage during the game. If the match finishes at a 0-0 tie and the bet loses, you'll get your risk fully refunded anyway, which adds a nice little safety net to the whole experience. These options are all quite enticing, and more than make up for the welcome offer.


Additional bonus details
bet365 online sportsbook bonus codes
If you're questing to find the bet365 online sportsbook bonus codes, then you can relax. There's no need for promo codes with bet365 online sportsbook. Instead, the offer will come in automatically after a qualifying bet has been made.
Sports and markets at the bet365 sportsbook
A preliminary scroll through bet365's sports options will initially show 22 different sports. These range from the more popular choices such as football, basketball, and baseball, to the slightly more niche options such as golf, cricket, and snooker.
This at first all seems pretty standard. However, upon closer inspection, a user may notice that there's  a separate section, exclusively for virtual sports. Here there are 12 more options. Some are virtual alternatives to sports already listed such as football and basketball, whilst some other sports are completely unique to the virtual sports section — like horse racing and greyhounds. 
Market facts
| | |
| --- | --- |
| Total number of sports to bet on | 34 |
| Bet options per match (football) | 147 |
| Bet options per match (basketball) | 117 |
| Alternative options (esports, politics etc) | No |
There's also an impressive number of betting options on display, with both football and basketball clocking in at 100+ markets. Football itself is at 147 markets, only 3 shy of the 150 mark. Bet365 is pulling out all the stops here, and its recent addition (at the time of writing) of virtual soccer to its roster of sports shows that it doesn't intend to slow down anytime soon.
At present bet365 online sportsbook is all about sports. Meaning there isn't anything else to bet on other than sports. Sectors such as esports or politics are unfortunately omitted from this sportsbook, so players wishing to bet on those will have to look someplace else.
Available events
MLB

NBA

NCAAB

PGA

US Open
Sports and markets rating
81
/100
Impressive selection of sports that is held back by a lack of alternatives
Several betting options for football and basketball
Inclusion of virtual sports in its roster
Fewer options on the less popular sports
No esports or politics
When it comes to sports, especially the popular sports markets, bet365 excels. The sheer number of betting options for the NFL is overwhelming, and it's clear that bet365 doesn't intend to stop here.

There are naturally fewer options with the less popular sports. But anyone who wishes to make a wager will still find plenty to bet over regardless of the sport. For me, the real sting comes from the lack of options other than sports, with esports and politics being left out.

This feels especially unfair as bet365's UK counterpart features both of these markets, with a particularly impressive selection of esports to bet on. So if I want to bet on Will Smith to be the next US president, perhaps I need to take a flight to the UK.


Betting features at bet365
So far, bet365 has been giving an average showing but here is where it starts to really shine. The sportsbook has a number of impressive features that let it show off what it can really do.
Cashout? Check. Bet Builder? Check. Live streaming and live betting? Check and check. It's all here, and each one is decked out with a few extra quality-of-life options. Now players can partially cash out their bets, leaving that little bit in just in case they think they might have a shot after all. The bet editor also lets them add, swap, or remove selections from a bet after it has been made. There's even a handy, easy-to-access schedule of daily events so that you can plan ahead. Bet365 is so dedicated to making the player's life comfortable, I'm surprised it doesn't come with a free onesie.
Feature facts
| | |
| --- | --- |
| Cashout | Yes |
| Bet Builder | Yes |
| Live betting | Yes |
| Live stream | Yes |
On the bet365 online sportsbook streaming and betting has its own little section, with ongoing data constantly being updated to help the player make better decisions. The layout also makes placing a bet quick and efficient, even while keeping one eye glued to the game.
Betting features rating
96
/100
Nearly perfect. Nearly.
Partial and auto cashout
Bet editor
Live odds updates
No other systems than parlay
This really is the section where bet365 gets to truly shine. I've already gushed about the early payout options in the bonuses section, and now I basically get to gush about everything else in this section.

I'm a sucker for anything that goes out of its way to make me comfortable, and bet365 certainly seems to be doing that here. It's nice to be able to simply set auto cashout on and let my bets get settled in the background whilst I go about my day in peace. Not to mention the lifesaver that is the bet editor, letting me change my bets after I inevitably mess up something and realize about it afterward. Bet365 is clearly going out of its way to not just have all the standard options but also improve upon them as much as possible.

The live data itself is also above average, giving a few extra little tidbits. Soccer  for instance showed stats like shots on and off target, a bit of extra information that's greatly appreciated. Seeing goals is good and all, but it's the tiny details like this that let me really judge how a game will go and adjust my bets accordingly. There's certainly room for improvement mind you, but it's nice to see bet365 go beyond the standard data shown.

Unfortunately, there's a bit of shadow to even this bright section of the bet365 online sportsbook review. New players will probably be overjoyed to see all of these quality-of-life features, however experienced players who want to make a few riskier bets will find that there just isn't really much in the way of betting systems beyond parlays. Sure the bonuses are nice and all, but they have to be when parlays are pretty much your only option.

Still, what is there is excellent, and I for one am more than happy to see bet365 pass this section with flying colors.


bet365 sports betting odds
We've taken a look at the average payout percentage that bet365 has to offer, and from what we've seen, what's on offer here is exactly that: average.
Bet365 clocks an average of around 94% in its general payouts, across the board. On the one hand, this certainly makes life a little bit easier. No need to stay worrying too much about which sports have the best payout if they're all roughly the same. However, 94% is hardly a stellar number. It's only slightly above the 93% which we like to classify as 'low tier'. It's not terrible, but it's not great either.
Odds facts
| | |
| --- | --- |
| Average payouts | 94% |
| Boosted odds | Yes, on parlays |
The good news is that live payouts are not too far off, clocking in at around 93%. Seeing as how live payouts are usually quite a bit less in exchange for the added edge of seeing the sport play out live, it's nice to see that the live payout of bet365 is not trailing too far behind.
Odds rating
65
/100
Not great, not terrible
Difference between standard and live payouts is minimal
Easy to see odds and bet Live In Game
Near the low end of payouts
Honestly, it's not a great showing from a sportsbook as well established at bet365. It's not the worst out there, but it's far from the higher-end percentages that I like to see. When I search for payouts, I like to go a bit beyond "not rock bottom".

It's nice to see live payouts not too far off behind. We always have to adjust a little for live payouts, so the slightly lower percentage is understandable. Still, all this means is that bet365 has a rather average showing across the board.

As stated in previous sections though, there are at least some nice parlay boosts to go along with all this. That 70% boost is still an extremely enticing offer, and should at least make up a little for the average showing here.


Payment methods at bet365
Bet365 starts to make up for its payouts and bonuses with a more decent showing here. The sportsbook offers 9 different payment methods, which is a nice bit of variety to have. It's not really near the top for the US, Borgata for instance offers a whopping 13 different choices. However, bet365 does give the player quite a few options to choose from.
Payment facts
| | |
| --- | --- |
| Total number of payment methods | 9 |
| Best | bet365 Mastercard, Skrill |
| Minimum deposit | $10 (all) |
| Maximum deposit | $38,000 (Skrill) |
| Minimum withdrawal | $1 (Cash) |
| Maximum withdrawal | $38,000 (Skrill) |
| Average deposit time | Instant |
| Average withdrawal time | Within 24 hours (bet365 Mastercard, PayPal, Skrill, Cash) |
| Deposit fees | No |
| Withdrawal fees | No |
When it comes to payments bet365 offers Visa, Mastercard, and PayPal, and players can even use good old internet banking if they're willing to wait a few days for withdrawals. Bet365 even comes with its own Mastercard, a handy little thing since it's the only option that lets players withdraw instantly besides cold, hard cash.
It's not the most expansive list you'll ever find, but the ones that are here are of good quality and that's always a plus in our book.
Full list: Visa (debit and credit card), Mastercard (debit and credit card), bet365 Mastercard, Paypal, PayNearMe, Skrill, paysafecard, cash, online banking.
Bet365 also thankfully has no fees for either deposits or withdrawals, letting you hold onto that little bit more of your hard-earned cash. If you require more details, then all of the info on payment methods is very easy to find. Simply click on the 'Help' button right at the top of bet365's home page, click on 'Payment Methods', and you're there. All of the information a person could ever need on how to give their money to a corporation.
Payments rating
80
/100
Fairly standard options all round
No operator fees
Decent withdrawal speed
Most withdrawals require deposits from the same provider first
I honestly would have expected a little bit more than the standard 9 payment methods from a giant such as bet365. Sure all the main faces are here, but I would have expected them to accept my cash by every payment method going, including carrier pigeon.

Still, no fees of any sort is certainly a plus, and the withdrawal times are for the most part pretty decent, with most options either instant or within 24 hours. Skrill in particular is quite impressive, with a whopping $38,000 maximum deposit and withdrawal, while keeping its withdrawal processing times within 24 hours. As a fan of eWallets, I have to admit that this does put a smile on my face.

The only real catch is that nearly all of the withdrawal options require you to have made a deposit with the same method first. In fact, only the bet365 Mastercard withdrawal method allows you to withdraw without having deposited with it first, which feels like a cheap move to push players towards bet365's card. As a guy who sticks with the same eWallet for everything, this wouldn't really be an issue, but it does cast an unfortunate shadow on the works that stop bet365 from getting a higher score here.

Still, there are certainly worse alternatives, and overall bet365 gives players a solid list of options to deposit and withdraw their cash. It also turned out to be pretty easy to deposit on mobile too, so shoutout in the sports betting apps category too.
Safety features of bet365
We've highlighted a few issues in this bet365 online sportsbook review, but thankfully safety is not one of them. Bet365 has been a mainstay for years, so it should be no surprise that this site is approved, legal, and licensed in the state of New Jersey, with licenses even in Colorado and New York (though it is yet to launch in either state).
Safety facts
| | |
| --- | --- |
| Auditing seals | NJDGE |
| Responsible gaming seals | NJDGE |
| SSL encryption | 256-bit |
| Ever blacklisted? | No |
| Number of licences | 3 |
| Self-imposed spending limits | Yes |
| Self-exclusion | Yes |
| Cooling-off periods | Yes |
| Account authentication | Required |
| Two-step verification | Yes |
The sportsbook also takes steps to help with addiction, with links to both 800-GAMBLER and NCPG at the bottom of the website. There's also a bright green link to responsible gaming at the top of the website attached to the sticky bar. Not only does this help remind the player to be careful, but it also links to all the various tools that bet365 has at its disposal to help players deal with problem gaming.
Players can easily track their activity here, and put limits on deposits, spending, and sessions. They can even do a full time-out or self-exclusion if necessary. It's good to see bet365 taking active measures to keep its players safe. Add in a strong SSL encryption and 2-step verification, and players have no reason to feel unsafe while playing at this online bookie.
Licensed by
New Jersey Division of Gaming Enforcement
Trusted by
800GAMBLER
Safety rating
95
/100
A safe environment for all players
All safety procedures present
Strong SSL encryption and 2-step verification
Currently only open in 1 state, with licenses to open in 2 more
If there was any segment of this review that I'd have wanted bet365 to excel at, it's definitely this one, so it's nice to see it pass with a near-perfect score.

On the one hand, this should not be too much of a surprise. After all, not only has bet365 been around for years without any major security breaches, it's also an award winner, winning Sportsbook of the Year for 7 consecutive years at the SBC Awards. With several tools at its disposal as well as its own responsible gaming platform, bet365 is clearly pulling out all the stops here.

While the sportsbook does technically have 3 licences, I have to admit that I am a bit wary of talking up licences for states that it hasn't launched in. This only leaves New Jersey, which is certainly not bad, far from it. However, more eyes on their operations would certainly help me sleep better at night.

Overall however, the site is extremely safe, and you can rest easy knowing that your money is in good hands.


bet365 customer support
We've gone through bet365's customer support to see how they hold up, and for the most part, they've come out quite well.
For starters, players have several options to contact the sportsbook, from the more traditional email and phone, to a full 24/7 live chat support. There's a nice 'Help' button at the top of the site that's attached to the sticky bar, and for good measure, they also have a bunch of links at the bottom of the site as well. Scroll down far enough and you'll be sandwiched between 'Help' links. How's that for support?
The actual link itself will open a separate window to a handy FAQ, as well as separate sections for contacting bet365 and for going over those pesky terms and conditions. It's easy to find and easy to navigate, so gold stars all around here.
Support facts
| | |
| --- | --- |
| Support hours | 24/7 |
| Live chat | Yes |
| Email | Via web form |
| Phone | (1-833) 754-8200 |
| On-page support | FAQ and Help sections |
In the live chat itself, the response time is within a matter of seconds. You can expect clear and concise responses to all of your questions. You might occasionally experience a slight waiting period between responses, however nothing too egregious. It's to be expected considering that often other departments need to be checked before a response can be given. Expect efficiency from the late-night crew, who are also very efficient, keeping up the quality of responses even in the early morning hours.
Support rating
93
/100
Seemingly perfect, but with an unfortunate dark spot
Fast queueing times
24/7 live chat even available for non-registered users
Easy to find and access contact page
Slight waiting period between responses
Honestly, this section is pretty straightforward. The wide variety of options available, how easy it is to find all of them, the concise and helpful staff, all of this points towards a sportsbook that excels at customer support. There are a couple of nitpicks, however.

The first was the slight waiting period that I would occasionally get between responses. As stated before, it was probably due to having to check in between different departments, but it was just long enough that it is worth noting here. The second is that whilst the 'Help' button is on the sticky bar, the live chat is not. This means a few more extra clicks to get to the live chat. Again this is nothing serious, but with the amount of space left on the sticky toolbar, it just seems strange to leave it mostly empty and not include an option for live chat.

Still, these are all very minor issues, and bet365 does a great job overall in this department.


bet365's platform
Here's all of the important details that you need to know regarding bet365's platform:
Registration involves 17 fields and 22 different clicks. It seems like a hefty amount, however most of these are very quick fields such as 'Title', 'Name', and 'Surname', so it should not take more than 3-5 minutes to complete.
The welcome offer will take a bit more time, where you'd need to go through all the hurdles outlined in the bonuses section
The bet365 online sportsbook app is basically the same as its desktop counterpart
The website suffers from a massive information overload, making it quite daunting for new players
Fortunately, once you find the sport that you want than it is quite easy to navigate
The search bar sometimes just flat out doesn't work
Platform facts
| | |
| --- | --- |
| Search function | Yes (when it works) |
| Sticky live chat | No (though the 'Help' button is sticky) |
| Interface rating | Good, but not beginner-friendly |
| User experience rating | Fair |
| Other verticals | Casino |
The website also comes with a sticky toolbar with buttons for 'Responsible Gaming' and 'Help'. This means that while live chat itself is not sticky, the help and FAQ section is, and so the live chat can be accessed from there.
Supported operating systems
iOS

MacOS

Linux

Windows

Android
Platform rating
72
/100
A slew of minor issues plague what would otherwise be a great platform
Sticky 'Help' button
Solid mobile and desktop options
Bizarrely broken search bar
This one is a particularly frustrating section to write about. Almost everything here starts as a solid option, only to have a small caveat. It's like a magnificent painting, with a corner that has been slightly but very noticeably smudged.

Let's start with registration. 17 fields and 22 clicks feel like far too much for simple registration. Sure, a lot of these fields are small and quick to fill out. However, some of these just feel downright arbitrary. For example, why on earth do you need a tickbox confirming that I'm over 21 years of age? Surely the date of birth that I have just entered confirms this.

Moving onto the interface, all of the information is certainly there. However, this is also part of the problem. The information is all there. All of it. A veritable ocean of white and yellow numbers. A little cleanup could go a long way in helping newcomers to sports betting understand what is in front of them, and experienced players would get to appreciate a cleaner interface as well.

Finally, there's that cursed search bar. I'm not sure if this is some strange new trend with US sportsbook search bars, but they seem to have a mind of their own. Sometimes, they'll bring up the search you wanted. Sometimes, they won't bring up anything. Sometimes, they'll just bring up a random, completely unrelated result altogether. For all my praise of how bet365 includes virtual sports, actually searching 'virtual sports' doesn't yield any results. In a particularly bizarre case, searching 'serie' brought up the desired result for the Italian Serie A soccer league, however searching 'serie a' instead gave me one result for the MLB World Series.

Needless to say, all of these issues have chipped away at bet365's score for this section. With this being the final scoring section of the bet365 online sportsbook review, bet365 ends on less of a bang and more of a whimper.


bet365 online sportsbook state availability
Bet365 is available in New Jersey, Ohio, Virginia and Colorado. It launched in New Jersey first but in 2022 and 2023 it expanded to three more states. The site experience is the same for all four states. The only difference is the quantity of sports available to bet on. 
bet365 in New Jersey
Bet $1 and get $200 in bonus bets for new players
Odds boosts and other daily bonuses for existing players
Bet on 34 different sports
9 different payment methods
General payouts of roughly 94%
24/7 live support
Native iOS and Android apps
Licensed by the NJDGE
GeoComply plugin is required in order to play in New Jersey
bet365 in Colorado
Bet $1 and get $200 in bonus bets
Many daily boosts and promos for existing players
Bet on 23 different sports
8 different payment methods
24/7 live support
Licensed by the NCPG
GeoComply plugin is required in order to play in Colorado
bet365 in Ohio
Bet $1 and get $200 in bonus bets
Plenty of daily boosts and promos for existing players
Bet on 16 different sports
8 different payment methods
24/7 live support
Licensed by the NCPG
GeoComply technology
bet365 in Virginia
Bet $1 and get $200 in bonus bets
Daily boosts and other promos for existing players
Bet on 19 different sports
6 deposit methods
24/7 live support
Licensed by the Virginia Lottery
GeoComply technology
States available
New Jersey

Colorado

Ohio

Virginia
Expert verdict
With an overall score of 82%, a part of me is just a little bit disappointed that a giant such as bet365 did not score higher.
Still, there's a lot more to celebrate than there is to scoff at. The parlay bonuses are great, and it's nice to get early payouts and still have them count as a win for parlays. More chances to stack those wins and get that coveted 70% bonus.
The number of sports is staggering at 34 options, and the inclusion of virtual sports is a very nice touch. I'm still admittedly a little bit salty over not seeing any esports or politics but hopefully, this simply means that New Jersey will get them later on down the line.
The incredible amount of tools given with cashing out and editing bets is also a huge bonus. It's a shame that there are no real options for experienced players other than parlays, but what there is has clearly been polished to a shine. Throw in the other tools all used to keep the players safe with spending limits and time outs, as well as a strong SSL encryption, and you've got yourself a sportsbook that is both fun and safe to use.
There are certainly a few caveats. The average welcome offer and payouts, and the many issues on the platform all chip away at bet365's score. Still, this player-favorite bookie ticks all the must-have boxes. With parlay boosts and early payouts in tow, there's little to scoff at.
However we can confidently say that this sportsbook has a lot more good than bad, and I look forward to seeing bet365 recreate its explosive growth in the USA.
FAQs