Many consider being a mom the hardest job in the world. Moms are coaches, multitaskers, planners, diaper changers, mediators, chauffeurs, nurses, teachers, and more. These days, most moms tackle these tasks while also maintaining a full-time career. So the least we can do for mom is to give her exactly what she wants on the one day a year that's just for her.
But what does mom really want for Mother's Day? It's a question that's haunted children of all ages since the beginning. From last-minute trips to the mall with dad, to endless hours of online browsing, finding that perfect gift for mom is an annual tradition in some families. To find out what matriarchs want most, we asked moms in every state what their ideal Mother's Day gift would be. To keep up with modern trends, we only surveyed moms who still have children living at home.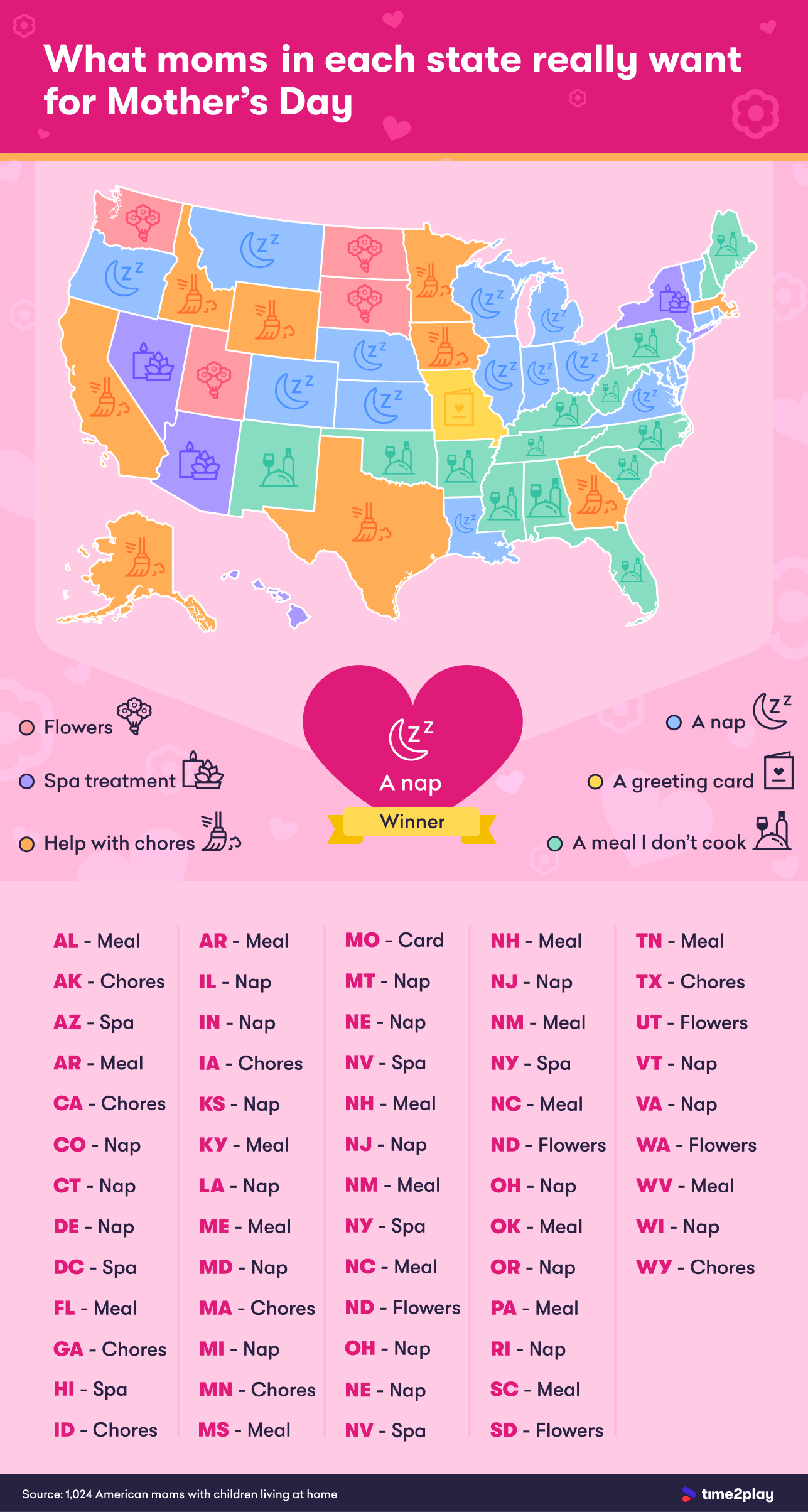 Giving mom what she wants and needs
The thing moms want most for Mother's Day isn't a thing at all. It's something so simple, yet so coveted by moms across the country — a nap. In 18 US states, a nap was voted by moms as the gift they want most. Illinois, Indiana, Ohio, and Wisconsin moms all voted a nap as their ideal gift. Michigan moms, who are known for visiting the best MI online casino site, also chose naps. Proving that midwestern moms really need to get some sleep. In between checking out the top NJ casinos, also told us they'd like a nap for Mother's Day.
The next most-wanted gift by moms on Mother's Day is a meal they don't have to cook. This could be breakfast in bed or a dinner out at her favorite restaurant. Fans of WV casinos online, also told us they'd like a meal they don't have to cook. Either way, it's clear many moms could use a break from cooking.

And what comes after cooking? That's right, cleaning. In third place on our list is help with chores. It turns out moms don't want a vacuum, they want someone to vacuum. Help with chores was the most wanted answer in California, Texas, Georgia, and seven other states. Finally, moms in other states chose a spa treatment, flowers, or a simple card as their ideal gift.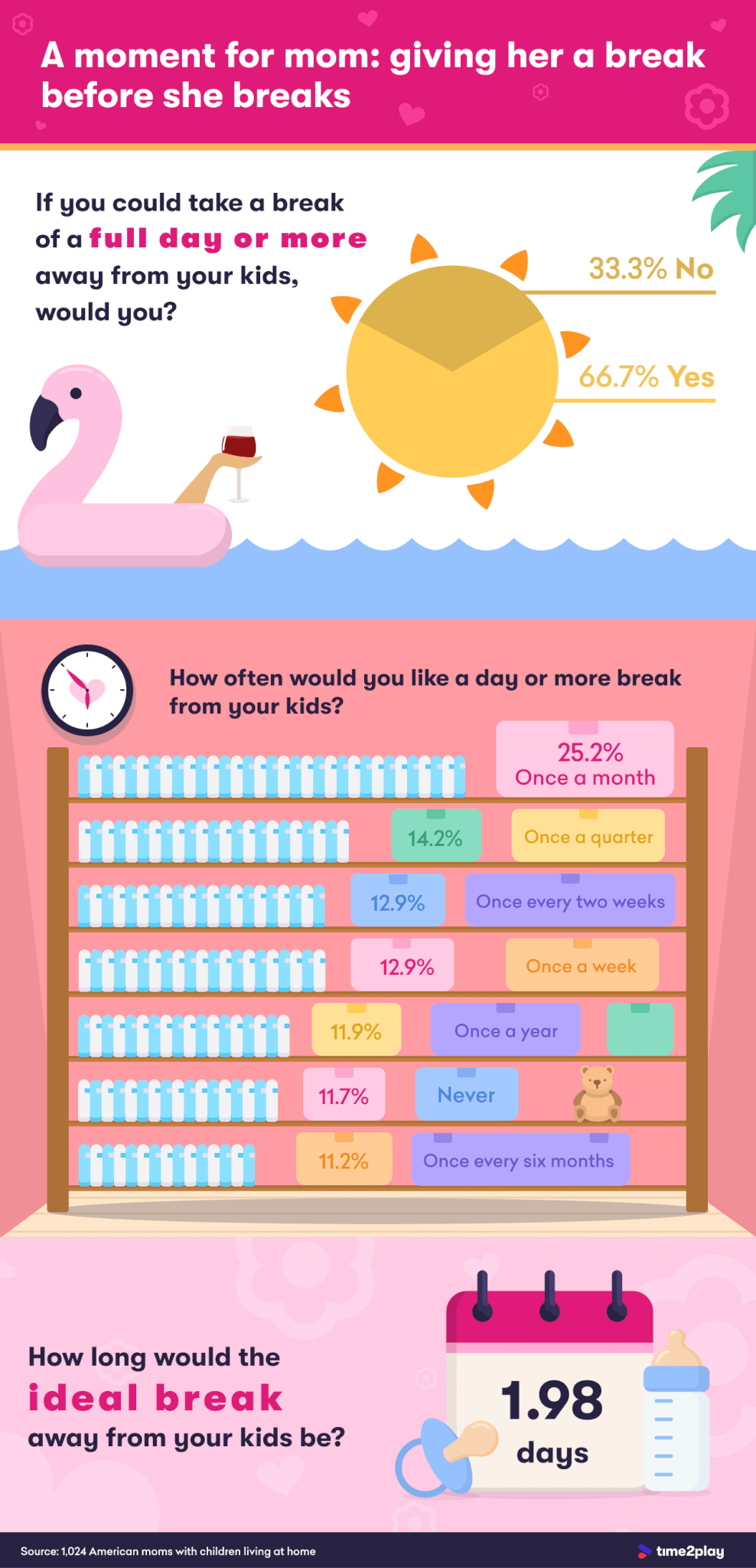 Some time to herself
With the overwhelming number of mothers signaling they'd like a break for Mother's Day, we thought we'd see if moms would actually take a break away from their kids. A majority, 66.7%, said yes, they would like some time away from the kids. A once-a-month break was just right for 25.2% of moms. While 14.2% said they'd take refuge once per quarter. Overall, the average number of days moms wanted away from their kids was 1.98 days.
Methodology
In April 2022 we surveyed 1,024 US moms with children still living at home. The average age of respondents was 36.4 years. 65.7% were employed full-time. 26.9% were stay-at-home moms.
For media inquiries, please contact: [email protected]
Fair Use
If you'd like to share this post or its assets with your friends or audience, you are welcome to do so. Please be sure you include attribution linking to this study.
Trending blogs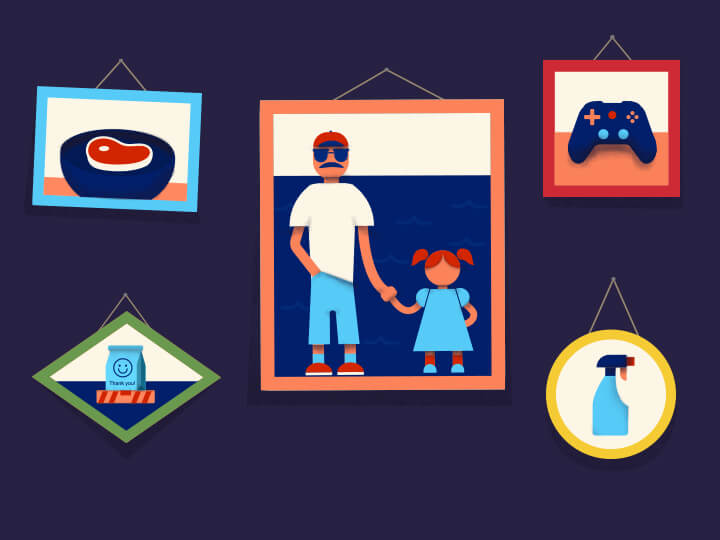 What dads in each state really want for Father's Day
What do you get for the dad who already has everything? Pacing the aisles of the hardware depot or electronics store, painstakingly searching for that perfect present to show dad just how much you appreciate him is a pastime many of us know all too well. And once we finally settle on what we hope will be the gift of his dreams, there's no guarantee dad will even like it. So wouldn't it be nice to have a bit of guidance before the holiday on June 19?