Best new betting sites in Australia 2023
While many of you like the security of an established betting site, there's a lot to be said for the virtues of new bookmakers in Australia. New Australian bookmakers can offer up more than you expect!
Not only can new betting sites in Australia provide more, and more modern, features for gambling, but they often have more sports too. Some even act as a betting exchange, giving you better odds and a new way of playing completely.
Here are the freshest AU betting sites to hit the market.
Imagine what you could be buying instead.

For free and confidential support, call 1-800-858-858 or visit gamblinghelponline.org.au
#1 Dabble: launched in 2021
While Dabble is not one of the most recent new betting sites, it really stands out in terms of what it has to offer players. This is a fantastic mobile site with excellent mobile betting apps for both Android and iOS. As a new online bookmaker, Dabble has also brought in a ton of innovative features, not least the very exciting social betting platform where you can play against friends.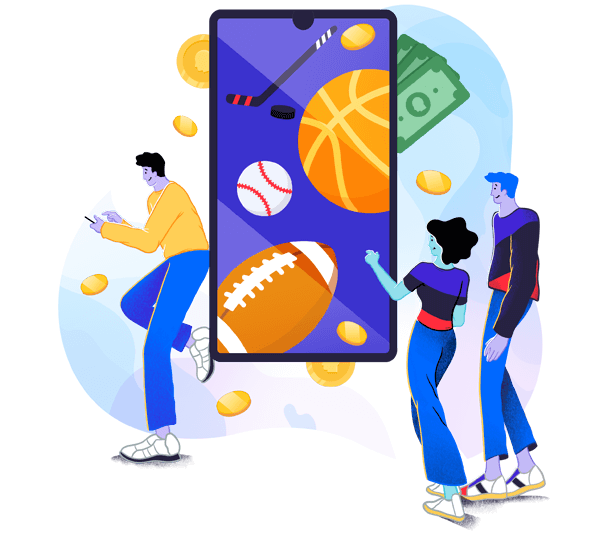 <strong><strong>#2. Bet Right: great mobile apps </strong></strong>
As one of the new bookies in Australia, Bet Right lives up to its name and really aims to help provide the right betting platform to players. It's got very strong mobile betting apps in place as well as tons of different sports. It also takes things further by offering players the chance to get in touch with support and interact with each other via Discord. 

<strong><strong>#3. BoomBet: </strong></strong>modern design and features
Despite being one of the newest online bookies in Australia, BoomBet has quickly become a highly respected gambling operator. Not only do they have an excellent and intuitive gaming platform that keeps things simple, but they also excel when it comes to providing top odds and customer service. This Australian-owned site is definitely a strong contender to be one of the best new betting sites out there.
New sports betting sites by category
To help you, we don't just list the top new Australian bookmakers in general, but we whittle down the options via specific categories. We know that everyone's tastes are different. What one person prioritises, another does not. For instance, if you want quick withdrawals, check out the new sites with fast payouts. If lots of Australian sports is important to you, look at the most betting markets category. You can also search via top odds, best app and most secure.
| Category | Winner |
| --- | --- |
| Fastest payouts | BetRight sportsbook |
| Most secure | BoomBet sportsbook |
| Best app | Dabble sportsbook |
| Most sports | BetRight sportsbook |
| Top odds | ReadyBet sportsbook |
How to choose the best new betting sites
With new Australian betting sites popping up all the time, finding the best place to play is hard. We rate each new betting site based on specific criteria giving you concrete ranges that impact our scores. You can check these criteria below, see if you agree with our scoring and use these to explore new sites for yourself.

<strong><strong>All the latest betting features</strong></strong>
When looking for the best betting site, one of the things to look for are the latest betting options and features. We want to see something a little different here. This is where innovative betting options such as the ability to copy bets, a betting exchange or being able to follow and challenge your friends will give the site a much higher score. Additionally, we want to see live betting options too.  Sites that lack some of the truly innovative features will get an average mark as a new betting site. However, if they lack standard features such as live betting and streaming, then we will give the new betting site a much lower score. This is because these days we expect live betting features to be available for at least some Australian sports. 

<strong>Lucrative odds</strong>
As odds are the centre point of getting those wins when gambling, we always take a look at how good the sports betting odds actually are at each new betting site. However, sports betting odds do fluctuate, so we calculate the average payout percentage to determine who really does have the best odds. Ideally, we want to see the betting site offer at least a 95% payout percentage. For the truly best odds though, we want to see 97% and higher, although this isn't as common and not something we expect to see all the time. On the flip side of this, if a betting site has sports betting odds that yield a payout percentage lower than 93%, we deem this bad. The site will get a much lower score here and we'll recommend looking elsewhere.

<strong>Innovative betting apps</strong>
Another key feature in any review of a new betting site, we will always take a look at whether there is an app. Now, for a mid-level score we expect there to be an app that's compatible with both Android and iOS devices. As a bare minimum, this app should have the same betting options as the main desktop site such as offering live betting, streaming and so on. However, the best betting app will have additional innovative features such as the aforementioned social betting options. Additionally, the best betting app will also load well, be incredibly easy to use and make the entire process very simple for all Aussie players. If the app is glitchy, slow-loading or does not offer features like live betting, then we're going to give it a low score.

<strong>Wide range of betting markets</strong>
The best new betting sites should have a wide selection of betting markets so that it's possible to pick almost any sport you like. For a good score, we expect there to be at least 25 different sports on offer covering the main Australian horse racing bets, greyhound racing and lottery betting. For higher scores, we want to see more than 30 sports on offer.  These sports should also include some of the more niche or unusual betting options such as eSports betting, politics, entertainment, music and the like. Better still, all sports should have strong domestic and international markets as well as having some live betting options. Extra points if a site throws in fantasy sports betting too. However, sites with fewer than 20 sports get marked down quite dramatically. 

<strong><strong>Great choice of payment options</strong></strong>
Often overlooked, when you join a new site it's very important to check the payment methods on offer. Typically, new sites have some of the more player-friendly payment options, which do help a lot. However, we really do want to see at least 10 different payment options if we're going to give a new betting site the top marks for this category. Betting payments should include Aussie-based options like BPAY, as well as eWallets and cards.  If new sports betting sites have fewer than four different payment options, then we do give them a much lower score. We also take a look at other payment features such as transaction times giving high scores to those that offer instant deposits and withdrawals in less than 2 days. Slower withdrawal times (around 5 days) will get a much lower score, as will fees and restrictive transaction limits. 

<strong>Security features</strong>
It's very important to stay safe when playing online, especially when joining new bookies as they are usually relatively untested within the industry. To ensure the new bookmaker is complying with Australian gambling laws, we take a look to see if there is a licence. This should be from the NTRC, South Australia or Victoria depending on where the sportsbook is actually located and operating. Bonus points go to sites with overseas licencing as well. However, if we do not find evidence of a licence, we're not going to even bother scoring the site, we're just giving it an outright no in terms of playing here. But, our security score doesn't just hinge on the licence. Once we establish there is one, we also look at the SSL encryption (minimum 128-bit) and responsible gambling protocols in place. If the latter is hard to find or minimal, it's a low score.

<strong>Overall betting site offering</strong>
Rounding out our reviews of new betting sites are some other criteria such as support. We want to see that there are at least three different contact options including live chat and a more innovative social media option as well. Support should be available 24/7 and we mark the new sportsbook down if the hours are limited or we can't get in touch via a live chat. We also like to consider what other players are actually saying about these new sites, especially those that have a social betting focus. With that in mind, we check out player reviews on different forums taking note of where they've found the main issues. If there are issues, but these are resolved by the sportsbook quickly, then the site will still get a good score. Many unresolved complaints will swing our score to the negative.
New bookies vs established brands — the pros and cons
Many players are often hesitant to try something new, especially when there are more reputable, long-term betting sites out there. However, we're going to tell you right now that by not checking out a new betting site, you could be missing out on a whole lot. So, let's dive into the pros and cons of new Australian betting sites compared to older, more well-known Aussie betting sites.
New technology is available which means you can get a better experience across all devices including mobile phones.
Brand-new betting sites often have a cleaner, simpler design for improved navigation.
New Australian sports betting sites tend to have more in play sports betting options and live streaming.
Often you'll find more niche sports on offer.
Hasn't built a strong reputation within the industry yet.
Sometimes still glitchy due to being relatively untested.
Joining new betting sites — step-by-step guide
So now you've gone through all you need to know about the best new betting sites out there. The next step is to join up! And, luckily for you, getting an account with a new betting site is a very simple process. In the following section, we're going to take you through the different steps to get you up and running at a new betting exchange or sportsbook in minutes.

Check out our recommended best new sites' list
Take a look at our list of the best new betting sites in Australia and choose one that has the features you want to use. 

Start the sign up process
Open the home page of the sportsbook either on your mobile device or laptop. Click on the registration button and fill out the form provided. 

Fill in the blanks
Make sure you provide all details accurately including your name, email, address, date of birth and so on. 

Verify your info
Confirm your account and provide any verification documents to pass the KYC process outlined by the sportsbook. 

Make the final step
Accept all terms and conditions. 

Make your first deposit
Head to the banking section of the site, choose your preferred payment method and make a deposit. Deposits are generally instant so you can start checking out the betting options right away. 
FAQs
What is the best new betting site in Australia?
We'll be honest here, it's very hard to know which is the best new betting site in Australia simply because everyone has something different they prefer. Because of this, we are just going to outline important criteria that a top new site must have. First, they must be licenced by the Gambling and Liquor regulations set out by the Australian government. Second, various security and responsible gaming protocols must be present otherwise the site can't be considered good. Third, we also want to see popular Australian sports, such as greyhound racing, represented.
Why choose a new Australian bookmaker? 
There are many reasons to play at a new betting site. Often, these sites can build on what more established betting sites have achieved. Essentially, new sports betting sites can see what was successful before and build on it. It's also easier for a newer site to use the latest technology often enabling them to provide superior gamification features, free bets and a wider array of niche sports such as eSports betting and greyhound racing.
Which are the newest online bookmakers in Australia?
There are a number of exciting new Australian betting sites out there. Some of the most innovative ones include Midasbet, Betr, Dabble, Bet Right and Crossbet. Each of these has a variety of unique betting features that will keep Australian punters very happy when they play. There are also new sites popping up all the time, so it's worth checking back with us here to see what's new.
How do I join a new online bookmaker? 
Joining a new betting site is the same as it is when joining any Australian betting site. You first need to go to the registration page and sign up. Make sure you provide all the required details including your name, address, email and so on. Once your account is opened, you can then choose a payment method and make your first deposit to start playing with the best odds on offer.
What features do the best new online bookies offer?
When it comes to new Australian betting sites, part of the fun is that they often have a ton of exciting and innovative features when compared to older more established ones. Some of the features you can look out for include social betting options, the ability to follow your friends and share bets. You can also claim free bets to boost your gambling, claim the best odds, enjoy live betting and even enjoy more sports such as eSports betting.
Sources