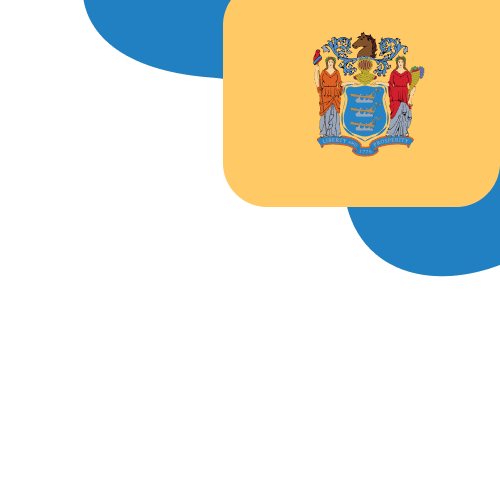 Best NJ sports betting sites
NJ sports betting has taken a big leap forward since it was first legalized in 2018, with the Garden State holding pole position in terms of online betting in the US. In fact, NJDGE statistics reveal that New Jersey sports betting sites regularly surpass the $1 billion mark in bets in any given month.
Trying to figure out which betting site works best for you? Our experts give you a head start by rating the most popular operators offering legalized sports betting in NJ.
Sportsbook Logo
Odds rating
Bonus
Go to sportsbook Button
Show more
T&C

1

BetMGM sportsbook review

85

/100

Expert rating

by Anna M.

91%

Playscore

based on

Up to $1,000 back in Bonus Bets

Play now

Good to know

Many deposit methods
Daily promos available
Fast live odds updates

14 payment methods

Play now

2

Borgata sportsbook review

85

/100

Expert rating

by Ian Z.

85%

Playscore

based on

Bet $20 get $100 in Free Bets

Play now

Good to know

Super sportsbook app
22 different sports
Exclusive to NJ in the US

14 payment methods

Play now

3

bet365 sportsbook review

82

/100

Expert rating

by Ian Z.

89%

Playscore

based on

Bet $1 get $200 in Bonus Bets

Play now

21+. Gambling problem? Call 1-800-Gambler (call or text in Colorado).

4

Fliff social sportsbook review

80

/100

Expert rating

by Ramona D.

83%

Playscore

based on

100% up to $100 FC

Play now

Good to know

Good sport selection
Offers college sports
Available in 41 states

5 payment methods

Play now

5

SugarHouse sportsbook review

75

/100

Expert rating

by Ramona D.

89%

Playscore

based on

Second Chance Bet of up to $500

Play now
The best NJ online sportsbooks compared
Our list of NJ sports betting sites is ranked according to the best sportsbooks that are available to players in New Jersey, and thus will not exactly match our general list of top sports betting sites.
We have based our top list on the Time2play data-driven scoring system to ensure that we truly present you with the highest-quality options available to you in the Garden State. We give you a full breakdown of how we rate below.
#1 betting site: FanDuel NJ
FanDuel sportsbook is one of the best betting sites around, whether you're a novice or a pro. First up, they have the most user-friendly sportsbook interface and the smoothest bet builder in the industry. Their welcome bonus is a good one, and they also have countless promos for existing players, such as boosts, parlay insurance, and so much more. But where FanDuel really shines is with their odds which are very advantageous to the player when compared to other betting sites in NJ.
#2 betting site BetMGM NJ
BetMGM have soared in popularity with their online casino and their sports betting site is seeing the same growth. First up, they have one of the best welcome bonuses to start you off. That's a risk-free bet of up to $1,000. Then there's what feels like a constant stream of bonuses of existing platers together with the famous MGM rewards promos. They have tournaments, free to play games and more so there's always something going on, for every sports fan. BetMGM also have one of the best NJ betting apps available.
#3 betting site Bet365 NJ
Bet365 is a worldwide brand known for its sportsbook services. After 21 years in business and humble beginnings, it's now available in over 200 countries. This is a sportsbook for those who want to take their sports betting to the next level. It offers over 30 sports to bet on and has a large amount of markets available for each sport. There are many betting features available and their cashout is one of the best in the industry.
How to choose the best NJ online sports betting sites
The Time2play methodology is based on the objective scores of our experts. Each NJ sportsbook review is given a score out of 100 for a list of criteria, with every rating clearly visible in every section. We also include external user reviews, so you can be sure that our scores are uncensored and honest.
We want to share this criterion so you can be armed with facts and decide what is the best NJ betting site and how best to choose the NJ betting app that's right for you.
How to bet at New Jersey sports betting sites
It's time for the good stuff and you want to get your NJ sports betting journey off to a good start. Here's what you need to do and some tips to help you along the way.

Step 1
Choose your betting site
First things first, you need to make sure that you choose which of the New Jersey sportsbooks is right for you. Head over to our rankings and pick a NJ sports betting site.

Step 2
Register
Once you've picked your preferred betting site, it's time to register. Head over to the site and click on the join button (or equivalent). The site will ask you for some basic personal information such as your name, contact details and SSN. Once you've done this, you might also get asked to verify your email.

Step 3
Claim a bonus & deposit
Now that you're ready to start playing, you can head over to the cashier to make a deposit. Keep in mind that some sites will ask for a specific sports betting bonus code, while others will give you the bonus without the need to input any codes. Check this step before you make your deposit, so you don't miss out.

Step 4
Start playing
As soon as deposit your money you can start making your bets. Again, keep in mind the bonus you've chose here as there might be a chance that your first bet is a risk-free bet (as this is the most popular welcome bonus on offer). Whatever type of bonus you have, you might need to check on restrictions that the bonus has (such as odds needed to be greater than -200).

Step 5
Keep it fun
Always keep in mind that that sports betting is a form of entertainment. Make sure to keep to your bankroll and never bet what you cannot lose. If you have any problems, you can always visit the responsible gambling pages of the respective sportsbook.
Popular sports bets in NJ
It comes as no surprise to learn that NJ online sports betting takes inspiration from the homegrown sports that are so well-loved in the Garden State. New Jersey is home to some truly great major league ice hockey, football, baseball and basketball teams. Our experts' choice of New Jersey sportsbooks takes this into account, giving the highest ratings to those sites that offer great betting options and odds on these favorite sports.
New Jersey has seen the birth of some truly world-famous pro sports teams. The New Jersey Devils are arguably the most well-known, with many of the Jersey Devils inducted in the Hockey Hall of Fame. Footballs is also well-represented in online sports betting NJ, with the Giants and the Jets invariably tipping the list of favorites.
Baseball fans tend to cheer the Jersey Jackals, the Somerset Patriots, the Lakewood Blue Claws or maybe the Trenton Thunder collegiate team for those who follow college sports. Prefer soccer? The Red Bulls will probably have your wager – they are major league stuff, after all. Looking for a good football wager? Try the New York Giants or the New York Jets.
NJ football bets
Football couldn't be bigger in NJ, with the legendary New York Giants and the New York Jets both being National Football League teams playing at the MetLife Stadium in East Rutherford. Fun fact, the MetLife also hosted the Super Bowl in 2014.
If the NFL is one of your go-to NJ wagering leagues, check out SugarHouse sportsbook's NFL Weekly Spread Bet Bonus, which gives you a $500 free bet when you pick every NFL game correctly any week. BetMGM sportsbook is another great option, with very favorable football odds and 106+ different betting markets per game.
NJ basketball bets
Get ready to lay down your bets because the Jersey Express and the Jersey Expressions are both a force to be reckoned with on the NJ basketball circuit. The Jersey Express are actually considered as somewhat of underdogs, so you're likely to find some very good odds on them when they're playing the American Basketball Association league or the Hoopers Men's Basketball League, which are two of the more popular ones amongst the minor leagues. Your best bets would be Borgata sportsbook or Golden Nugget betting sites, which both have a particularly strong basketball market.
The Jersey Expressions are the main women's basketball team in New Jersey and attract their fair share of interest in NJ sports betting. They are regular stars in the Women's American Basketball Association league.
NJ baseball bets
The Fab Five means something different in terms of the best New Jersey gambling sites than it does elsewhere. We're talking the top five baseball teams in the Garden State – Somerset Patriots, Jersey Shore Blue Claws, Trenton Thunder, New Jersey Jackals and Sussex County Miners.
The mix includes every level of sports betting you may wish for, from professional leagues to college sports to minor leagues, so you can get a nice mix of wagers in at one of the NJ betting sites with all-rounder offerings in baseball, like Bet365. Regular Atlantic League championship winners Somerset Patriots are likely to deliver the big thrills, while Trento Thunder has five minor league wins under their belt, which isn't too shabby for a college team.
NJ ice hockey bets
Hockey is definitely the Garden State's star sport, with the National Hockey League's New Jersey Devils being the only major league franchise to bear the state's name. It was general manager Lou Lamoriello who started the team on its meteoric rise, leading them to win the Stanley Cup three times and to become an annual fixture in the Stanley Cup playoffs for almost 20 years.
With their fiercest rivals, the Philadelphia Flyers, having expanded their training center recently, it's well worth keeping an eye on how odds and payoffs unfold throughout NHL games. The FanDuel sportsbook typically has some interesting odds, and you'll be able to follow the matches live to adjust or cash out your wagers if needed.
Is sports betting legal in NJ?
New Jersey became the shining light of hope for all US online sports betting for a very good reason. It was the state that pretty much single-handedly launched the crusade to topple over the notorious Professional and Amateur Sports Protection Act of 1992 (PASPA), which had granted federal monopoly to Nevada for all things sports betting.
2018 – The Supreme Court declared the law unconstitutional and a formal move towards legalized sports betting in NJ was finally made. The first sports bets in NJ were taken physically, at Borgata Casino Hotel and Monmouth Park in Atlantic City. The honor of first NJ sports betting site to launch went to Draftkings as early as August of the same year.
The NJ victory opened the floodgates for everyone else, and today there are several states which legally approved online sports betting. If you'd like to know more about the legal gambling framework in other states, our Pennsylvania, Michigan and West Virginia pages go into more detail. It is expected that the industry will continue on this growth spurt, with more states following suit.
Retail New Jersey sportsbooks
Atlantic City, NJ – aka the premier address for land-based gambling in the US, with some of the most spectacular New Jersey casinos taking up residence there. This is mostly because, in 1976, an act to allow gambling was passed as part of a gentrification effort.
But it wasn't until 2017 that sports betting followed suit after a landmark ruling that overturned the Professional and Amateur Sports Protection Act and opened the gates for existing land-based casinos to launch a sports betting branch.
New Jersey was the third state, after Nevada and Delaware, to accept retail sports betting, which is also sometimes referred to as offline sportsbooks. Today, there are 12 licensed New Jersey sports betting parlors, with big resort names like Hard Rock, Ocean Resort, Tropicana, Caesars and Borgata joining the stellar lineup of physical attractions in Atlantic City.
This development has made it possible for NJ gamblers to experience physical sports betting within a dedicated parlor via manned windows or self-service kiosks. Retail sports betting also offers access to instant deposits and withdrawals at the physical Casino Cage within Atlantic City resorts.
The land-based version of popular online New Jersey sportsbooks has led to a number of extra perks for players, with many of the established resorts offering combined rewards for those who use both retail and online betting.
Borgata's MGM Resorts rewards, for example, include exclusive offers at the resorts, dedicated lines at the Cashier's Cage, priority access to spa and pool, invitations to exclusive sports betting tournaments and more. Likewise, FanDuel sportsbook offers perks at Bally's Atlantic City Casino & Sportsbook Lounge, where fans can place sports wagers at five betting windows or use one of 20 IGT PlaySports self-serve betting kiosks. Many of the best names in New Jersey sports betting have followed suit, offering players a suite of merged offers.
| Sportsbook | Location | Launch date |
| --- | --- | --- |
| FanDuel betting site | Bally's Atlantic City | March 15, 2021 |
| Borgata betting site | Borgata Hotel | May 17, 2019 |
| Golden Nugget betting site | Golden Nugget Atlantic City | September 4, 2019 |
New Jersey sports betting latest updates
The Garden State found itself in clover following the legalization of sports betting, as the industry continues to experience a growth spurt alongside the Jersey sports betting revenue that comes with it.
New Jersey has always had a strong sporting bone, so it's pretty unsurprising that New Jerseyans would take to sports betting like the proverbial duck to water. With a population just shy of 10 million, the state hosts three in-state pro teams – the New York Jets and New York Giants for the NFL and the New Jersey Devils for the NHL – all of which feature heavily when it comes to big game wagers.
But what's around the corner when it comes to NJ betting sites?
Betting tax revenue — In the four years since NJ passed the historic bill, the state has seen state revenue from betting increase drastically from $11,597,775 in 2018 to $100,244,193 in 2021. New Jersey charges two rates of sports betting taxes; 8.5% for land-based revenue and 13% for online revenue. The NJ sports betting tax collected in 2021 represents 28% of the total money that was spent on sports wagering in the US. There is no doubt that the figures for 2022 will see an even higher increase on these figures. That's from operators, and doesn't account for NJ gambling taxes on winnings.
Horse racing — It would be great to see more sportsbooks offer bets on horse racing in New Jersey. To date, only one operator is available to offer horse racing bets. More operators would mean better choice for Garden State players.
More about NJ betting
FAQs
What's the best NJ sports betting site?
There are many online sports betting sites available for NJ players, and which one is the best for you depends on which sports and markets you best enjoy betting on. On this page you will find the list of best NJ sports betting sites compiled by our Time2play experts.
Where can I bet on sports in NJ?
There are various online sports betting sites and landbased parlors where you can lay down a sports wager. Always make sure that any sports betting site you use is licensed by the NJDGE. You can choose from our top-rated sites to ensure your interests are legally protected.
Is sports betting legal in NJ?
The online sports betting market was legalized in NJ in 2018, together with landbased sports betting. The first online sportsbooks opening almost immediately and the very first sportsbook to take an online bet was DraftKings.
How many sportsbooks are in NJ?
At present there are 12 landbased sportsbooks and over 30 online sports wagering sites in NJ.
How much revenue does NJ state make from sports betting?
The NJ sports betting tax stands at 8.5% for landbased revenue and 13% for online revenue. In 2021, New Jersey collected $100,244,193 in taxes.