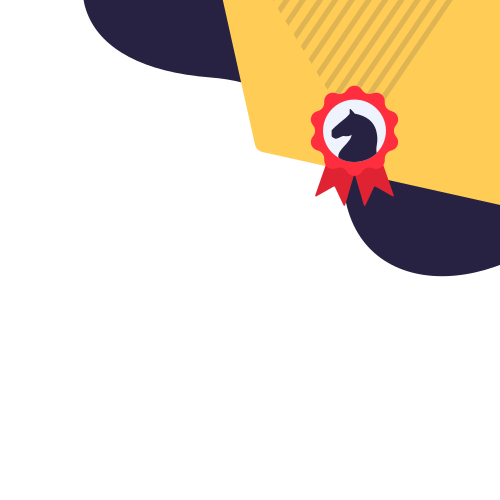 Online horse betting NJ | Best horse betting apps NJ
New Jersey has a rich heritage of horse racing, so it makes sense people in the Garden State want to bet on the ponies. However, the NJ horse betting industry can be confusing, especially if you want to bet online.
Below we will introduce you to the leading New Jersey horse racing betting online sites and explore how you can up the excitement with the available horse racing bets in NJ. As of the time of writing, there is only one active site available for horse racing in NJ. The other site is live but not yet accepting bets. So, let's go off to the races and explore the online horse betting NJ industry.
Sportsbook Logo
Odds rating
Bonus
Go to sportsbook Button
Show more
T&C

4NJBets sportsbook review

73

/100

Expert rating

by New J.

0%

Playscore

based on

0 critics

Up to $200 back if your first single-horse win bet loses

Good to know

Only pari-mutuel site in NJ
Free advice on handicap bets
Live races and replays
A closer look at the best horse betting sites for NJ
While our recommended online horse betting NJ sites are complete platforms that cover everything you expect, such as payment methods, bonuses, and security, we want to do more. Our overall expert rating is important, but the sport betting sites we list must provide the best NJ betting online experience. Our reviews compile everything you need to know about the operators we recommend. 
4NJBets
4NJBets is currently the only licensed online horse betting NJ provider in the state. However, it is not a fixed odds betting platform. Instead, 4NJBets uses a pari-mutuel model for its NJ horse betting. This site is under the operations of the national horse racing network TVG, which is, in turn, part of the Betfair US group. Wagering on 4NJBets involves betting for a portion of a growing prize pool instead of betting against the house. Every wager made on the site goes into the prize pool, and payouts are taken from it when someone wins.
In terms of odds, they are decided by the amount of betting action around a horse. So, if a horse is a favorite, it will have a lower payout (odds) because more people will be betting on them. More bets on a horse mean the prize pool is split between more bettors should the horse win. Alternatively, a long-shot horse will pay more because fewer people will be betting on it.
Of course, this is mostly the same principle an oddsmaker will use, but in pari-mutuel, the market dictates the odds. It is worth noting that the betting pool also includes wagers taken in person at a racetrack. Yet, this is actually beneficial because you get bigger pools and full-track odds when betting online.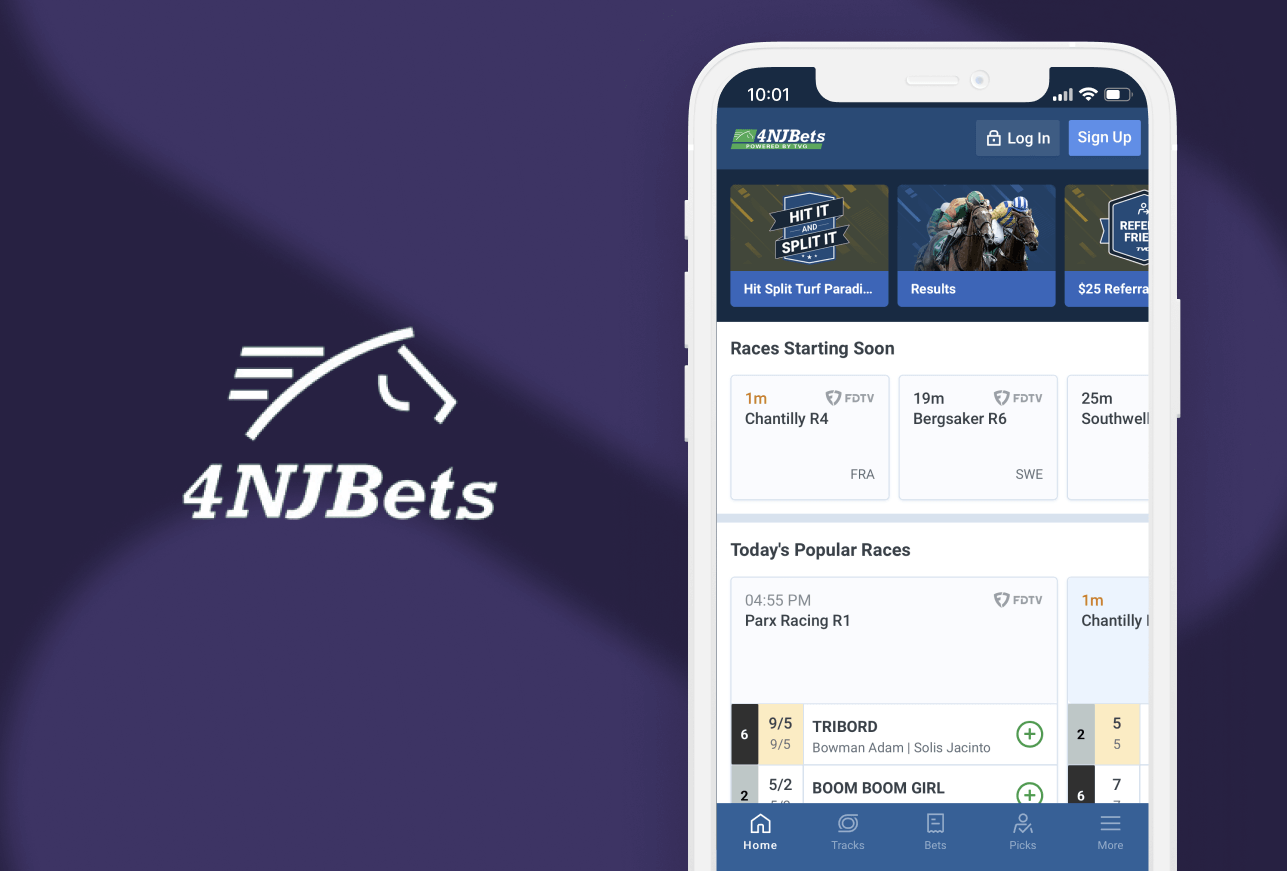 Fixed odds horse racing bet NJ
If you're looking for fixed odds horse racing bets, NJ is making progress. In 2021, the state announced the ability for operators to begin providing fixed odds markets. However, no online sites provide fixed odds bets at the time of writing. MonmouthBets.com is live but does not seem to have any available races to bet on. Some New Jersey sport betting sites also offer the possibility to bet on horses via virtual games, even though these are typically found under the casino section. If you're feeling adventurous, you can also have a go at some NJ esports betting. 
Where to bet on horses? NJ's horse racetrack
If you're wondering how to bet on horse racing in NJ if you are not online, then you can visit one of the many racetracks in the state. Not only does this allow you to place wagers in person, but you can also enjoy the thrill of live horse racing. There are around two dozen horse racetracks in the Garden State, from smaller circuits to more established tracks. Residents and visitors can enjoy online horse betting NJ in the following locations:

1
Monmouth Park
Perhaps the most iconic NJ horse racing venue. The Oceanport complex has been operating since 1870 and is known as the host of the annual $1 million Haskell Invitational. Running every August, the invitational provides Haskell Day for visitors, with the first race starting at noon. Monmouth Park is also known for its amenities, including standard concessions to upscale restaurants and family events throughout the year.

2
Meadowlands Racetrack
Located in East Rutherford and on the gaze of the MetLife Stadium is the Meadowlands Racing & Entertainment complex. Live harness racing has been happening at the track since 1976, and thoroughbred racing began at the venue a year later. While the area is known as the home of the New York Giants and New York Jets, the Meadowlands Racetrack has its own claim to fame. It is home to the Hambletonian, the most prestigious trotting event in the world.

3
Freehold Raceway
Freehold Raceway in the city of Freehold is the oldest and fastest half-mile harness racing track for daytime runs in the United States. Harness racing fans will also recognize the venue as the home of Cane Pace, the first of the annual Triple Crown of Harness Racing for Pacers. One of the oldest racetracks in the US, Freehold Raceway has been in operation since 1853, and its season runs from August to June each year.

4
Atlantic city online casinos with racebooks
If you are paying a visit to Atlantic City, you can pick up NJ horse racing betting in person by heading to the BetMGM Race & Sportsbook at the Borgata resort. This is currently the only option for horse betting in Atlantic City and provides live racing on a video wall and small screens. As well as horse racing, the site also provides a complete sports betting book.

5
Licensed off-track wagering facilities
There are also off-track facilities that hold licensing from the NJ Racing Commission, including: favorites at Egg Harbor, favorites at Hillsborough, favorites at Gloucester, favorites at Toms River, favorites at Woodbridge, Winners Bayonne. 
How to bet on horse racing in NJ?
Now we have answered the question of whether you can bet on horse racing online in New Jersey, it is time to put the knowledge into action. Getting started with NJ horse betting is easy, but to make the process as efficient as possible, the following straightforward guide will help you quickly register with a top online horse betting NJ site. You can sign up and start playing in just a few minutes:
Pick your betting site: Choose a horse betting NJ app or website from our list of reputable betting sites. Click the link to your chosen operator to navigate directly to the site. Select the "Register" button in the top right of the homepage to sign up for an account.

Register your account: Betting sites will require information such as your name, date of birth, location, address, email, phone number, SSN, and other personal details to complete the registration process.

Fund your account: NJ horse racing betting online requires real money wagers. You can deposit into your sports betting account by selecting the "cashier" section and your preferred payment method. Follow the instructions to complete the transaction.

Place your bet: Funds should clear into your betting account within seconds. You can now head to the betting markets and pick the horse races and horses you want to bet on, choosing from the available lines for each market. Add the stake to your bet slip, enter your stake, and place your bet!

Reap the rewards: If your horse or bet wins, the winning amount will appear in your account balance. If you want to cash out your winnings, head back to the cashier section and choose your payment method. Withdrawals can take between 1 and 5 days to appear in your personal account, depending on your payment platform.
Types of horse racing bets NJ
With legalized horse race betting, NJ residents and visitors can enjoy a full selection of betting lines covering hundreds of races each day. While enjoying online horse betting, NJ customers will see the following common bet types:
Win: Perhaps the most obvious bet is where you wager on the horse you think will win the race.
Place: A place bet allows you to hedge a little because it is a wager on a horse to finish either first or second in a race.
Show: Further hedge and spread your chances of success by selecting the show bet, a wager on a horse to finish first, second, or third.
Exacta: A bet based on your prediction of two horses that will finish first and second in a race in the correct order.
Quinella: Similar to the exacta bet, the quinella is a wager on the top two horses in a race, but in any order.
Trifecta: Predict the top 3 (first, second, and third) horses in a race in the exact order they finish.
Superfecta: An exotic bet where you wager on the top 4 (first, second, third, and fourth) positions in a horse race in the correct order they finish.
Super hi-five: A bet where the player wagers on the top 5 horses to finish a race in the exact order.
Double/pick-n: Picking two horses from separate races, with a double wager on win and a double bet on the place.
Futures: A wager on an event – such as the Kentucky Derby – weeks or even months before the meeting. Futures offer superior odds and payouts because the horses are not known by the bettor so far ahead of a race.
Parlay: The ability to play multiple lines from multiple races into a single bet with wider odds but much larger payouts.
What to bet on? NJ horse racing betting popular events
There are hundreds of races you can bet on at online horse betting NJ sites each week. However, some events stand out for their prestige and winning potential. Below are some of the most essential racing meets to look out for each year:

1
Kentucky derby
Every first Saturday in May, Churchill Downs, Louisville, hosts arguably the most iconic horse race in the world; the Kentucky Derby. The US Triple Crown showpiece of the two-week Kentucky Derby Festival, the Grade I stakes race is run over a one and quarter mile by three-year-old thoroughbreds. A purse of $3 million is up for grabs, with notable winners such as Seattle Slew, Donerail, Affirmed, and Spectacular Build.

2
Breeder's cup
The Breeders' Cup World Championships is a yearly set of Grade I thoroughbred horse races operated by Breeders' Cup Limited. It takes place at prestigious racetracks around the US (and once in Canada). There are several race classics, with the Breeders Cup Classic having a purse of $6 million. Notable winners include back-to-back winner Tiznow and the biggest winning margin runner, Flightline.

3
Belmont stakes
In terms of Grade I stakes races, the Belmont Stakes is amongst the most iconic. It is for three-year-old thoroughbreds and runs over 1.5 miles. Known as the Test of Champions, the US Triple Crown race is held at Belmont Park in Elmont, New York, and has a purse of $1.5 million. Notable past winners include Afleet Alex, A.P. Indy, and Affirmed.

4
Pegasus world cup
One of the newer Grade I races, the Pegasus World Cup Invitational Stakes been running at Gulfstream Park in Hallandale Beach, Florida, since 2017. The claim to fame of the Pegasus World Cup is that it is the wealthiest annual horse race of the year. In 2017 and 2018, the total purse was $12 million, dropping to a more modest $3 million in 2022.

5
Preakness stakes
The Preakness Stakes is the second race in the US Triple Crown, nestling between the Kentucky Derby and Belmont Stakes. It is held annually on the third Saturday of May and runs at Pimlico Racecourse in Baltimore, Maryland. There is a $1.5 million purse; previous winners include Affirmed, American Pharaoh, and Justify.
How to choose horse betting apps NJ
Picking online horse racing NJ sites involves a lot of research. Our team leaves no stone unturned and uses a multi-step review process to separate the best from the worst. That is how we only recommend top NJ horse race betting sites to our readers. Whether it is the overall wagering experience or the specific qualities that horse race bettors look for, we have it covered.
Legalized horse race betting NJ — what should you know
New Jersey has a major horse racing industry worth around $400 million each year. It is based on pari-mutuel wagering available online, at racetracks, and at off-track facilities (OTB). All these options must hold a New Jersey Racing Commission license to offer betting markets.
In terms of online horse race betting, NJ state law permits only two licensed wagering providers, 4NJBets.com and MonmouthBets.com. Of these, the pari-mutuel betting provider 4NJBets is the only constantly available option. MonmouthBets is a fixed odds site but only provides markets when there are races at Monmouth Park.
In November 2020, the state passed a law that allows residents to bet on horse races online even if they are not in the state. Fixed odds horse race betting is also permitted, but the market is slow-moving.
FAQ
Is it safe to bet on horse racing in NJ?
Absolutely. We only recommend reputable sites with a license to operate within New Jersey. For example, 4NJBets is authorized to operate in the Garden State by the New Jersey Racing Commission and is regulated by the authority.
Can you bet on horse racing online in New Jersey?
Yes, NJ horse racing betting is available through the 4NJBets website. This pari-mutuel wagering operator is focused purely on horse racing. NJ is taking a proactive approach to fixed odds racing, and markets are expected to arrive in the state during 2023.
What horse racing events can I wager on in NJ?
There are hundreds of races you can bet on each week. These include runs in the United States and international races in the UK, Australia, and beyond. Major yearly races such as the Kentucky Derby and other Triple Crown events are also available to wager on in New Jersey.
What are the best NJ horse racing betting sites?
4NJBets is currently the only fully operational online horse betting NJ site. It has a full catalog of races, major betting options, and bonuses for new and existing customers. Monmouth Bets is also available for fixed odds betting, but only when races are running at Monmouth Park.
Can I claim bonuses for NJ horse racing betting?
Of course, you can participate in bonuses when joining New Jersey sports betting sites. That includes 4NJBets, which has a lucrative cash-back welcome bonus and frequent, ongoing promotions for its existing customers.