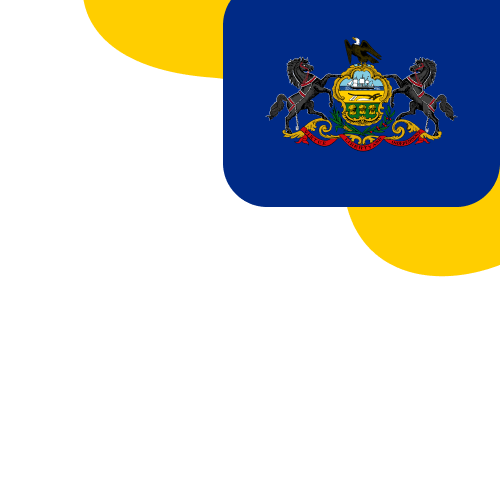 Pennsylvania sports betting and best PA sportsbooks
We're here with all the latest on the best Pennsylvania sports betting sites.
We start off with the top PA sports betting sites, then we break down the highs, lows, and unique highlights of each.
The rest of this page is part instruction-manual, part info-library. We cover everything from choosing Pennsylvania sports betting sites all the way to the legal stuff and the most popular bets.
Read on to discover the top PA sportsbooks:
Sportsbook Logo
Odds rating
Bonus
Go to sportsbook Button
Show more
T&C

1

Caesars sportsbook review

90

/100

Expert rating

by Ian Z.

94%

Playscore

based on

Up to $1,250 Stakeback + 2,000 loyalty credits

Play now

2

BetMGM sportsbook review

85

/100

Expert rating

by Anna M.

91%

Playscore

based on

Up to $1,000 back in Bonus Bets

Play now

Good to know

Real-life PA loyalty prizes
Live betting and promos
20 different spots

14 payment methods

Play now

3

DraftKings sportsbook review

76

/100

Expert rating

by Anna M.

92%

Playscore

based on

Bet $5 Get $150 in Bonus Bets + a daily No Sweat SGP

Play now
Top Pennsylvania online betting sites — a closer look
This list of the best PA sportsbooks is curated according to what's currently being offered for bettors in PA. The scores may not match the positions on this list; that's because the scores are overall data-driven ratings based on the sportsbooks' performance nationwide. The list on this page is ordered specifically for PA, based on the operator's offering in the Keystone State.
Next we'll break down the top-ranked sites we've come across, explaining why they made the podium. This list is sports-specific; you can research other forms of online gambling in Pennsylvania on the appropriate pages.
🥇#1 Caesars PA
If you're looking for a wide range of gambling options, Caesars is the Pennsylvania sports betting site for you. Not only can you bet on 20 + sports, but you can also enjoy its online casino, live stream, and wager on horse racing.
Caesars is an especially great platform for new Pennslyvania bettors, as it offers extensive guides explaining how to bet on different sports with various bet types. Throw in the frequent boosts and other promos, and no wonder it's a winner!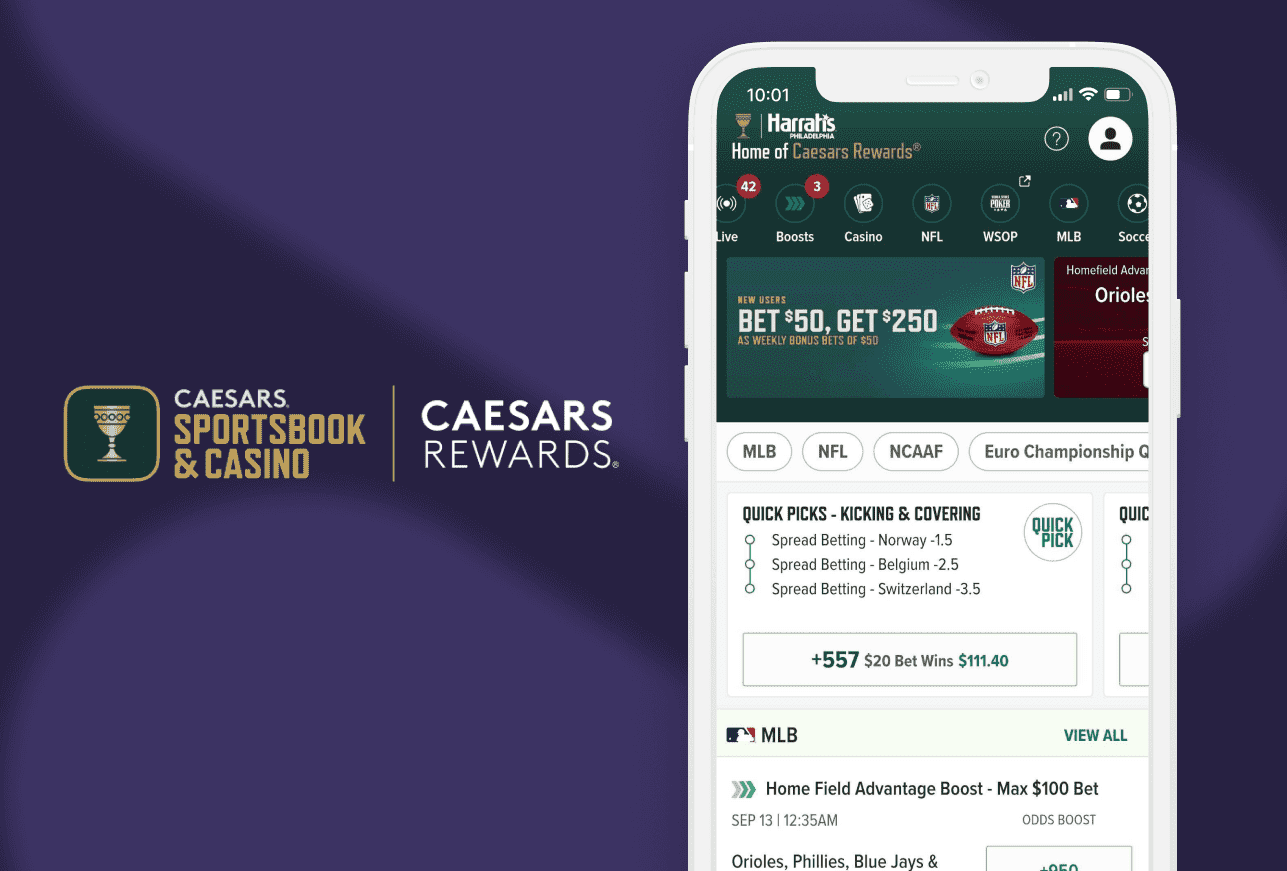 🥈#2 BetMGM PA
BetMGM is the luxury sportsbook. The Pennsylvania sports betting site has an excellent UI which makes live betting a breeze. You can claim existing player promotions that update regularly, or benefit from the MGM Rewards loyalty program. This program lets you earn points from betting, which you can use to claim on-site bonuses or real-life prizes, redeemable at locations in Pennsylvania. If that's not enough, the sportsbook is also an official betting partner of the NFL's Pittsburgh Steelers.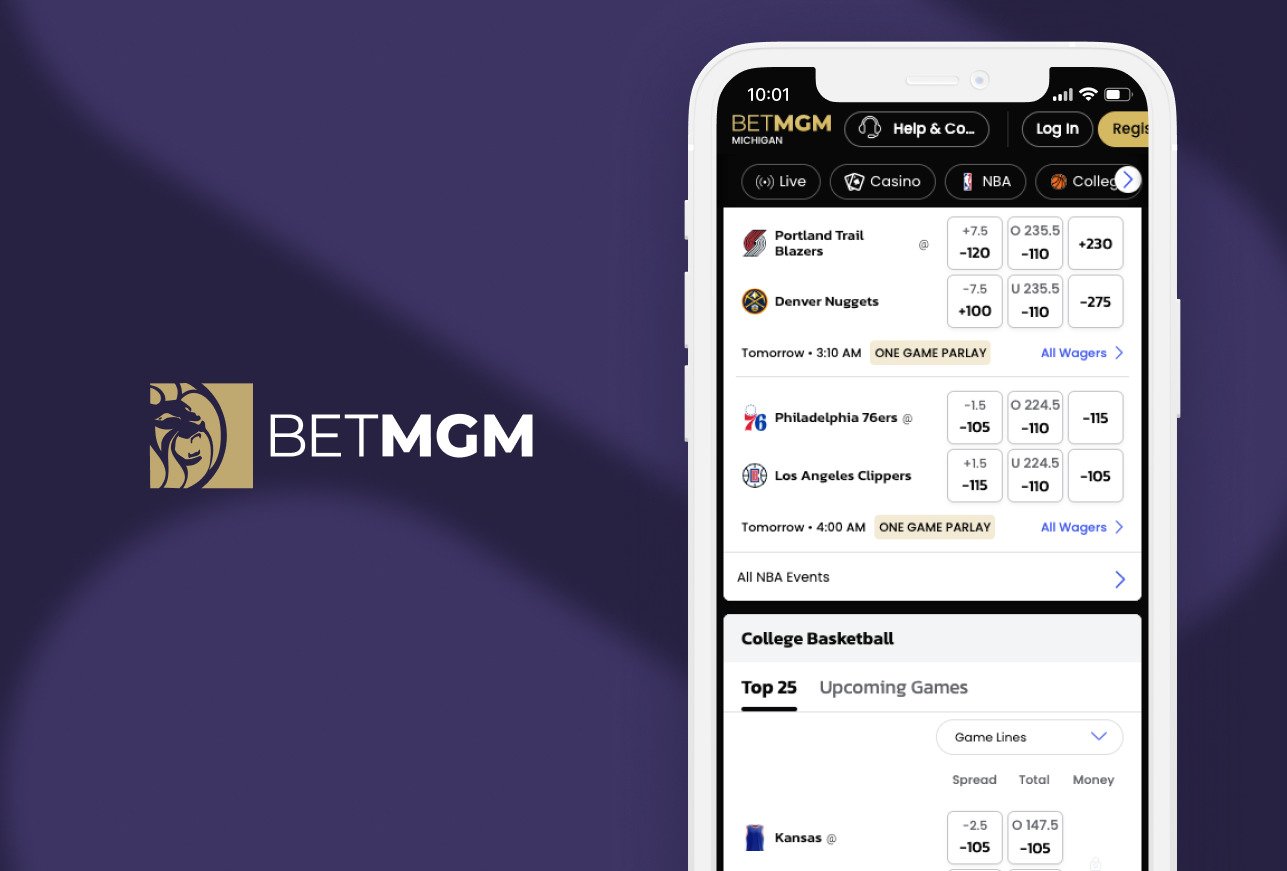 🥉#3 Unibet PA
There is a heated rivalry between the two NFL teams in Pennsylvania, the Pittsburgh Steelers and the Philadelphia Eagles. However, Unibet is an official betting partner of both teams, providing regular boosted odds and promotions for their games. The sportsbook also has an easy-to-use mobile app that you can download for iOS or Android and offers features like event notifications. With 23 different sports, it's one of the largest sportsbooks in PA, and includes unique markets like cyclo-cross and floorball.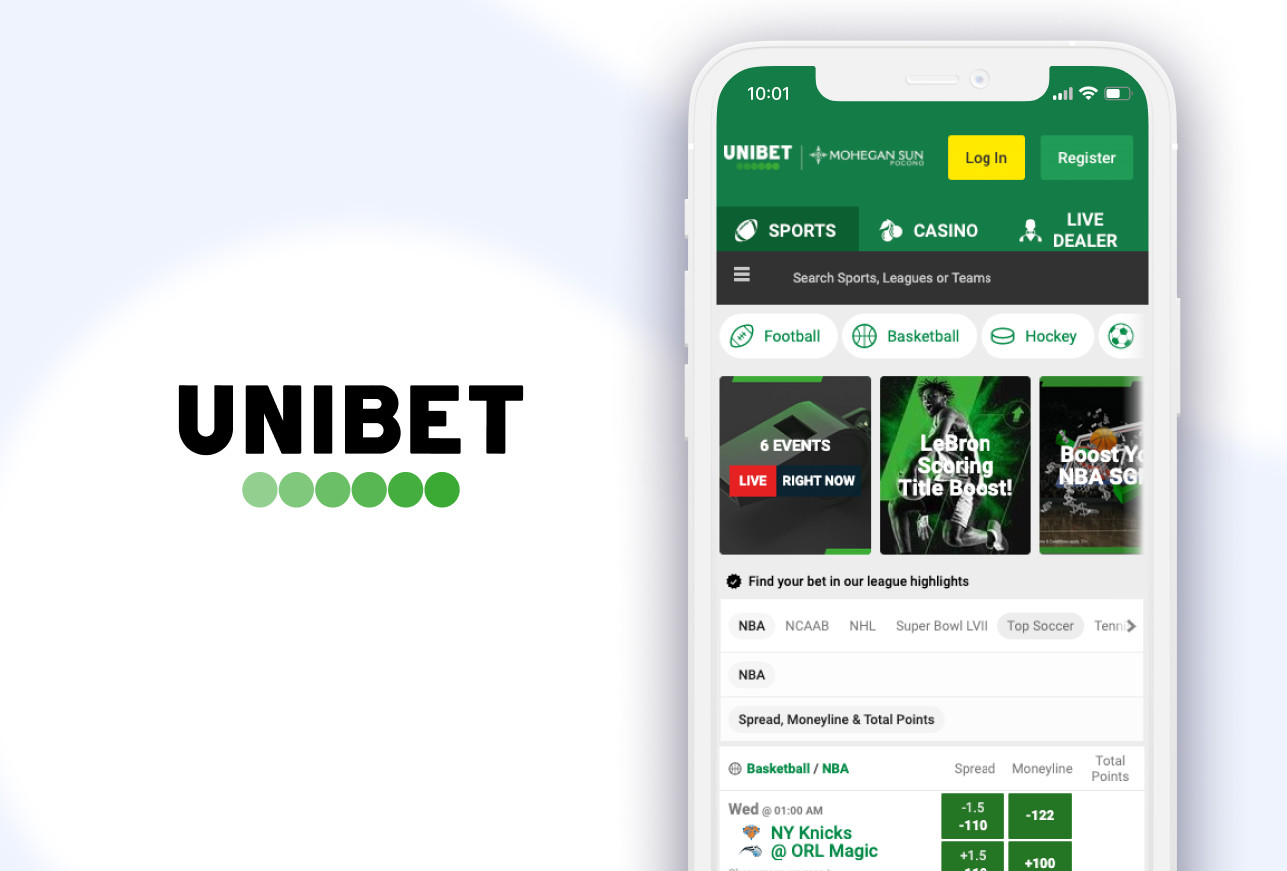 How to choose PA sports betting sites
Every Pennsylvania betting site we examine is judged by data-driven criteria, designed around factors crucial to the bettor's experience. Here, we share some insights into how we review PA online betting operators; so you can do your own research and help pin down which sportsbook is right for you.
This stuff's exclusive to sports, Pennsylvania online casinos have their own rankings.
How to bet at Pennsylvania sports betting sites
If you're looking into the best Pennsylvania sports betting sites, we assume you eventually want to try one for yourself. Some players are put off PA sports betting platforms because the registration process requires personal information. Don't worry — as long as they're licensed by the Pennsylvania Gaming Control Board (PGCB), you can be sure they've been thoroughly tested and audited. Even if you're a beginner to betting, our step-by-step guide can get you started with PA sportsbooks in minutes.

Step 1
Choose a sportsbook
You can find our top recommended PA sportsbooks at the top of this page. Once you've found one that is compatible with your betting plans, you're ready for step 2.

Step 2
Sign up and register
Enter your full name, address, date of birth, email, and phone number. US sportsbooks will also ask you to provide the last four digits of your Social Security number to confirm your identity.

Step 3
Make a deposit, claim your bonus
Visit the cashier section, select a payment method, and choose how much money to deposit into your account. Most PA sportsbooks don't need a bonus code, but you'll be able to enter any needed ones during sign-up or on the deposit screen.

Step 4
Find your bet and place your stake
Browse the sportsbook's markets to find your first bet. PA online betting platforms provide dozens of sports to choose from, so first pick your sport, then your game, then the wager you want to make within that game. You'll get a pop-up window that will show you the odds, and you can enter your stake and preview the potential return. Enter the amount you want to bet, and hit accept.

Step 5
Wait and withdraw
Wait for the game to take place, and see if your wagered outcome comes to pass. If you're lucky enough to win your first bet, return to the cashier section and choose to withdraw. The sportsbook will guide you in completing your payout.
Popular bets in PA
Pennsylvania sportsbooks include some of the best operators in the US, and PA bettors have a wide range of betting options. Here are some of the most popular bet types you can enjoy with legal sports betting in PA.
Moneyline: The simplest kind of bet. With a moneyline bet, you select which team or athlete you think will win the event. If you're correct, you will get your stake back plus a profit based on the odds.
Point spreads: A point spread puts an imaginary points deficit against the favorite and an imaginary points advantage to the underdog. If you bet on the favorite, it has to win by more points than the deficit for your bet to win. When you bet on the underdog, it can lose within the points advantage or win the game for you to collect a profit. This gets you better odds than a moneyline when there's a clear favorite.
Totals: With a totals bet, the sportsbook will set a total for a particular statistic in an event. For example, the total number of points scored in a football game. You predict whether the final statistic will be over or under that amount. The most common total is combined points.
Player props: When placing a player prop bet, you wager on a player to hit a particular personal statistic. For example, you could bet on a quarterback to throw for more than 300 passing yards or a baseball player to hit two or more home runs.
Team props: A team prop is very similar to a player prop, except you bet on the overall statistics for a team. For example, you could back a whole team to rush for more than 200 yards or to score more than 15 three-pointers.
Futures: A future is a bet on a significant event in the far future, such as the winner of the Super Bowl. The earlier you place your futures at Pennsylvania sports betting sites, the better odds you'll get.
Parlays: A parlay allows you to add multiple wagers into a single bet, where you only need to place one stake to back all of your predictions. However, if even one of your predictions is incorrect, you lose the bet. Because parlays are so risky, PA sportsbooks will offer much better odds on a parlay than betting on each wager individually.
Same-game parlays: With a same game parlay, you can add multiple bets from the same event into a parlay. The more wagers you add to your parlay, the higher the odds.
Is sports betting legal in Pennsylvania?
The Professional and Amateur Sports Protection Act of 1992 (PASPA) was overruled by the US Supreme Court in May 2018, allowing each state to legalize sports betting. Pennsylvania was one of the earliest US states to support legal sports betting, passing its legislation a year before the US Supreme Court struck down PASPA, and so having the law ready to go before the supreme court's verdict.
Governor Tom Wolf signed HB 271 in 2017, which allowed online and retail sports betting in the Keystone State. According to these regulations, each sportsbook had to pay 36% of its revenues as tax and partner with a land-based casino to launch. Pennsylvania sports betting revenue has exceeded $1 billion since the first sportsbooks launched.
Check out the key legal details for Pennsylvania sports betting below.
There are 15 online sportsbooks in PA.

There are no restrictions on college sports betting, so you can back in-state teams with a variety of bets.

Esports betting is not legal.

You must use two-factor authentication to log in to PA sportsbooks.
Retail list of Pennsylvania sportsbooks
Retail sports betting was legalized by the same bill that allowed online sportsbooks, passed by Governor Tom Wolf in 2017. However, retail sportsbooks went live first, launching in November 2018. Every retail sportsbook has to launch at a licensed land-based casino property. Check out the in-person betting options in PA below.
| Name of sportsbook | Location | Launch date |
| --- | --- | --- |
| Barstool Sportsbook | 777 Hollywood Blvd, Grantville, PA 17028 | November 17, 2018 |
| Barstool Sportsbook | 210 Racetrack Rd, Washington, PA 15301 | June 9, 2022 |
| Betfred Sportsbook | 77 Wind Creek Blvd, Bethlehem, PA 18015 | November 21, 2020 |
| BetRivers Sportsbook | 777 Casino Dr, Pittsburgh, PA 15212 | December 13, 2018 |
| PlaySugarHouse Sportsbook | 1001 N Delaware Ave, Philadelphia, PA 19125 | October 14, 2019 |
| Caesars Sportsbook | 777 Harrah's Blvd, Chester, PA 19013 | January 24, 2019 |
| FanDuel Sportsbook | 1160 1st Ave, King of Prussia, PA 19406 | March 13, 2019 |
| FanDuel Sportsbook | 5260 US-30, Greensburg, PA 15601 | November 24, 2020 |
| FanDuel Sportsbook | 900 Packer Ave, Philadelphia, PA 19148 | January 19, 2021 |
| FOX Bet Sportsbook | 312 Woodland Rd, Mt Pocono, PA 18344 | November 9, 2019 |
| betPARX Sportsbook | 2999 Street Rd, Bensalem, PA 19020 | January 13, 2019 |
| Parx Race & Sportsbook | 10 Liberty Blvd Suite 190, Malvern, PA 19355 | February 9, 2022 |
| South Philadelphia Race & Sportsbook | 700 Packer Ave, Philadelphia, PA 19148 | January 20, 2019 |
| Unibet Sportsbook | 1280 PA-315, Wilkes-Barre, PA 18702 | October 5, 2019 |
| The Downs at Lehigh Valley | 1780 Airport Rd, Allentown, PA 18109 | March 7, 2020 |
| TwinSpires | 8199 Perry Hwy, Erie, PA 16509 | August 8, 2019 |
Latest updates
The Pennsylvania sports betting market is one of the biggest in the US by betting handle, but it has fewer licensed sportsbooks than many other jurisdictions.
The Pennsylvania Gaming Control Board has been trying to increase the market size, allowing bet365 to sign an agreement with Presque Isle Downs and launch its Pennsylvania sports betting site. In addition, MaximBet had received a license but ceased operations before ever going live.
As well as expanding the selection of sportsbooks, the Pennsylvania Gaming Control Board has recently implemented new safety requirements for PA sportsbooks. Every PA online sports betting platform must have multi-factor authentication for every account to keep players safe.
More about PA betting
FAQ
What is the best Pennsylvania sports betting site?
The best PA sports betting sites are FanDuel, and BetMGM. Each of them has a solid welcome bonus, regular promotions, and some of the largest sports betting libraries in the state. Unibet has the largest library with 23 different sports, while FanDuel has our favorite promotions system, offering bet insurance for different sports every day. You can find more details in our breakdown of the top 3 PA sportsbooks. Our full list of the best Pennsylvania sports betting sites can be found at the top of this page.
What Pennsylvania sports betting sites are legal?
There are over a dozen online sportsbooks available in Pennsylvania. To operate legally in PA, a betting site must partner with a local brick-and-mortar casino and receive a license from the Pennsylvania Gaming Control Board. You can check out the legal sites and their licensed partners in our licensing section.
What PA sportsbooks are available on mobile?
PA online sports betting operators will provide a mobile platform so you can play on the move. You can either play through an HTML5-optimized mobile browser site or download a bespoke app for iOS and Android. No matter how you play, you'll get the same high-quality as on a desktop if you use our recommended sportsbooks.
How do I bet on sports in PA?
Is sports betting legal in Pennsylvania?
Yes, legal sports betting in Pennsylvania is available with sportsbooks licensed by the Pennsylvania Gaming Control Board. There are several online sportsbooks you can use anywhere in the state if you allow your device to access your geolocation services. Alternatively, you can visit a licensed land-based casino to play with retail Pennsylvania sportsbooks.