Game shows have always been massively popular with audiences (especially those interested in online gambling), spanning over decades and pulling in thousands of contestants, all hyped up to take a crack at a top prize. From larger-than-life sets with elaborate physical tasks to flirting your way through challenges or remaining sharp in intense quiz showdowns, there's something for everyone. However, what's the reality behind the glamour of the productions, and how likely are you, as a contestant, to actually walk away with one of the coveted prizes on offer?
Where can you win the most?
As the years have gone by, the stakes have been raised for prize offerings. Some concept shows treat winners to lifelong opportunities in a chosen industry, for example, reality shows like American Idol, which offers talented contestants the chance to have their dream come true with a record deal.
Yet other shows boast colossal monetary prizes that can be used in whichever way the winner so desires. The highest top prize on current US game shows is an eye-watering $1,000,000 lump sum for the last contestant standing on shows such as Who Wants to Be a Millionaire, The Amazing Race, America's Got Talent, and Survivor. 
Other game shows offer ludicrous top prizes that consist of money alongside other bonuses, a prime example being Hell's Kitchen, where contestants battle it out to win a tasty salary of $250,000 and a chef position at a restaurant (usually a Gordon Ramsay restaurant). Smaller shows like Chopped, a cooking show, and the popular game show Family Feud offer top prizes of $10,000.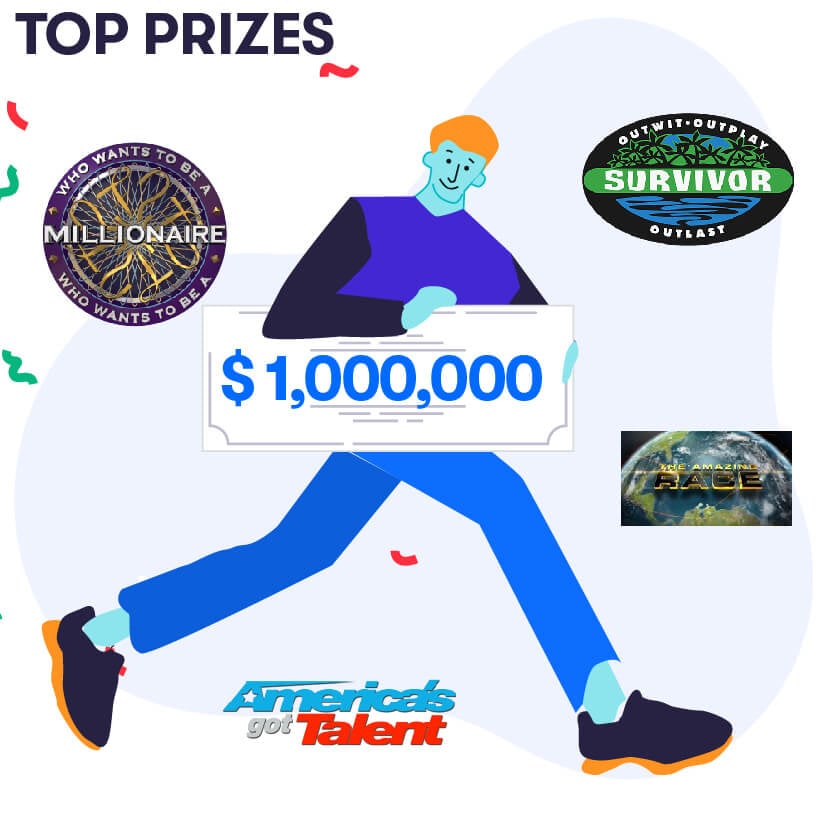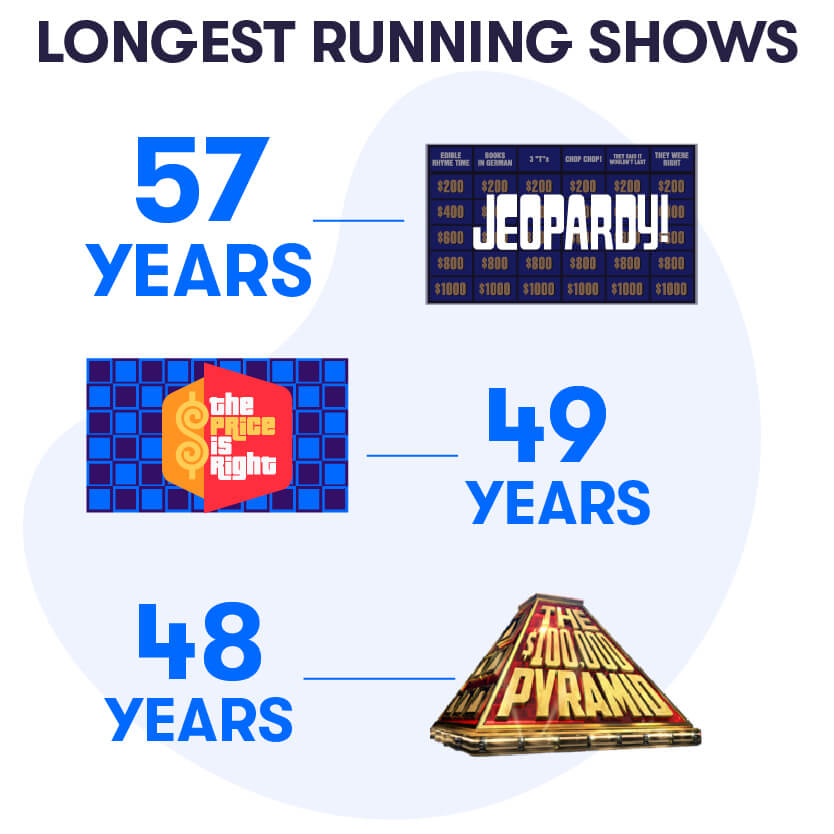 Old favorites
It's a testament to showrunners that some US game shows have managed to stick around successfully for decades. Despite technological advances, cultural changes and the busy pace of modern living, some of the finest US shows remain firm favorites with audiences many years after they first launched on screens.
New shows are popping up left, right, and center, though their longevity is yet to be tested.
The longest-running game show on US television sets is Jeopardy, which has been on the air for a staggering total of 57 years and 38 seasons. The second-oldest US game show is widely regarded to be The Price is Right, which has managed to keep folks entertained on air now for 49 years and 50 seasons.
In third place is the popular $100,000 Pyramid, followed closely behind by Wheel of Fortune with a respectable 46 years and 39 seasons, and Family Feud only slightly behind with 45 years and 22 seasons.
Among the youngest of the bunch are the dating show Too Hot to Handle and the reality show The Circle, both of which have been in circulation for about a year with 2 and 3 seasons, respectively.
Searching for love or money?
With social media hype and ludicrous marketing campaigns, it's perhaps no surprise that some of the more modern reality shows are backed by passionate fans who love to keep up to date with all the latest gossip and developments. 
According to our stats, the most searched game shows include The Bachelorette, which is searched on average around 612,000 times a month. Other popularly searched game shows consist of Wheel of Fortune with 531,000, Jeopardy with 457,000, The Voice with 418,000, Big Brother with 301,000, and finally, Hell's Kitchen, which pulls in a more-than-applaudable 197,000. Quite a bit higher than even the most popular slot games out there.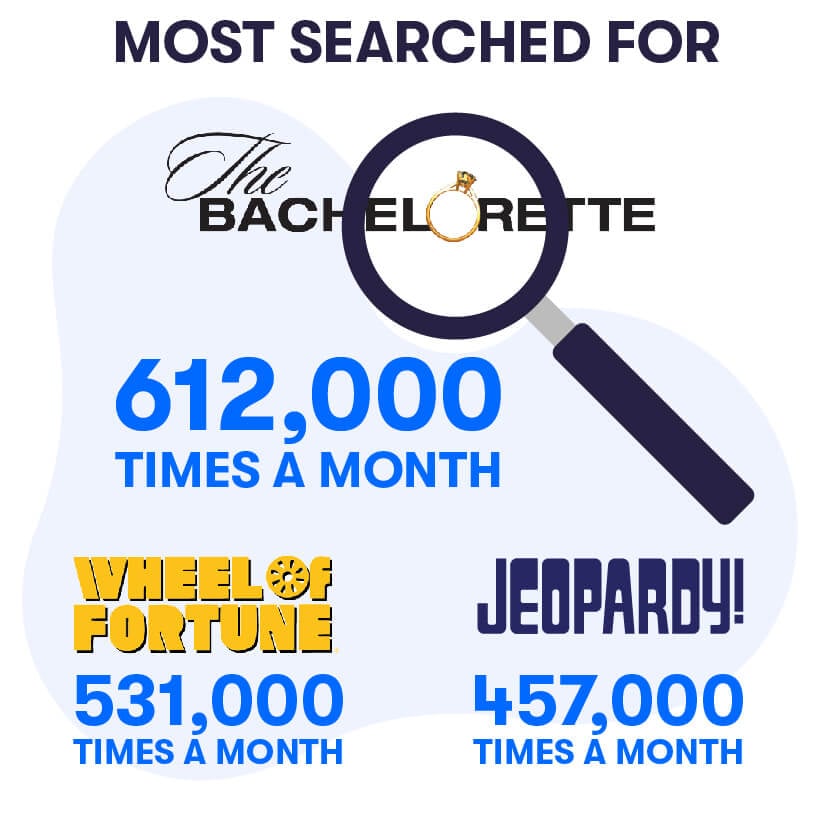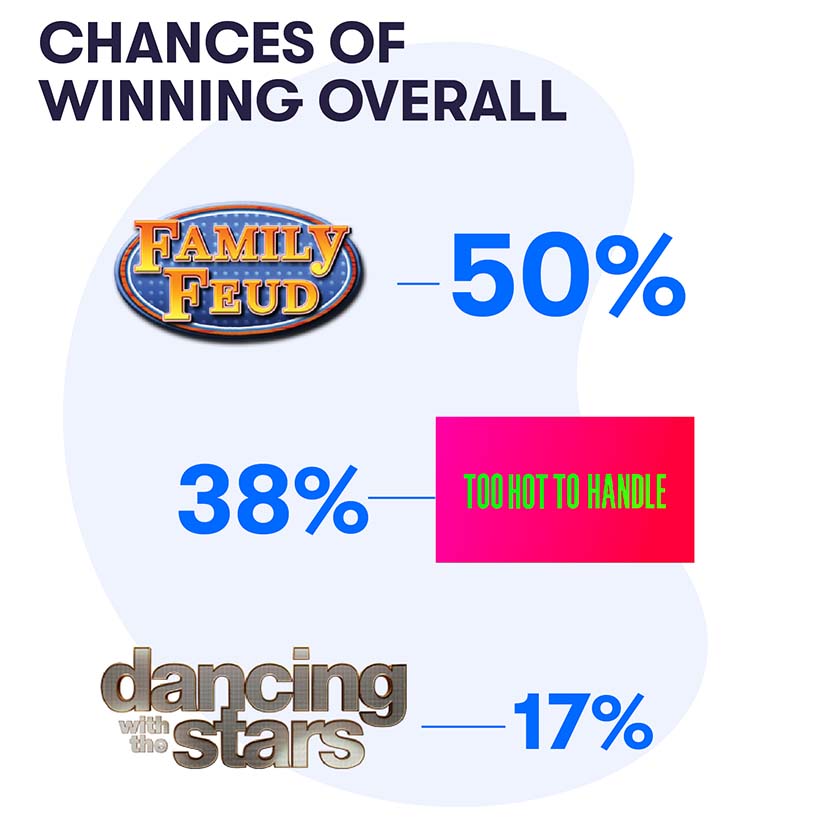 Your best shot
So, what are your actual chances of winning the top prize on a prestigious US TV game show? According to our figures, the shows on which you'd have the lowest chance of winning the top prize are Wheel of Fortune and American Ninja Warrior at a scarily low 0.01%. 
At a slightly higher percentage is one of the world's most beloved talent shows, America's Got Talent, which boasts a 0.63% chance of contestants taking away the top prize, and Who Wants To Be A Millionaire, where players are staked 0.71% to walk away with the enviable $1,000,000 prize money.
On a slightly more attainable level, contestants on the sultry reality dating show Too Hot to Handle have a 37.93% chance of slinking away with the lump sum of $100,000, while Family Feud, with a significantly lesser prize sum of $10,000, actually gives contestants a 50.00% of winning big.
Which genre gives you the best chance
Ever wondered which TV game show genre is more statistically winnable? When considering the overall number of winners per TV game show genre and the respective amount of overall contestants featured on the shows, the figures are as follows.
In this round-up, Cooking shows such as Hell's Kitchen, Masterchef, Worst Cooks in America, Holiday Baking Championship, Chopped, and Top Chef had an average of 6.02%. Falling at the bottom of the list indicates that your chances of winning are far less favorable within this genre when compared to others.
Reality shows like Survivor, The Amazing Race, The Circle, Big Brother, America's Got Talent, American Idol, American Ninja Warrior, The Voice, and Dancing with the Stars had an average of 6.27%.
Not the greatest of outlook, but on the plus side many of the shows contestants go on to have cookbooks, and feature on daytime talk shows.  
On a slightly more positive note, Game shows such as Who Wants To Be A Millionaire, Pyramid, Family Feud, Wheel of Fortune, and Jeopardy rack up to an impressive 12.68%. You could argue that this is the case because contestants often can't win with luck, but with practice and knowledge in their respective fields. 
Finally, the most winnable genre! Dating shows like The Bachelor, The Bachelorette, Love Island US, and Too Hot to Handle come in with a probability of 12.98%. Yes, again this may only be a slight improvement , but the format of these shows means that even without a win, contestants still get to live their best lives on some exotic and adventurous dates with typically good-looking folk.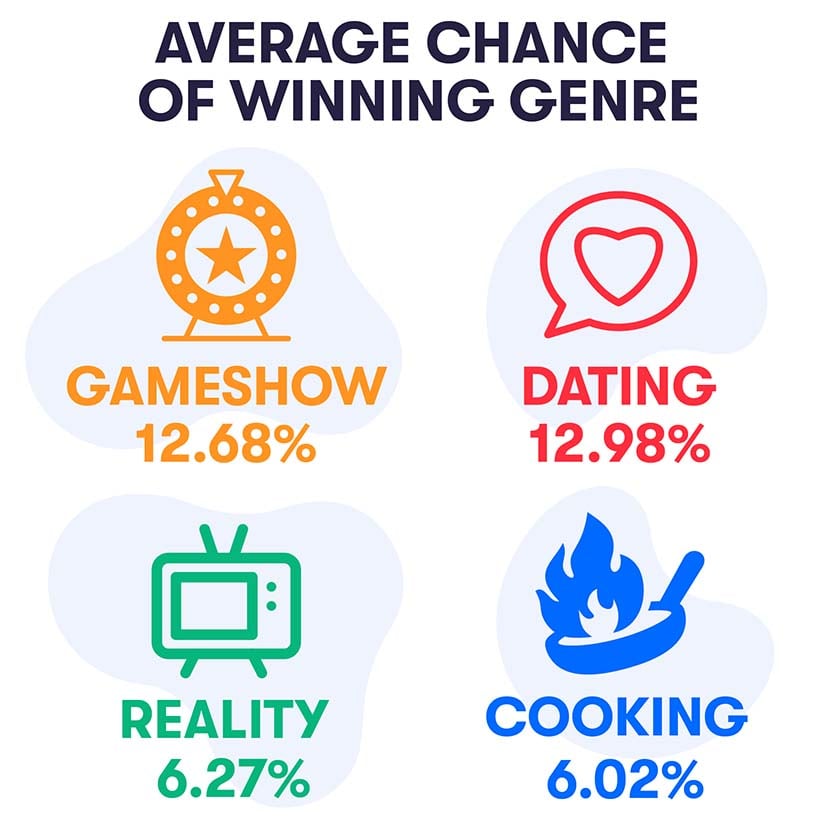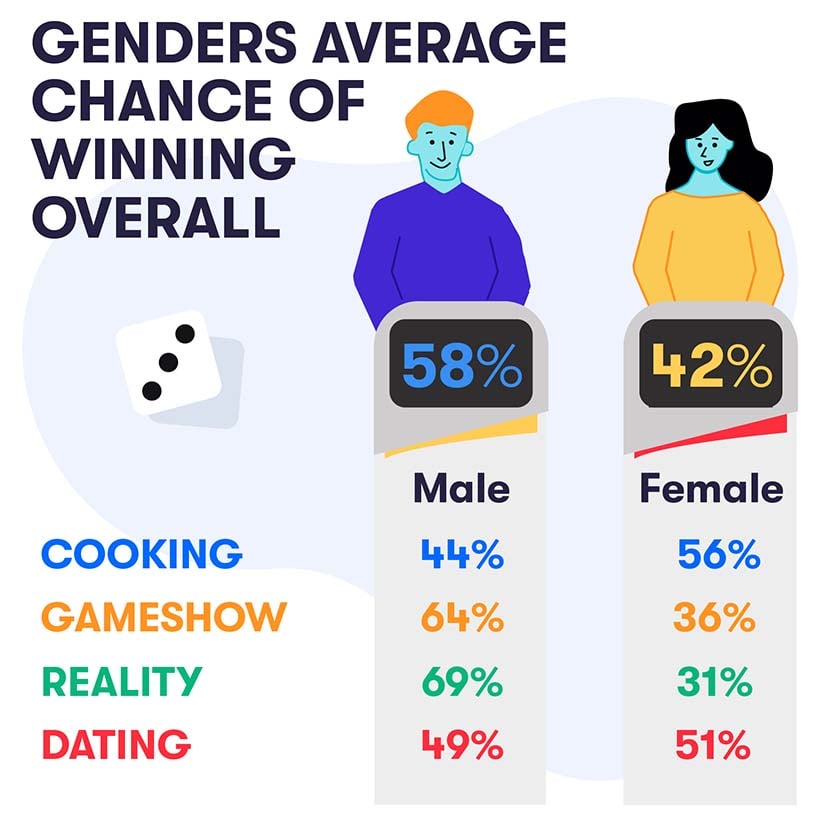 Battle of the sexes
We're all more than familiar with the Battle of the Sexes across all industries, but is there such a thing as a gender disparity between the number of male and female winners on US game shows?
The ratio of male vs female winners on US game shows clearly demonstrates that, across the board, men typically win more often than women in mixed-gendered shows. Shows such as Too Hot to Handle, American Ninja Warrior, and The Bachelorette even have a current track record of 100% male winners. 
However, there are also a few shows on TV that have had exclusively female winners in their relatively short broadcasting history: of course, there's The Bachelor with 24 female winners (as there are only female contestants allowed to participate on this show).
The show with the most balanced rap sheet for the male/female ratio is Dancing with the Stars, which has had a total of 29 male and 29 female contestants over the years and has achieved an elusive split of 50% male and 50% female winners.

| Name of Show | Probability of winning top prize | Male % winners | Female % winners |
| --- | --- | --- | --- |
| Hell's Kitchen | 6.02% | 35% | 65% |
| Masterchef | 5.19% | 36% | 64% |
| Worst Cooks in America | 6.82% | 33% | 67% |
| Holiday Baking Championship | 10.45% | 29% | 71% |
| Chopped | 1.97% | 62% | 38% |
| Top Chef | 5.67% | 69% | 31% |
| Who Wants To Be A Millionaire | 0.71% | 92% | 8% |
| Pyramid | No Data | No data | No data |
| Family Feud | 50.00% | No data | No data |
| Wheel of Fortune | 0.01% | 0% | 100% |
| Jeopardy | 0.01% | 100% | 0% |
| The Price is Right | No data | No data | No data |
| Survivor | 6.74% | 63% | 37% |
| The Amazing Race | 11.31% | 62% | 38% |
| The Circle | 7.89% | 67% | 33% |
| Big Brother | 6.91% | 76% | 24% |
| America's got talent | 0.63% | 81% | 19% |
| American Idol | 3.96% | 63% | 37% |
| American Ninja Warrior | 0.01% | 100% | 0% |
| The Voice | 2.22% | 60% | 40% |
| Dancing with the stars | 16.52% | 50% | 50% |
| The Bachelor | 3.56% | 0% | 100% |
| The Bachelorette | 3.77% | 100% | 0% |
| Love Island US | 6.67% | 50% | 50% |
| Too Hot to Handle | 37.93% | 45% | 55% |
Methodology
Data has been researched and collected through archive show information and fan forums. The overall probability of winning a show has been calculated by the amount of contestants overtime versus the actual amount of full prize money winners. Where it appears 'N/A' is where there wasn't enough publicly available data to analyze and report a result. Search data was obtained through Google.