Choosing a gambling destination when you're on a budget can be overwhelming. So we wanted to make the decision easier for you by breaking down our choices for the top 10 budget gambling destinations. We examined casino offerings, hotel amenities, dining options, and most importantly, price — all in the name of hunting down the best value. 
Our list features cost-effective destinations for every taste where you can stay for under $100 per night. From the time-tested classic casinos of old Vegas, to the modern mega-casinos, you're sure to find a getaway that fits your mood, and your bankroll. And if you decide to try an online casino first, check out our online gambling statics first. 
10. The D Las Vegas: Stay and play in the center of Fremont Street
Located in the heart of Las Vegas' storied downtown Fremont Street, The D Las Vegas is the perfect home base for those who want to be in the center of the action. The D's casino offers 42,000 sq ft of gaming space that's home to over 1,000 slot machines and 22 table games. This casino is also where you'll find the world's largest Keno board.  
Those looking to unwind a bit will enjoy The D's Longbar. Situated in the center of the casino, this oasis features over 1,000 feet of counter space where flair bartenders mix enticing cocktails. Unfortunately, the hotel's pool is small and a bit dated by Las Vegas standards. Not even the best mobile casinos USA will keep you entertained there. Luckily, guests of The D Las Vegas enjoy complimentary access to the state-of-the-art Stadium Swim at the resort's sister property, Circa Las Vegas, just up the street.
Being in the middle of everything can also come with drawbacks. Some hotel guests have reported late-night noise issues thanks to after-hours concerts and partiers on adjacent Fremont Street. But with rooms as low as $39 per night and table minimums of just $5, we can recommend this resort casino despite the potential for a noisy evening.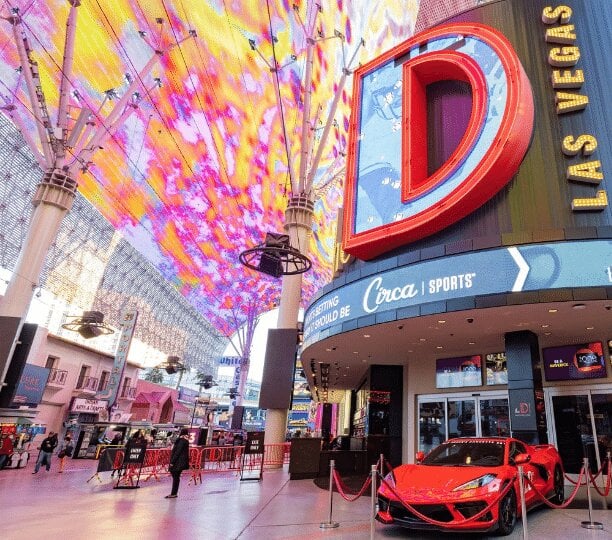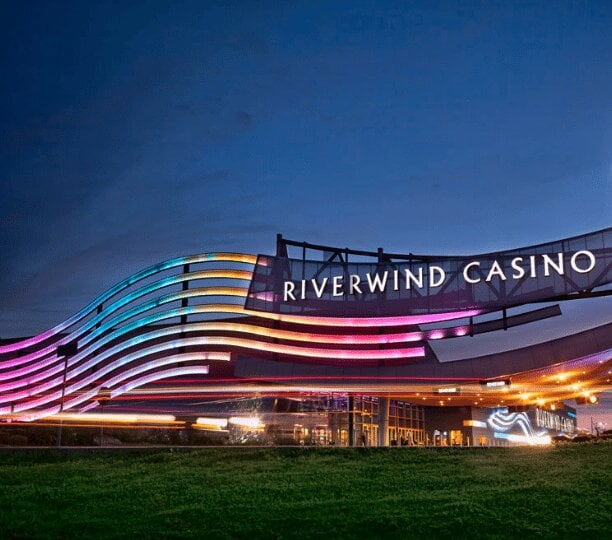 9. Riverwind Casino: A slot player's paradise
Norman, Oklahoma's Riverwind Casino comprises a tremendous 216,000 sq ft that's loaded with over 2,800 electronic games, including slots, video poker, and blackjack. Budget-conscious gamblers will appreciate Riverwind's ultra-low minimums of just $2 for some of its 19 table games. 17 poker tables are also on hand.
Guests enjoy a modern 100 room hotel with rooms starting at $99 per night. The 1,500-seat Showplace Theater regularly showcases touring artists like Willie Nelson, Boyz II Men, and Collective Soul. A more personal 77-seat venue, The River Lounge, also features hot local bands and offers a full-service bar.  Dining choices are numerous and include a buffet, fish and chip shop, as well as a food court for quick bites.
We think Riverwind is a top gambling destination, especially for slots players. The high number of game choices and numerous progressive jackpots offer something for everyone. Unfortunately for table game players, options are limited even though minimum bets are low.
8. Four Winds New Buffalo: An entertainment destination on Lake Michigan
Over 3,000 slot machines and more than 60 table games fill the 130,000 sq ft casino awaiting guests of Four Winds New Buffalo. Near the southern tip of Lake Michigan, this casino resort owned and operated by the Pokagon Band of Potawatomi Indians has been a favorite of midwesterners since its opening in 2007.
The on-site hotel offers 415 rooms and suites. A pool and fitness center are also available for guests. Four Winds' Silver Creek Entertainment Center has featured prominent artists such as ZZ Top, The Temptations, and Styx. A buffet, steakhouse, deli, and more are available to satisfy any appetite.

We like the proximity to Lake Michigan for those looking to enjoy nature while on a casino getaway. However, the remote location makes actually getting to the resort a bit of a hassle. Thankfully, the casino offers a shuttle bus from nearby Chicago and an AmTrak station is nearby. Hotel rooms start at $99, and while that's at the top end of rates on this list, we think Four Winds New Buffalo is worth the trip.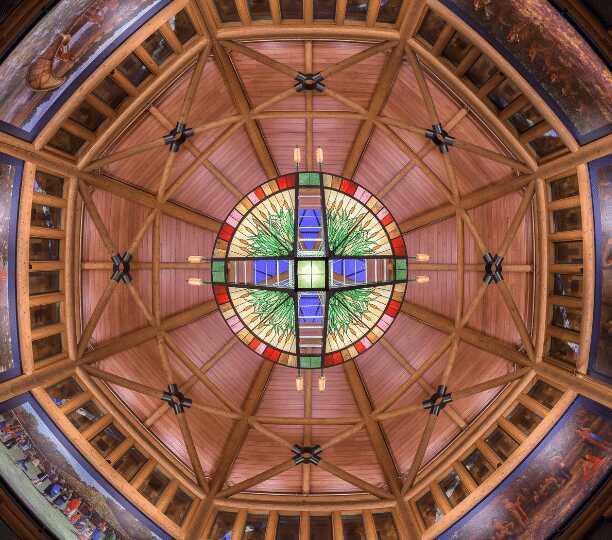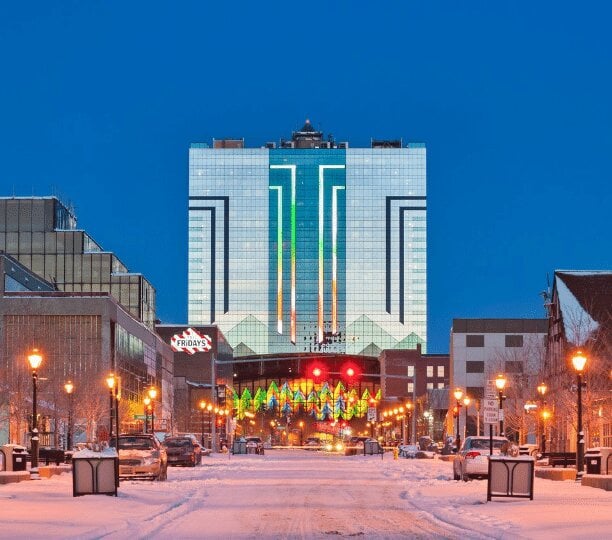 7. Seneca Niagara Resort & Casino: Just steps away from Niagara Falls
Nestled on the banks of the world-famous Niagara Falls, this treasure of upstate New York features a 147,000 sq ft casino packed with 4,200 slot machines and 99 table games. Its 594 rooms make the attached hotel the largest in New York state outside of Manhattan. 
Owned and operated by the Seneca Nation of New York, this gambling destination is also an entertainment hotspot, having played host to musical acts such as Diana Ross, Chicago, Alanis Morissette, and more. Comedians Jeff Foxworthy, Lewis Black, Jim Gaffigan, and others have also featured in the 2,400-seat theater. Guests in need of rest and relaxation can enjoy the property's indoor pool, hot tub, and sauna; or recharge with massage services at the spa. Dining options are plentiful with a steakhouse, burger bar, Asian, and Italian cuisines all available. A buffet, cafe, and coffee shop round out the dining choices.
We like Seneca Niagara Resort & Casino for its relative affordability compared to its competition in the Niagara region. Rooms can be had for as little as $79 per night and table minimums start at $10 on weekdays. Though some casinos are no longer handing out free drinks to their players, Seneca Niagara Resort & Casino offers free beverages to anyone actively playing a slot machine or table game.
6. Hard Rock Hotel & Casino Sioux City: A legendary name in a new location
Although modest in size, the 45,000 sq ft casino is packed with 883 slot machines and 28 table games. There's also a sportsbook for wagering and keeping up with the action during your stay at one of the newest Hard Rock properties. 
Restaurant choices are impressive considering the smaller size of the property. World Tour Buffet, Main + Abbey, and Fuel American Grill give diners a variety of options. Anthem, the Hard Rock's music venue, features performances from up-and-comers, in addition to old favorites. 
Weary gamblers can rest their heads at the attached AAA Four Diamond Hard Rock Hotel, where room rates are as low as $94 per night. With only 54 rooms, it's the smallest on our list. But what it lacks in quantity, it makes up for in quality. Accommodations are luxuriously decorated with custom rock n' roll-themed furniture and artwork. True to its name, the Hard Rock has equipped each guest room with a turntable and an expertly curated selection of records. An outdoor pool is open in the summer months for guests who would like to go for a dip. 
The biggest downside to this beautiful property is its location. Sioux City, Iowa is relatively remote and transportation options are limited.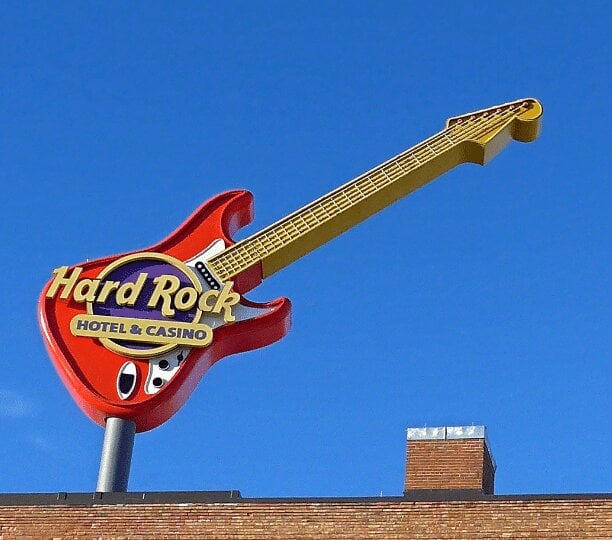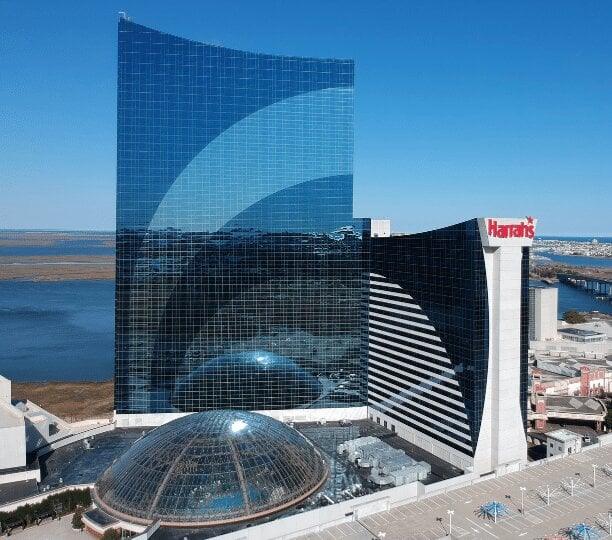 5. Harrah's Resort Atlantic City: Waterfront value on the Jersey shore
A short drive from the New York metropolitan area, Harrah's Resort Atlantic City is home to a whopping 160,000 sq ft casino featuring 5,567 slot and video poker machines, along with 139 table games – giving the online NJ casinos worthy competition to otherwise great offers. The resort's poker room is home to an additional 40 tables and plays host to events on the World Series of Poker circuit. 
Five towers make up the hotel and total 2,587 rooms, making it the second-largest hotel on the east coast. Rooms in each of the towers have been recently renovated. Guests looking to get their fill can enjoy a number of dining options, including Gordon Ramsay Steak. Perhaps Harrah's most unique feature is its pool. Surrounded by palm trees and protected by a large glass dome, it's open year-round for those looking to warm up in the winter months. 
Accommodations start at $54 per night, which we think is a good value considering the hotel's amenities. For those looking to explore the Jersey shore's boardwalk, Harrah's may not be the best choice as making the journey on foot isn't advisable. Thankfully, this gambling destination is so feature-rich and expansive that you never have to leave. 
4. The Cromwell Las Vegas: Adults-only boutique hotel on The Strip
One of the smallest resorts on our list, The Cromwell Las Vegas offers adults a respite from family crowds often found at larger gambling destinations. Its 188 guest rooms are intended to mimic the look and feel of traditional Parisian apartments. Gambling opportunities are plentiful with 440 slot machines and numerous table game offerings spread across the 40,010 sq ft casino.
Don't let this pint-sized property fool you; The Cromwell Las Vegas proves that good things do come in small packages. An adults-only hotel, the Cromwell shuns the Vegas norm of bigger is better and offers guests a more intimate experience. Making use of its limited space, the rooftop pool and nightclub afford guests an opportunity to unwind after a day at the tables. 
The Cromwell sits at one corner of The Strip's busiest intersection, just steps from other famous and more expensive Las Vegas casinos including Bellagio, The Mirage, and The Venetian. Rooms start at just $63 per night, making this property a great value considering who its neighbors are.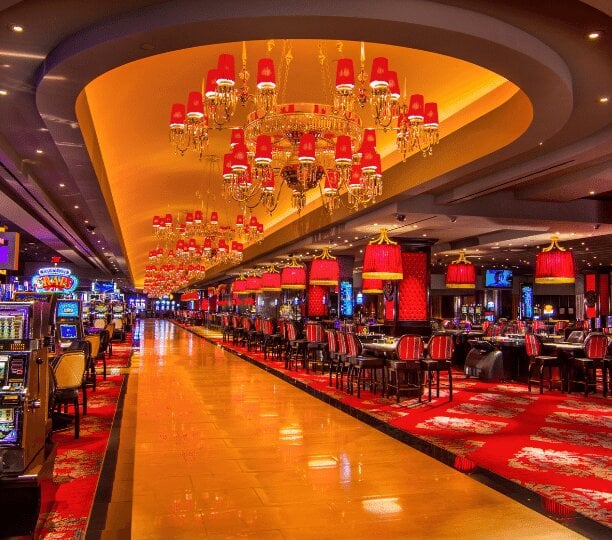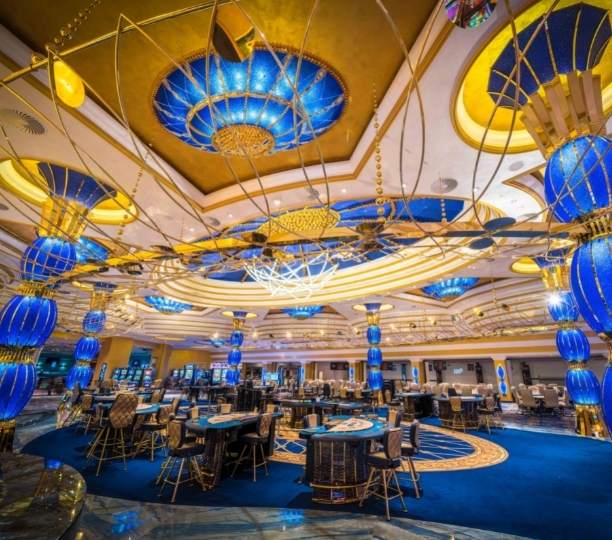 3. King's Resort: If you prefer a European getaway
Flying to Europe isn't always affordable. But when you're ready to make the trip, we recommend King's Resort in Rozvadov, Czech Republic — just across the German border. Flaunting the largest poker room in Europe, King's is a mecca for grinders from all over the continent. Its 160 poker tables host daily tournaments and also play host to the World Series of Poker Europe. 
This European hot spot also includes regular table games such as blackjack, craps, roulette, and more. Over 300 slot machines help fill the casino's 64,584 sq ft of floor space. The Finnish sauna, steam bath, and pool give guests a chance to decompress before a night in the casino. 
Our favorite thing about King's is the incredible value its hotel offers. Nightly rates start at a shockingly low $24. Sure, this is for a basic double room, but if you're on a budget this deal is hard to beat. Of course, King's offers rooms ranging from basic to lavish; so you can get a bit more luxury if you're willing to pay for it. 
2. Horseshoe Hammond: The biggest casino on our list
Just a few minutes outside Chicago you'll find Horseshoe Hammond. This mega-sized casino boasts 350,000 sq ft of gaming space. Some 3,000 electronic games, including over 250 video poker machines, occupy the casino floor. A 5,300-seat state-of-the-art sportsbook was added in 2019. Rounding out the gambling options are the midwest's largest poker room and Le Cheng, an Asian gaming lounge complete with good feng shui.
Hungry guests can chow down at The Shoe's extensive Village Square Buffet, or enjoy offerings from Jack Binion's Steak, The Eatery, and Foo Noodle Bar. Entertainment options are also in abundance. The Venue, a 2,500-seat theater, presents concerts from some of music's biggest artists. A nightclub and tavern are ready for guests to dance and drink the night away.
Unlike the other casinos on our list, Horseshoe Hammond does not have a hotel on-site. Instead, they've partnered with nearby hotels to offer rates starting at $79 per night. The Horseshoe Casino shuttle route provides guests with complimentary transportation to and from their hotel.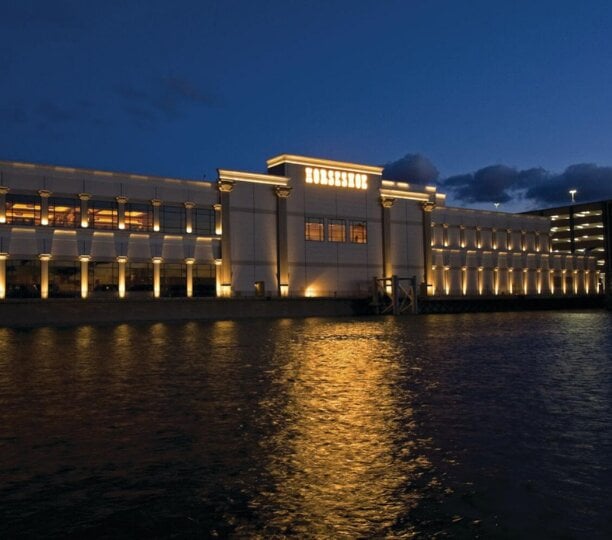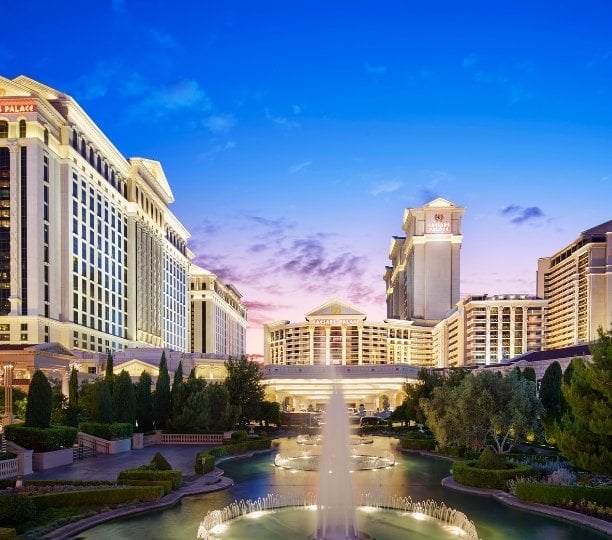 1. Caesar's Palace: A surprisingly affordable winner
You may be surprised to find Caesar's Palace on our list of the top budget gambling destinations. But we've found that a savvy traveler can stay and play at one of the world's most famous casinos without breaking the bank. If you travel on off-peak dates, it's possible to score a room for as little as $73 per night. 
The opulent Roman Empire-themed casino spans 124,181 sq ft and is filled with more than 1,300 slot machines and 185 table games. Although minimum bets can be high on special occasions such as New Year's, off-peak travelers can enjoy table games with bets starting at $15. There's also one of Las Vegas' best sportsbooks, filled with giant TVs, a bar, and comfy seating. 
Hotel guests can spend the day in luxury at the Garden of the Gods Pool Oasis. Consisting of seven magnificent pools, it's one of the largest aquatic complexes on The Strip. In the evening, patrons can take in a show at the Colosseum theater, where A-list performers including Elton John, Celine Dion, Shania Twain, and Rod Stewart have headlined. 
Some options at Caesars Palace may be a bit too pricey for those on the tightest of budgets – and it's not like they offer anything comparable with the best US no deposit casino bonuses. For example, many of the restaurants fall into the high-end category. But we think smart gamblers who do their research and keep an open mind can be rewarded with a colossal value at our top pick. 
What is the top budget gambling destination for you?
We understand that even with all the facts and figures laid out above, it can be difficult to choose a budget gambling destination. So we've put together a list of recommendations based on the type of gambler you are. Some people use gambling as a time to relax and be alone with their thoughts. While others see it as an opportunity to be part of a vivacious crowd, cheering one another on. 
Of course, not everyone will fit perfectly into one player type. If you find that you fall into multiple categories, never fear. We suggest you make a note of each category's recommendation, then compare them to one another to help make your decision. This way you've narrowed down your choices and deciding becomes even easier. No matter which destination you pick, we think you'll have a great time. 
| Player type | Top gambling destination | Reason |
| --- | --- | --- |
| Social gamblers | Hard Rock Sioux City | The lively, party-like atmosphere energizes the crowd, and players are more likely to mingle |
| Slot savants | Riverwind Casino | This casino has one of the most extensive line-ups of slot machines on our list |
| Blackjack buffs | Horseshoe Hammond | Highest number of table games and bets ranging from $10 to $25,000 |
| Poker players | King's Resort | Europe's largest poker room and a destination for poker fans |
| Introverted gamblers | Harrah's Resort Atlantic City | AC is full of solo travelers from New York to get away for a day or two. Going it alone is totally normal here. |
| Bargain hunters | Caesar's Palace | Although it has an expensive reputation, Caesars Palace can be affordable if your travel dates are flexible |
| Trendy travelers | Adults-only, this property's stylish ambiance caters to those who prefer to stay en vogue | Of course, those under 21 aren't allowed to gamble. But Four Winds sits near attractions for the whole family |
| Vegas die-hards | The D Las Vegas | Fans of Las Vegas will appreciate The D's location in the middle of Fremont Street |
| Cocktail connoisseurs | Seneca Niagara Resort & Casino | Not all casinos offer free beverages to players, but here you can drink all you like while playing |
| Family vacationers | Four Winds New Buffalo | Of course, those under 21 aren't allowed to gamble. But Four Winds sits near attractions for the whole family |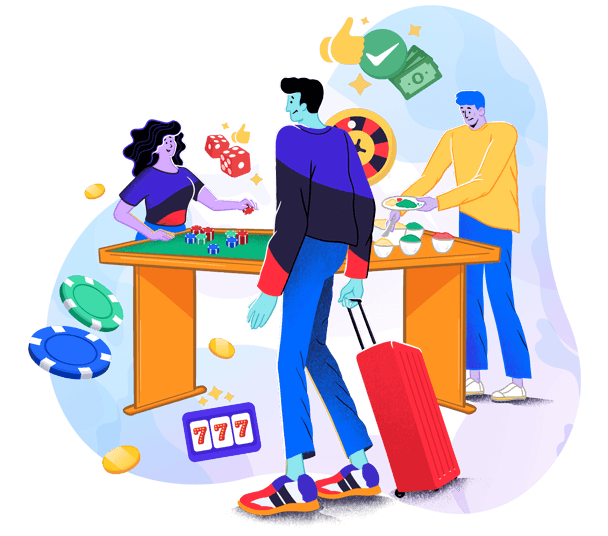 How we rated these destinations
Whether you're planning your first trip to a casino destination or you're a seasoned gambler, it's important to choose the right destination. Those on a budget have to be even more conscious of where and how they spend their money. 
In order to help you choose a gambling destination, we selected a number of criteria to determine our top list and used that data to help you get the most for your money. After all, what does it matter if a casino is one of the best mobile casinos, if it outside of the online world… sucks? You can read more about our criteria below to better understand our recommendations. If you're not ready to visit an in-person casino, feel free to check out our best online casinos.
1. Casino offerings
We like casinos that offer a broad choice of slot machines, video poker machines, and table games. We especially liked casinos with more than 1,000 slot machines. For this list, only casinos with table games offering minimum bets of $15 and under were considered. Sportsbooks that offer betting on all major US sports were also heavily favored. For poker rooms, we prefer to see the lowest blinds at $1/$3 or less.  
2. Hotel amenities
Even the most hardcore gamblers can't spend 24 hours a day in the casino. Therefore we like hotels who offer guests other ways to spend their time. Pools, concerts, lounges, and nightclubs — we thought of them all when making our list. This is especially important if you're traveling with someone who doesn't like to gamble. 
3. Dining
Let's be honest: one of the best things about going to a casino is the food. A trip to the casino buffet is almost a guarantee for many gamblers. If you're going to stuff your face, you should know it's going to be tasty and affordable at the same time. Although some of our picks offer dining priced at over $50 per person, they all have cheaper options available as well. Most buffets ranged from $18 to $30 per person. We also like destinations offering affordable quick bites in food courts or quick-service restaurants. 
4. Price
This is, after all, a list of the top budget gambling destinations. So we made sure each of the entries offered visitors a good value. Sure, some or more expensive than others; but conscious consumers can score a great deal when armed with the proper knowledge. For those looking to stay at otherwise unaffordable destinations, we recommend visiting on weekdays or during off-peak times. All hotels on this list offer base room rates under $100 per night. 
Our top tips for finding the best budget gambling destination
So how do you know you're choosing the best casino destination for you? Truthfully, you may need to consider factors not mentioned in our list. Although we consider ourselves experts in the gambling industry, everyone's specific circumstances are different. In order to help you fill in the blanks, we've come up with a few useful tips.

Tip 1
Sign up for casino bonus programs
Virtually every casino will offer a loyalty or bonus program. When you arrive at the casino, head to the info or player's desk to sign up. You'll receive a card which you should insert into any electronic games you play, or hand to any dealer when sitting at a table. As you gamble, you'll accumulate points which can be used for discounts on dining and hotel rooms. Similar to our online casino bonuses, some destinations even offer freeplay to new players.

Tip 2
Consider your travel options
A long flight is often taxing and expensive. Factor in time to recharge and get your bearings before gambling. This way you'll know you're making smart decisions and not wagering recklessly. If you're a first-time gambler, look for a destination close to home to be sure you like gambling in a casino before spending a substantial amount on a vacation. 

Tip 3
Research the games you want to play
Table games players should know the rules and strategies of any game before deciding to play. One way to try a game before going to a casino is by trying live casino games online. If you're interested in trying a game before going to the casino, you can check out our rankings of live online casinos.

Tip 4
Make sure the destination has your favorite slots
Many casino websites offer an interactive map to show you where exactly to find your favorite slot or video poker machines. What you may not know is that many slot machines are also available as online slots. This means you can enjoy your favorites between trips or discover brand-new games. 
FAQs
What is the best budget gambling destination?
We've selected Caesar's Palace on the Las Vegas Strip as our number one pick. It's an enormous property with reasonable room rates, plentiful gambling options, and a multitude of dining choices.
How do you find out what is the top gambling destination?
It's important to do your research. Time2play is an excellent resource to help you make your decision, but we're not the only place you should look. Read about how we rate, but also do some research of your own. Ask friends and family where they travel to gamble and check other sites you trust. 
What are some other vacation gambling tips?
Above all, we think it's important to set a gambling budget and stick to it. If you set your budget before your trip, you can travel knowing the minimum you'll be left with when you return. Of course, coming home a winner is nice, but no one can guarantee that will be the case. Have a peek at our other tips for finding the best budget gambling destination.