As anticipation builds for the US Tennis Open, an event that never fails to deliver excitement and drama, it's the perfect time to reflect on how the tournament has evolved over the years. From its inception in 1968 to the most recent edition in 2022, the US Open has seen 55 editions of thrilling matches, personal triumphs, and collective memories. In this article, we take a trip back in time to examine a series of statistics, milestones, and fascinating stories that have woven this Grand Slam event into the fabric of sports history.
Champions and their triumphs
The US Open has seen a parade of champions, each of whom has etched their name into the tournament's storied history. In men's singles, a total of 30 players have claimed the coveted title. Jimmy Connors and Roger Federer hold the record for most titles, each having won the US Open crown five times. Alongside these legends, names such as Stefan Edberg, Ivan Lendl, Andre Agassi, John McEnroe, Patrick Rafter, Rafael Nadal, Pete Sampras and Novak Djokovic have left their indelible mark on the tournament.
Grand Slam Quest
Winning all four Grand Slam titles is the pinnacle of tennis achievement. This remarkable feat has been achieved by iconic figures such as Rod Laver, Jimmy Connors, Ivan Lendl, Andre Agassi, Roger Federer, Rafael Nadal and Novak Djokovic. Laver's feat of winning all four titles in a single calendar year stands out as an extraordinary milestone, while others have demonstrated their dominance over longer periods of time, creating lasting legacies.
Uncovering age and nationality trends
Looking at the average age of winners by nationality reveals some interesting insights. Australian champions, mirrored by Serbian winners, have often celebrated their triumphs at the age of 28. Russia and Germany, on the other hand, have produced champions at the relatively youthful ages of 23 and 22, respectively. This age diversity underscores the global nature of tennis talent.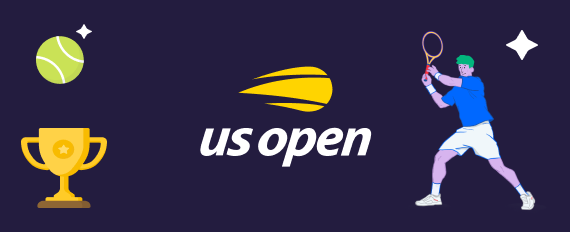 Global impact: Grand Slam Leaders
A closer look at the Grand Slam leaderboard reveals the prominence of the United States and Australia, with 7 and 5 titles, respectively, among the 30 champions. This speaks to the historic influence of these nations on the tennis landscape and underscores the lasting impact of their players on the world stage.
The Turning Point: Breakthrough Grand Slam
For 16 champions, the US Open was the pivotal moment, catapulting them into the realm of Grand Slam victories. The French Open played a similar role for 6 champions, while the Australian Open and Wimbledon were the breakthrough events for 5 and 3 champions, respectively. It's worth noting that 14 champions secured victories at other Grand Slam events before triumphing at the US Open, underscoring the varied paths that lead to success.
Evolution of Playing Styles
Tennis celebrates a spectrum of playing styles and the US Open has been a showcase for this diversity. Eight champions have won with an "all-court" approach, seven have excelled as "aggressive baseline" players, and six have thrived as "serve and volley" exponents. This diversity emphasizes the dynamic nature of tennis strategy.
Court Preference: Grass, Clay and Hard
While the US Open is primarily played on hard courts, only 4 champions preferred grass and 2 were more comfortable on clay. A substantial 24 champions demonstrated their expertise on hard courts, underscoring their popularity and relevance in modern tennis.
A Tapestry of Tennis
As the US Tennis Open approaches, a look back at its history reminds us of the accomplishments, styles of play and moments that have defined the event. From records that stand the test of time to breakthroughs that launch careers, the US Open embodies the essence of tennis as a sport. As new champions emerge to write their own chapters, they continue the tradition forged by those who came before and contribute to the enduring legacy of this iconic tournament.
Trending blogs