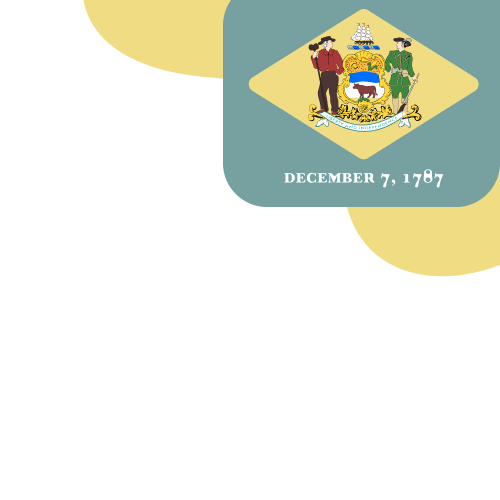 The best Delaware online casinos
The pool of Delaware online casinos isn't as vast as other states, but it gives Delawareans what they need as far as online gambling goes.
The three casinos – Delaware Park, Dover Downs and Harrington Raceway – offer their very own branded online casinos. The land-based casinos all offer a different experience however, their online counterparts are identical as they use a unified system that is co-managed by Scientific Games and 888 Holdings.
There are a few differences between the three. We'll be tackling this and more in our best Delaware casinos list.
Casino Logo
Odds rating
Bonus
Go to casino Button
Show more
T&C

1

Harrington casino review

74

/100

Expert rating

by Alex K.

69%

Playscore

based on

$10 no-deposit bonus + 100% up to $100

Play now

2

Delaware Park casino review

73

/100

Expert rating

by Ian Z.

62%

Playscore

based on

20 free spins + 100% up to $100

Play now

3

Dover Downs casino review

72

/100

Expert rating

by Melanie H.

68%

Playscore

based on

100% up to $200

Play now
Category winners
The Delaware online casino list is a short one when compared to other states. Having said that, we have to keep in mind Delaware is one of the smaller states with just 1 million residents.
The state has three US online casinos: Delaware Park, Dover Downs and Harrington use the same platform and have the same real money online casino games, namely 96 slot games, 8 card and table games, and online poker. For this reason, it wouldn't be fair for us to pick out which one of the three is a winner in any category.
The only minor difference is the promotions. Delaware Park offers 20 free spins on sign up, and Harrington and Dover Downs give players a free $10 bonus. After your first deposit, all three offer a 100% match bonus up to $100.
The casinos all have the same payment methods, daily promotions, user experience, and design. This level playing field means what casino you, as a player, will choose is entirely up to which brand you like most out of the three. If you're looking for something a bit different, you can also have a look at sweeps cash casinos, which are legal in all states.
How we rate Delaware online casinos
At Time2play, our aim is to provide unbiased information on legal online casinos in Delaware. How do we do this? We take a look at each casino and rate it using a combination of an expert rating, an industry rating that is aggregated from different web sources (the Playscore), and uncensored user ratings.
When tackling a review, our experts will look into different casino categories, such as the online casino's bonuses, casino games, software, payments, safety, mobile, support and usability and give different scores for each area. This criterion remains the same for every casino. No casino gets scored differently – read more favorably – than any other.
Delaware online casinos are different from other online casinos for real money in other states as all three of them are almost identical since they all use the same 888 platform.
1. Bonuses
The main difference between Delaware's three casinos are the sign-up bonuses. At Dover Downs and Harrington, you'll get a$10 welcome bonus on signup. At Delaware Park, you'll receive 20 free spins.
After that, all three casinos will match 100% of your deposit up to $100. That means that if you deposit $100 you can play with $200. To take advantage of this offer you'll need to deposit at least $20.
Compared to other states, Delaware's sign-up bonuses do come up short. As for other Delaware online casino promotions, all three casinos have a selection of daily bonuses that rotate according to what casino you're visiting. For example, Delaware Park has a Cashback Tuesdays promo but you'll have to wait for Wednesday to get the cashback promo at Harrington.
All three casinos have daily bonuses that consist of: cashbacks promos, free spins on deposit, 25% match bonus, free money play vouchers and Blackjack-specific bonuses.
Sign up bonus
Daily promotions available
No real choice between casinos
2. Games
When it comes to online casino games, Delaware casinos have the same selection of slots, jackpot slots, and table games.
All three casinos offer 96 slots mostly developed by 888 and Scientific Games (SG) since they co-manage the casino sites. But there are also some slots from NextGen, Red7, Bally and WMS (although Bally and WMS have been recently acquired by SG).
Of the 96 slots, 14 have progressive jackpots. Some share the same jackpot with the ultimate prize running over $50,000.
There are also 8 table games with blackjack, roulette and online video poker available for players. At present, no operator on our Delaware online casinos list offers live games.
Popular Delaware casino games
Slots
Progressive jackpots
Online video poker
Game fairness
When it comes to legal online casinos Delaware is very strict with their regulation. The Delaware lottery, with the help of the Delaware Gaming Enforcement. When we're looking at a casino we always make sure that it has the seal of these two government agencies. All casino games should show the theoretical RTP%. This should ideally be displayed before launching the game, and although this is common in other states, casinos in Delaware don't offer this feature.
Game variety
We'd like to see more variety of slots in the Delaware online casino list — but to date, the 100 games available is all the three casinos offer to players. This includes 96 slots – of which 14 have progressive jackpots – and 8 table games.
Live casino
Looking at the variety of online casino games, Delaware simply sticks to slots and table games. To date, neither of the three casinos has made online live casino games available to their players.
3. Software
With the three casinos being jointly managed by 888 and SG, you'd probably guess most of the slots available in our Delaware online casino list will be dominated by these two providers. And you'd be right. You'll also be happy to know that all three casinos offer 888-exclusive slots.
There are a handful of other providers such as NextGen and Red7, but the majority of the casino games are either by 888, SG or studios that SG has acquired.
4. Payment methods
Delaware online casinos all have the same payment methods and withdrawal terms.
There are 4 deposit methods available, which is less than you'll find at MI online casinos —Paypal, Direct Bank Transfer (ACH) together with Visa credit and debit cards, and Mastercard. The processing times for all these methods can take up to 10 minutes, but are normally instant. A minimum deposit of $10 is in place for all payment methods.
Another important factor that we take into consideration is how easy it's to withdraw money. At sites in our Delaware online casino list you can withdraw using either Bank Transfer or PayPal. There's a minimum withdrawal amount of $20 in place with both methods.
As for withdrawal processing times, PayPal's by far the quickest as the money will be with you in around 4 to 5 days. Bank transfer withdrawals take slightly longer – up to 8 days for the money to come back to your account.
We're also happy to see that legal online casinos in Delaware don't charge any fees for processing deposits or withdrawals.
| Payment Method | Benefit |
| --- | --- |
| Bank transfer (ACH) | You can deposit and withdraw |
| Paypal | Faster withdrawals than bank transfer |
| Visa credit and debit cards | Fast deposits |
| Mastercard | Fast deposits |
State highlights:
No casino processing fees
Minimum deposit of $10
PayPal available to deposit and withdraw
5. Safety
Going through the literature of the legal online casinos in Delaware, you'll immediately realize how focused they are on keeping to the regulations. The safety of players is important to them. This is what you want from a casino you'll be trusting them with some personal info, and payment information.
First up, you'll only be allowed to play at any of the Delaware online casinos if you're physically located in the state. There are multiple checks each casino does to ensure this starting by tracking your WiFi locations, making sure you have a Delaware IP address, and even looking at your cell phone location.
Every Delaware online casino on our list has the license seal of the Delaware Lottery and the Delaware Gaming Enforcement sign.
The safety of their players is taken into consideration and you can find easily accessible tools to gamble responsibly, together with contact information for the Delaware Council on Gambling Problems and Gamblers Anonymous.
6. Mobile
With players choosing the comfort of their devices, we look into what's in place if a player wants to access a Delaware online casino through their mobile device.
All three casinos have native mobile apps that players can download before they start playing for easier access to their chosen casino. The app is available for both iOS and Android.
If you prefer not to download the app, you'll still be able to enjoy the online casino experience. All three casinos can be accessed via your device's internet browser complete with intuitive design and easy navigation.
| Casino | Availability | Support channels |
| --- | --- | --- |
| Delaware Park | 24/7 | Phone, email, FAQs/help pages |
| Dover Downs | 24/7 | Phone, email, FAQs/help pages |
| Harrington Raceway | 24/7 | Phone, email, FAQs/help pages |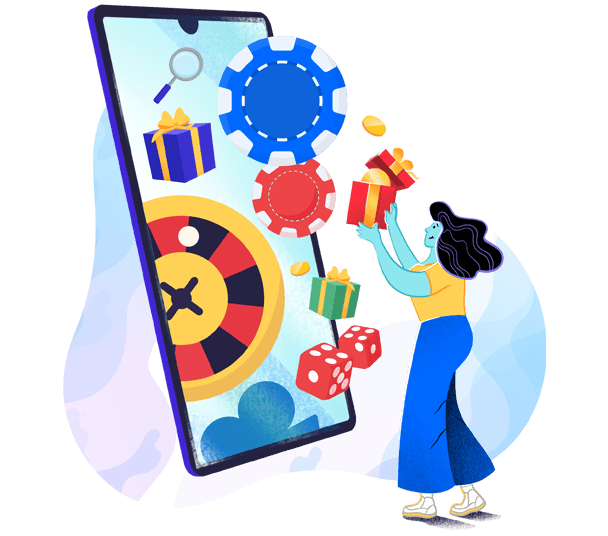 7. Customer support
We expect customer support to be 24/7 when it comes to the best online casinos in Delaware.
All Delaware online casinos score high here as they offer round-the-clock support. You can get in touch via phone, a toll-free number, and an email address.
At each casino, you'll also find an extensive list of FAQs to the most commonly searched-for problems. here are several easy-to-follow guides on how to sign up for an account, depositing, withdrawing, self-exclusion, and more. All these guides come with screenshots and step-by-step instructions making them all very easy to follow.
8. Usability
With all three of the Delaware online casinos on our list being co-managed by Scientific Games and 888, they all score the same in terms of usability. As you can see in our 888 online casino review, they scored quite highly in this respect.
Here we're looking at how easy it is to get signed up and then redeem the signup and welcome bonuses. Then there's the matter of site navigation and how intuitive the user experience is. Even though all three casinos come with a search bar, the filtering of games is quite basic as it only filters games by paylines, and if they are progressive jackpot slots.
9. You — the user
We want to bring something different to the table. That's why our online casino reviews don't just offer an expert rating and a Playscore but also include your voice. We keep players' reviews unedited, because they're an important part of our rating system.
This is how we're different from other review sites out there. We want to be unbiased and honest about the industry and we cannot do this without your opinion.
Now people in Delaware are quite lucky as the state was one of the first to legalize online gambling. However, when compared to other states where online gambling sites are legal there's a huge discrepancy in the size of their bonuses and casino games catalog.
Since the three casinos use a single system it wouldn't be fair for us to pick the best Delaware online casino. Ultimately it's up to you which casino you prefer and we have a feeling you'll end up going to your local one.
But this is why you, as a player, are so important to us. We want to hear your thoughts about which Delaware casino is the best. Or why should someone choose one casino over the other? It is players like you who make our community.
Special types of online casinos in the state
We'll only ever recommend legal online casinos in Delaware and as things stand there are only three of them: Delaware Park, Dover Down, and Harrington. All three casinos use the same 888 system, meaning they're built on the 888 platform and look almost identical (the only difference are the colors used).
They then have the same welcome bonuses, payment methods, support systems. and so on.
New Delaware casinos
All of the three online casinos in Delaware were launched back in 2013 under a unified system by SG Digital and 888. Since then, there haven't been any new online casinos in the state. This is partially due to the very strict licence conditions together with the way casinos are taxed in Delaware.
We're not sure what will happen in the future but we are sure to add any new Delaware casinos as soon as they become available. Watch this space.
Latest Delaware casino:
Delaware real money casinos
All three casinos in Delaware are real money ones. Even though the casino will let you deposit money from anywhere in the world you have to physically be in Delaware in order to play with real money. You'll also need to be over 21.
There aren't many differences in the available online casinos. In fact, the main difference is the sign-up bonus. At Delaware Park, you get 20 free spins and at Dover Downs and Harrington you'll receive a free $10 to play with.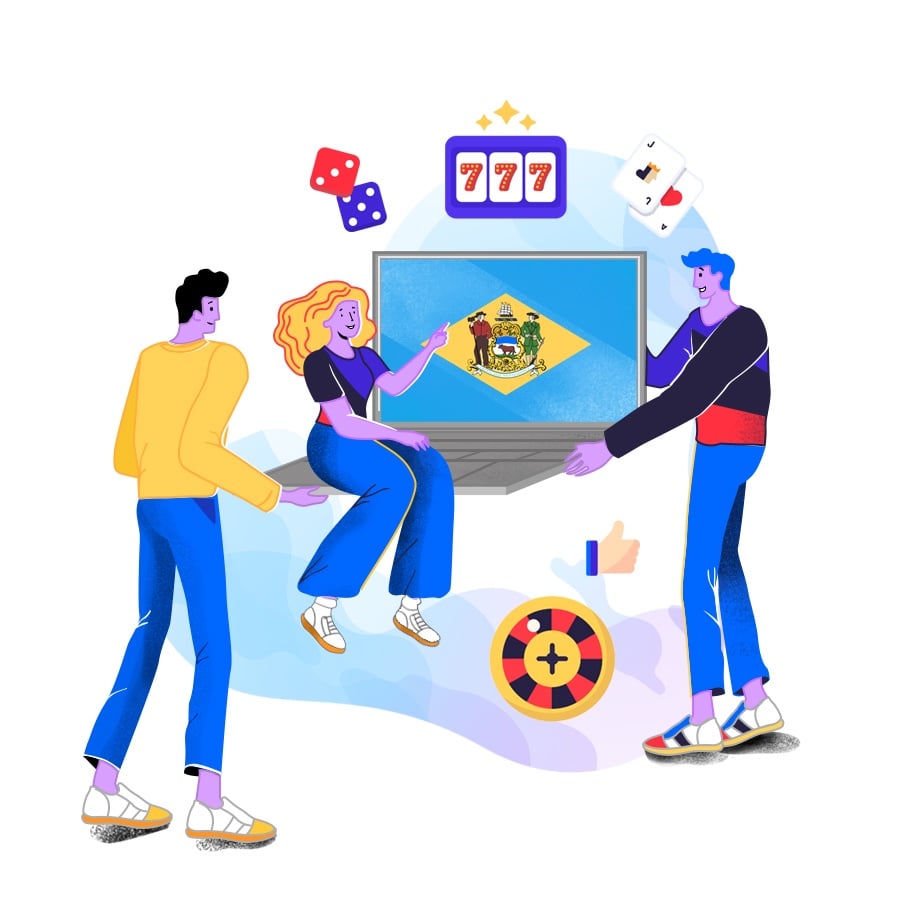 Offline casinos
The three online casinos in Delaware are all tied to the three racinos in the state: Delaware Park, Dover Downs, and Harrington Raceway. Having a land-based casino is actually one of the terms for a brand to be granted an online casino licence.
All three offline casinos have a racetrack, thousands of slots, a good selection of tables, and they also have poker rooms. If you want full scale sports betting you'll also have to visit one of the casinos to place your bet.
All three casinos offer players everything they need in terms of betting. At each of the properties there's also a hotel and spa, together with a selection of restaurants. Now how's that for an entertaining night out?
| Retail casino | Online casino | Launch date |
| --- | --- | --- |
| Delaware Park | Delaware Park | 2013 |
| Dover Downs | Dover Downs | 2013 |
| Harrington Raceway | Harrington Raceway | 2013 |
The history of casinos in Delaware
Delaware was the first to legalize online gambling. As a state they also have a long and rich history of horse racing and horse betting.
All three casinos are actually known as racinos as they have a race track adjacent to the casino. And it's with racetracks that these casinos started out but as the years went by they started expanding — adding slots, table games and poker. Later on, the Delaware Lottery would even grant these casinos a licence to offer sports betting.
It'll be interesting to see what the future holds for online casino games in Delaware. What we do know for sure is that the state has been a trailblazer when it comes to Delaware online gambling legislation.

1920
The Harrington Raceway is opened, making it the oldest of the three racinos.
1933
The Delaware legislature creates a racing commission.

1937
The Delaware Park racetrack is opened.

1969
Dover Downs racetrack and speedway opened its doors.

1975
The Delaware Lottery is established and to this day it oversees all gambling activities in Delaware.

1996
A slot parlor is added to the Harrington Raceway.

2009
Sports betting through parlay bets is made legal in Delaware.

2010
Table games are added to the Harrington Raceway and Casino.


2018
Full scale sports betting is made available at the three casinos.
With such a rich history it's interesting to speculate what might happen in the future for Delaware online casinos.
More game selection
When it comes to online casino games, Delaware doesn't have a lot of variety, especially when you compare it to the likes of New Jersey. There's only about 100 slots in total at each of the casinos. Hopefully, in the future, players can have better choice, some top-quality providers and maybe even live casino games.
Addition of online sportsbooks
Technically, online sportsbooks are legal in Delaware but, to date, none of the casinos have taken it up. William Hill also runs NFL parlay bets at several retailers in the state and it wouldn't be a surprise to see them venture online in Delaware as well.
How Delaware makes money from online gambling
It's not surprising that the Delaware Lottery is the 5th largest contributor to the state's funds when you see the way the state taxes online casinos.
There's a simple explanation why there are only three online casinos in Delaware. The way the state taxes online casinos is harsh compared to other states. Try to imagine a tax percentage – say neighbouring New Jersey's 15% tax rate – then double that and more. Yep! Delaware taxes online casinos 62.5%.
So first up, operators need to pay a licence fee. And that's all well and good but then there's a huge proviso they need to abide by. The first $3.75 million in revenue has to go to the state. After that a 62.5% rate tax applies (that's a 50% revenue share with the state and a 12.5% share with the state vendor). If operators don't reach the $3.75 million their license can be taken away.
Quick facts:
Offline table games tax – 34%
Offline slot machine tax – 37%
Online casinos tax – 65.5%
Online gambling revenue (2020) – $8.4 million
Other states where online casinos are legal
Delaware isn't the only state that has legalized online casino gambling. The best states for casino selection and bonuses are NJ, WV, PA, and MI.
You can check out the casinos these four states have to offer below:
FAQs
Are online casinos legal in Delaware?
Yes, online casino gambling is legal in Delaware. You can play online casino games in the state as long as it's done at any of the three casinos regulated by the Delaware Lottery.
What's the best online casino in Delaware?
There are only three online casinos in Delaware and they all use the same 888 system so it would be very difficult for us to say which one is the best. They all have the same games, deposit methods, customer service, and user experience. Choosing which one you would like to gamble in is entirely up to what casino you like best.
Can I gamble for real money in Delaware online casinos?
Yes, all three casinos are real money casinos and you can deposit using Bank Transfer, PayPal and even Visa and Mastercard cards.