The best New York online gambling sites today
Diving right into it: we know plenty of people don't care about the BS, and want to get stuck into the best online gambling sites in NY. There are plenty to choose from, and more on the way, but these are our highest-rated.
Strictly speaking, it's only sportsbooks that have been legalized in NY for online betting. However, operator-run social and sweeps are legal too, and can scratch the casino itch until NY online casinos are properly regulated.
We've picked the best sportsbooks to reflect the strongest NY online gambling offers available for sports bettors, followed by the best alternatives for casino players. Still, it's undeniable that sports bettors are probably going to have a better time until more high-stakes casino gaming is legalized online.
Is online gambling legal in New York? Yes. Now let's talk specifics
Right, so what's legal online gambling in New York, and what isn't? Sports betting is definitely the big one in NY.
In the most permissive states, like NJ, you'll find a big betting triangle of sports, casino and poker, with some other stuff sprinkled around. Now, New York does have casino and poker gaming available, but only in the social gambling format.
That's technically 'fake money betting', but you can buy virtual currency and win cash prizes from games, so social and sweepstakes spots functionally act as 'mini online casinos.'
From the other forms of gambling, there's plenty of offline stuff, including many physical casinos in the wider NYS area. The lottery and New York DFS make up the other big verticals. The gambling age in New York is 18 in most cases, but anything online is 21+.
| Gambling vertical | Offline legal age | Online legal age | Online since |
| --- | --- | --- | --- |
| Sportsbooks | 21 | 21 | 2022 |
| Social betting apps | N/A | N/A | Info not available |
| Casinos | 18/21 | N/A | N/A |
| Social casinos | N/A | 21 | Info not available |
| Poker | 18/21 | 21 | N/A |
| Lottery | 18 | N/A | N/A |
| Horse race betting | 18 | N/A | N/A |
| Daily fantasy sports | N/A | 21 | 2016 |
| Bingo | 18 | N/A | N/A |
Online sports betting — legal since 2022
Sports wagering was technically signed into law by Governor Cuomo in 2021, but we didn't actually get it till 2022. The vast majority of NY online gambling sites are sports betting ones, with mainly social options rounding out casino and poker.
So, what do the best sports sites look like when you're gambling in New York? Our data-driven rating systems are based on nationwide averages; and while New York's pretty good in most areas, it's still relatively new, so the offers are lacking in some key areas.
Nationwide, we expect to be able to bet on a minimum of 30 different sports. Features should include cashouts, bet builders, live data, and streaming. The best average payouts are usually 96%-97%, maybe 1% less during live betting. As for bonuses, top ones should be offering at least $500 for deposit matches, or $1,000+ for risk-free bets.
How does New York fare in comparison? Pretty good on the whole; the best New York online gambling sites fall well within the upper-average parameters for us, except in one area. Most sites still don't have enough options to bet on, we usually expect around 15 in the Empire State.
That said, there are many different leagues and markets within the sports available, which is a plus.
Plenty of top operators
Lots of markets and leagues for mainstream sports
Matches established states in almost all areas
Fewer fringe sports available than more established states
Online casinos — not fully legalized, but you have options
Right, so we've already touched on the whole 'is gambling legal in NY' thing, but here's the recap. In the US, gambling is illegal unless it's specifically legalized, meaning individual states legalize individual areas of gambling, one at a time.
Online sportsbooks have been legalized in the US, online casinos have not. Does this mean you're screwed? No. There are three main options available to you. The first; just play offline — inconvenient if you live in NYC, but casinos exist on tribal lands. More on that later.
The first of the NYS online gambling options for casinos is playing at offshore casinos, but we do not recommend that, even a little. They manage to offer services by operating in a legal gray area by not technically being located inside the US, meaning they're not technically illegal.
The downside of that is that US rules, licenses, and regulations do not apply to them, so they're much harder to trust and impossible to prosecute if something does go wrong.
Other option? Sweeps cash casinos. Predominantly 'free versions' run by established gambling operators such as BetRivers, they operate in a legal area that is more beige than gray. They do this by offering cash prizes for play and selling virtual currencies, rather than directly allowing you to gamble. These are what we recommend to NY gamblers.
The difference? Most of these are located/ registered on US soil, meaning they're accountable to US player protection laws. Is there a catch? Kinda. If you're a high roller, you're likely gonna be disappointed by the lower-stakes model of social casinos.
You can play casino games
You can win real money
Way less viable than officially legalized states
Online poker — available at social casinos
The poker situation is practically the same as the casino one. Online gambling NY casinos aren't fully a thing, but you can play offline, or use the workaround options to play poker.
Again, we recommend the social casinos over the offshore ones for your NYS online gambling. They're the lower-risk option. Fans who are looking for poker gambling in New York are actually pretty lucky here, because BetRivers is one of the social options available in NY.
They're part of Rush Street Gaming, who operate fully-fledged online casino brands SugarHouse and BetRivers in practically every legal state. They're also one of the few social casinos to run live dealer game streams you can participate in. That means you'll get your online poker fix whether it's on a virtual poker table or a human-operated one.
Available in NY
Live tables available in NY
Weaker offerings than more established states
Other forms of gambling in New York
When it comes to stuff beyond the big three, New York online gambling still has plenty to provide. Most prominent among these is probably the lottery, with most of the daily numbers NY has to offer being regularly updated online. New York DFS (Daily Fantasy Sports) is next in the popularity line.
NY gambling in the lottery sphere is a little weird when it comes to online. As it stands, it seems like you can't buy individual lottery tickets online, and will have to visit a local retailer. However, you can purchase and manage subscriptions to certain lotteries such as Mega Millions online. In FY 2021, the lottery generated $8.59 billion in revenue, $3.59 billion of which went to improve education.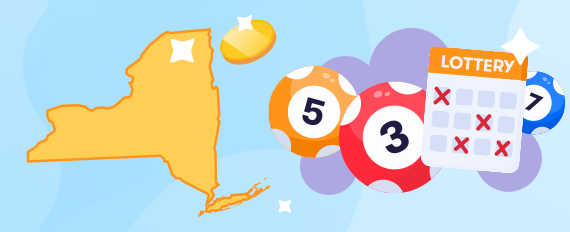 NY Lottery
There are plenty of lottery games you can play in NY. The online/offline divide is a bit odd. Individual tickets are primarily sold offline, however, you can purchase and manage lottery subscriptions to events such as Mega Millions online.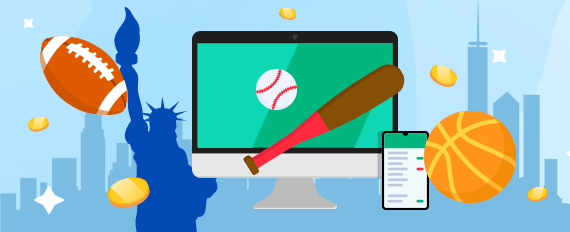 Daily Fantasy Sports
Build up a team of your favorite athletes in your preferred sport, and watch their real-life stats convert into fantasy points you can use to win games against other managers. FanDuel sportsbook is one of the operators offering these online games in NY.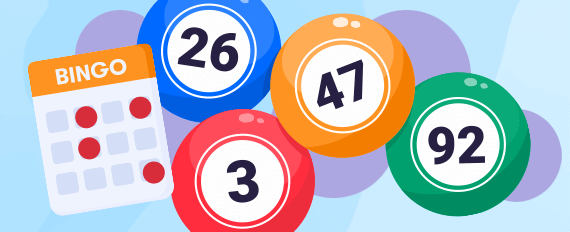 Bingo
Bingo halls are primarily located offline throughout the state. You must be 18 to play. The game works simply; players are given a card with tiled numbers and mark the randomly generated numbers called out by the host. Victory is achieved when a certain threshold of numbers is marked.
Offline gambling in New York state
While bingo and the lottery make up a good chunk of NY's offline gambling, the main talking point here is the offline casino section. New York gambling laws technically state that you have to be 18 to play, though it's a little murky until you get to 21 due to alcohol laws, so players younger than that might still be turned away.
The offline casino sector is primarily serviced by with wider NYS area, with laws having historically relegated casinos to tribal land, and having kept casinos out of NYC. However, this changed in 2013, legalizing commercial casinos and allowing them within city limits. To date, only one exists inside the city (Resorts World New York City).
There are technically 25 casinos in the Empire State, once you include all the Racinos, though Monticello has closed the casino part of its racetrack, bringing it back down to an even 2 dozen.
| Retail | Launch date | Type | Location |
| --- | --- | --- | --- |
| Akwesasne Mohawk Casino | April 12 1999 | Native American | Hogansburg |
| Batavia Downs Casino | September 20 1940 | Racetrack casino | Batavia |
| Del Lago Resort and Casino | February 1 2017 | Private | Tyre |
| Empire City Casino at Yonkers Raceway | October 11 2006 | Racetrack casino | Yonkers |
| The Fairgrounds Gaming | 2010 | Racetrack casino | Hamburg |
| Jake's 58 Hotel & Casino | May 2017 | Private | Islandia |
| Finger Lakes Gaming and Race Track | May 23 1962 | Racetrack casino | Farmington |
| Lakeside Entertainment | Jan 1 2004 | Native American | Union Springs |
| Mohawk Bingo Palace and Casino | March 13,2013 | Native American | Akwesasne |
| Monticello Gaming & Raceway | June 27, 1958 | Racetrack casino | Monticello |
| Point Place Casino | March 1 2018 | Native American | Bridgeport |
| Resorts World Catskills | February 8 2018 | Private | Kiamesha Lake |
| Resorts World New York City | 2011 | Racetrack casino | Ozone Park |
| Rivers Casino & Resort | February 8 2017 | Private | Schenectady |
| Saratoga Casino and Raceway | 1941 | Racetrack casino | Saratoga Springs |
| Seneca Allegany Casino | July 2 2020 | Native American | Salamanca |
| Seneca Buffalo Creek Casino | July 3 2007 | Native American | Buffalo |
| Seneca Gaming and Entertainment Irving | N/A | Native American | Irving |
| Seneca Gaming and Entertainment Oil Spring | 4 July 2014 | Native American | Cuba |
| Seneca Gaming and Entertainment Salamanca | N/A | Native American | Salamanca |
| Seneca Niagara Casino | Dec 31 2002 | Native American | Niagara Falls |
| Tioga Downs & Casino | June 9 2006 | Private | Nichols |
| Turning Stone Resort & Casino | July 16 1993 | Native American | Verona |
| Vernon Downs & Casino | 1 July 1953 | Racetrack casino | Vernon |
| Yellow Brick Road Casino | 2 June 2015 | Native American | Chittenango |
How we rate New York gambling sites
Our experts have decades of experience in the online gambling industry, and members of our different teams have put together data-driven rating systems based on US market averages. Adapting our data to whatever type of gambling is legal in NY, the cards show what we expect from online gambling NYS sites. We put it here for transparency, but you can use it for your own research too.
NY online gambling and safety
Gambling in New York is legal, and legalization requires enforcement. That's carried out by the New York Gaming Commission, who licenses and regulates the legal sportsbooks in New York state. All licensed and legal operators are displayed on a list on the NYGC's website, so you can always make sure you're playing at a legal site.
We only recommend sportsbooks and full casinos displayed on such lists published by each state government. When it comes to online gambling New York also allows you to download pdfs of the weekly and monthly financial reports of each operator directly from their list, increasing the transparency.
Some state regulators do auditing and fairness testing themselves, while some rely on other states or third-party regulators. One of the most prominent testers in the US is the Table Services Bureau of New Jersey's licencing board.
Transparency is super-important in New York, they're very determined to put the whole 'is gambling legal in NY' question to bed. The gaming commission even publicizes which companies have contracts for what, and it's a good thing to see that even stuff like NY's video lottery games are run by top casino software companies like IGT, SG Digital, and Konami.
Gambling sites are required to have info on responsible gambling, linking to information and help organizations like Gamblers Anonymous, New York Problem Gambling Resource Centers, and the New York Council on Problem Gambling. The NYGC, NYCPG, and the Office of Alcoholism and Substance Abuse Services (OASAS), all work to ensure gambling is a safe pastime in the Empire State.
New York gambling laws: a brief history
New York state gambling laws have an interesting past – after the War of Independence, in which the 1776 squad introduced lotteries to fund the fight, the Empire State was the first state to ban them, and the second state to re-legalize them.
New York online gambling laws aren't as permissive or pioneering as New Jersey's or any of the other frontrunner states, but they've relaxed a lot in the past few years. The implementation of sports betting is a major milestone for NY, bringing it in line with most of the country.
With online gambling spreading through the US at record pace, it's only a matter of time until further highlights follow.

1833
New York bans lotteries
New York becomes the first state to enforce a lottery ban, after the gambling outlet had been introduced to fund the revolutionary war.

1967
A reversal of fortunes
New York becomes the second state (after New Hampshire) to authorize a modern form of lottery.

1970
New York becomes brings in Off-Track Betting
New York is the first post-Nevada state to legalize this form of horse-race betting. Between each of the five public benefit corporations that allow OTB, they accepted $558 million worth of wagers in 2016.

2001
New York gets into the casino game
The Empire State allows a number of Indian casinos to be established, and starts the 'racino' trend by allowing Video Lottery Terminals (a form of slot machine) at racetracks.

2013
Voters approve further casino freedoms
An amendment to New York's constitution allows the implementation of commercial 'Vegas-style' casinos into the state. The amendment also included some preliminary steps for the legalization of sports betting, should the federal ban it ever be overturned. This is also the year where online gambling is legalized, and NJ launches its casinos into cyberspace.

2018
Sports betting is introduced into the US, though not NY
After a series of hearings spearheaded by New Jersey, PASPA was struck down by the Supreme Court, allowing sports betting to be legislated on a state-by-state basis.

2021
The laws go through
After years of back-and forth in the local statehouses, April 2021 opens the road to mobile sports betting in New York, finally putting that whole 'is gambling legal in NY' question to bed.

2022
Online sports betting opens to the public
As of January 8, 2022, betting apps were approved to launch. The first four were BetRivers, Caesar's, DraftKings, and FanDuel. A further five joined the fray with a more staggered approach, with BetMGM being the first of them.

2023
Online casino bill to be discussed
Sen. Joe Addabbo will reintroduce a New York online casino bill during the state's 2023 legislative session.
Latest updates — $2.4 billion in the first five weeks
We highlight the latest gambling news to come out of the Empire State.
Downstate casino licenses to cost a minimum of $1 billion, slots to be taxed at 45%
NY online gambling brings in $2.4 billion dollars worth of wagers in the first 5 weeks.
BetMGM joins the list of online gambling New York operators
Mobile sports betting launches in NYS
FAQs
Where can I gamble online in NY?
What forms of gambling are allowed in NY?
Online gambling in New York is dominated by the sportsbook crowd, though casino and poker players have some options too. There's also plenty of offline stuff, including everything from bingo and raffles to horse races and a swathe of casinos located throughout the state.
What's the legal age to gamble in NY?
The gambling age in New York is 18 for most forms of gambling. Online gambling is always 21+, and some casinos also require you to be 21 to gamble.
What betting sites are legal in NY?
The 9 betting operators that were confirmed to spearhead the NY gambling effort include:
DraftKings

FanDuel

BetMGM

PointsBet

Caesars

Wynn

Kambi

BetRivers

Resorts World

Check out our top picks from the bunch , brought to you by our data-driven reviewing systems.