When the rope first dropped at the Magic Kingdom's 1971 grand opening, the price of a single-day admission ticket was a mere $3.50 — the equivalent of about 2.19 hours of pay for someone earning the day's federal minimum wage of $1.60 per hour. Today, a one-day ticket to a single Disney World park varies in price from $109 to $159 per day, depending on the date you'd like to visit. To put that into perspective, a minimum wage worker visiting a single Disney World park on the cheapest of days would have to work 15.03 hours to afford admission, an increase of 586% since the park first opened. If the same person wanted to visit the park on a high-demand day, they would have to work 21.90 hours, a massive jump of 900% since 1971.
To learn how Disney World fans have been affected by the rampant price increases, we asked nearly 2,000 self-described Disney World enthusiasts how they're feeling about the rising cost of a vacation to Disney World. We also asked if new profit-driving services, such as Genie+, are changing how they feel about the most magical place on earth.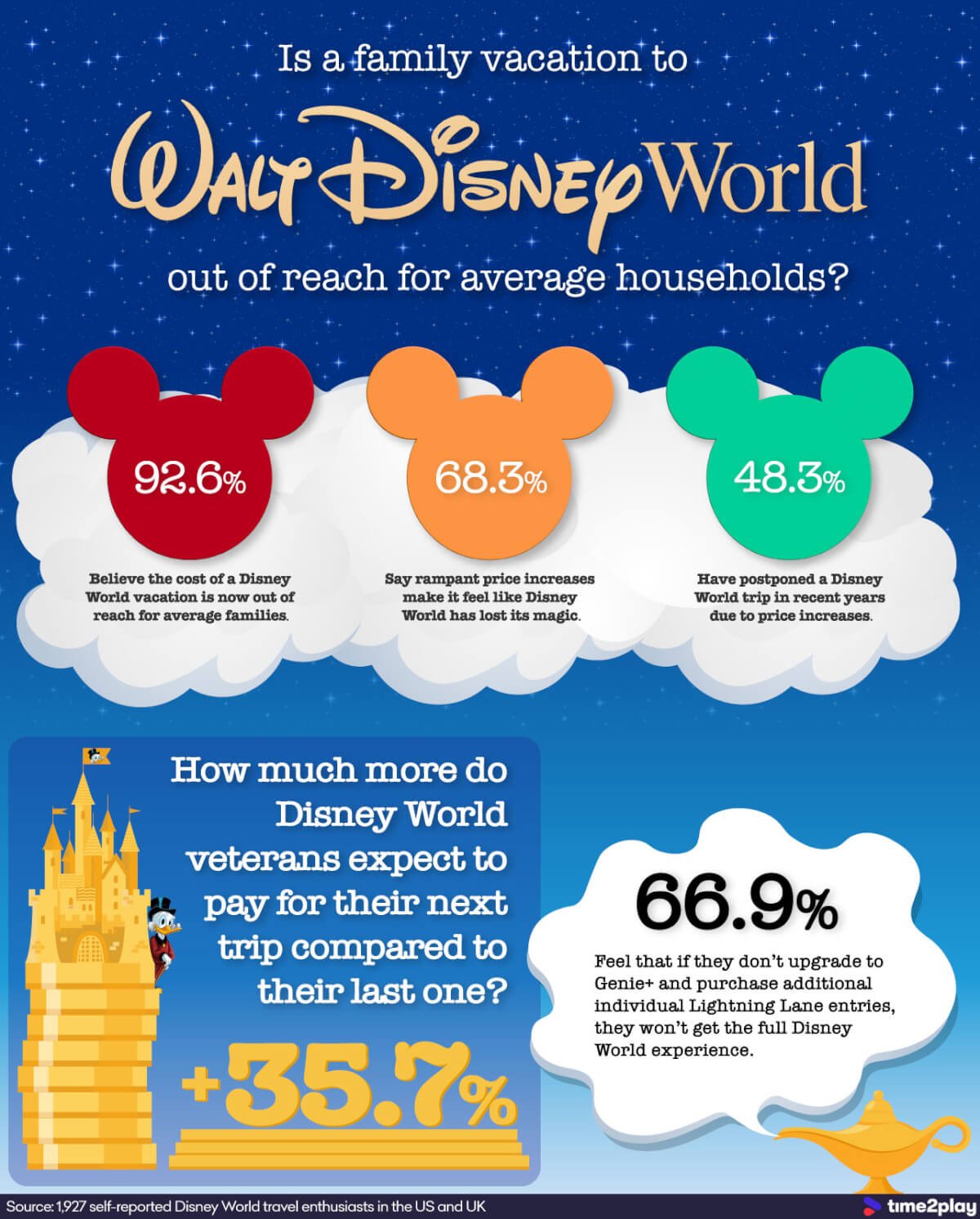 What used to be a rite of passage trip for middle-class American children has evolved into a luxury getaway for the privileged among us — and Disney World fans have taken notice. When surveyed, 92.6% of our Disney World enthusiasts said they believe the cost of a Disney vacation is now out of reach for average families. Among our respondents, 48.3% report postponing a trip to Disney World in recent years due to price increases. Those who are still planning to go said they expect their next trip to cost 35.7% more on average than their previous visit.
But even if a family is able to save up for admission tickets, food, and lodging, they're still not entitled to everything the parks have to offer. In 2021, Disney World ditched its Fast Pass system after more than 20 years in favor of the new Genie service, and its paid companion service Genie+. This change has been poorly received by most park loyalists, including those we surveyed. In fact, 66.9% report feeling they won't get the full Disney World experience if they don't upgrade to Genie+ and purchase additional Lightning Lane entries. But the disillusionment doesn't stop there, 68.3% said rampant price increases and nickel and diming have made it feel like Disney World has lost its magic.
Methodology:

In September 2022, we surveyed 1,927 self-reported Disney World enthusiasts from the Facebook travel group 'IT'S ORLANDO TIME'. At the time of the survey, the group had over 234,700 members.
For media inquiries, please contact: [email protected]
Fair Use
If you'd like to share this post or its assets with your friends or audience, you are welcome to do so. Please be sure you include attribution linking to this study.
Trending blogs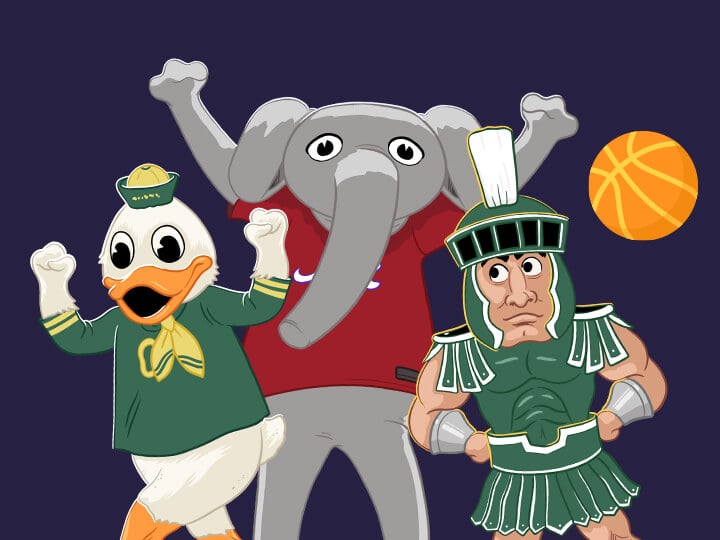 Best and worst NCAA basketball mascots ranked by fans (survey)
Not all NCAA basketball mascots are created equal. From cuddly and adorable, to pure nightmare fuel, there's certainly a mascot to fit every taste. Dog lover? We've got you covered. Bird enthusiast? Check. Into 6-foot tall amorphous blobs with sneakers? Surprisingly, we can accommodate you as well. It's a group as diverse as any. And perhaps these mascots might just help you make your picks if you decide to try your hand at online sports betting on one of the best betting sites.