We're a divided nation. Key issues such as which is the correct way to hang the toilet paper or whether or not a hot dog is a sandwich will likely never be fully resolved. But occasionally, a matter exists that's so infuriating, it miraculously unites us all. The most recent of those issues is the rash of scammers calling and texting at every hour of the day. Whether they're calling to warn us of our car's expiring warranty or valiantly letting us know our copy of Microsoft Windows has been compromised, we can't hang up on these crooks fast enough. It's important to stay safe, so if you're looking to do some gambling, check out one of our safe online casinos.
Because this issue plagues nearly every single person in the US, we wanted to learn more about which states receive the most spam calls and the damage they're doing to those who may not be able to tell when they're being scammed.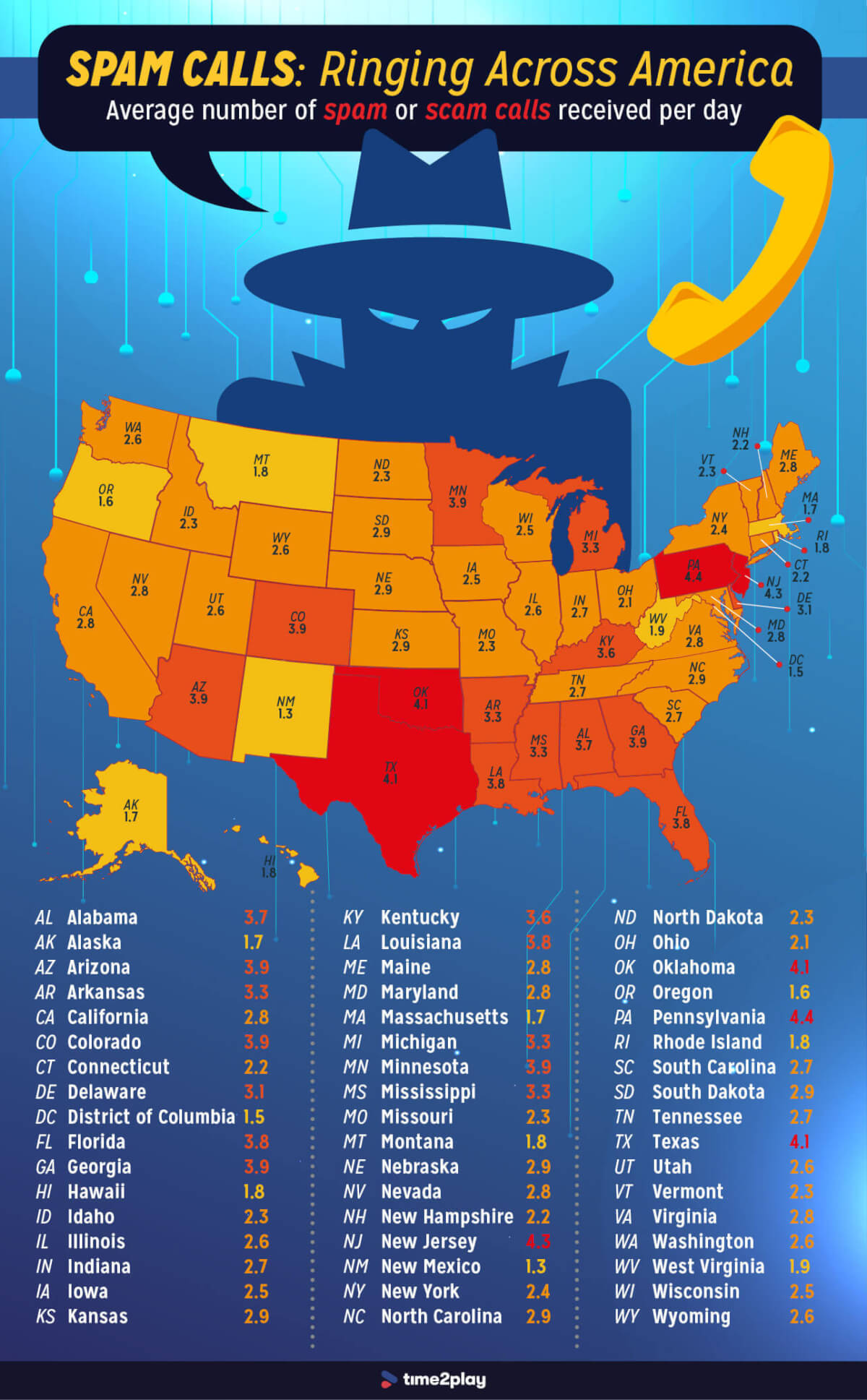 The state of spam calls
With an exasperatingly high 4.4 calls per day, Pennsylvania holds the unfortunate title of state whose residents receive the most spam calls. Not far behind are New Jersey (4.3), Texas (4.1), and Oklahoma (4.1). A further twelve states, including Arizona (3.9), Colorado (3.9), Georgia (3.9), and Florida (3.8), receive more than three spam calls per day.
Blessed are those living in New Mexico (1.3), DC (1.5), Oregon (1.6), and Massachusetts (1.7). The residents of these states receive the fewest spam calls each day. Still, at nearly two calls per day, it's enough to ruffle anyone's feathers.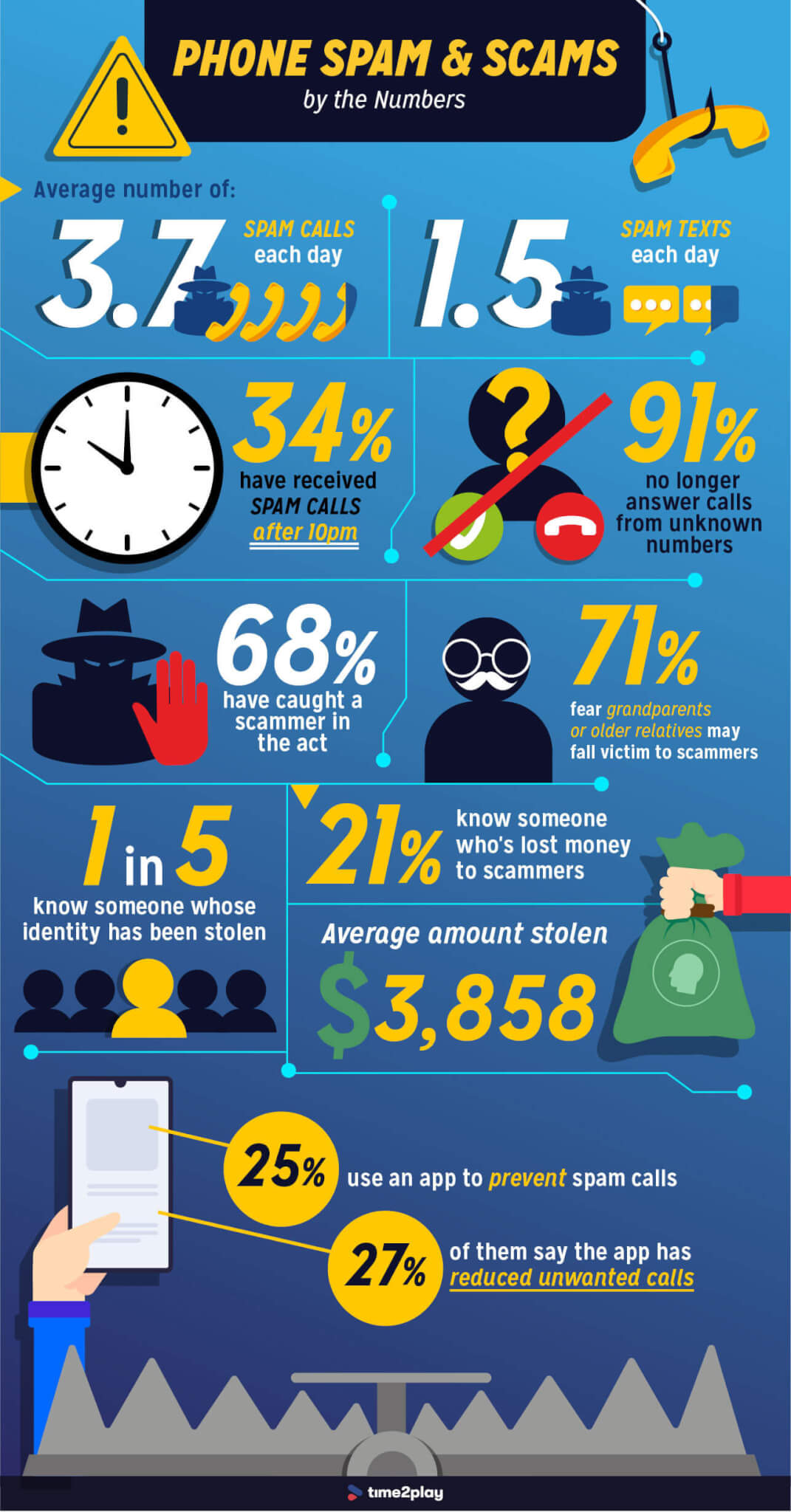 Phone spam & scams
Our study revealed the nationwide average for the number of spam calls received per day is an astonishingly high 3.7. Spammers seem to prefer calling to texting, as the average number of spam texts received is only 1.5. This influx of spammers and scammers blowing up our phones has lead 91% of Americans to no longer answer calls from unknown or blocked numbers. And when it comes to politeness, let me direct you to the 34% of those surveyed who report having received spam calls after 10 p.m.
These spam calls and texts aren't just a nuisance. They're causing damage in record numbers. 1 in 5 report knowing someone whose identity has been stolen by a phone scammer. A further 21% know someone who's had money stolen by a scammer, with the average amount totaling $3,858. And because they're known to target the elderly, 71% fear their grandparents or older relatives may fall victim to scammers.
Methodology
In April 2022 we surveyed 1,619 adults living in the US. The average age of respondents was 37.8 years. The average annual household income was $73,543.04. Of respondents, 50.1% iPhone users, while 49.9% were Android users.
For media inquiries, please contact: [email protected]
Fair Use
If you'd like to share this post or its assets with your friends or audience, you are welcome to do so. Please be sure you include attribution linking to this study.
Trending blogs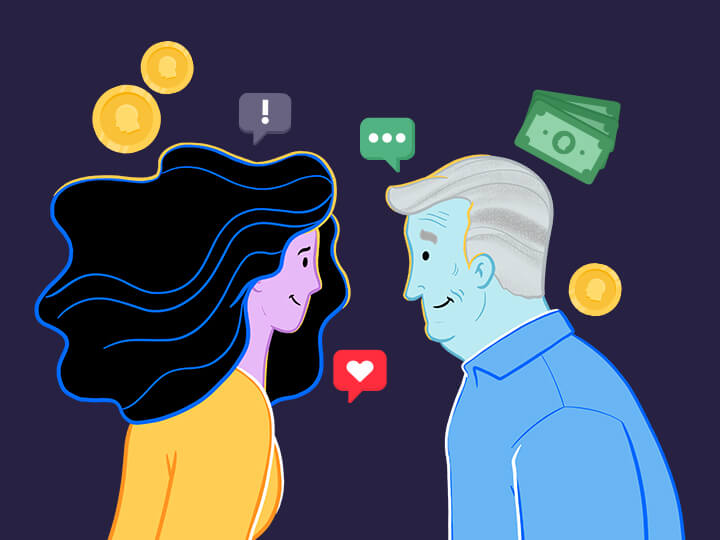 Money habits: millennials vs. baby boomers
No matter the age, money is top of mind for many, but how do money habits, including saving and spending, differ among generations? We surveyed 1,000 millennials and baby boomers from across the U.S. to see just how much they're saving, and what they like most to spend on. Millennials surveyed were between the ages of 21 and 41-years old, and baby boomers were 58 to 76-years-old.