Across the country, cities put on St. Patrick's Day celebrations in hopes of spreading the luck of the Irish. From New York's famous parade to Chicago's downtown river, and even the White House fountain, it's the one day a year where green reigns supreme. 
And although it's an unofficial holiday in most places in the US, many Americans do consider St. Patrick's Day an official day of drinking, just like they do when attending an NHL game. To find out which states drink the most on St. Patrick's Day, we surveyed Americans from all 50 states, plus DC, to learn how they spend the one day a year where everyone gets to be Irish. 
As well as creating these interesting reports about the US, we know a thing or two about online gambling. Looking for somewhere to play? Check out this list of safe online casinos compiled by industry experts.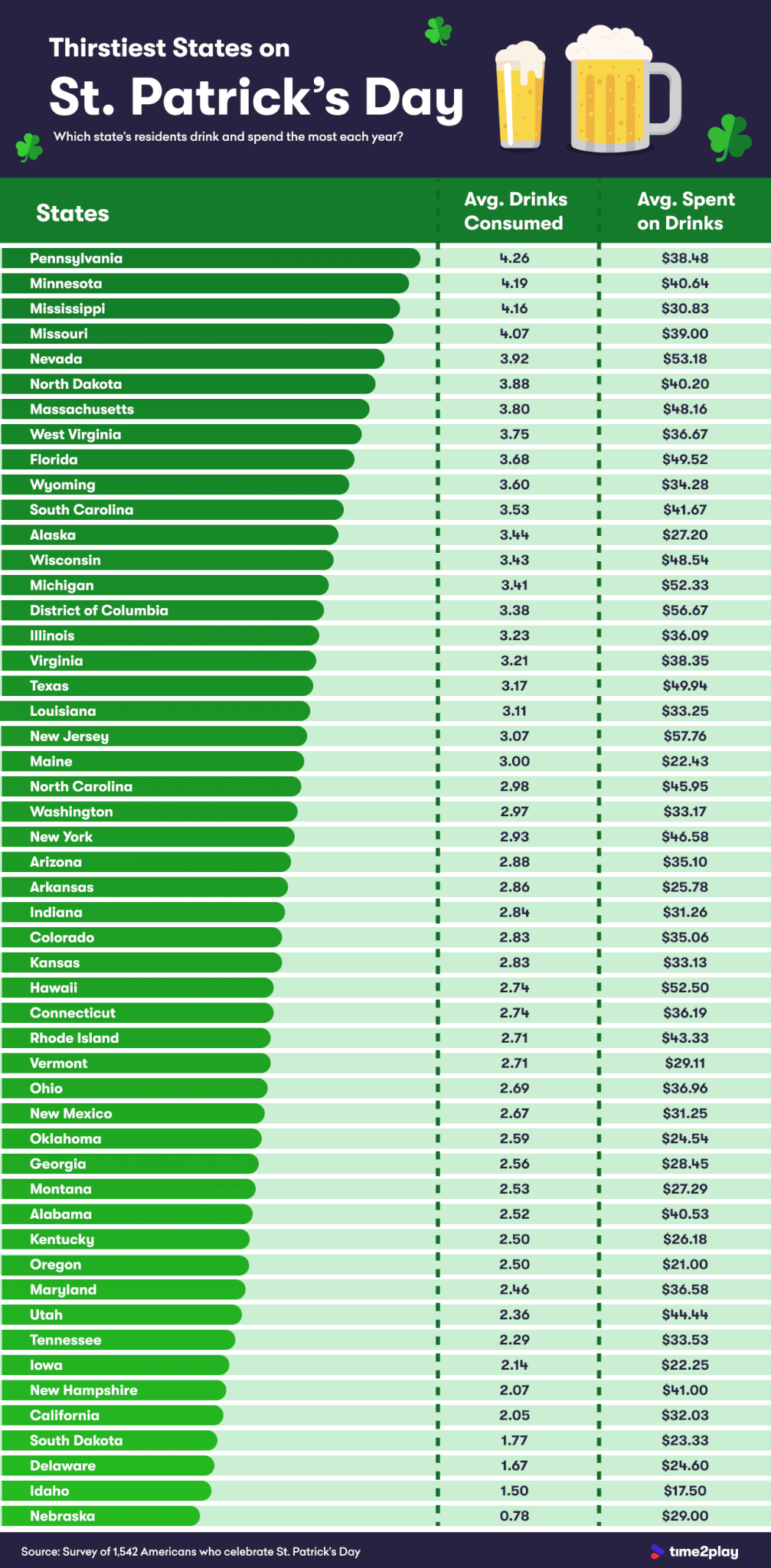 Which state drinks the most? 
Perhaps a surprise at the top of the list, Pennsylvania holds the title as the state that drinks the most on St. Patrick's Day. With an average of 4.26 drinks consumed per person, it sits right above Minnesota (4.19) and Mississippi (4.16). Fourth place was earned by Missouri (4.07), the home of Anheuser-Busch, America's largest brewer of beer. Fifth place on the list goes to a state many might have guessed would be at the very top. But Nevada residents only consume an average of 3.92 alcoholic beverages per person on St. Patrick's Day. 
Massachusetts, the state most associated with St. Patrick's Day and Irish culture, comes in at seventh on our list, with the average resident consuming 3.80 alcoholic drinks. The home of the Boston Celtics and the largest Irish population in the US finished barely ahead of renowned party-state Florida (3.68) in ninth place. 
Vermont (2.71), the state with the most breweries per capita, finished way down the list tied for 32nd place with Rhode Island (2.71). Kentucky (2.50) and Tennessee (2.29), the states most associated with the popular St. Patrick's Day sippable whiskey, finished 40th and 44th, respectively. And California (2.05), home of America's most prominent wineries, finished near the bottom of the list in 47th place.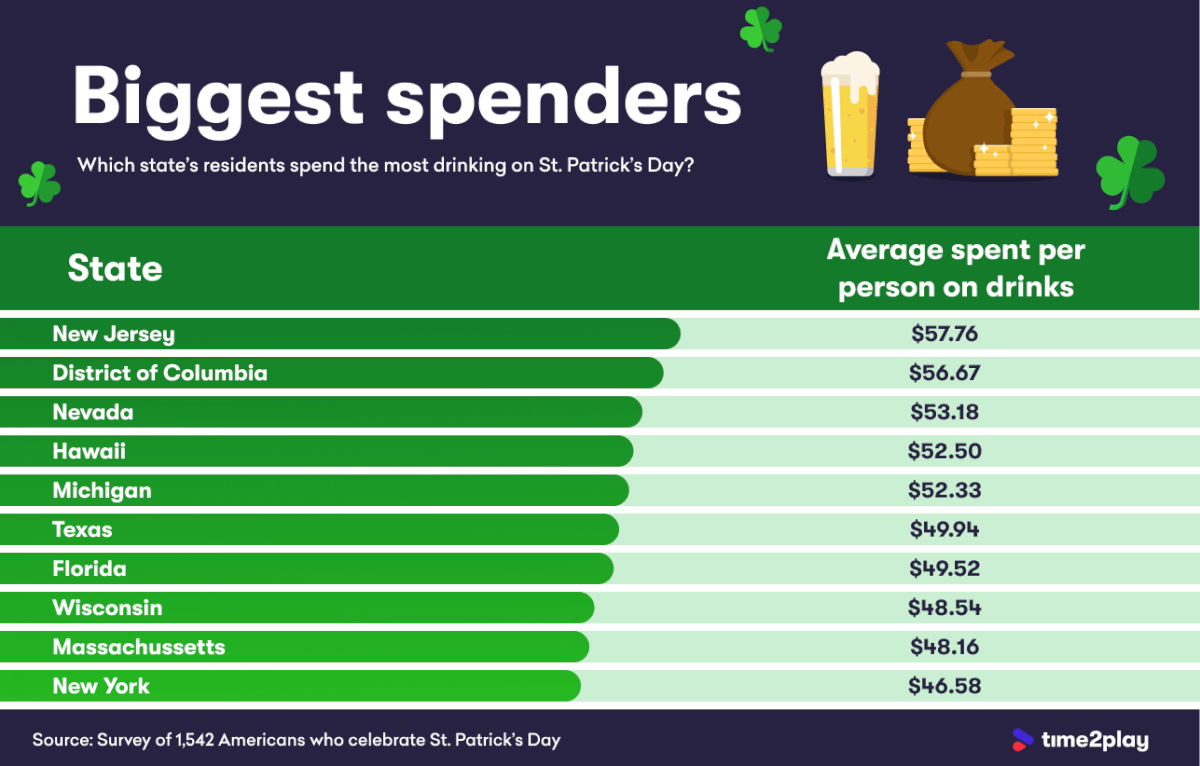 Where the biggest spenders live
You might assume those who drink the most also spend the most. But for the most part, this isn't necessarily the case. Our study revealed a colossal contrast in spending between states. New Jersey, which finished 20th on our list of states that drink the most on St. Patrick's Day, finished first on the list of biggest spenders, with the average reveler dropping $57.76 on booze. New Jersey also happens to be a hotspot for gambling, and we have a page dedicated to the best NJ online casinos. The District of Columbia ($56.67), known for its notoriously high cost of living, placed second on the list of biggest spenders. 
Pricey drinks on the Las Vegas strip likely propelled Nevada ($53.18) to third on the list of biggest spenders. New York ($46.58), which finished near the middle of the pack at 24th for number of drinks consumed, placed tenth on the list of biggest spenders.
You can check out our list of the best online casino USA real money if you would rather spend your cash on things other than St. Patrick's Day beers.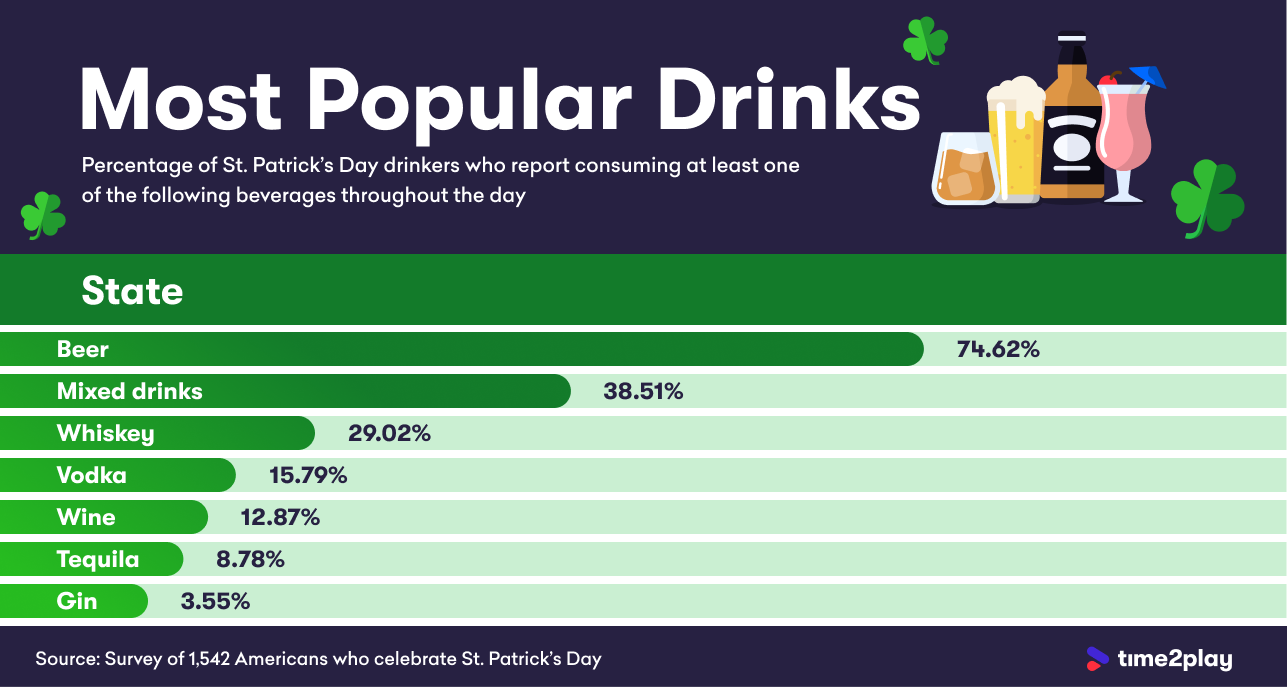 The most popular drinks
It comes as no surprise that beer is the most widely consumed adult refreshment on St. Patrick's Day. 74.62% of respondents report downing at least one pint, and we suspect many of those pints just might be a Guinness. Mixed drinks (38.51%) and whiskey (29.02%) ranked second and third, indicating folks like to switch up their drinks throughout the day.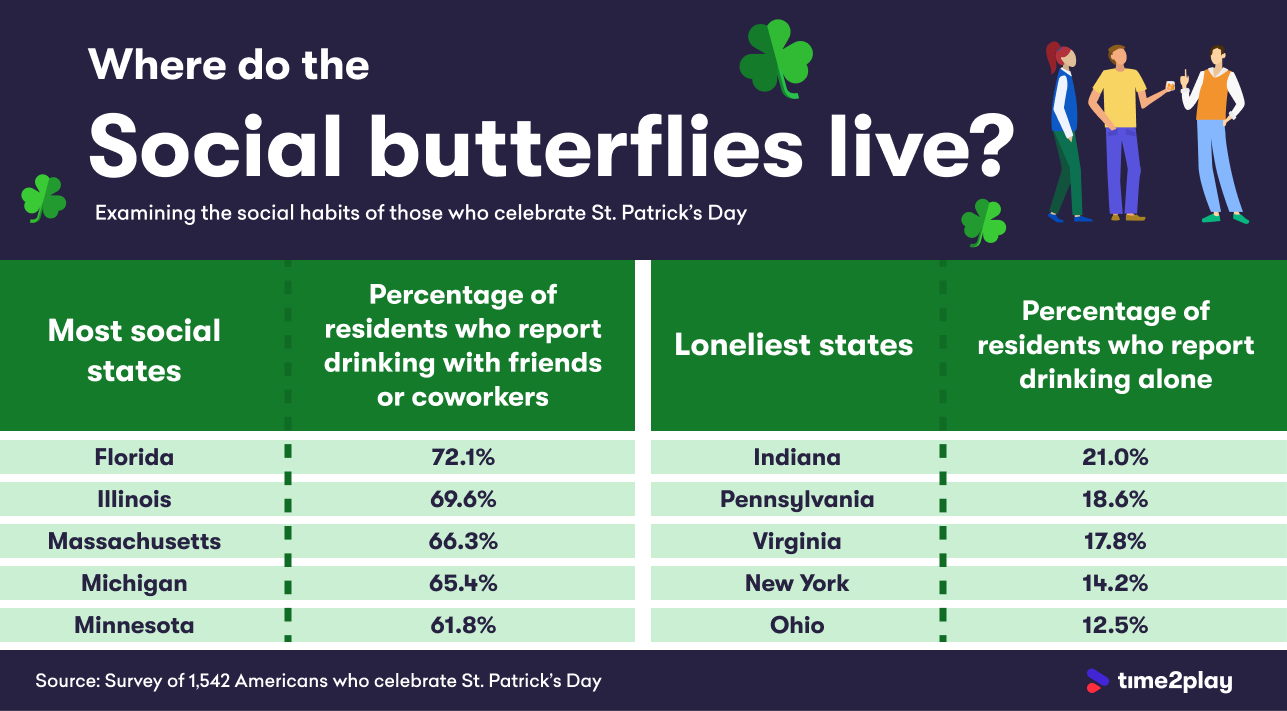 Social butterfly or lonely wallflower? 
Florida, a state whose antics have earned its meme status in recent years, topped our list of the most social states on St. Patrick's Day. 72.1% of those who celebrate the holiday report doing so with friends or coworkers. 
Indiana, with its aptly named state song, "Back Home Again in Indiana," earned the unfortunate title of state whose residents are most likely to drink alone at home on St. Patrick's Day. 21.0% of Hoosiers who observe the holiday say they typically spend the day drinking alone at home. Meanwhile, Pennsylvania, our state that drinks the most on St. Patrick's Day, finished second, with 18.6% of people celebrating in solitude.
Methodology
To determine which state drinks the most on St. Patrick's Day, we surveyed 1,542 Americans across all 50 states and the District of Columbia. We asked them how many drinks they typically consume on St. Patrick's Day, what they drink, and how much they spend drinking. We also asked where they drink and with whom they drink. Our respondents were 52% male and 48% female. The average age of respondents was 34 years. All respondents were over 21 years of age.
For media inquiries, please contact: [email protected]
Fair Use
If you'd like to share this post or its assets with your friends or audience, you are welcome to do so. Please be sure you include attribution linking to this study.
Trending blogs