The world of online gaming is bigger than ever. Whether it's on PC or console, online gaming helps us stay connected to our friends and family when we can't be with them in person. This got us wondering: what's the best place for hardcore online gamers to live? To find out, we dug in and looked at things like internet speed, the number of local gaming stores, the cost of a pizza, and of course the overall cost of living, all in the name of ranking the best and worst cities for gamers.

The best cities for gamers
Thanks to its relatively affordable cost of living and blazing fast internet speed, we've named Raleigh the best city for gamers. Raleigh is also home to a huge tech industry, so IT pros and programmers won't have to put up with a long commute. Just behind Raleigh in a close second place is Kansas City. The capital of Missouri also offers an attractive cost of living paired with some of the speediest internet anywhere in the country.
Gamers looking for more of a big city atmosphere will be happy to find Detroit and Atlanta ranked fifth and sixth, respectively. As two of the most reasonably priced big cities in the US, they offer gamers moderately fast internet speeds, along with plenty of shopping options and cheap pizza to boot.
Speaking of Detroit, Michigan has recently passed an online casino regulation where all 15 of their online casinos are playable for real money. Check out our list of best Michigan online casino here.
Those online players looking to do a bit of California dreamin' can head to centrally located Fresno. The second-fastest internet on our list is accompanied by a relatively low cost of living and fantastic scenery.
The worst cities for gamers
New York City is the worst city for gamers. Despite offering some of the cheapest pizza anywhere, NYC's ultra-high cost of living was just too much to overcome. The low number of Best Buy and GameStop stores also hurt the city's placement on our list. A handful of Canadian cities, including Edmonton, Toronto, Calgary, and Montreal, also find themselves near the bottom of our list. Our neighbors to the north face a high cost of living and downright dismal internet speeds.
Other pricey US places including San Francisco, Seattle, and Los Angeles can be found at the bottom of our best and worst gaming cities index. Despite excellent internet speeds in the tech hubs of Seattle and San Francisco, we think gamers are better off in cities with a less expensive cost of living.
However, if you're looking to power up in your favorite online casino games, we may know a thing or two. Check out our list of the best online casino software to find what works best for you.
Methodology
To determine the best and worst cities for gamers, we examined a number of factors that are important to gamers. First, used Nomadlist to determine the average internet speed in each city. We then tallied the number of GameStop and Best Buy stores within 30 miles of the center of each city. Using Expensivity's Pizza Index, we determined the average price of a pepperoni pizza in each city. The Expensivity index only featured US cities, so for cities in Canada we used a price of $10.99, because that offer is available in Pizza Hut restaurants across the country. As the last metric, we used Numbeo's cost of living index to learn which cities are the most and least affordable. Finally, we combined this data to determine the best and worst cities for gamers.
For media inquiries, please contact: [email protected]
Fair Use
If you'd like to share this post or its assets with your friends or audience, you are welcome to do so. Please be sure you include attribution linking to this study.
Trending blogs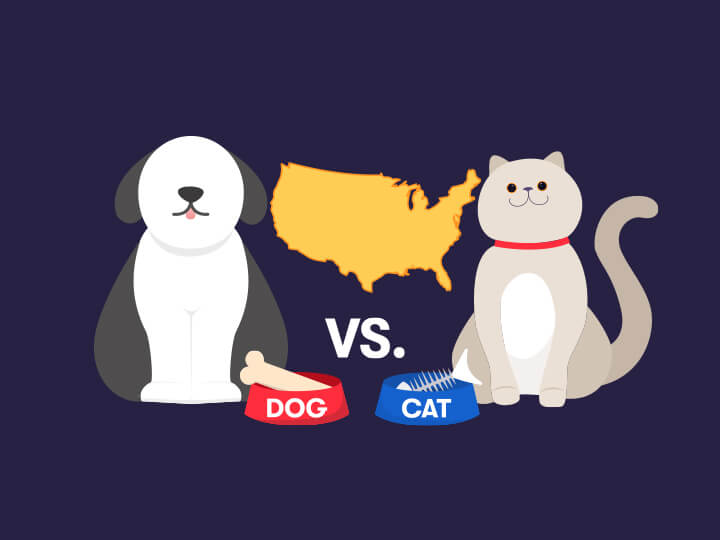 Do you live in a cat state or a dog state?
 Cats and dogs have different traits, much like the people that own them. Cats are sweet and curious. They are inquisitive, independent, and vigilant. However, dogs are known for being more affectionate and loyal.